On 09 July 2007 Dr Leonard Kapungu, the Executive Director of the Centre for Peace Initiatives in Africa (CPIA), based in Zimbabwe, visited ACCORD House where he met with ACCORD's Deputy Director, Jerome Sachane, ACCORD Senior Advisor, Tor Sellstrom, and ACCORD Senior Researcher Karanja Mbugua.
The CPIA is a Zimbabwe based civil society organization and is currently involved in the National Dialogue Process in Zimbabwe, aimed at arriving at a peaceful settlement to the current challenges the country is facing. In May 2007 Rev. Max Chigwida, the Director of Operations at CPIA visited ACCORD House.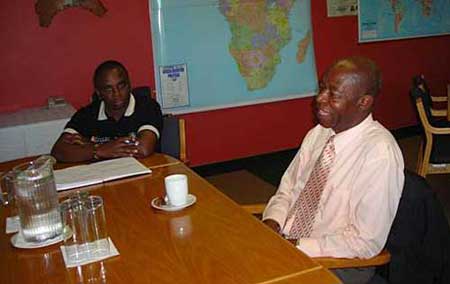 Dr. Kapungu's association with ACCORD goes back many years. In 1995 he attended ACCORD's Africa Peace Award when it was awarded to former President Nelson Mandela, and more recently he attended the 2006 Africa Peace Award, which was present to the Nation of Burundi.