The 26 July 2023 coup in Niger, which was the sixth in three years is a classic case in point. The coup truncated the first civilian-to-civilian transition in 2021 since Niger's independence in 1960 and hurt the country's image as the most reliable Western ally in combatting terrorism in the Sahel. Regionally, the coup did not only dent the reputation of the Economic Community of West African States (ECOWAS), but it also accentuated the failures of ECOWAS in adopting a more robust preventive approach to coups d'états. It is therefore not surprising that ECOWAS has taken a harder stance on Niger's new military regime than it has on previous coups in Guinea, Mali, and Burkina Faso to demonstrate that "not only can it bark but it can also bite".
However, despite weeks of international efforts to restore Mohamed Bazoum as the country's legitimate president, Niger's ruling junta led by General Abdourahmane Tchiani has refused to hand over power. While ECOWAS' barrage of sanctions, and threat to use force against the putschists is politically and normatively justifiable under its 2001 Protocol on Democracy and Good Governance, such actions must be exercised with determination, caution, and discretion due to their unintended consequences. So far, the multiple sanctions including the closure of land and air borders, the institution of a no-fly zone on all commercial flights, the suspension of all commercial and financial transactions, the freezing of assets in ECOWAS Central Banks, and the suspension of Niger from all financial assistance and transactions, has had far-reaching consequences on the Nigerian population.

The coup truncated the first civilian-to-civilian transition in 2021 since Niger's independence in 1960 and hurt the country's image as the most reliable Western ally in combatting terrorism in the Sahel. @FKAubyn

Tweet
The funding cuts by Western countries (including US, France, and Germany) which provide external aid for up to half of Niger's budget is already affecting the economy. Similarly, the cut in power supply by Nigeria which supplies 70 percent of the country's electricity is also affecting daily life and businesses. Food security is worsening, due to chronic insecurity, border closures and the disruptions in food supply chains, resulting in significant inflationary pressures. The effective supply of essential pharmaceuticals, medical equipment, petroleum products is also being impacted. Although the intent of the sanctions is to put pressure on the putschists to comply with the demands of ECOWAS, they are actually causing harm to ordinary citizens, businesses, and commercial activities especially along the border towns with Nigeria. Cutting off the country from regional trade, finance, and security assistance is actually exacerbating the economic well-being and physical security of the population who are the main casualties of the coup. As with most targeted sanctions, the travel bans and asset freeze for the military officials involved in coups and their civilian associates have proven to be ineffective. This is evidenced by the visit of the Nigerien military delegation to Mali on 2 August and the recent working visit of Niger's military-appointed prime minister, Ali Mahaman Lamine Zeine to Chad on 15 August. The putschists have rather used the sanctions to boost their domestic legitimacy by presenting themselves as defenders of the population subjected to hardship by ECOWAS and its Western allies.
Beyond the sanctions, ECOWAS leaders have ordered the immediate activation and "deployment" of the "ECOWAS standby force with all its elements" to restore Mohamed Bazoum as the country's president. The last time ECOWAS restored an ousted president was in February 1998 when the Nigerian-led Economic Community of West African States Monitoring Group (ECOMOG) stormed Freetown and returned President Ahmed Tejan Kabbah to power. ECOMOG forces ousted the military regime led by Major Johnny-Paul Koroma who ruled Sierra Leone for nine months from 25 May 1997 to 13 February 1998. However, the context of that operation in Sierra Leone differs significantly from the current crisis in Niger. Similarly, the 2017 deployment of ECOWAS forces under "Operation Restore Democracy" in Banjul to force Yahya Jammeh to cede power to Adama Barrow who had defeated him in the 2016 elections also differs from the Nigerien situation in many ways.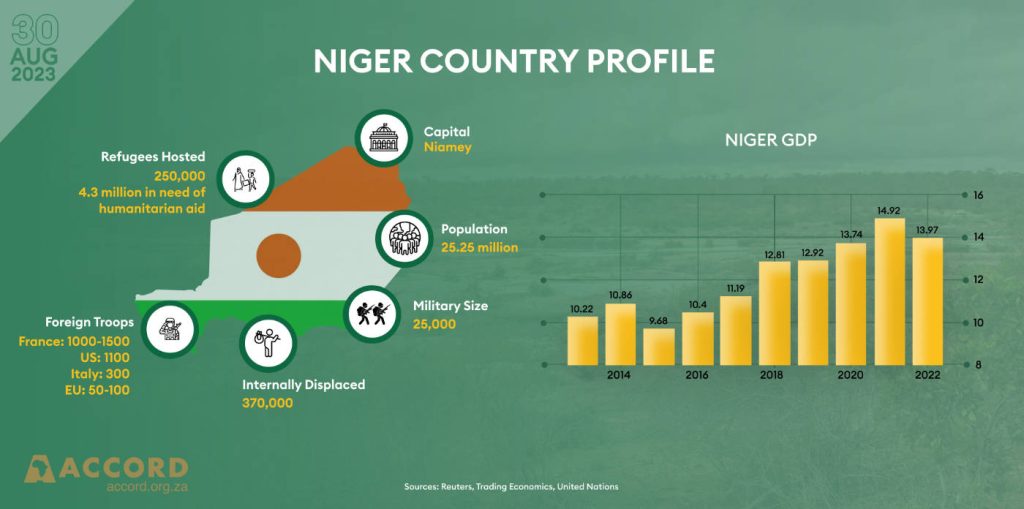 In essence, although ECOWAS has a good track record of military interventions in the region, any use of force in Niger could have wide-ranging humanitarian and regional ramifications. This is why Niger's neighbours, Chad, Algeria, Mali, and Burkina Faso have opposed the use of force. It is understandable that ECOWAS is exploring military intervention and is desperate to "do something" after the junta defied its seven-day ultimatum to step down. However, any use of force would be politically disastrous, operationally risky, and self-destructive given the divisions within ECOWAS. Apart from the civilian casualties and mass influx of refugees and migration inflows into the seven countries bordering Niger, any military intervention will also impact negatively on regional counterterrorism operations. Countries currently committed to the fight against armed groups linked to al-Qaeda and Islamic states may have their armies and resources diverted, while Niger's role as a hub for Western (US, France and European Union) counterterrorist efforts will cease. More ominously, the support of Mali and Burkina Faso to the junta also means that any use of force could push West Africa into a conventional war that can quickly become a new flashpoint for great power competition. The termination of Niger's military agreements with France by the military regime and alleged shifting strategic alliance towards Russia could intensify geopolitical rivalries in Niger which is endowed with strategic mineral reserves like uranium, gold and oil reserves. It is therefore the responsibility of ECOWAS to proceed with abundant caution, avoiding being swayed by the influence of Western powers and preventing the region from becoming a volatile crisis hotspot.

Niger is a unique case and ECOWAS must approach it with more flexibility, pragmatism, and skilled diplomacy due to its strategic importance for regional stability and global powers. @FKAubyn

Tweet
The unfolding situation in Niger is a political problem that requires political solutions. The use of force and sanctions cannot replace a political resolution of the crisis. Sanctions should be used as a temporary tool and never a permanent solution. Moreover, even if ECOWAS should succeed in reinstating President Bazoum using military action, it would need to maintain troops in Niger for a longer period to ensure his safety and his government's viability which could intensify popular hostility towards ECOWAS and come at a huge cost. The planned deployment of the ECOWAS standby force should rather be used to support the counter-terrorism operations in Niger and the other Sahelian countries given the fragmentation of the G5 Sahel force.
Niger is a unique case and ECOWAS must approach it with more flexibility, pragmatism, and skilled diplomacy due to its strategic importance for regional stability and global powers. It is prudent for ECOWAS to rule out military action and rather focus on negotiating a short transition period to restore constitutional order. The proposed three-year transition period by the Nigerien military authorities can be used as an entry point for constructive and inclusive dialogue. ECOWAS must engage consistently with the military authorities, political parties, traditional/religious authorities and civil society, alongside relevant international partners including neighboring countries like Algeria and Chad to set out a short, realistic, and acceptable transition plan to restore constitutional order. It can also use its firm stance on the reinstatement of President Bazoum as a bargaining chip to demand a short transition period in case that fails. The African Union, United Nations, European Union, and other partners could supplement ECOWAS efforts by intensifying political pressure on the military authorities to respect commitments to any transition plan.
Furthermore, it is important for ECOWAS to also recognise that the coup presents a challenge that extends far beyond Niger. It reflects a deeply rooted anti-French sentiment which has underpinned most coups in the region aside from the issues of chronic insecurity, governance deficits and economic instability. ECOWAS' silence on the perceived French neo-colonialism and natural resource exploitation is deafening. As France and its allies continue to exert economic, political, and military influence in Francophone West Africa and to raise popular discontent, ECOWAS must take meaningful diplomatic steps to engage all relevant stakeholders in dialogue to reform any colonial pact that is inherently unequal and rooted in exploitative practices.
Dr. Festus Kofi Aubyn is Head of Research and Capacity Building at the West Africa Network for Peacebuilding (WANEP) Regional Office in Accra, Ghana.