The African Centre for the Constructive Resolution of Disputes (ACCORD) is a conflict management non-governmental Institution, headquartered in Durban, South Africa, working throughout Africa to bring creative African solutions to the challenges posed by conflict on the continent.
The principles underpinning ACCORD's operations are the very ideals for which humanity has striven for centuries – peaceful resolution of conflict, human rights, and good governance.
– Nelson Mandela
ACCORD's primary aim is to influence political developments by bringing conflict resolution, dialogue and institutional development to the forefront as an alternative to armed violence and protracted conflict. ACCORD specialises in conflict management, conflict analysis and conflict prevention. We intervene in conflicts through mediation, negotiation, training, research and conflict analysis.
Since 1992, ACCORD has played an integral role in conflict resolution activities across Africa. As an Institute operating in the field of conflict prevention, resolution, and management, ACCORD specifically intervenes through mediation, negotiation and training activities. For the past 29 years, the institution has been building the capacity of Africa's leaders to resolve conflict and to address the underlying political barriers to growth and stability.
The Institute's interventions approach is recognised by the UN as a viable model for supporting peace. In September 2005, ACCORD became the first African NGO in history to address the UN Security Council.
ACCORD's current five-year medium-term strategy seeks to respond to a continental and global context that is characterised by extractive economic systems, socio-economic marginalisation, identity driven exclusion, social protest, demographic pressures of rapidly growing and more youthful populations, and competition over natural resources.
This vision is supported by 6 strategic pillars which seek to reinforce the institutional capacity of the AU and RECs to prevent and peacefully resolve conflicts; to strengthen local and national capacities for peace to promote their proactive engagement in peace processes; to enhance the role of women to influence, lead and participate in peace processes; to increase the participation of youth; to increase knowledge, policy support for, and the integration of the drivers of conflict and to contribute to strengthening the early warning and conflict prevention mechanisms on the continent.
The medium-term strategy informs ACCORD's intent to use resources and programmes to continue to play a meaningful role in developing mechanisms and capabilities to respond, manage and transform conflicts.
In doing so ACCORD continues to be guided by its objectives which include:
To facilitate the introduction of, support for, and sustainability of conflict management interventions in conflict affected societies;
To utilise the analysis of conflict to conceptualise programmes in conflict prevention, peacemaking, peacekeeping and peacebuilding;
To enhance policy, research and practice in the field of conflict management and to contribute towards sustainable peace and development in Africa and beyond.
Download a copy of ACCORD's 28 Year Timeline and 2017-2021 Strategy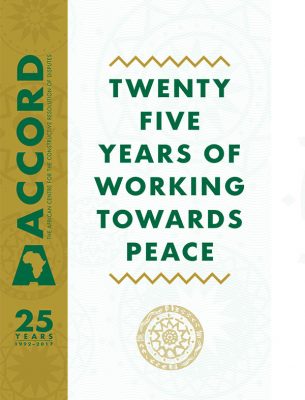 16 Jul 2018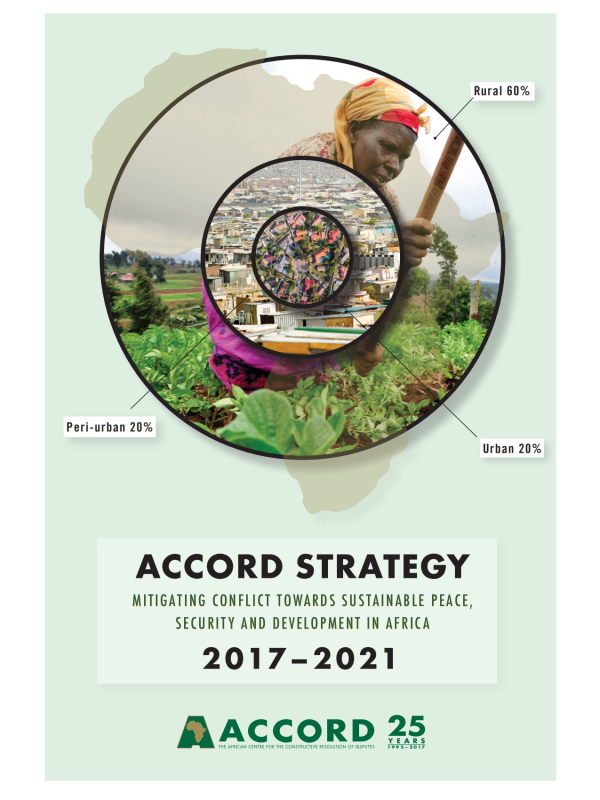 3 Jul 2017