The 35th African Union (AU) Summit in February 2022 marked the 20th anniversary of the AU. African leaders met at a particularly trying time for the continent. The continent had experienced six coups and attempted coups (Burkina Faso, Chad, Sudan and Guinea, and an attempted coup in Guinea Bissau just prior to the summit) during the past 18 months with simmering and enduring conflicts in, for example, host country Ethiopia and Mozambique. In addition to this, four AU members have been suspended due to unconstitutional changes of government.
The @_AfricanUnion restructuring and internal adjustments are continuing and will determine, to some extent, the realisation of recent @_AfricanUnion decisions. The @_AfricanUnion has approved a budget of USD$651,110,573 for 2022. This may not be sufficient to improve @_AfricanUn

Tweet
The COVID-19 pandemic is another contributing factor restricting continental growth and achieving the objectives of the AU Agenda 2063 and the United Nations (UN) Sustainable Development Goals (SDGs). Besides peace and security and the global pandemic, African leaders also deliberated on democracy, human rights, climate change, and food security.
Notable deliberations and decisions emerged from the Summit. Leadership changes occurred in the top echelons of the institution. Senegal's president Macky Sall was elected as the new chairperson of the AU, succeeding President Felix Tshisekedi of the Democratic Republic of Congo (DRC). Sall's bureau includes the DRC, Libya, Angola. At the time of writing, deliberations for the First Vice Chair of the Union was still under consultation. South Africa's Cyril Ramaphosa's tenure as APRM chairperson also ended with Nigerian President Muhammadu Buhari succeeding him.
Other notable elections and appointments include filling the 15 vacant seats on the Peace and Security Council (PSC). The new members of the PSC are Tanzania and Uganda (Eastern Region), Morocco and Tunisia (Northern Region), Cameroon, Burundi, and Congo (Central Region), Nigeria, Ghana, the Gambia and Senegal (Western Region), and Namibia, South Africa, and Zimbabwe (Southern Region).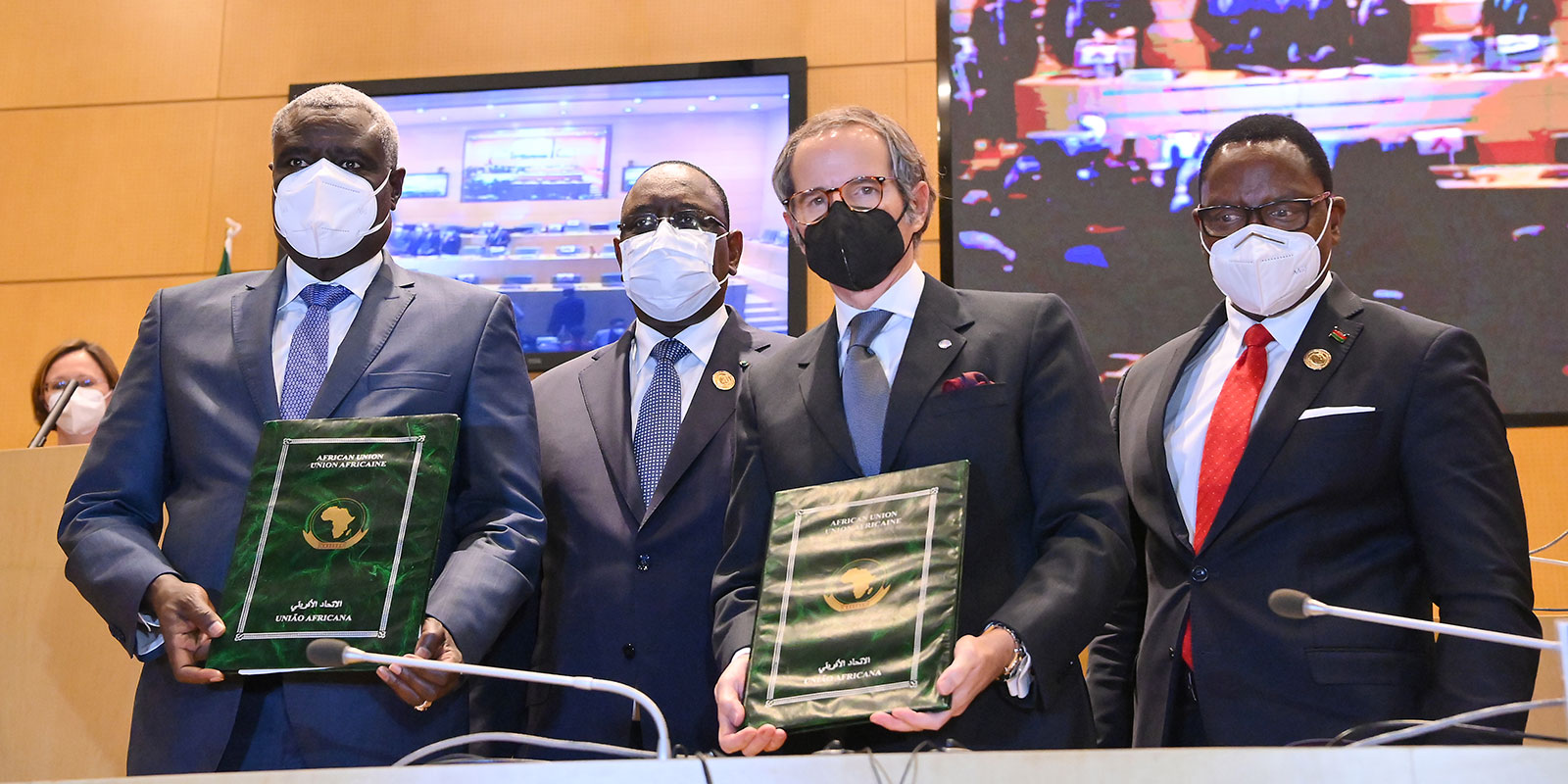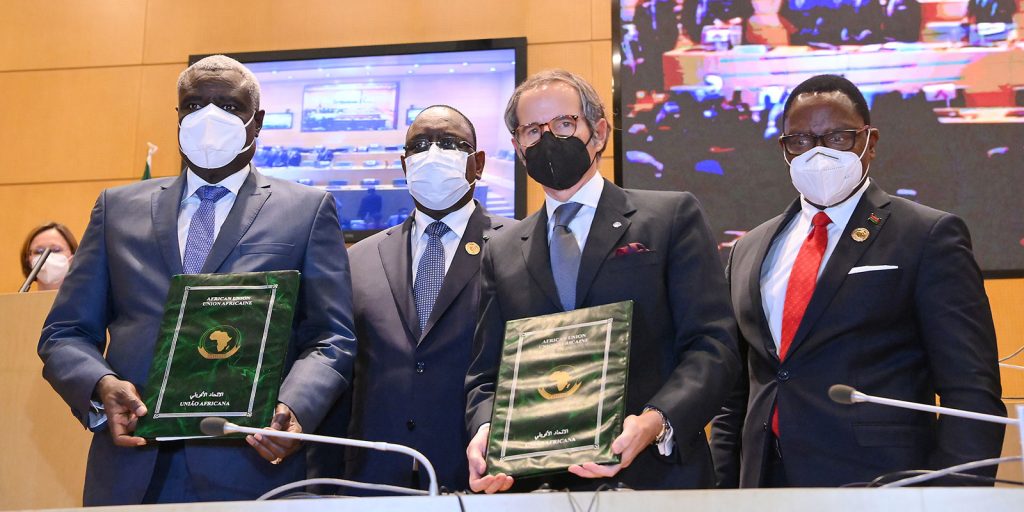 Besides progress reports on key agenda items, the controversial decision in 2021 to grant Israel AU observer status caused contestation again. Algeria and South Africa lobbied to revoke AU Commissioner Chair Moussa Faki Mahamat's decision to grant Israel observer status. Mahamat gave a lengthy explanation of his decision. This, however, did not convince members who decided to postpone a decision on Israel's status to 2023. A committeeconsisting of Algeria, South Africa, Senegal, Cameroon, the DRC, Rwanda and Nigeria will prepare recommendations to the AU in due course.
Given the spate of coups and attempted coups, a PSC meeting held on 31 January reiterated the AU's total rejection and condemnation of unconstitutional changes of government and called for 'free, fair and credible elections and collective commitment of Member States to democracy, rule of law and good governance'.
Continental leaders decided on a very ambitious agenda for the next year, designated as the Year of Nutrition, with the theme "Strengthening Resilience in Nutrition and Food Security on the African Continent: Strengthening Agro-Food Systems, Health and Social Protection Systems for the Acceleration of the Human, Social and Economic Development".
Two other perennial matters also resurfaced. Speaking prior to the address of UN Secretary General António Guterres, the Ethiopian Prime Minister Abiy Ahmed articulated African aspirations regarding UN reform and representation, calling for two permanent and five non-permanent seats on the Security Council, rather than its current non-permanent presentation with 3 African seats.
Undoubtedly, Sall's leadership of the AU and the continent will be tested. Speaking at his inauguration, Sall reminded his peers of their numerous challenges, including terrorism, environmental protection, health, economic and social development and coups d' etats which he described as 'a major attack on democracy and institutional stability on the continent'.Finally, the AU's restructuring and internal adjustments are continuing and will determine, to some extent, the realisation of recent AU decisions. The AU has approved a budget of USD$651,110,573 for 2022. This may not be sufficient to improve AU bureaucratic processes. A major effort by AU Commissioner Faki Mahamat, his commissioners and the AU bureaucracy is required to achieve this. Moreover, not all member states are in a position to pay their membership fees and the institution is still heavily reliant on donors.
Prof Jo-Ansie van Wyk is attached to the Dept of Political Sciences, University of South Africa, Pretoria, South Africa.