The United Nations Organisation Stabilisation Mission in the Democratic Republic of the Congo (MONUSCO) is a victim of the deteriorating image of a weak international community and the perception of less relevant United Nations Peace Operations in Africa. In recent times, the United Nations (UN) peacekeeping operations have been portrayed as selling an illusion of peace rather than imposing it. This illusion of peace by the international community through MONUSCO has rendered inert Congolese local indigenous communities and forces, who, by essence and nature, are equipped with arsenals for stability and change.
Would a transition from a UN peacekeeping mission to an African Union-led peace operation be a better option for the #DRC? #MONUSCO @DrYvanYenda

Tweet
Unfortunately, these local forces are confined and blinded by the ideology of an imported peace instead of creating and establishing it from within. Fixing MONUSCO would mean resetting the entire UN Peacekeeping system, which faces criticism of underperformance in hot spot areas such as Mali, the Central African Republic, and the Democratic Republic of Congo (DRC).
What happens to the DRC?
Years of conflicts and violence have orchestrated a chorus that portrays the DRC as a weak country and its people as those in need of external assistance. This internationally formalised bias is exemplified when mechanisms for peace and security for the DRC are discussed. The lack of human agency that characterises the relationship of Congolese actors and their perception as passive participants, in both the humanitarian and security worlds, undermines any legitimate act of support that comes from the international community. Hence, for the past few years, Congolese citizens, mainly the youth, have decided to rewrite their local and country narratives through advocacy and actions. The current resistance against MONUSCO's model of peacekeeping are in line with efforts to rewrite their history and regain their agencies and the many voices long silenced.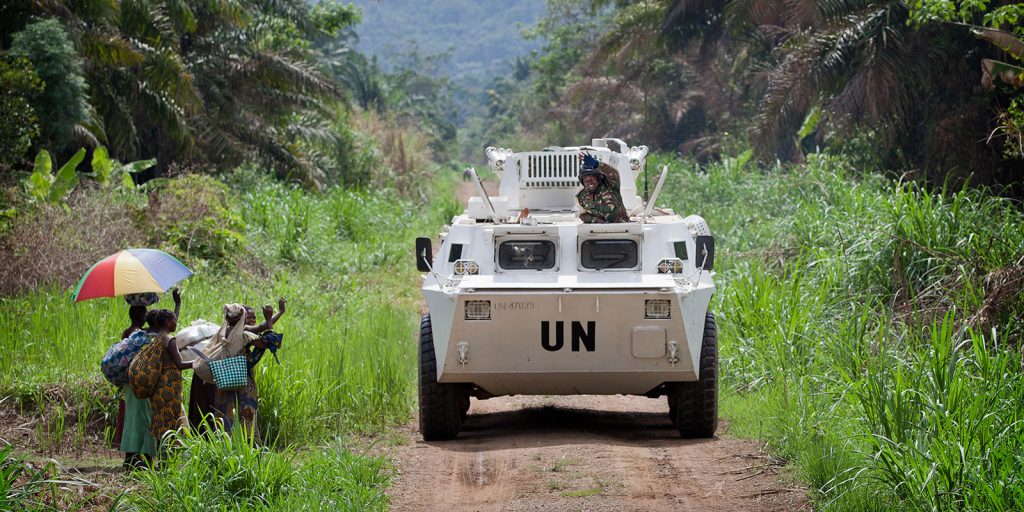 Why resist MONUSCO, a partner?
The public resentment and protests against MONUSCO and the recent violence that has accompanied the protests can be linked frustration with MONUSCO's inability to fight the M23 armed group and the killing of Congolese civilians by MONUSCO forces. Three key considerations have nurtured this frustration: the absence of a robust mandate, MONUSCO being seen as an enabler of balkanisation, and the weak protection of civilians.
MONUSCO operates in a context where traditional peacekeeping mandates that focus on stabilisation and negotiation do not work. The DRC faces multiple armed groups and increased massacres, including in zones where MONUSCO operates. Hence, the continuous renewal of weak mandates does not meet the expectations of local communities who see the United Nations Security Council as insensitive.
MONUSCO is additionally viewed an enabler of balkanisation. Balkanisation is a word that one would find within both Congolese political and civilian spaces. Congolese citizens consider MONUSCO an enabler of balkanisation because it lacks an offensive mandate, except for the Force Intervention Brigade (FIB). Such a mandate would be essential in the fight against armed forces such as the M23. Whether this is in MONUSCO's mandate or not, local communities have higher expectations of MONUSCO to protect the Congolese territorial integrity, which MONUSCO is not empowered to do, and its support to the Congolese army has yet to bring satisfaction.
When it comes to the protection of civilians, MONUSCO missed the opportunity to maintain its credibility. In addition to the lack of civilian protection in the ongoing massacres by armed groups, the shooting of Congolese civilians in recent anti-MONUSCO protests by peacekeepers has further tarnished the mission's image.
While MONUSCO is exposed to this resistance now, it is essential to mention that such protests could be against any entity that fails to provide security and peace, including the DRC government. This should also serve as a message to the East African Community deploying forces in the DRC to combat armed groups. The trend of local accountability is growing, and troops are unlikely to avoid the criticism of local communities if their operations are effective.
The #DRC situation offers the international community the opportunity to recalibrate and innovate its peacekeeping model #MONUSCO @DrYvanYenda

Tweet
What should be done next?
The plan for MONUSCO's exit should continue to be carried through. However, the current security and political situation does demonstrate that the DRC government does not yet have the means and ability to take over from MONUSCO. A quick exit would create a security vacuum detrimental to the DRC and the region. And an extended stay of MONUSCO, in its current configuration, will only delay the implementation of effective security strategies and peacebuilding mechanisms. A transition from UN peacekeeping forces to African Union-led peace operations should be envisioned as a way forward. This would help maintain a sense of the credibility of peace operations. It will also provide a more robust mandate to tackle armed groups, as in Somalia. Creating a 'Multi-Regional Integrated Framework for Sustaining Peace in the DRC' (MRIFSP) could be an option.
Saving lives, saving credibility
It is not too late to get back into the business of protecting civilians, saving lives, rebuilding institutional credibility, and neutralising negative armed forces. The DRC situation offers the international community the opportunity to recalibrate and innovate its peacekeeping model. Peacekeeping would be seen to be effective if it met the people's needs. The future of peace operations is connected to local narratives, local expectations, local perceptions, and local satisfaction. The protests against MONUSCO in the DRC are clear signals of what is expected from the UN. Two choices are ahead: We either innovate or remain storytellers with nothing to prove in protecting civilians and peacebuilding.
Dr Yvan Yenda Ilunga is an Assistant Professor of Political Science and International Relations at Salve Regina University (USA), and serves as Deputy Director for the Joint Civil-Military Interaction (JCMI) Research and Education Network. He Tweets at @DrYvanYenda.