In this week's Monitor, Madame Bineta Diop, Special Envoy of the Chairperson of the African Union Commission on Women, Peace and Security, considers the impact of COVID-19 on the women, peace and security agenda in Africa. She calls for a fundamental shift in our agenda for peace and transformation, and for our actions to be anchored on three critical pillars: women's leadership, investments in social infrastructures for human security, and solid accountability.
We also focus on the impact of and responses to COVID-19 in two countries: Kenya and South Sudan. In Kenya, the measures introduced to contain the virus are having a serious impact on the socio-economic well-being of the people, especially those dependent on daily wages and the informal economy. If left unaddressed, this could lead to more social unrest.
In South Sudan, measures to prevent the spread of COVID-19 are starting to impact on the successful implementation of the peace agreement. Compounded by earlier delays and a rise in intercommunal conflict, these further delays are adding additional pressure to an already vulnerable situation.
Lastly, ACCORD's Professor Martin Rupiya sheds light on how COVID-19 is affecting the elderly. He points out that the elderly is the age demographic that is most vulnerable to succumb to COVID-19, and calls on governments to consider how their COVID-19 policies and measures are affecting the elderly.
Billy Mutai/Anadolu Agency via Getty Images
Domestic & Gender-Based Violence
The impact of the COVID-19 pandemic on the women, peace and security agenda in Africa – Bineta Diop
The world continues to battle the COVID-19 pandemic. Four months after the first case in Africa, it is clear that what started as a health crisis has turned into a socio-economic and societal crisis that is threatening the livelihood of millions on the continent.
While knowledge on the virus is evolving and responses continue to be a "work in progress", the disease has revealed and widened gaps in social systems, with a disproportionate impact on women and girls. 
Women-led organisations that are dealing with peace, security and development are playing a key role in developing policies, strategies and guidelines for gender-responsive actions to prevent and combat COVID-19, and in post-COVID-19 recovery.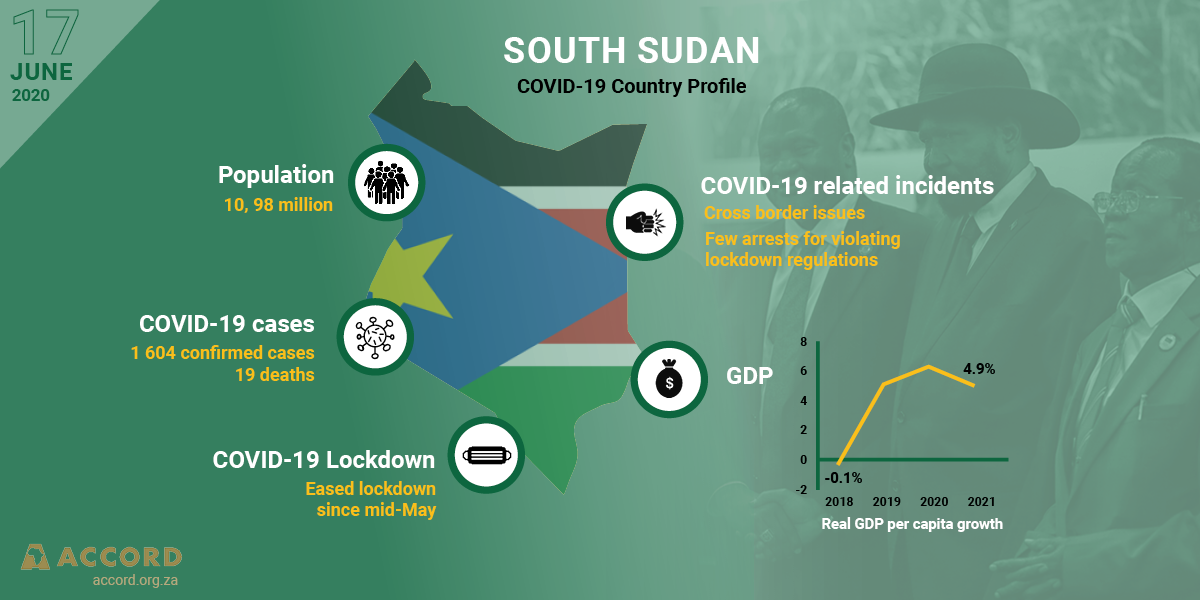 Political unrest or violence
The impact of COVID-19 on stability and the peace process in South Sudan – Neyma Mildred Mahomed Ali
The spread of COVID-19 in South Sudan has had a negative impact on the implementation of the peace process and has placed further stress on an already dire humanitarian situation. The first confirmed case of COVID-19 was recorded on 5 April 2020. Two months later, there are 1 604 confirmed cases, with 15 recovered and 19 deaths. 
Although the overall number of confirmed cases is still relatively low, the spread of COVID-19 in South Sudan is raising concerns because of limited public health facilities, an already dire humanitarian situation, an increase in communal clashes and a fragile peace process. On the other hand, a youthful population and limited movement inside the country due to poor infrastructure may slow down and limit the spread of the disease. The city of Juba and other areas where people are living in close proximity, such as the POC sites administered by the UN, are high-risk areas that require heightened quarantine measures.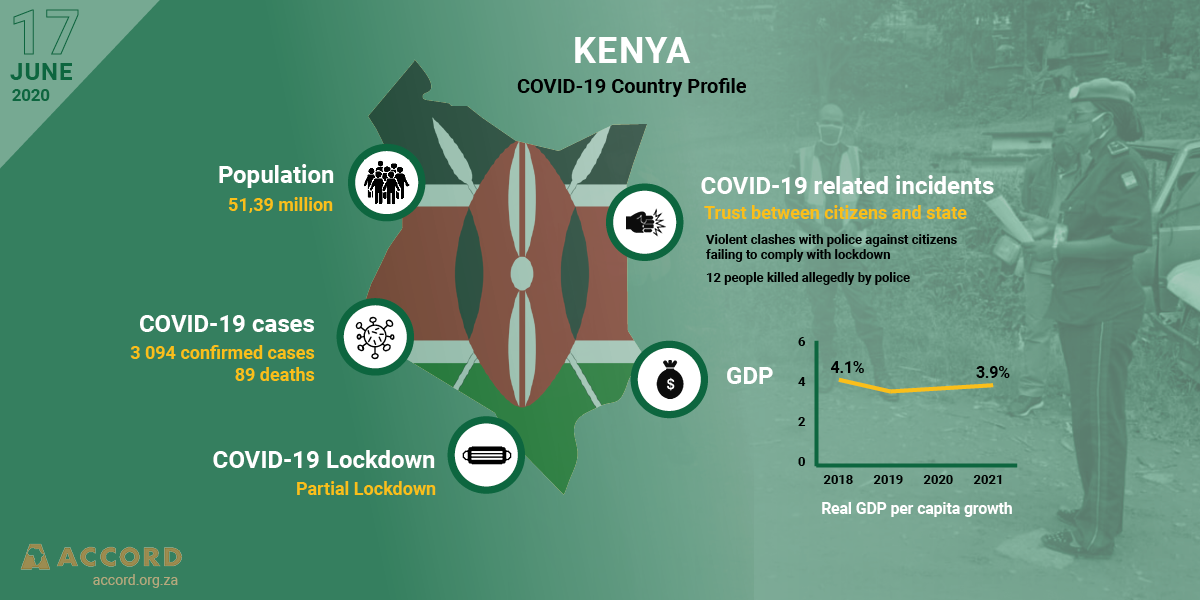 The impact of COVID-19 on on citizens, state and society relations in Kenya – Elias Opongo
Kenya, like many countries around the world, is undergoing huge political and societal changes as a result of the coronavirus outbreak. The immediate response to this crisis in Kenya was to close down educational and religious institutions and other social places to avoid large gatherings of people, while most employers have resorted to their employees working remotely. This article reflects on the conflict and resilience-related incidents and trends emerging out of Kenya due to COVID-19-related measures, by specifically highlighting issues of livelihoods, the economic impact of COVID-19 on gender-based violence, human rights and social unrest.
Financial hardship due to restrictions on movement and the curfew have affected the livelihoods of many, especially those working in the informal sector. If left unaddressed, this could be a tinder box waiting to be lit – especially for Nairobi, which is still under lockdown. So far, many poor Kenyans have found ways of surviving through small businesses and loans, but the situation is dire. The government has also eased the curfew hours to start at 9pm instead of 7pm, allowing people to work a little longer to support their livelihoods.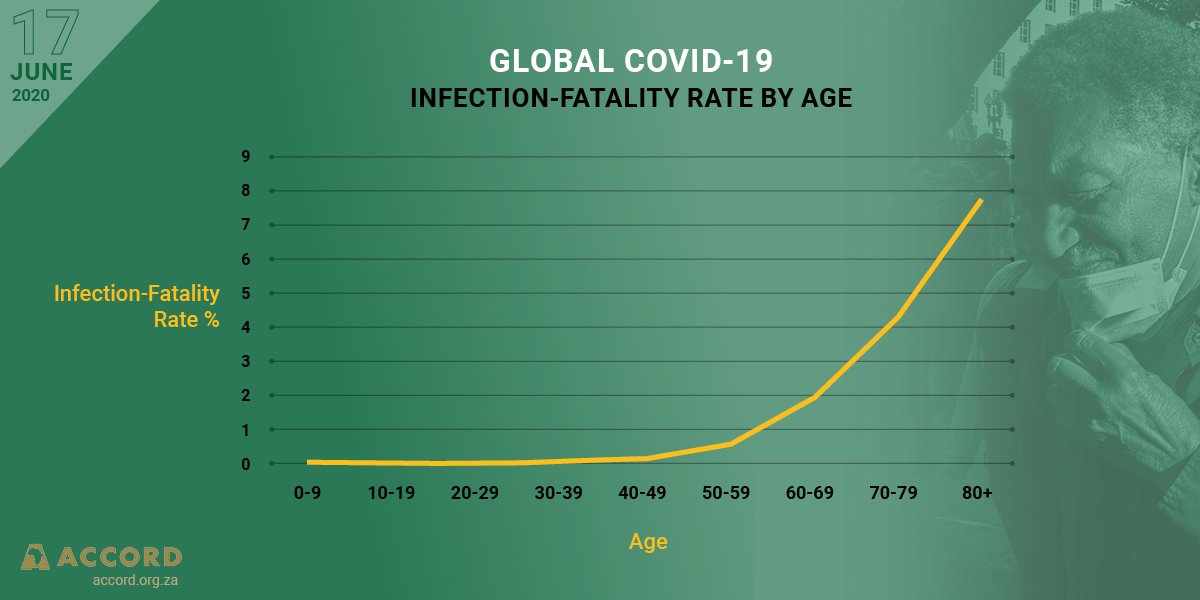 Trust between citizens & institutions
The impact of the COVID-19 pandemic on the elderly in Africa – Martin R. Rupiya
It is now clear that the elderly is the age demographic most vulnerable to COVID-19. It is estimated that the disease kills 13.4% of patients aged 80 and older, 8.6% of those in their 70s, 4% in their 60s and 1.25% of those in their 50s. However, this data comes primarily from developed countries with resilient healthcare systems. In less-developed countries, which have shorter life expectancies, high levels of pre-existing conditions known to worsen outcomes and generally weaker healthcare systems, mortality is likely to rise earlier.
It is thus important that the governments and agencies responsible for designing measures to prevent the spread of COVID-19 take into consideration the impact of these policies on the elderly and honour their commitment to Agenda 2030 for Sustainable Development, which commits us all to Leave No One Behind.
Patrick Meinhardt/Bloomberg via Getty Images