On Saturday, 25 August 2007, the recipient of the 2007 Mahatma Gandhi International Award for Reconciliation and Peace, Ms Immaculée Ilibagiza, visited ACCORD House. Immaculée is the author of a book entitled 'Left to Tell: Discovering God amidst the Rwandan Holocaust'.
She is presently employed at the UNDP offices in New York. Immaculée was born in Rwanda and studied Electronic and Mechanical Engineering at the National University of Rwanda. Her life transformed dramatically in 1994 during the Rwanda genocide when she and seven other women huddled silently together in a cramped bathroom of a local pastor's house for 91 days! During this horrific ordeal, Immaculée lost most of her family, but she survived to share the story, and tell about her miraculous transition into forgiveness and a profound relationship with God. Four years later, she emigrated from Rwanda to the United States and began working for the United Nations in New York City. She has since established the Left to Tell Charitable Fund to help others heal from the long-term effects of genocide and war.
Immaculée received the Award at a gala function held at the Durban City Hall on the evening of the 23rd of August 2007. The Founder and Executive Director of ACCORD, Vasu Gounden, is one of the Trustees of the Gandhi Development Trust, along with Ela Gandhi, the Granddaughter of Mahatma Gandhi. In was in this capacity that Mr. Gounden played a role on the evening of the Award ceremony.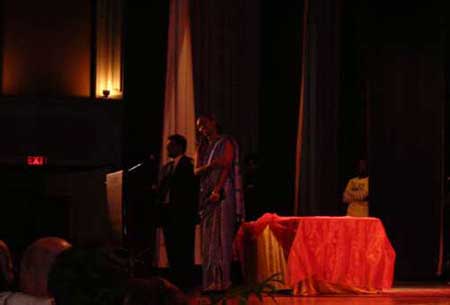 ACCORD has worked extensively in the Great Lakes Region, and in 2003 opened its first country office in Burundi. ACCORD Staff therefore enjoyed engaging with Immaculée to discuss her first hand account of her experience of the genocide that took place in Rwanda. In May 2007 ACCORD, in collaboration with the International Senior Lawyers Project (ISLP), based in Wasgington, D.C, conducted a Trade Negotiations training course in Rwanda for government officials and representatives from the private sector and civil society who are involved in trade negotiations. The overall aim of the project is to enhance the capacity of southern African states to engage comparatively in international trade negotiation platforms.