On Sunday, 20 April 2008 the 4th Annual Mahatma Gandhi Salt March was held in Durban. The Founder and Executive Director of ACCORD, Vasu Gounden, who is a Trustee of the Gandhi Development Trust, was the director of programmes for the event held after the march at Battery Beach, while Hayden Allen (General Manager: Corporate Affairs, ACCORD) coordinated the programme for the event.
The 22km march began at the Phoenix Settlement in Inanda and ended at Battery Beach in Durban, where Gandhi's ashes were immersed into the sea.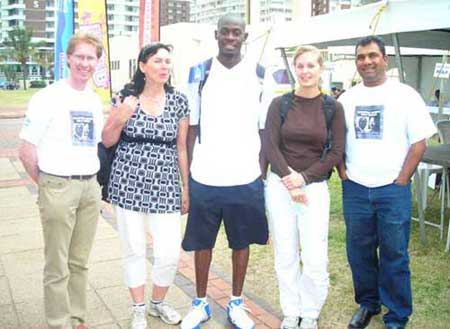 Eva Ostbye from the Norwegian Development Fund, who is spending three weeks at ACCORD, Zinurine Alghali, a Programme Officer at ACCORD, and Ivonne Vliek, an ACCORD intern from The Netherlands, participated in the march, walking 12 out of the 22km and braving the rain, which left all the walkers quite drenched.
The Salt March is a re-enactment of the original Salt March that took place in India on 6 April 1930. The march was organized by Gandhi and was regarded as his biggest and most powerful defiance campaign. The primary objective of the Dandi march was to achieve full independence of India. Gandhi mobilized hundreds of people from all over India and marched 241 miles in 24 days from the Sabarmati Ashram in Ahmedabad to the tiny seaside village of Dandi and defied the tax on salt by making their own salt.
This year's Salt March also commemorated, among others, the following historic anniversaries: the 50th anniversary of the Potato Boycott, which drew attention to the repressive working and living conditions of farm labourers; the 60th anniversary of the formation of the ANC Woman's league; and the 90th birthday of former President Nelson Mandela.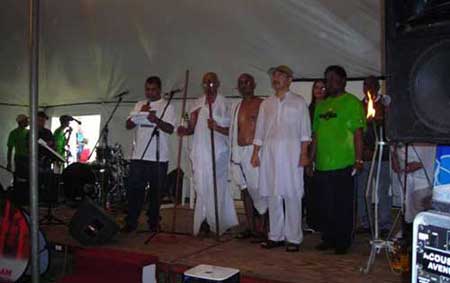 Vasu Gounden composed the following pledge which was read out by Ela Gandhi as part of the programme of events:
"War and violence continue to destroy the lives of millions of people in the world and relegate billions of others to a life of poverty. Greed and exploitation is destroying the environment and our planets precious resources.
We have walked today from the home of Mahatma Gandhi to the site where his ashes were scattered to pledge our solidarity with the millions who have died and the billions who are living a life of poverty and to rededicate ourselves to the moral, and spiritual philosophy of Mahatma Gandhi and to continue Gandhi's passive resistance by pledging to build a global movement for resistance against war, violence, greed and exploitation.
We therefore pledge to continue this Mahatma Gandhi Salt March until we have achieved a world free from war and violence, greed and exploitation".