ACCORD is honoured to have contributed to the publication of a book celebrating the remarkable public life of Dr Salim Ahmed Salim which includes service as the United Republic of Tanzania's youngest ambassador, to his three terms as Secretary-General of the Organisation of African Unity and subsequent Chairperson of the African Union Panel of the Wise.
ACCORD's Founder and Executive Director Vasu Gounden joined associates and friends of Dr Salim at a launch of the book in Dar Es Salaam, Tanzania on 21 January 2016. Dr Salim was in attendance and as part of the programme contributed a series of personal anecdotes illustrating his life.
Dr Salim's unswerving commitment and service over decades to Africa and her peoples is cherished by many. This publication seeks to highlight the many roles he has held and the significant contributions made. Published by the Institute for Security Studies (ISS), the book is the result of a fruitful collaboration by different institutions and authors, with Dr Jakkie Cilliers, Chairperson of the ISS Board of Trustees as editor. Funding was provided by the African Union (AU), ACCORD, the Centre for Humanitarian Dialogue, the Institute for Security Studies, the Mwalimu Nyerere Foundation and members of the ISS Partnership Forum.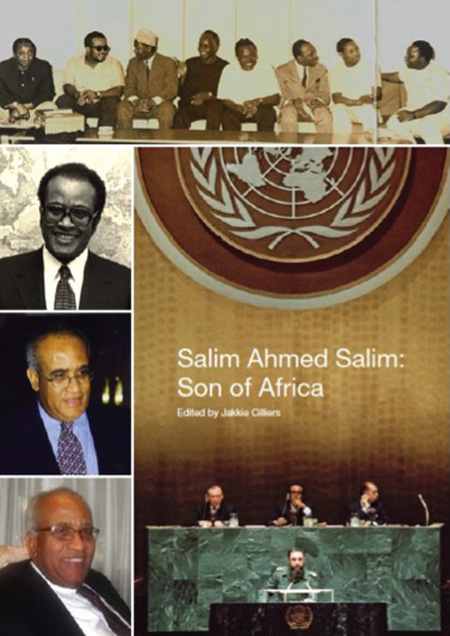 With a foreword by Dr Nkosazana Dlamini Zuma, Chairperson of the African Union Commission, the book's chapters explore Dr Salim's contribution towards Africa's liberation struggles (authored by Vasu Gounden and Daniel Forti for ACCORD), his early life and career as Tanzanian civil servant, and his service at the UN and at the Organisation of African Unity and concludes with remarks by Dr Salim captured at the AU's 2 December 2014 Seminar held to celebrate of his life and leadership as an African statesman.
An electronic copy of the book may be downloaded from the ISS website here. Print copies of the book may be obtained from ACCORD by writing to Wendy Coleman at ACCORD's Resource Centre at wendy@accord.org.za.
A poem about Dr Salim Salim, by Vasu Gounden, Founder & Executive Director of ACCORD. Written on the occasion of the seminar "Salim: Wise Man, Freedom Fighter and Defender of Peace and Justice, Addis Ababa", 2 December 2014.