ACCORD attended the 11th AU High Level Retreat on the Promotion of Peace, Security and Stability in Africa with 'The Future of Mediation in Africa: Towards Silencing the Guns- Lessons and Opportunities from the COVID-19 Pandemic' as the theme. The virtual retreat was held from 10 – 11 December 2020, and was attended by AU Special Envoys and High Representatives, including Representatives of the United Nations (UN) Secretary General, the European Union (EU); representatives of the Regional Economic Communities (RECs) and Regional Mechanisms (RMs), academia, civil society organisations and mediation experts, amongst others.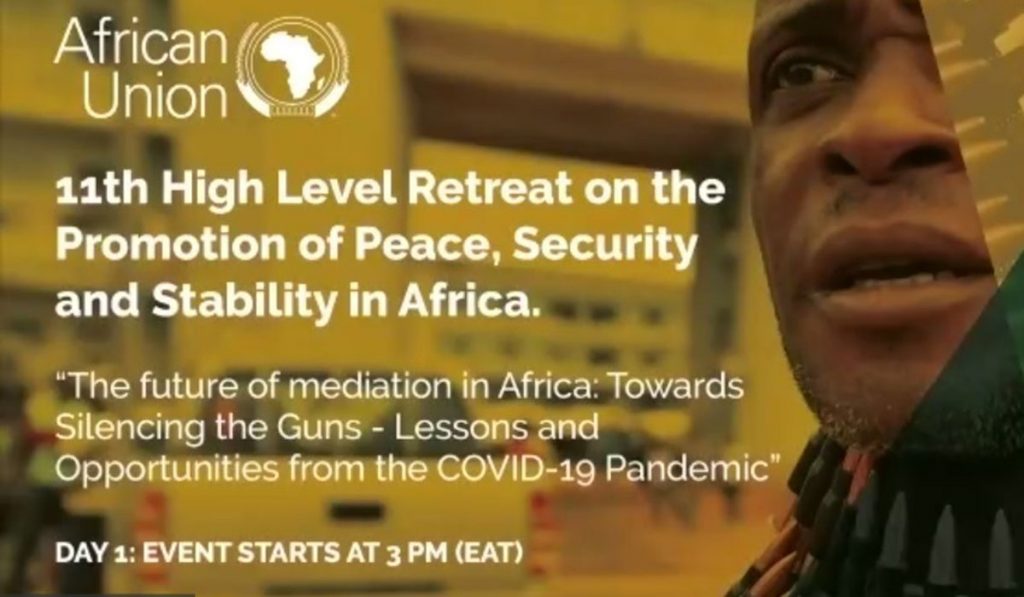 The retreat aimed at taking stock of the impact of the coronavirus pandemic and its implications on peace and security in Africa. The discussions outlined that the consequences of the virus had serious implications on the socio-economic and political challenges in many African countries. This included children not being able to attend school, food insecurities and shrinking revenues; all of which impact peace and security on the continent. Relevant points were also raised on the impact of the virus on the political landscape, particularly its implications on counter-terrorism; as well as constitutionalism and the rule of law.
Discussants placed emphasis on the role of women in peace processes; and the considerations of further support needed by women to ensure their effective participation in mediation processes. The discussions turned to the innovations in the field, and best practices in order to determine the ways in which the AU and its counterparts can respond to the peace and security challenges within the context of the pandemic.
Key takeaways of the retreat included: the need for collaboration and cohesion to address transnational challenges; the need to empower local and indigenous mediation initiatives to prevent and mediate community based violence; the need to invest in technological and social innovations, and prevent the spread of COVID-19; and the need to invest in women and youth in order to address the root causes of conflict, and which has to be included in policy implementation.
ACCORD's continued support to the AU is in line with the objectives of the organisation on strengthening the capacity of institutions that work to achieve sustainable peace on the African continent. Thus, ACCORD will continue to provide the substantive and technical support towards strengthening the capacities of the AU.