The Durban University of Technology (DUT), International Centre for Non-Violence (ICON) and the African Centre for the Construction of Disputes (ACCORD) have partnered to hold a programme for leadership development called The Durban Leadership Initiative. The programme is currently in its 5th year and is comprised of three inter-related aspects – theory of leadership with attendant readings, interactive sessions and community projects.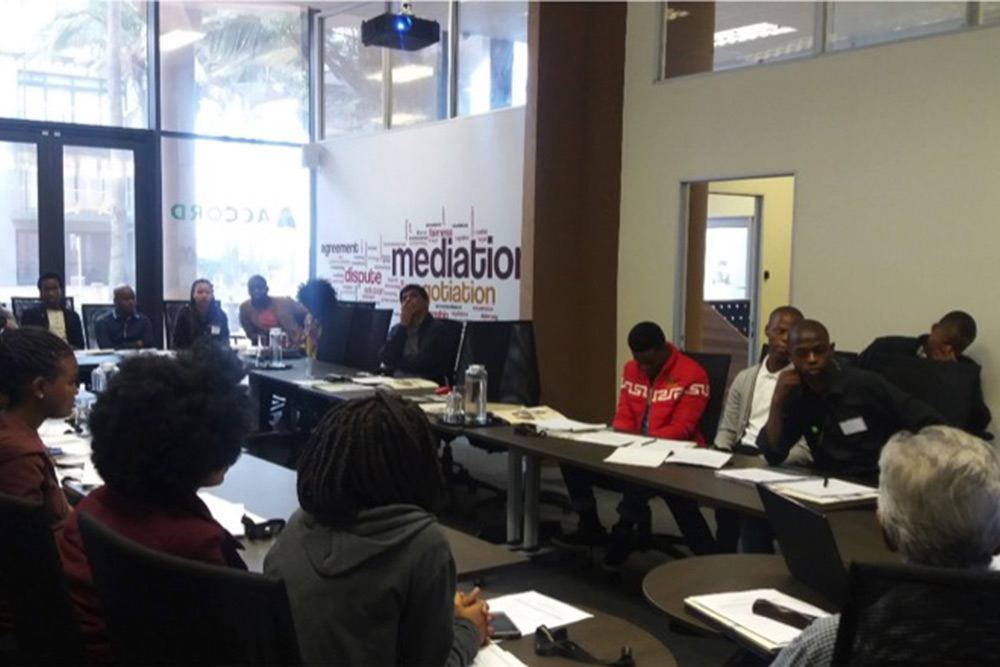 The programme is open to students from the various institutions of higher learning in Durban, South Africa. It is aimed at responding to the increasing challenges that young citizens encounter, on campus and elsewhere. In an effort to contribute towards eliminating and responding towards social challenges, the programme is implemented to impart knowledge and skills, particularly for young people to encourage sustainable development. The program aims to nurture and instil a spirit of service. In so doing, the Initiative emphasizes dialogue across youth in various contexts in terms of gender, race, age, and nationality.
ACCORD as an implementing partner hosted a session titled "Youth, Peace and Security" on the 15th of September 2017, Durban South Africa. This session was facilitated by Miss Sibusisiwe Nkosi: Programme Officer/Peacekeeping Unit, Ms Nontobeko Zondi: Programme Officer/Peacebuilding Unit and Miss Nonjabulo Mazibuko: Research Intern/Operations. This session intended to give the participants better insight into the roles which are played by young people from different conflict contexts across the African continent when it comes to peace and security and leadership.
The session gave the participants the opportunity to discuss and learn about the peace and security challenges faced by young people across the African continent and how young African leaders in these conflict situations have addressed their peace and security challenges. It then further highlighted the lessons which can be learnt from these young leaders and how they deal and have dealt with their situations. The day was ended off with a practical negotiation exercise, which helped the participants practice their negotiation skills and also appreciate the complexities of negotiation in any conflict situation.
The session is in line with ACCORD's strategic goals Pillar 4, which speaks to "increased role of youth in peace processes."