Since October, ACCORD, in partnership with the African Union and Sida, has contributed to the facilitation of the FemWise-Africa Capacity Building Initiative. The initiative, which has been carried out through blended virtual trainings and knowledge sharing sessions, has been designed to realise the objectives of the FemWise-Africa network to address the barriers to women's role in the peace process. With 2020 marking the 25th year of the Beijing Platform for Action and the 20th anniversary of the United Nations Security Council Resolution 1325 (UNSCR 1325), the birth of this capacity building initiative has allowed for an opportunity to reflect and celebrate what has been done and evaluate the problems that still exist.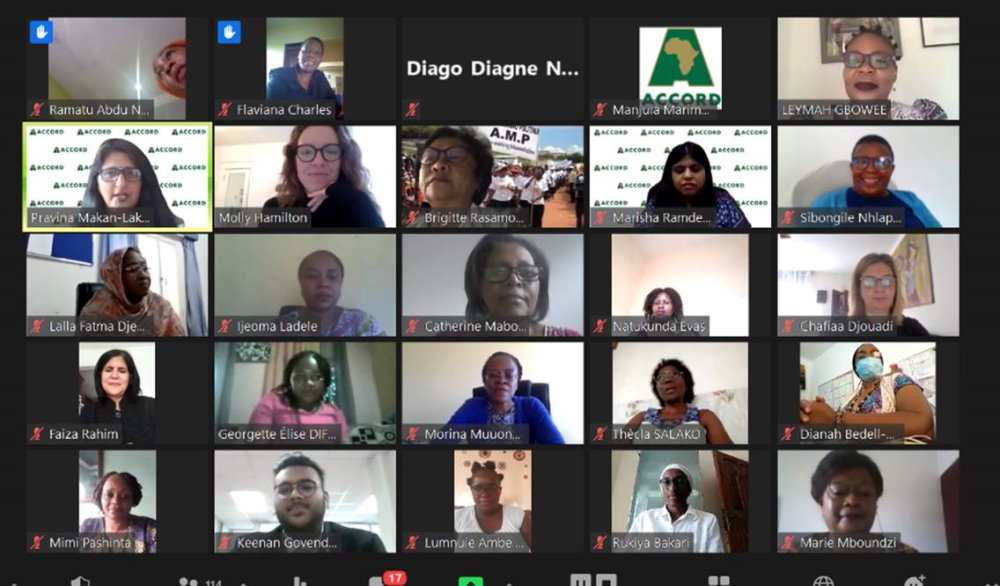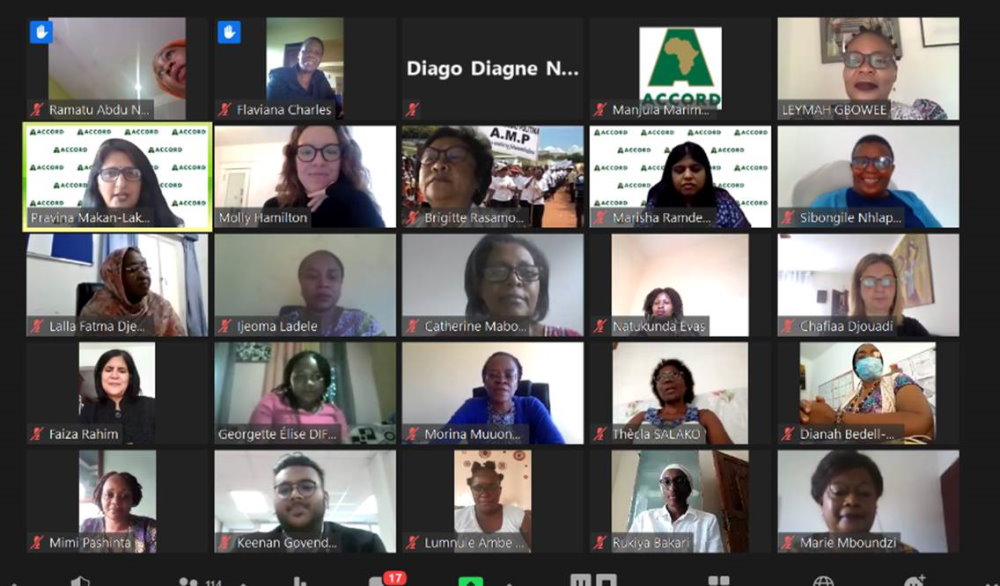 The knowledge sharing sessions have been a critical component of the broader FemWise-Africa Capacity Building Initiative. The objective of these sessions has been for participants to listen, learn from and engage in the exchange of knowledge through the lived experiences of African peacebuilders and mediators. These sessions have not only created a platform for dialogue but have also been a catalyst of support and motivation to women peacebuilders across all levels including at the grassroots level, especially during the context of the COVID-19 pandemic. Experts who have been part of the previous knowledge sharing sessions include Ms Alice Nderitu, who is an experienced conflict analyst and mediator. She was one of three mediators, and the only woman, in a process resulting in a peace agreement signed by 10 ethnic communities in Nakuru, Kenya. Alice was able to share with the FemWise-Africa Members her experience of mediation at the local level and imparted useful tools, such as her "Tea Diplomacy, which Ms Nderitu uses to help set the stage for the mediation she is about to conduct*
Ambassador Said Djinnit, who previously served as Special Envoy of the United Nations (UN) Secretary-General for the Great Lakes Region of Africa, provided insights from working with Intergovernmental and governmental structures.
In the third knowledge sharing session, titled "The Power of the Collective: Insights and Experiences for Local Peacebuilding" conflict prevention and mediation members across the continent heard from the 2011 Noble Peace Laureate, Leymah Gbowee. In a conversation facilitated by Ms. Pravina Makan-Lakha, ACCORD's Adviser on Women Peace and Security, Ms Gbowee unravelled her journey as a seasoned peace and women right's activist. Throughout the session, she stressed the importance of having a sense of purpose, drive and tenacity when working in the field. Her session left many participants feeling empowered to stand up and claim their power to turn the world around. This was particularly important because the COVID-19 pandemic, along with the socialised image of women and their role in society, have continued to pose great challenges for women in peacebuilding. However, Leymah urged participants to view COVID-19 as a shining light that has forced everyone to work the same and thus, has created a platform for all to come together and work as a collective.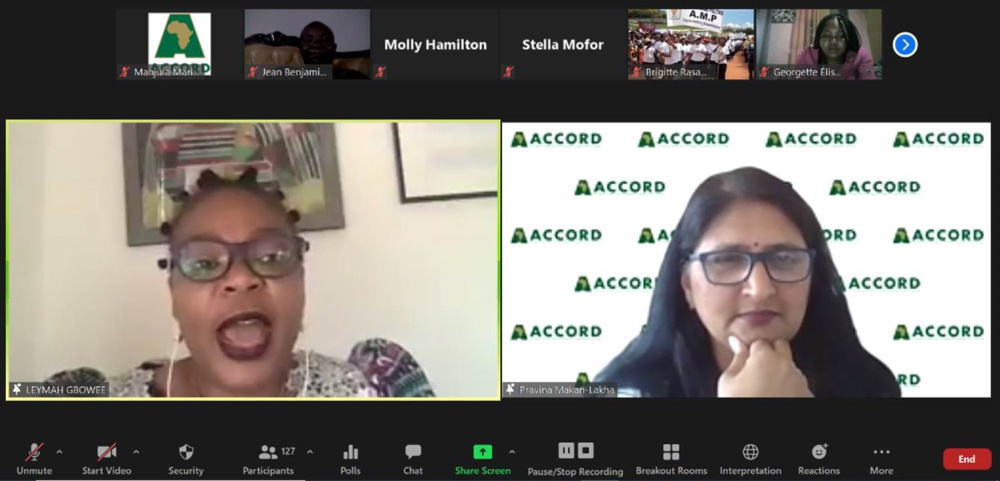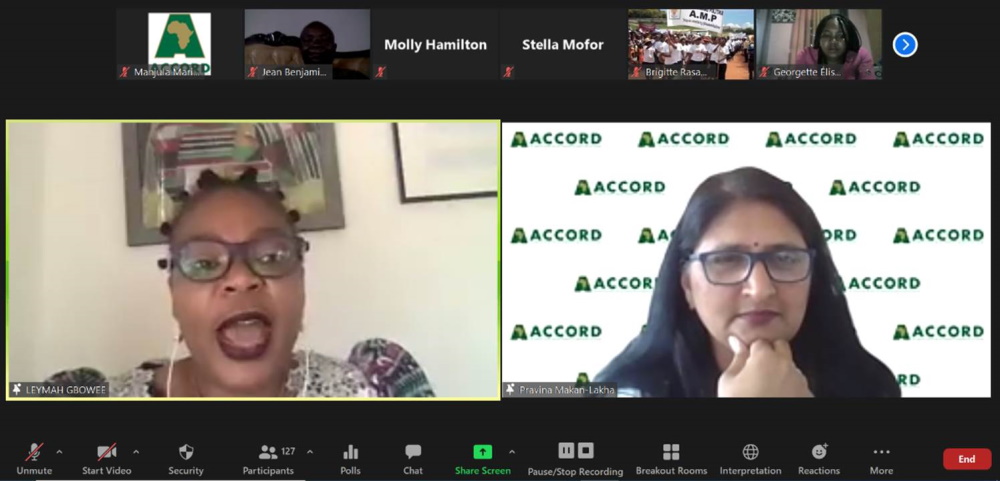 Ms Gbowee also reiterated the importance of leadership. In her journey of bringing together Christian and Muslim women in a quest to fight for peace in Liberia, she had to take the time to understand and prioritise each denomination separately before uniting them. Her ability to insert herself and understand the different contexts of each group contributed to her success in unifying them. Through her understanding, she was able to show both groups of women that they are more alike in their struggles, than they are apart. Thus, through this testimonial, Ms Gbowee advised that network leaders cannot be far removed from understanding the reality of their members. In a space where leadership has often been attributed to one's position or who they are, Leymah's story showed that leadership in peacebuilding should be a process that involves interacting and understanding the different contexts of those in a given network. Once there is a common understanding, the process of collective peacebuilding becomes easier and ensures that everyone is working towards the same, purposeful goal.
For Ms Gbowee when asked what three key lessons she deemed as important to women and young women peacebuilders at the grassroots level. She highlighted the following:
Never despise humble beginnings, it is important to always start small.
Ideas bring money, money does not bring ideas.
In a moment of crisis, when you don't know what to say, don't say anything. Your silence can never be quoted or misquoted.
Find time to have fun and continuously declutter your mind from everything negative going on around you. Don't be a dripping sponge, squeeze everything out and renew your mind regularly.
Ms Leymah Gbowee left all participants with an ignited spirit to enhance their capabilities as peacebuilders and take up space in peace processes at all levels. ACCORD is grateful to Ms Gbowee for joining the Knowledge Sharing Platform and to bring her real-life experiences in peacebuilding, the barriers women face, the strategies that were used, the failures that were encountered, the power of purpose of collectives to offer practical insights as we strengthen the capacities of conflict prevention and mediation networks across Africa. Over the next few weeks, we will continue hosting more sessions that will promote and support the meaningful engagement and participation of women in peace and mediation efforts.
*Follow our Twitter and Facebook accounts to stay updated on all the information around the upcoming sessions.