ACCORD recently joined the United Nations (UN) to celebrate the 10th anniversary of UN Security Council Resolution 1325 (UNSCR 1325) on women in peace and security. The event provided an opportune moment for the promotion of the Durban Statement arising from the High Level Seminar on 'UNSCR 1325 in 2020: Looking Forward… Looking Back' hosted by ACCORD from 8-9 October 2010.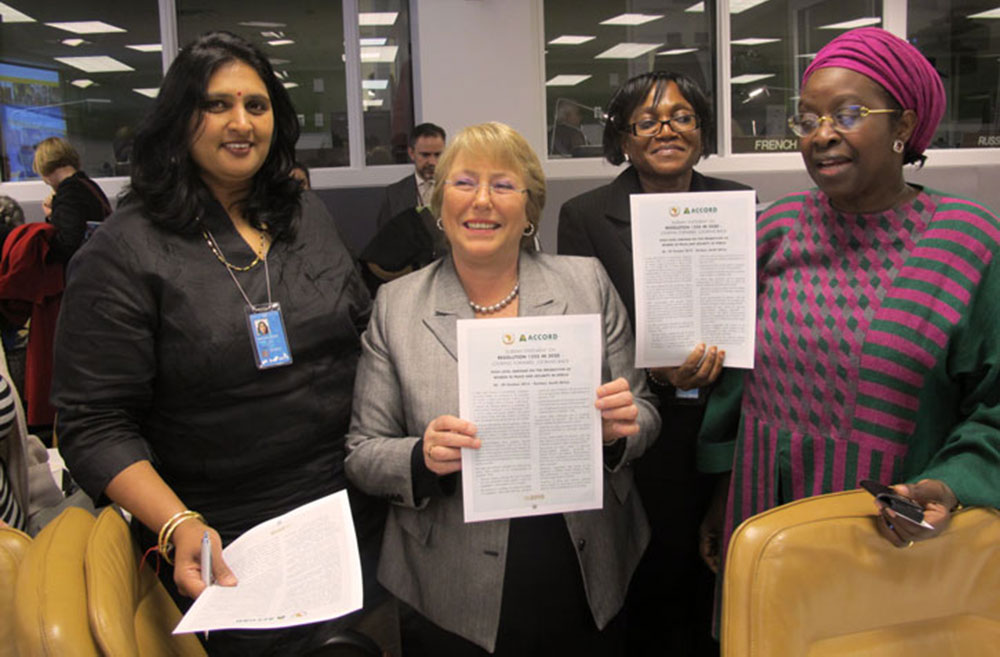 The Durban statement outlines the key factors that impede the full implementation of Resolution 1325 and further addresses the challenges and the means to accelerate the implementation of the Resolution. The seminar has been a positive move towards galvanising the participation of women in peace processes, the protection of women and girls from sexual violence in conflict and promoting the leadership role of women in the prevention of conflicts.
ACCORD, represented by Ms Pravina Makan Lakha, General Manager for Operations and Business Development, joined the Civil Society Advisory Group to the UN on Women, Peace, and Security (CSAG) in participating in a number of events marking the 10th anniversary of UN Security Council Resolution (UNSCR) 1325 at the United Nations in New York from the 19-27 October 2010. Events included the following:
At the Global Open Day on Women, Peace and Security on 21 October, addressed by Secretary – General Ban Ki Moon, the ACCORD High Level Seminar, '1325 in 2020: Looking Forward…Looking Back' was identified by Bineta Diop as one of the African initiatives celebrating UNSCR 1325.
At the Open Day, Ms Makan-Lakha and Madame Bineta Diop had the opportunity to present the Durban Statement on UNSCR 1325 to Michelle Bachelet , Under-Secretary-General for Gender Equality and the Empowerment of Women (UN Women).
Furthermore, at a roundtable hosted by the Swiss Permanent Mission to the United Nations, the Durban Statement was presented as an Africa Initiative by African Women taking leadership to chart the next decade in different way.
On the 27th of October, Ms Makan-Lakha attended a panel discussion led by CSAG members, to discuss lessons learned and the roadmap ahead to full implementation of UNSCR 1325.