In a run up to the Local Government Elections to be held in South Africa on 18 May 2011, ACCORD, in partnership with the Independent Election Commission (IEC), the Democracy Development Programme (DDP), Avusa Media and Gagasi FM hosted a "Peace in KwaZulu Natal (KZN) for 2011 Local Government Elections" debate on 14 April 2011 that included speakers from the African National Congress (ANC), the Democratic Alliance (DA), and the Inkatha Freedom Party (IFP). ACCORD's Deputy Director, Jerome Sachane, represented ACCORD at the debate.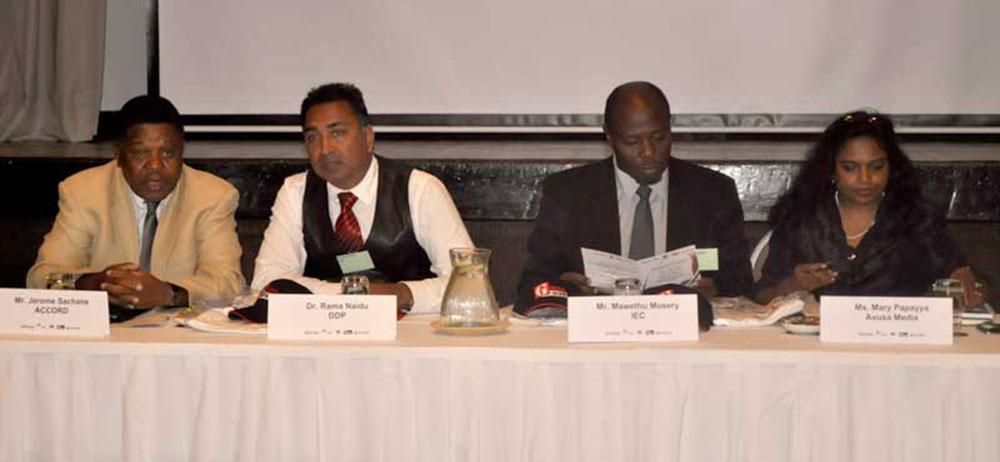 ACCORD has a long history of contributing towards peaceful elections in Africa that has included training monitors for the first democratic elections held in South Africa in 1994 and in 1998 ACCORD trained over 2000 domestic election monitors in the run-up to the national elections in Nigeria. From 2003-2008, ACCORD ran an Elections and Conflict Management programme, which contributed towards strengthening and improving electoral processes and providing skills for dealing with the conflict prevention and mitigation of election-related conflicts in the SADC region.
More recently in 2009 ACCORD, as part of the African Alliance for Peace, conducted a monitor observer mission during South Africa's national and provincial elections, headed by the former President of Nigeria, H.E. President Obasanjo.