The country has been recognised for its active efforts to foster regional and international peace.
The ACCORD Board of Trustees, Chaired by Madame Graca Machel, have selected the Nation of Ghana to receive the 2012 Africa Peace Award (APA). At a meeting on Friday, 08 June 2012, in Accra, Ghana, ACCORD Trustee H.E. Ambassador Billy Modise, along with the Founder and Executive Director of ACCORD, Mr. Vasu Gounden, met with H.E. President John Atta Mills to invite him to receive the Award on behalf of the people of Ghana.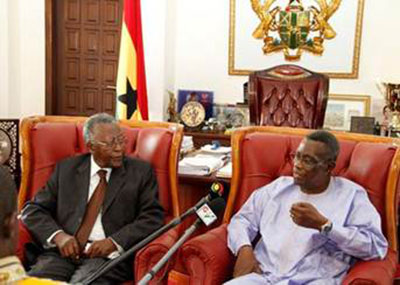 The award is being presented to Ghana in recognition of its active role in regional and international efforts to foster peace. Ghana is a pacesetter, which has gradually evolved over time to become a very stable democracy characterised by political maturity, tolerance, respect for the rule of law, and a good track record of human rights, good governance and the general promotion of peace.
The Award Ceremony is scheduled to take place in October 2012 at the Durban International Convention Centre.
The APA was created by ACCORD in 1993 and is an event that honours an individual, group or country through whose efforts conflict is turned to peace. The award is presented based on three criteria i) the protection of and respect for human rights; ii) the peaceful settlement of disputes and; iii) the good Governance of public affairs. Nominations for the recipient of the Africa Peace Award are sought widely throughout Africa. The final selection of the recipient is made by the ACCORD Board of Trustees. Previous recipients of this award have included former President Nelson Mandela, as well as the Nations of Mozambique, Nigeria, Burundi and Sierra Leone.