ACCORD Trustee Madam Graça Machel was elected as the Chair of ACCORD's Board of Trustees at ACCORD's Trustees Meeting that was held on 3 December 2008. Madam Machel took over the Chair from H.E. Ambassador Sibusiso Bengu.
Mrs Machel has served on the boards of numerous international organisations, including the UN Foundation, the Forum of African Women Educationalists, the African Leadership Forum and the International Crisis Group. Among her many current commitments, she is Chair of the Global Alliance for Vaccines and Immunization Fund, Chancellor of the University of Cape Town, South Africa and a Panel Member of the African Peer Review Mechanism. Mrs Machel is also a founding member of The Elders. Madam Machel has served as an ACCORD Trustee for several years.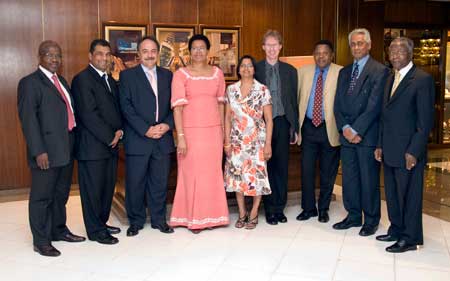 Prior to the Board of Trustees Meeting ACCORD hosted a lunch for the donor community in South Africa, which included many past and present ACCORD funders in order to share with them ACCORD's work during 2008 as well as our planned activities for 2009. The lunch included two guest speakers – the former South African Deputy Minister of Foreign Affairs, Mr Aziz Pahad, who spoke on the issue of Global Developments and their impact on Africa and ACCORD Trustee Professor Wiseman Nkuhlu, who spoke on the Global Economic Crisis and it's impact on Africa. A question and answer session followed the presentations.