A High Level seminar on the role of women, peace and security in Africa has proposed measures to accelerate the implementation of Security Council Resolution 1325 in the context of the African Union (AU) Year of Peace and Security (YoPS), and the launch of the decade of the African Women 2010-2020. The Seminar brought together eminent practitioners, academics and policy makers from around the globe to advance an Africa-wide strategy for women in Peace and Security for the next decade (2010-2020).

The Seminar entitled "Resolution 1325 in 2020: Looking Forward… Looking Back", hosted by ACCORD and the African Union Peace and Security Commission on 8-9 October 2010 in Durban, South Africa, affirmed the value of UN resolution 1325 as a tool for galvanising the participation of women in peace processes, the protection of women and girls from sexual violence in conflict, and promoting the leadership role of women in the prevention of conflicts
While acknowledging some progress towards implementation of resolution 1325 over the last ten years, the seminar noted a persisting gap between the aspiration of the resolution and the reality of women's continued marginalisation from formal peace processes, increased insecurity and high levels of violence against women and girls.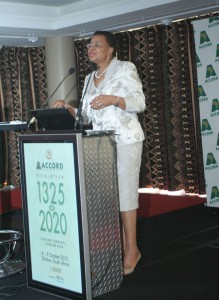 Ms. Litha Musyimi-Ogana, Director: Women, Gender and Development Directorate (AUC), and Ms Florence Butegwa (UNIFEM representative to AU) also addressed the opening.
A panel discussion on 'Experiences in Peace Processes' saw women from Kenya, Darfur, Liberia and Burundi share practical examples of the challenges and successes of women's roles in peace processes and negotiations.
The Seminar complimented the many international initiatives currently underway on the tenth anniversary of UN Resolution 1325. The outcomes of the Seminar will be presented at the African Union launch of the Decade for African Women in Kenya during the second week of October 2010.