Uganda's strategy
Drawing on experiences gained from combating the HIV/Aids, Ebola and Marburg epidemics, Uganda acted quickly against COVID-19. The focus was on preventing the transmission of the virus using early diagnosis, committed tracing of contacts of infected cases, isolation of infected individuals, early clinical management of those infected, and safe handling of body fluids and remains of those who died. In addition to this detailed response, regular press briefs – which shared updates on the crisis as well as best practices – were implemented. These information sessions, led by President Yoweri Museveni, presented a unified voice, with guidelines given to the public on actions to be followed for self-protection.
Drawing on experiences gained from combating the HIV/Aids, Ebola and Marburg epidemics, Uganda acted quickly to curb the spread of COVID-19.

Tweet
Three days prior to the detection of the first case, the country imposed a 21-day lockdown for specific sectors. Public transport and social and religious congregations were suspended; schools and higher institutions of learning, non-food stores, bars, nightclubs and restaurants were closed; and a curfew imposed to ensure compliance to the prevention guidelines. The airport and border crossings were also closed. Individuals entering the country were subjected to mandatory quarantine for 14 days and screened twice for COVID-19, and discharged only on negative test results.
Health outcomes
Uganda is a landlocked country that shares borders with Kenya to the east, South Sudan to the north, Democratic Republic of the Congo (DRC) to the west and Rwanda and Tanzania to the south. These colonial borders are extremely porous, with similar ethnic communities and families living on either side of the artificial borderlines. Moreover, Uganda depends on long-distance cargo trucks to ferry imports and exports by road via the port of Mombasa in Kenya. The country is also bound by international law to allow cargo trucks delivering imports into (and exports from) countries further in the interior, especially South Sudan, Rwanda and the eastern regions of the DRC, via the port of Mombasa. Hence, a useful discussion on health outcomes needs to take into consideration the situation in neighbouring countries.
The results of the first five months of implementation of Uganda's COVID-19 response are summarised in Figure 1. The figure shows that the curve for the cumulative number of cases in Uganda remained relatively flat and with low numbers, compared to neighbouring countries.
Figure 1: Cumulative numbers of COVID-19 cases in Uganda and its neighbours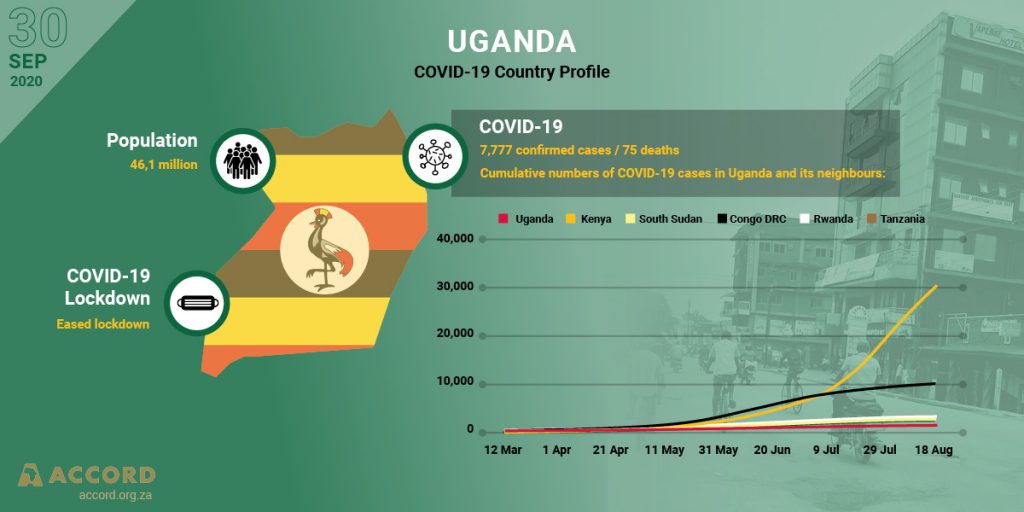 Over the five months of implementation of the pandemic response, the health outcomes for Uganda's patients was favourable, with the recovery rate as of 17 August 2020 being 1 165 (75%) out of 1 560 cases, with 15 deaths. The recovery rate for Kenya was 17 368 (57%) out of 30 636 cases, with 487 deaths; for Rwanda was 65% (1 661/2 540), with eight deaths; for the DRC, the recovery rate stood at 8 882 (91%) out of 9 721 cases, with 243 deaths; while for South Sudan, the recovery rate was 47% (1 175 out of 2 490 cases diagnosed), with 47 deaths. Tanzania stopped reporting on COVID-19 on 8 May 2020, and by that time the number of cases recorded was 509, with 21 deaths. The results, excluding data from Tanzania, are summarised in Table 1 below.
Table 1: Clinical management outcomes for patients in Uganda and its neighbours as at 17 August 2020
| | | | |
| --- | --- | --- | --- |
| Country | Number of cases | Number (%) recovered | Case fatality number (%) |
| Uganda | 1 560 | 1 165 (75%) | 15 (0.1%) |
| Kenya | 30 636 | 17 368 (57%) | 487 (1.6%) |
| Congo DRC | 9 721 | 8 882 (91%) | 243 (2.5%) |
| Rwanda | 2 540 | 1 661 (65%) | 8 (0.3%) |
| South Sudan | 2 490 | 1 175 (47%) | 47 (1.8%) |
Source: Worldometer
The challenge of the community cycle of transmission
Towards the end of July 2020, there was a partial lifting of the lockdown for public transport systems and other business activities. This ushered in a cycle of transmission of the virus within communities, with attendant rapidly rising numbers of new cases and deaths. Within one month after lifting the lockdown, the cumulative number of cases multiplied by two-and-a-half – from 1 560 cases on 17 August to 5 380 by 17 September. Deaths rose threefold, from 15 deaths on 17 August to 60 by 17 September. The rising number of cases and deaths dictated a change in strategy from the mandatory quarantine of all cases to one of self-isolation and care in their homes for those patients with asymptomatic or mild disease. This strategy served to leave space for quarantine and care in designated health facilities for patients with severe disease or at risk of developing severe disease, and for those with significant co-morbidities. This strategy aimed to guard against the designated health facilities being overwhelmed by the rising number of cases.
Lessons for other low-income countries
The Ugandan experience offers important lessons for other low-income countries. The first lesson is to focus on a public health approach to prevent transmission of the infection through early diagnosis, committed tracing of contacts of infected cases, isolation of infected individuals, and early clinical management of those infected. Every effort needs to be made to keep the number of cases low to avoid the health system being overwhelmed by a huge number of cases. To prepare for the community phase of transmission, strategy and guidelines should be in place for self-isolation and care in their homes for patients who are asymptomatic or with minor symptoms, and to reserve the designated health facilities for the quarantining of only patients with severe disease and those with co-morbidities.
The second lesson concerns attention to the community factor. Effective communication and engagement of the community are crucial, and must be maintained through a crisis communication strategy. This is vital if the public is to remain committed to observing the simple prevention guidelines in the face of hard economic circumstances brought about by the lockdown, and attendant misconceptions that may arise about the pandemic. Here, a clear voice of the country's highest authority is essential for engaging all stakeholders to reinforce the key messages.
The third lesson is the need to pay attention to cross-border transmission. The issue of cross-border cargo truck drivers as a high-risk group drew the country's attention to the danger of cross-border transmission. As the screening of truck drivers intensified, large numbers tested positive and these numbers continued to rise dramatically. For instance, 373 (48%) of the 774 positive cases diagnosed in the first three months of the pandemic response were truck drivers, mostly from neighbouring countries. Regional cooperation in dealing with cross-border transmission is therefore essential.
The fourth and last lesson is to beware of the possible influence of politics. Uganda's general elections are scheduled for January 2021. The campaigns for the various party primaries are already in high gear, with candidates mobilising their supporters. This poses a huge risk, as it is impossible to enforce public compliance to the protection guidelines of safe distancing, wearing of face masks and washing of hands under political rally conditions. This is bound to inflame the community transmission cycle, with an escalation in new infections and fatality rates. Indeed, this is starting to happen, undermining the gains made in the country's early response.
Vinand M. Nantulya, MD, PhD, FRCPath, is the senior presidential advisor, Vaccines and Therapeutics, Kampala, Uganda. The author acknowledges Professor Francis Omaswa and Gloria Nantulya for their valuable comments on the manuscript.