The COVID-19 pandemic adds additional stress to a pre-existing mix of economic, social and political tensions, aggravated by climate change related security and development risks. Last week we noted that the data that we have gathered thus far does not indicate that the overall number of social unrest or violent conflict incidents in Africa have increased as a result of the COVID-19 pandemic.
In this week's Monitor we have decided to focus on specific country data in order to identify countries which may be more at risk than what the overall statistics may suggest. We know that one of the most important indicators of the potential for future unrest and violent conflict is a history of instability, so one aspect we have paid attention to is past conflict data. Another aspect highlighted in this week's monitor is economic vulnerability. We have seen that the economic effects of the measures to contain the virus has had a more severe and direct impact on people's livelihoods than the public health aspect of the pandemic.  
We also know that climate change is an additional stressor that will further exacerbate existing vulnerabilities. Lastly, we have looked at COVID-19 infections. Although the infection rates in Africa have been relatively low compared to many other parts of the world, infections are steadily increasing. Given that there is no indication at this stage of the infections levelling out, or having reached a peak, we can expect that the number of infections will further increase. It is thus likely that some containment measures may have to be further tightened in a number of countries, and this will have a major effect on the economic livelihoods of people and may increase the risk of social unrest and violent conflict.
The map of Africa accompanying this week's monitor, and the bar chart listing the four vulnerability indicators (conflict incidents, economic growth, climate exposure and COVID-19), shows that we have identified twelve countries that may be especially vulnerable to COVID-19 related social unrest, and in some cases, violent conflict. These are in alphabetical order: Algeria, the Central African Republic (CAR), Burkina Faso, Cameroon, the Democratic Republic of the Congo (DRC), Ethiopia, Libya, Mali, Niger, Nigeria, Somalia and South Africa.
This week's Protest and Riots infographic shows a slight (approximately 5%) increase in protests and riots in Africa over the past week, based on data available from ACLED. When one looks at the specific countries, however, the data seems to suggest a link with COVID-19 related frustrations. The countries with the highest number of protests and riots in the last week were Algeria, the DRC, Mali, Nigeria, South Africa and Tunisia. 
We will continue to closely monitor these countries. One aspect that seems to be especially interesting to look into is the degree to which social cohesion, and other forms of social and economic resilience, may play a role in softening and absorbing some of the negative effects of COVID-19 containment measures.
Mr. Senzwesihle Ngubane, Manager: COVID-19 Conflict & Resilience Monitor
Dr. Cedric de Coning, Chief Editor: COVID-19 Conflict & Resilience Monitor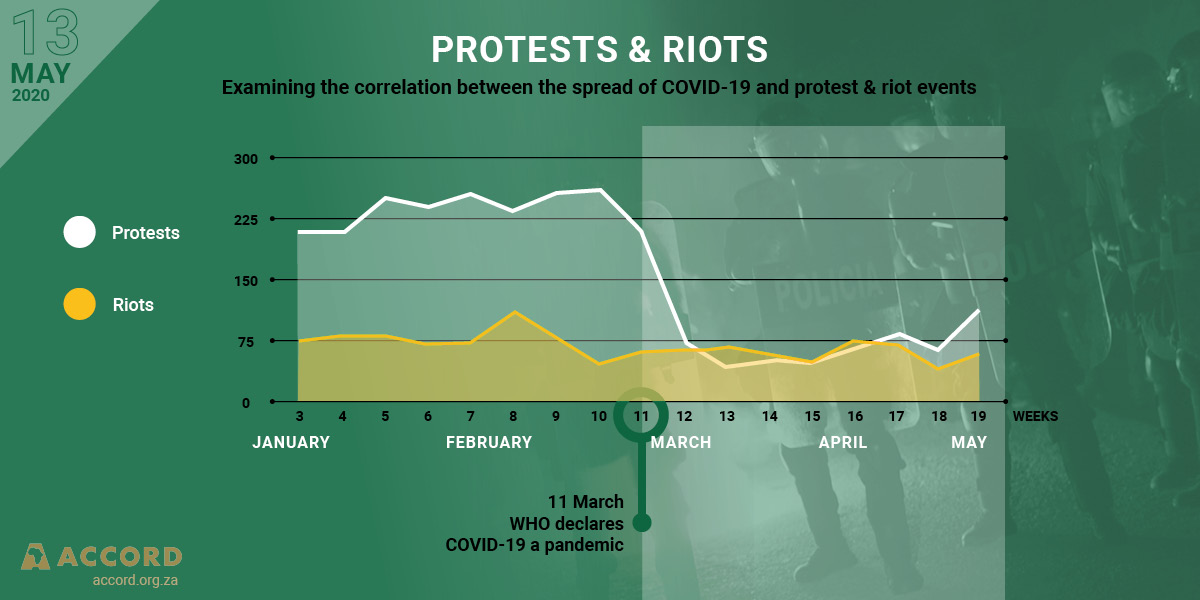 Stigmatisation & Discrimination
COVID-19 reminds us that we are one global society - Tim Murithi
The devastating impact of the COVID-19 pandemic has caused the disruption of human society on a global scale. The disease does not discriminate against its victims on the basis of race, nationality, ethnicity, gender, culture religion or financial affluence. Unlike many other diseases, this is not an illness of the poor or the affluent, or of the North or the Global South. Combatting this pandemic will require the whole world to work together.
Prior to the emergence of COVID-19 onto the global stage, there was a resurgence of ethnic nationalism and racial chauvinism in a number of countries around the world. However, COVID-19 has now brought into stark reality the fact that there is much more that unites us as human beings, than which divides us. This does not mean that our artificial national borders will miraculously disappear in the post-COVID-19 world, but the pandemic has demonstrated that we are, in fact, one global society.
Photo UNMEER/Martine Perret
Trust between citizens & institutions
Assessing the Impact of COVID-19 on Young People - Sibusisiwe Nkosi
The coronavirus (COVID-19) is the latest crisis  that is going to affect the future of  African youth. The pandemic has rapidly changed the  family and social lives of youth, as well as their daily routines and income.  The spread of the virus, and measures taken to contain it, will exacerbate an already fragile condition. African youth have already had to adapt to violent conflicts, political instability, humanitarian emergencies, displacement and limited access to education, healthcare and work opportunities.  
In addition to unemployment and labour market vulnerabilities, some social protection mechanisms and economic policy responses that are being implemented in the context of the COVID-19 crisis do not seem to be targeted in a way that considers young people as a specific vulnerable category. In spite of the obvious challenges posed by the COVID-19 pandemic, there are also many examples of young people contributing to resilience within their communities.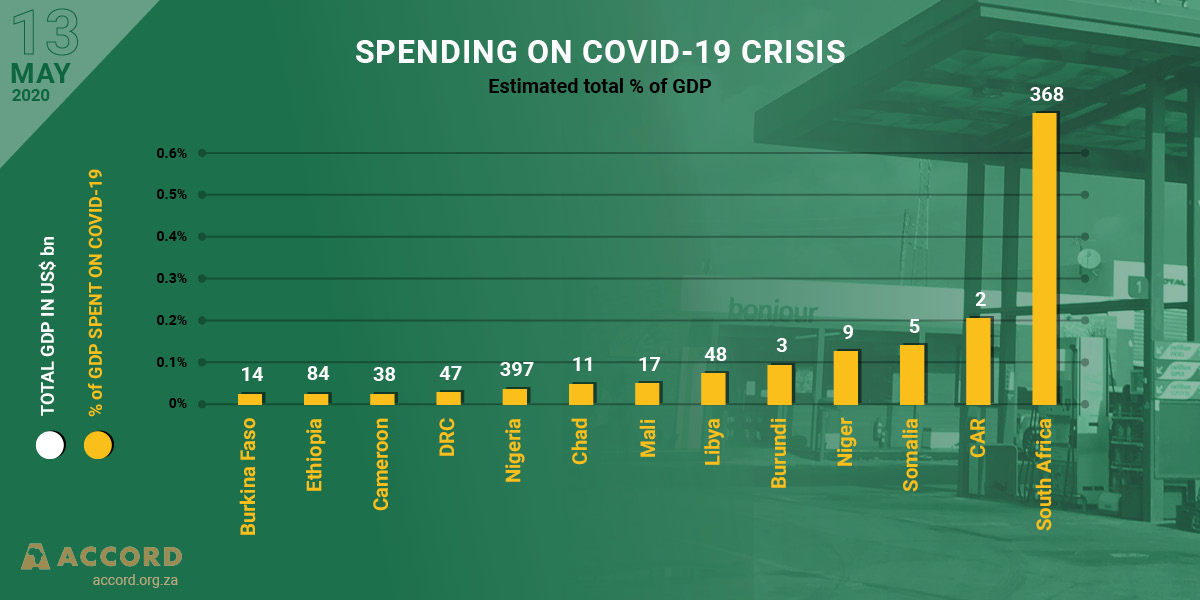 Livelihood insecurity & economic impact
Africa's economic resilience and the impact of COVID-19 - James Henry Murray
A recent Africa's Pulse report found that COVID-19 is likely to drive Sub-Saharan Africa into its first recession in 25 years, with economic growth in the region declining from 2.4 % in 2019 to between -2.1 % and -5.1 % in 2020. A number of African countries have introduced fiscal and monetary policies that have been designed to enable some social protection against the negative effects of COVID-19 containment measures.
These COVID-19 social net policies should have an effect on the relationship between economic downturns and social unrest. The reduction of domestic economic activity can create incentives for social unrest and conflict, which in turn contributes to lower levels of domestic economic activity. Across the African region, violence and social unrest could further erode confidence in already weak governments and vulnerable economies, creating a negative mutually re-enforcing downward spiral. While the initial cost of these social net policies may be high and the policies may be difficult to implement, they should increase the resilience of those countries to withstand some of these negative effects, and allow their economies to start to recover.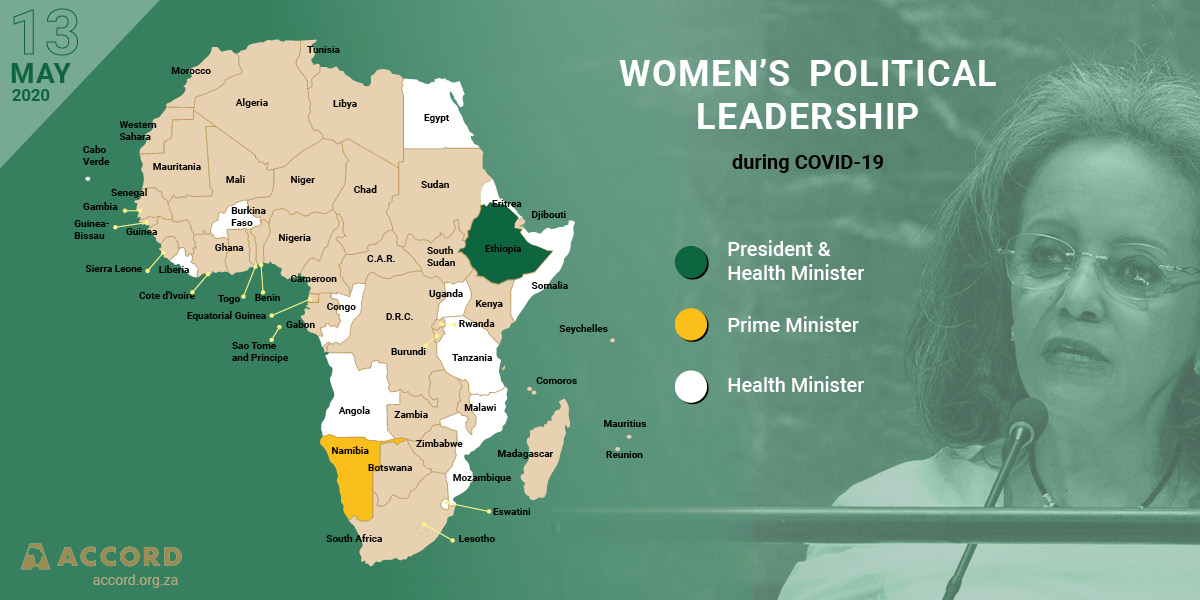 Domestic & Gender Based Violence
Protecting Women & Girls from Violence - Molly Hamilton & Pravina Makan-Lakha
National lockdowns, implemented by governments around the world, to curb the spread of COVID-19 has had the unintended consequence of contributing to an increase in violence against women and girls. At a national level, there have been efforts made by some governments to respond to the increase in domestic and gender-based violence. For example, South African President Cyril Ramaphosa has stated that the country's Gender-based Violence National Command Centre will remain operational during the lockdown.
Recognising the unintended consequences of the national lockdowns, there has been strong and rapid response by the UN, AU, the REC's national governments and various advocacy agents. The challenge is whether the responses and strategies offer the opportunity to truly transform the global response and approach to sexual, domestic and all forms of violence against women and girls or if it is a temporary and short-term reaction.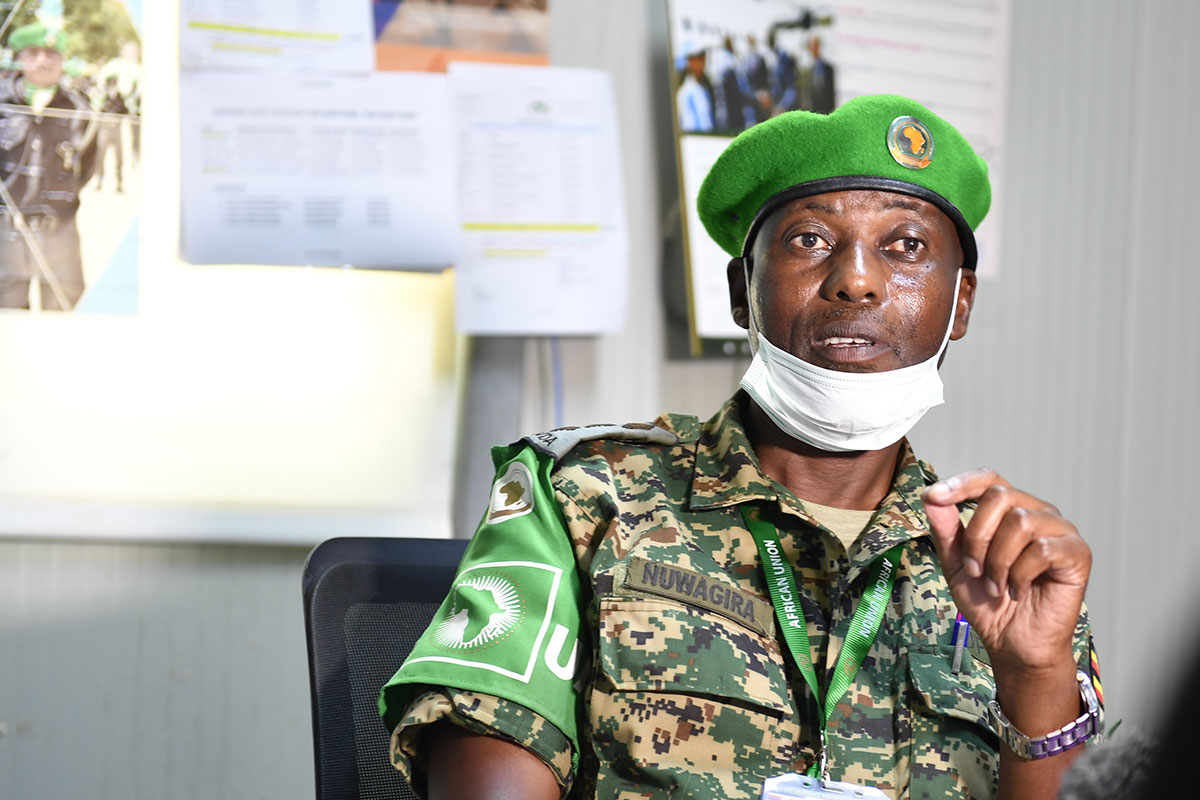 AMISOM Photo/Steven Candia
Cross-border / inter-state tensions
The impact of COVID-19 on peace operations in Africa – Cedric de Coning
The COVID-19 pandemic has significantly disrupted peace operations. In the short-term activities have been reduced to the most critical, rotations have been frozen, and most staff are working remotely. Most of the missions have adapted remarkably well. However, even more changes are likely in the medium term when the global economic recession, that is expected to follow in the wake of the virus may force peace operations to drastically contract in size and scope.
The most severe disruption to peace operations is likely to be caused by another side-effect of the COVID-19 crisis, a global economic recession. The IMF has changed their forecast for 2019 from a 3.3% growth to a 3% contraction in the global economy. The 2008 global financial crisis has already contracted UN peacekeeping with approximately 20%, and the COVID-19 crisis may reduce it with a further 30 to 50%.
It is unlikely that the risk to civilians in these situations will change significantly for the better in the short to medium term. The more likely scenario is that the effects of the coronavirus, coupled with other factors such as climate change, will increase instability and risk.
Photo REUTERS/Zohra Bensemra