This week's Monitor features Ambassador Dr Monica Juma, the Cabinet Secretary for Defence in Kenya, who contextualises the relevance of the military in emergencies and the role that it can play in helping to contain the spread and effects of the disease.
This edition also focuses on how the spread of COVID-19 seems to be different in Africa to date, compared to other regions. In this regard, a number of ACCORD colleagues have put their heads together to analyse how and why the disease has taken a different path in Africa – and why its spread is now starting to accelerate.
Lastly, Rumbidzaishe Matambo continues our series of country analysis and writes on how the combination of internal conflict and COVID-19 is causing a double tragedy for refugees and Internally Displaced Persons (IDPs) in Cameroon.
Billy Mutai/Anadolu Agency via Getty Images
Trust between citizens & institutions
The military value-add in situations of crisis: the case of COVID-19 – Monica Juma
The breakout of the coronavirus (COVID-19) set in motion one of the most devastating global crises of our time. In these circumstances, governments across the world have mobilised all their elements of power to prevent and manage COVID-19. Among the assets deployed to combat COVID-19 has been the military. In situations of crisis, such as the current COVID-19 pandemic, the institution of the military has a multiplier role. While remaining steadfast to the primary calling of its constitutional mandate, the military can also be utilised to aid the civil authority to maintain law and order in situation of crises, as its constitutional secondary role.
Among the critical advantages of the military is its discipline, occasioned by the doctrine and chain of command; its level of readiness to surge; competencies to support civilian operations; and its logistics capabilities, including its multifunctional corps such as engineering, medical, transport, military police, etc., which are capable of providing specialised resource mobilisation, skills and services to society.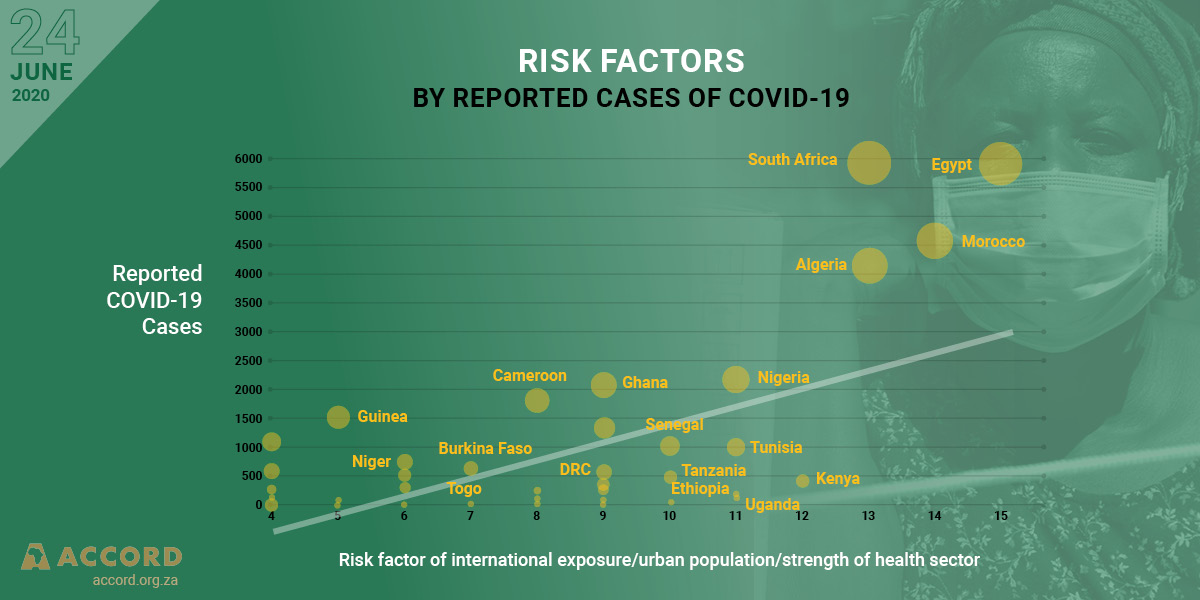 The spread of COVID-19 seems to have taken a different path in Africa, but is now starting to accelerate – Cedric de Coning, Senzwesihle Ngubane, Marisha Ramdeen and Martin Rupiya
COVID-19 seems to have spread at a slower pace in Africa than in many other parts of the world. The African continent is an outlier, with 17% of the world's population but only accounting for 1.1% of COVID-19 cases and 0.7% of related deaths. While the wide geographic spread of the infection in Africa suggests a large number of unreported cases and deaths, overall, the number of infections remains low and does not follow the same pattern as its Asian and Western counterparts. 
However, the spread of the virus in Africa is now starting to accelerate. Whilst the continent registered its first 100 000 confirmed cases in 98 days, it took only 18 days to reach 200 000 cases, and it may take only half as many cases again to reach 300 000 cases. A high caseload of patients who need medical care is likely to eventually overwhelm Africa's limited health systems. Together with measures to stem the virus, these additional stressors will expose and compound pre-existing social, political and economic faultlines, especially in conflict-affected countries and regions.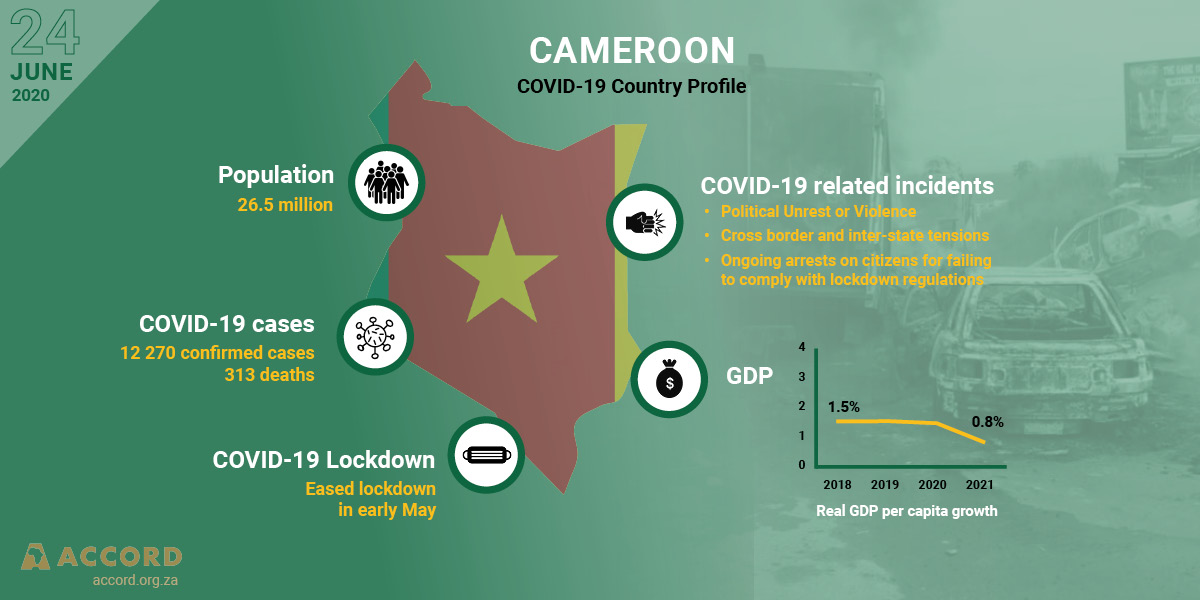 Political unrest or violence
Country profile: Conflict and COVID-19: double tragedy for Cameroon – Rumbidzaishe Matambo
The spread of COVID-19 in Cameroon has added additional pressure and strain on a civilian population already faced with worsening internal conflict and a man-made humanitarian disaster. In 2017, low-intensity conflict emerged in the Anglophone regions of Cameroon, where several separatist groups launched an armed insurgency against the national government. The conflict heavily restricted movement, effectively putting many urban and rural areas on lockdown long before the COVID-19 pandemic. As of 10 June 2020, Cameroon had a total of 8 929 confirmed cases of COVID-19. The war-ravaged – and thus more isolated – regions account for only 21% of the total COVID-19 cases.
The situation of the civilian population who have fled into neighbouring Nigeria is also dire, due to the effect COVID-19-related measures and restrictions in Nigeria are having on their movements and access to basic services. The pandemic is contributing additional stress to refugees who are already grappling with severe malnutrition, overcrowded camps, lack of adequate health and sanitation facilities.
Sharon Seretlo/Gallo Images via Getty Images