In this week's Monitor, Ellen Johnson Sirleaf, former president of Liberia and Nobel Laureate, reminds us of the important difference that women's leadership has made during the COVID-19 pandemic and in managing other crises. She also emphasises the importance of global solidarity and multilateral cooperation when trying to stop a global pandemic and deal with its aftermath.
Coumba Makalou, head of the Salif Keita Global Foundation for people with albinism, highlights the responsibility governments and communities have towards people with disabilities and other vulnerabilities. She points out that many of the services people with disabilities rely on have been disrupted or suspended as a result of the measures taken to contain the spread of the COVID-19 virus.
ACCORD's James Henry Murray looks at why the African Union has called for debt relief as one of the ways in which to increase financial liquidity, so that African countries can devote more resources to managing the COVID-19 pandemic and its economic and social impacts.
Lastly, Ibrahim Al-bakri Nyei considers the impact of COVID-19 on the 22 elections that are due to be held in Africa this year. He looks at some that have gone ahead regardless of the pandemic and others that have been postponed, and reflects critically on both the challenges and opportunities posed by the disruption of the elections scheduled during this period.
Trust between citizens & institutions
Women's leadership during COVID-19 – Ellen Johnson Sirleaf
Silencing the guns requires a multitude of actors and commitments, including the involvement of women through the full implementation of Security Council Resolution 1325, which remains a key ingredient for peace.
Women don't want to be praised for sacrifices and then left out of decision-making. We also should not be left out of the allocation of funds mobilised for the COVID-19 response. 
Many have spoken of the COVID-19 pandemic as a time to push the reset button – a reset which would ensure that gender equality is the norm.
COVID-19 is a pandemic – without regional and global solidarity, the whole world will be more deeply and tragically affected. From global health and human development to peace and climate change, we need more multilateralism, not less. Only by working together, can we find the cures for our common challenges and make the world safer, better and more peaceful.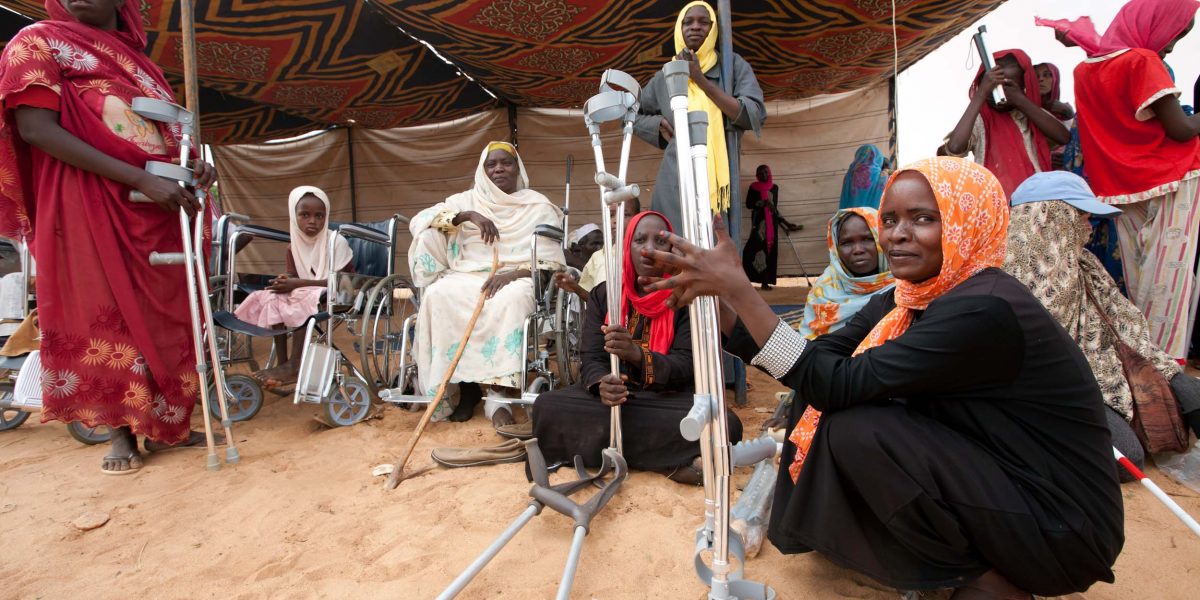 Photo by Albert González Farran - UNAMID
Stigmatisation & Discrimination
How have people with disabilities been affected by the COVID-19 pandemic? – Coumba Makalou
The coronavirus does not discriminate based on a person's economic status, race, gender, origin, location, religious or sexual orientation. Vulnerable groups, such as people with disabilities, are no exception to the various social, medical and economic fallouts from the threat of contagion by COVID-19. Many persons with disabilities must rely on special services, such as access to facilities (wheelchairs), transportation means (buses), vision impairment signs (Braille), specialised healthcare facilities, regular medical treatments, etc. for their daily survival. These special needs do not disappear because of a pandemic. On the contrary, their needs may become amplified during strenuous times, since obtaining the necessary care and services may become ever more challenging or even impossible, depending on where the person lives. All governments need to take into account the needs of their vulnerable citizens with disabilities during this pandemic, and make emergency resources and funds available to care for them in compliance with the basic human rights guaranteed to all their other citizens.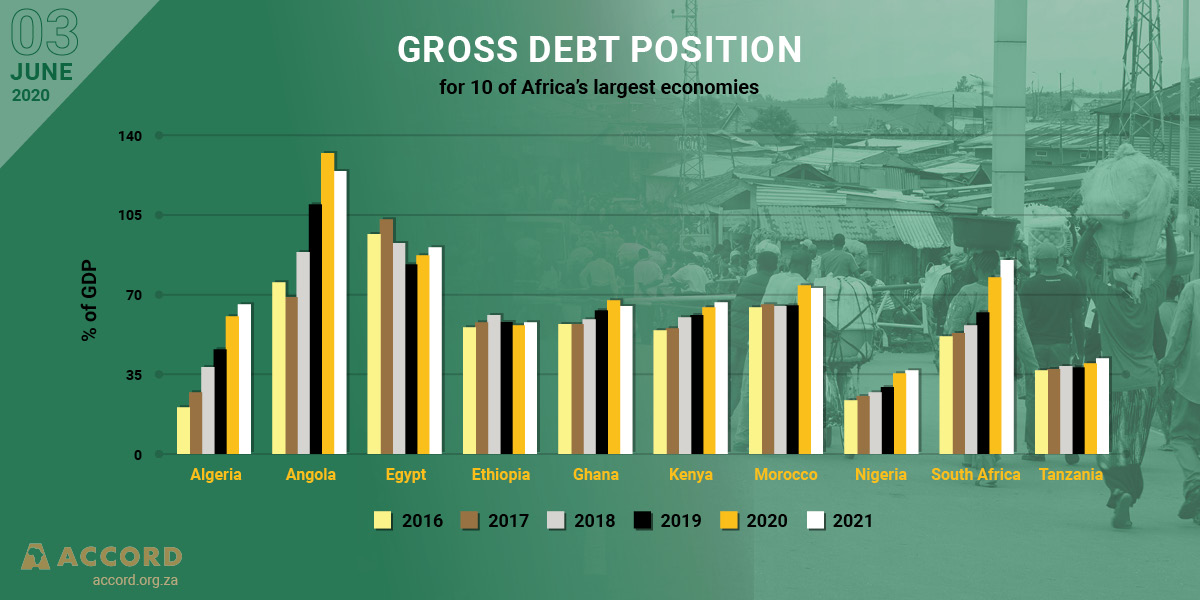 Livelihood insecurity & economic impact
Africa's debt burden and the COVID-19 economic crisis – James Henry Murray
The Bureau of the African Union Heads of State and Government urged G20 countries to "…provide an effective economic stimulus package that includes relief and deferred payments". In a virtual meeting of the G20 on 15 April, it was agreed to suspend official debt obligations until 2022. Soon after the announcement of this debt standstill, the Chairperson of the AU appointed four Special Envoys to solicit financial support for Africa's efforts from G20 countries, international organisations and donor communities, as well as African business communities. This team's goal is to secure debt relief of US$44 billion, a generalised suspension of interest payment for all of Africa's economies, and a stimulus package of US$100-150 billion.  
President Ramaphosa of South Africa, in his capacity as Chairperson of the AU, emphasised that African states need a fair and equitable regime to enable countries to respond to the immediate health and humanitarian crisis and to initiate economic recovery. This will require the World Bank, the IMF, the African Development Bank and other regional institutions to use all their available instruments to help build Africa's resilience against the health crisis and provide relief for its communities and their economies.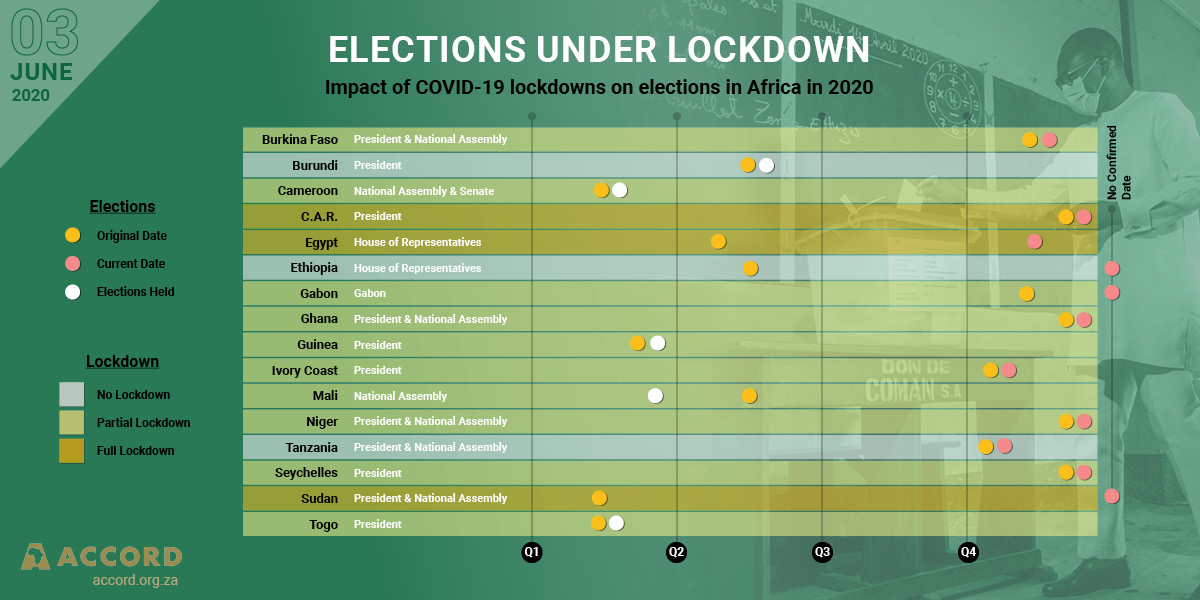 Political Unrest or Violence
Complexities of democratic elections in the context of COVID-19 response measures – Ibrahim Al-bakri Nyei 
Presidential, parliamentary and local elections were scheduled to be held in 21 African countries and one autonomous region this year. As COVID-19 became a global pandemic and spread to Africa in March, one of the concerns that emerged was whether elections could be held under conditions of social distancing, quarantining and restrictions on mass gatherings. 
As the pandemic tests the resilience of Africa's democratic institutions, it also provides lessons and opportunities for improvement. Therefore, beyond COVID-19, African governments must initiate constitutional reforms to address the many shortcomings of their democracies. These reforms must, among others, make provision for the holding of elections and the seamless management of transitions, or the negotiation of political settlements during crisis situations.