In this week's monitor Nina Wilen explores a number of potential and emerging political and socio-economic consequences linked to the measures taken to contain the spread of the COVID-19 pandemic. A number of our contributors note that Africa has introduced containment measures faster than most of their global counterparts, and this seems to have been relatively effective in slowing down the spread of the disease. For example, Judith Mondo notes that Africa has been more resilient to date, than predicted. 
However, the measures also seem to be generating a number of unintended consequences. James Henry Murray and Rumbidzaishe Matambo explores the link between food (in)security, peace and stability and COVID-19. Marisha Ramdeen looks at the impact of COVID-19 on political tensions and conflict in Africa. Martin Rupiya asks if the measures introduced to contain the pandemic can also generate new opportunites for Africa, and Tarila Marclint Ebiede argues that we should ensure that the coronavirus doesn't disrupt peace efforts in Africa.
Whilst a number of incidents are analyzed in this week's monitor, thus far the data we have gathered does not indicate that the overall number of social unrest or violent conflict incidents in Africa have increased as a result of the COVID-19 pandemic. If anything, the past month's lockdown and social-distancing measures seem to have reduced the overall number of incidents. However, some of the measures taken to contain the pandemic have exposed existing fault lines and are increasing political tensions and heightening the risk for social unrest and violent conflict in the future.
ACCORD's aim with the Monitor is to support the broader conflict resolution and peacebuilding community, including in particular ACCORD's network of African practitioners. The Monitor tracks COVID-19 related conflict and resilience trends, with the objective of contributing to early warning analysis, and to inform our collective response strategies.
Mr. Senzwesihle Ngubane, Manager: COVID-19 Conflict & Resilience Monitor
Dr. Cedric de Coning, Chief Editor: COVID-19 Conflict & Resilience Monitor
Photo by REUTERS/Afolabi Sotunde​
Trust between citizens & institutions
The political and socio-economic consequences of COVID-19 – Nina Wilen
In the context of widespread poverty, armed conflict, terrorism and climate change, African governments have reacted surprisingly quickly, many imposing social distancing measures and closing borders early on.
Yet, extensive lock-down measures are probably not the right or even possible approach for most African states. For a continent where 70% of the population are under the age of 30 and around 5% aged 65 or over, the political, social and economic consequences of isolation measures are likely to cause more havoc than the actual virus.
This is why Africa cannot and should not be facing the coming crisis alone. As the US and European countries struggle to show solidarity between themselves, they should also make efforts to extend this further South, and show that slogans of partnership and equality actually reflect values and guide action.
Africa more resilient to manage COVID-19 than predicted – Judith Mondo
It is unclear at this point if Africa has really prevented the worst outcome by implementing strict containment measures. However, what is certain, is that the response to the COVID-19 crisis will encourage many countries to invest in more resilient economic, social welfare and healthcare systems. 
African economies will need to develop new coping strategies to ensure their sustainability. Other than the need to strengthen public healthcare systems across the continent, African states will have to enhance pan-African cooperation to negotiate fiscal space to increase public spending on response efforts. There will be significant pressure on available resources, and it will be a challenge to maintain macro-economic stability in the short-to-medium term.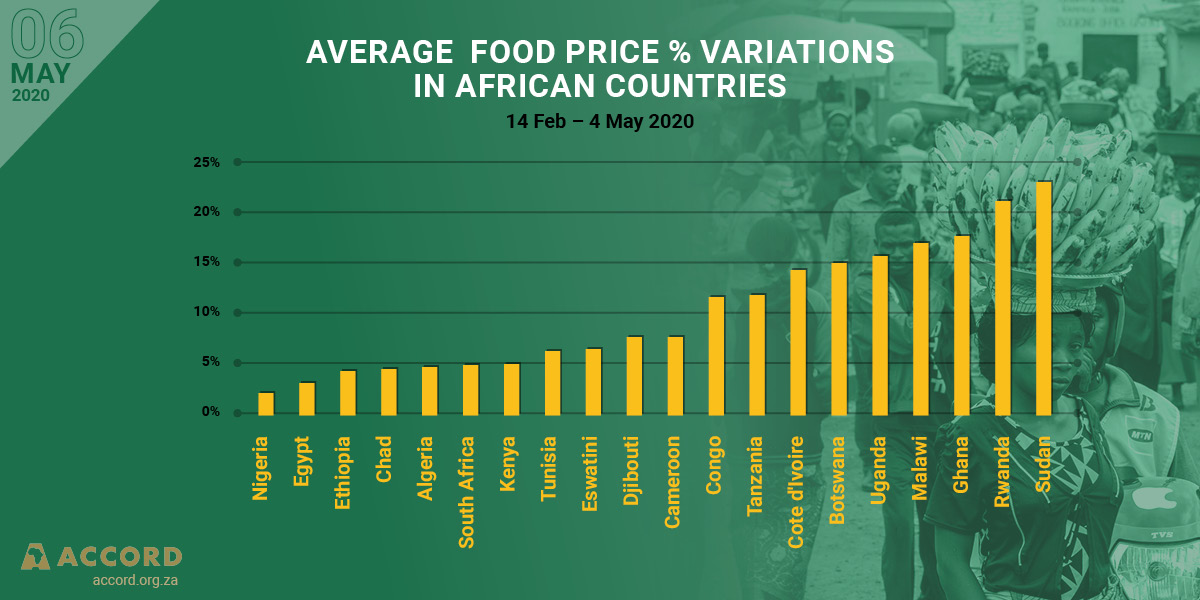 Livelihood insecurity & economic impact
The link between food (in)security, peace and stability and COVID-19 – James Henry Murray  & Rumbidzaishe Matambo
COVID-19 may have started as a public health emergency, but at this stage, the measures taken to contain the crisis have developed into an economic crisis, that has more of an impact on people's livelihoods than the virus itself. 
As we have seen with the Arab Spring and related events in the wake of the 2008 global financial crisis, most notably the wars in Libya and Syria, economic downturns also increase the risk of political instability and violent conflict. While the measures put in place  by governments are intended to bring relief to individuals and employers as their  daily lives and business operations are affected due to the COVID-19 pandemic, they also decrease the likelihood of food-related social tension and conflict.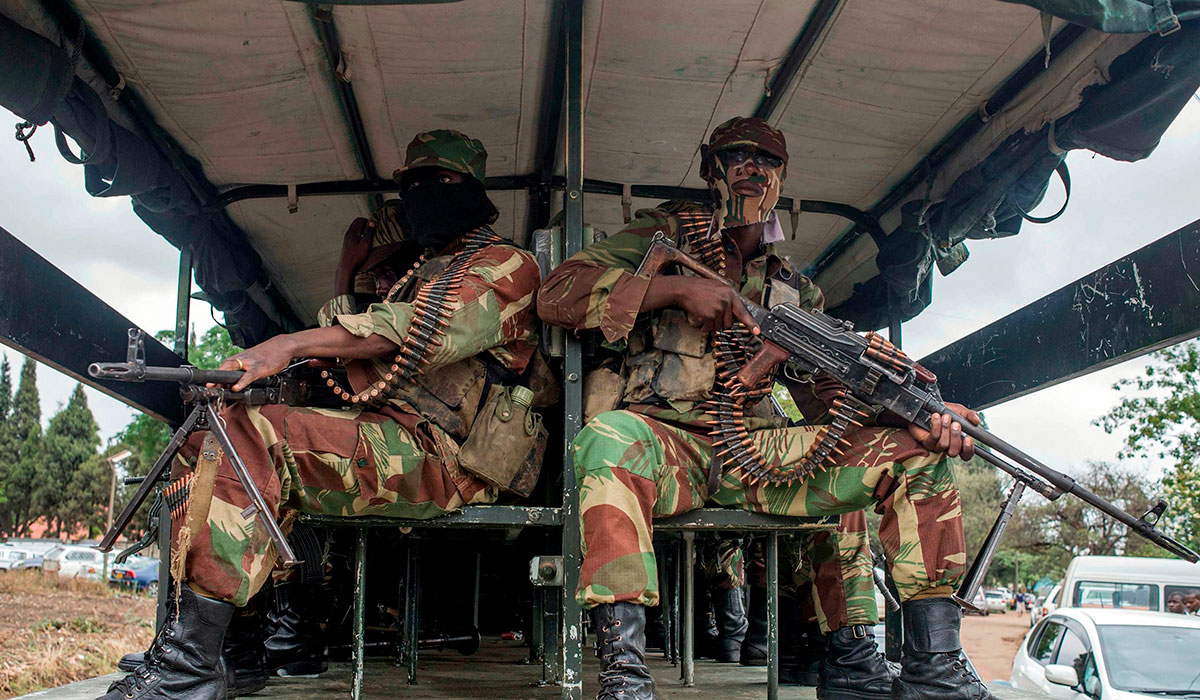 Criminal related incidents
COVID-19 Containment Measures: Opportunities for Africa? – Martin Rupiya
Although military deployments have become a reality in a number of African countries, the danger of relying on the military in weak and fragile states is that the project of consolidating participatory democracy may regress, reversing gains achieved since the advent of multiparty democracy in the 1990s. 
Some African leaders may take advantage of the lockdowns to continue running elections even when the opposition is unable to freely campaign, or to postpone elections. COVID-19, inadvertently, may have provided African governments with an opportunity to create a new social compact with their citizens to inspire and provide leadership. Civil-military relations remain a challenge in Africa. COVID-19 has compelled the continent to have boots on the ground and rifles on the streets in societies that are still fragile and easily reduced to conflict and confrontation.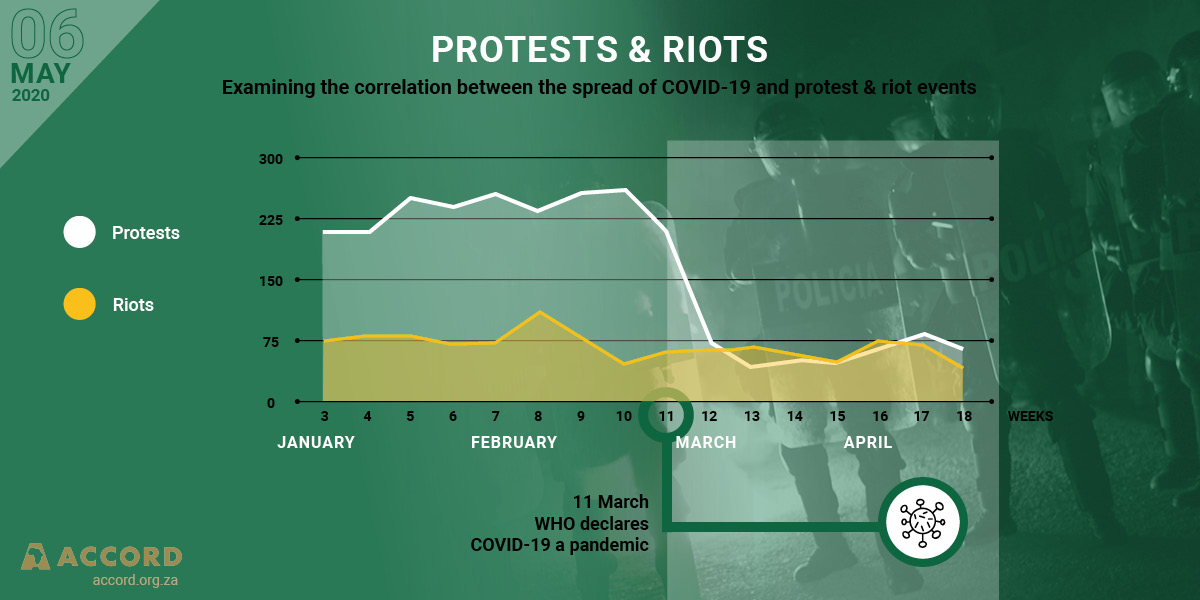 Political unrest or violence
The impact of COVID-19 on political tensions and conflict in Africa – Marisha Ramdeen
Some of the measures taken to contain COVID-19 are increasing political tensions and heightening the risk for social unrest and violent conflict. At this stage there is no significant increase in the overall number of violent conflicts or fatalities, but a number of incidents are being reported that indicate that the risk of social unrest and violent conflict remains high.
The COVID-19 pandemic, or more specifically the measures taken to contain the spread of the virus,  is starting to have an impact on political tensions and violent conflict in Africa. Four trends are emerging: (1) some governing parties are accused of using the COVID-19 crisis to clamp down on the opposition or to silence critics; (2) some opposition parties are accused of using the crisis to unfairly criticize or discredit government actions; (3) violent conflict is continuing in spite of the virus, or in some cases the crisis may even be exacerbating conflict; and (4) attacks by violent extremist groups are continuing or, in some cases, may be increasing.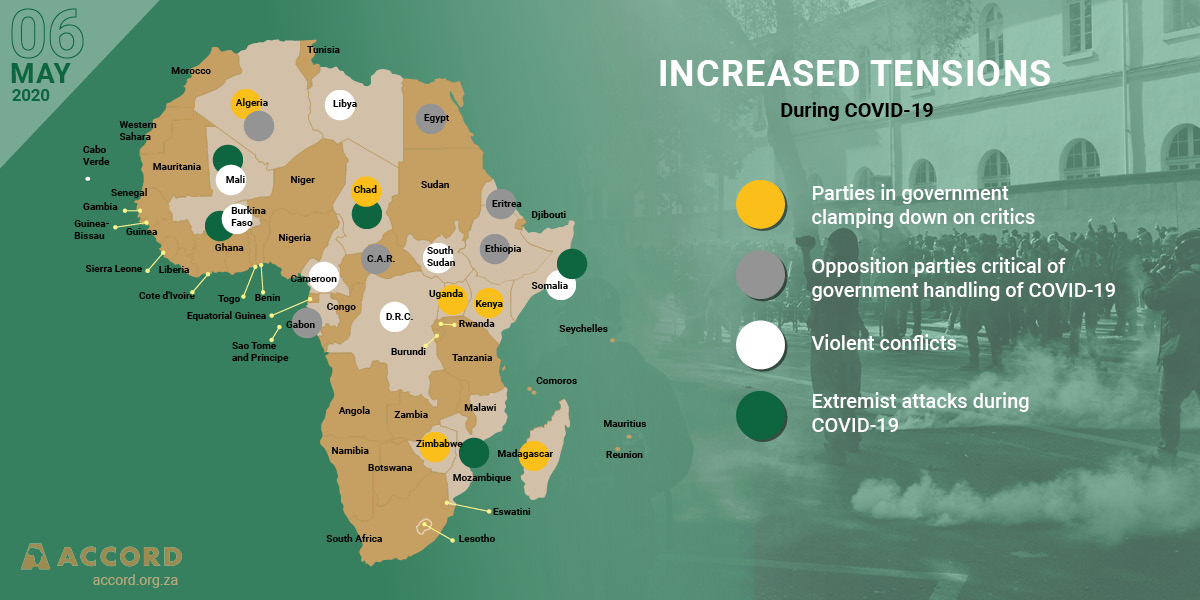 Cross-border / inter-state tensions
How to ensure that coronavirus doesn't stop peace efforts in Africa – Tarila Marclint Ebiede
Some warring factions will seize the opportunity to gain an advantage. The challenges are immense. The pandemic could worsen the conflict situation and undermine ongoing peacebuilding efforts. On the other hand disasters can transform conflict dynamics. Research shows that disasters such as COVID-19 can create opportunities for peace in conflict countries. For one, they can undermine the ability of conflict entrepreneurs to access conflict areas. This reduces incidents of violence. They can also create the conditions necessary for advancing peacebuilding processes in local communities. To achieve this outcome peacebuilders need to engage with local actors. The measures taken to contain the spread of the virus are, unfortunately, also affecting the mobility of peacemakers, peacekeepers and peacebuilders.
Photo Nonviolent Peaceforce