Introduction
Violence during an election cycle is an all-too-frequent phenomenon in most African countries, where it may be triggered by political or ethnic tensions, or flawed electoral processes.1 Post-conflict countries and countries in conflict often face extraordinary challenges with respect to development and security. More than 1.5 billion people live in countries affected by violent conflict, with poverty rates 20% higher in countries affected by repeated cycles of violence.2 Elections, a hallmark of democracy and process for political transitions, have often served as triggers of violence. Electoral violence slows the consolidation of democratic norms; reduces the prospects for long-term, durable peace and stability; and undermines economic growth by limiting the purchasing power of citizens. Thus, managing election-related violence is critical in building strong governing institutions and creating durable peace.
Over the years, in response to electoral challenges, different actors have employed different mechanisms and implemented various initiatives to reduce and prevent the violence that often accompanies elections in most African countries. Among these initiatives is the Women's Situation Room (WSR) – a women-led approach to preventing and reducing violence during the electoral cycle, and in some countries assuming a conflict management approach in the post-election period. Several countries have established the WSR, which seeks to reduce cases of violence and sexual violence, and increase the number of women in electoral processes – either as voters, candidates, supporters or observers during elections. This article outlines the work, challenges and success of the WSR, and interrogates its role in preventing and managing violence during election periods and its link to conflict early warning and early response, and conflict resolution.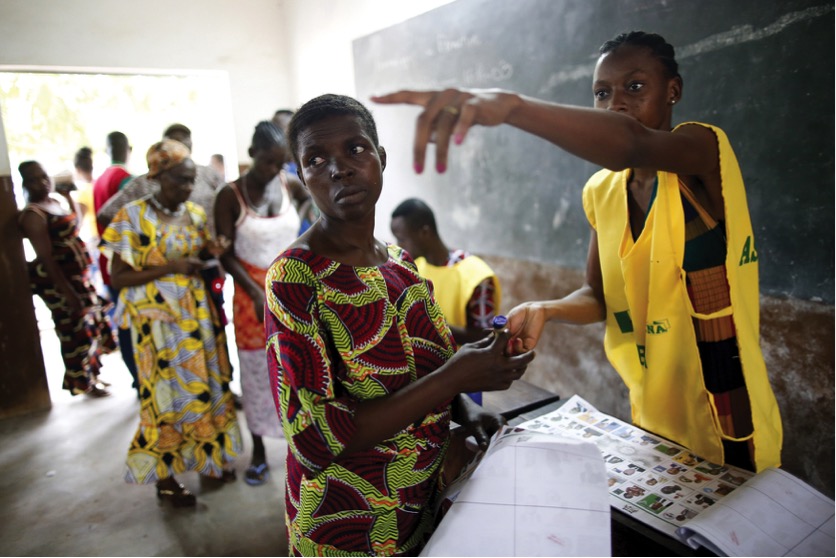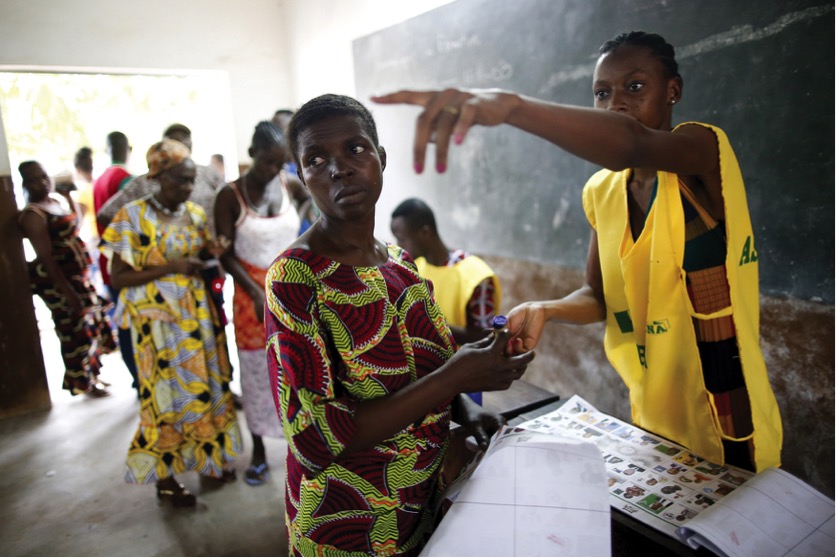 Electoral Violence in Africa
Elections in some African countries are often marked by violence, which ranges from low-level intimidation and harassment to more intense violent displacement and death. Electoral violence of any kind can deter citizens from voting, discourage candidates from running for office, weaken civil society's scrutiny of elections, and hurt the legitimacy of a government. Often, women are affected by the intimidation caused by this violence. With unemployment soaring in most African countries, there continues to be an underutilised human resource capacity – the youth. With high unemployment, the youth are susceptible to manipulation to perpetrate conflict during election processes. The WSR is an initiative that seeks to bring the capacities of the youth and women together to strengthen the prevention of and response to electoral violence, thereby increasing the participation of women in elections.
Every year several African countries hold elections, some of which have been marred by violence. The following countries held elections in 2015: Tanzania (general); Burundi (senatorial, presidential, National Assembly); Ethiopia (general); Egypt (parliamentary run-off, parliamentary phase 1, parliamentary phase 2, legislative run-off); Morocco (municipal, regional); Togo (presidential); Sudan (general); Nigeria (by-election, gubernatorial, legislative, presidential); Uganda (general); Burkina Faso (legislative, presidential); Côte d'Ivoire (presidential); Central African Republic (CAR) (presidential and parliamentary, constitutional referendum); Rwanda (constitutional referendum); Seychelles (presidential); Namibia (local, regional); Lesotho (general); Zambia (presidential by-election); Republic of the Congo (constitutional referendum) and Guinea (presidential).3 Nigeria's elections were considered peaceful; this country utilised the WSR during the election period. For the first time since independence in 1960, Nigerian voters peacefully voted to transfer political power from one party to another. Given Nigeria's chequered electoral history – filled with violence, rigging and lack of a viable opposition party since military rule ended in 1999 – Nigeria's recent success story is a positive sign for its democratic consolidation, and a potential game-changer for other African elections.4 Uganda also utilised the WSR.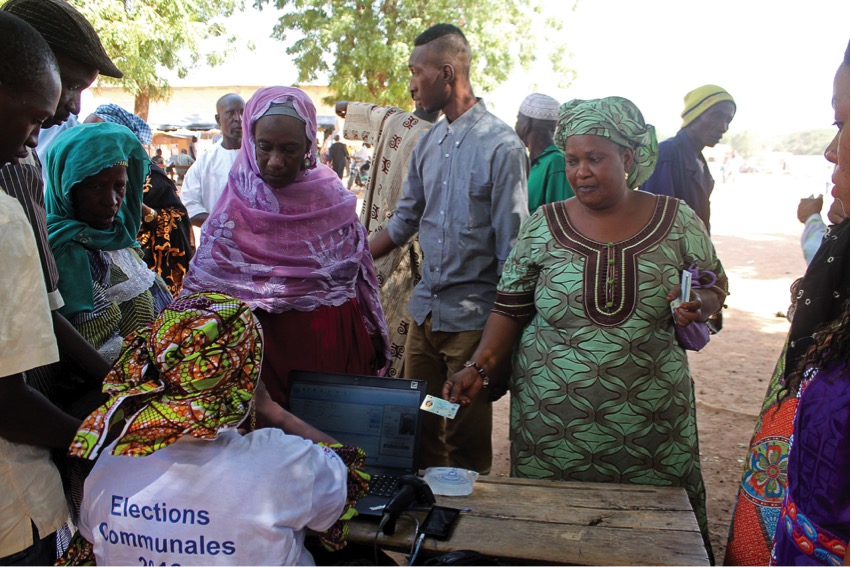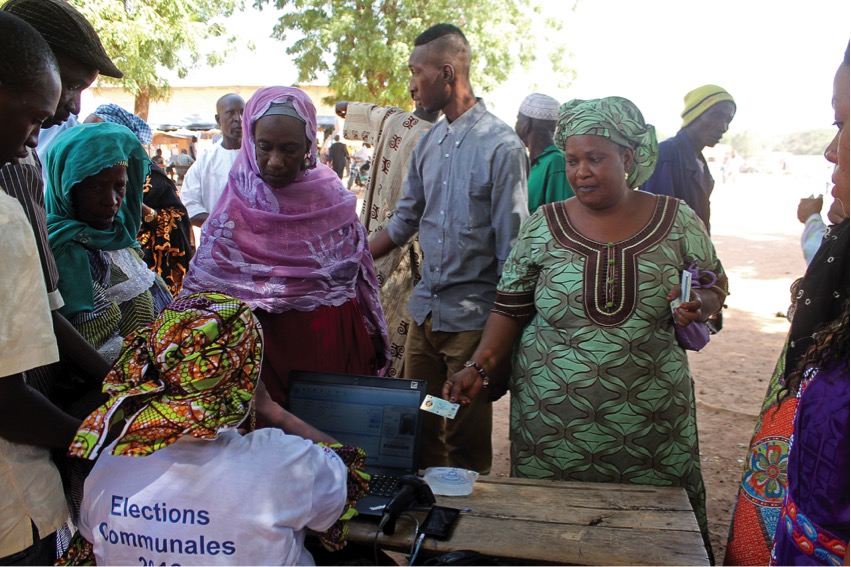 The following countries held their elections in 2016: Mali (municipal); Côte d'Ivoire (parliamentary, constitutional referendum); Somalia (parliamentary); South Africa (by-election, local); Nigeria (gubernatorial, parliamentary rerun, by-election); Seychelles (parliamentary); Uganda (parliamentary, general); Gabon (presidential); Zambia (legislative, presidential); São Tomé and Prí­ncipe (presidential); Burkina Faso (municipal); Comoros (presidential rerun, presidential run-off, presidential); Niger (local, regional, presidential and parliamentary run-off, parliamentary, presidential); Chad (presidential); Equatorial Guinea (presidential); Sudan (referendum); Djibouti (presidential); CAR (parliamentary, presidential); Democratic Republic of the Congo (DRC) (gubernatorial); Rwanda (local phase 4, local phase 3, local phase 2, local phase 1); Cape Verde (legislative); Senegal (constitutional referendum); Tanzania (regional); Benin (presidential); Republic of the Congo (presidential) and Morocco (parliamentary).5 The following countries are still scheduled to hold elections in 2016: Nigeria (gubernatorial); Somalia (presidential), The Gambia (presidential), Ghana (parliamentary, presidential) and Nigeria (local).6 In 2017, countries expected to hold elections include: Algeria, Angola, Chad, Djibouti, The Gambia, Guinea, Kenya, Liberia, Libya, Madagascar, Republic of the Congo, Rwanda, Senegal, Sierra Leone, Somaliland, Swaziland and Tunisia.7
Some of these countries have, in the past, reported electoral violence – such as Kenya and, more recently, Gabon and the DRC. Most of the countries scheduled to hold elections in 2016 and 2017 are either in conflict or emerging from conflict. Given that some of them have weak institutional structures and mechanisms, this increases the likelihood of electoral violence. Further, cases of sexual violence have also been associated with elections. The use of the WSR, in conjunction with conflict and violence prevention mechanisms, has resulted in fairly peaceful elections, with reports indicating that sexual violence had decreased during elections in those countries due to the early warning preventive approach.
Women in Conflict and Violence Prevention
The pervasive human rights, socio-economic, health and political inequalities that disproportionately affect women and girls impede Africa's efforts to achieve transformative and sustainable socio-economic development. This is seen in countries affected by electoral violence and political instability. To respond to these challenges, there is now greater recognition of the centrality of ensuring gender equality and women's empowerment, if development is to be sustainable. The 2003 African Union Maputo Protocol exemplifies this importance. The protocol expressly demands affirmative action measures to assure women's participation in electoral processes, decision-making and conflict prevention. The Beijing Declaration and Platform for Action is a progressive blueprint for advancing women's rights. This declaration identified 12 critical areas of concern, and outlined actions to be taken in each of these areas to create a better world for women. The role of women in conflict prevention and decision-making was among these areas of concern. Twenty years after this comprehensive affirmation of women's rights and empowerment was adopted, it remains only partially fulfilled. Confronted with slow progress, more than half of all countries use some type of gender quota for an elected office.
Ensuring transparent, open and competitive elections that all voters (especially women and other marginalised groups) can participate in, free from intimidation, is one of the objectives of the WSR. With almost half of the world's poor expected to live in countries affected by fragility, conflict and violence (FCV) by 2030,8 addressing challenges such as electoral violence and the limited role of women in conflict resolution and violence prevention remains a concern for the achievement of the new Sustainable Development Goals (SDGs). As an early response and conflict mitigation initiative, the WSR directly engages women and youth, enabling them to support the prevention and mitigation of electoral violence in line with United Nations Security Council (UNSC) Resolution 1325 and other United Nations (UN) resolutions on women, peace and security.
What is the Women's Situation Room?
The WSR is a peacebuilding initiative that empowers women to be the leading force for democratic and peaceful elections. The concept was first introduced by Yvette Chesson-Wureh, coordinator for the Liberia-based Angie Brooks International Centre (ABIC), a non-governmental organisation working on women's empowerment.9 The WSR is an initiative that mobilises, harnesses and taps into the expertise and experiences of women to act to mitigate potential conflict, leading to violence that could emerge before, during and after elections. It empowers women and youth to play an active and direct role in peace and security efforts, and to engage in peace processes and conflict prevention mechanisms in accordance with UNSC resolutions 1325 and 1820.10 The initiative was first used during the 2011 elections in Liberia, and has since been successfully replicated in Kenya (2013), Senegal (2012), Sierra Leone (2012), Nigeria (2014) and Uganda (2016), among other countries. There were also plans to use it in Burkina Faso, Côte d'Ivoire and Togo. The operational approach of the WSR is expected to differ in individual countries, allowing for flexibility to adapt to local conditions and dynamics.
As a result of its demonstrated effectiveness in preventing and mitigating election-related violence in several countries in Africa, the WSR was endorsed as best practice by the 2012 AU's Gender is My Agenda campaign. The UN has also recognised the WSR as best practice in conflict and violence prevention.
How Does the Women's Situation Room Work?
The WSR is a very active room, where diverse women and men from different fields are brought together to monitor the elections in different parts of a country. The task of the WSR is specifically to monitor violence against women in the whole electoral process, but also to respond to cases affecting men, as well as children and other marginalised groups. The WSR relies solely on raw information from the field on the day of the election, and in some countries, some days after the elections.
The structure of the WSR consists of a secretariat, election observers, a call centre, a team of eminent women leaders and a pool of experts. The WSR operates from a designated location, often close to the strategic headquarters of the various first-response organisations such as the police and the electoral body in the country. The secretariat is tasked with organising the day-to-day activities of the WSR and rolling out strategies implemented before, during and after elections. The WSR is spearheaded by civil society organisations (CSOs), in most cases with the support of UN Women and the United Nations Development Programme (UNDP).
The WSR-trained election observers are deployed in various parts of the country. Using a toll-free, well-publicised telephone number, the election observers report to the Situation Room all incidents of violence or threats to peace that are happening across the country.11 Inside the Situation Room, a team of leaders and eminent persons from different African countries remain on standby. In another room, telephone operators take calls from the election observers deployed across the country to monitor hotspots. The operators record the time and nature of the call, and then pass on this information to technical experts, who verify and analyse the information before handing it to a team of women leaders who have influence with local politicians. They are also supported by female experts from other parts of Africa.
The team coordinates with high-profile representatives from the police service and the electoral commission – for example, the Independent Electoral and Boundaries Commission (IEBC), in the case of Kenya. After receiving situation reports of real or potential trouble on the ground, the eminent persons use their status and influence with police authorities, the electoral body or political leaders to reduce brewing tensions or prevent acts of violence from getting out of control. They also conduct behind-the-scenes diplomacy, and arbitrate and mediate between rival groups and political parties. Meanwhile, in the Situation Room itself, visitors are invited to write peace messages and sign their names on a piece of white cloth to symbolise their support for peaceful elections.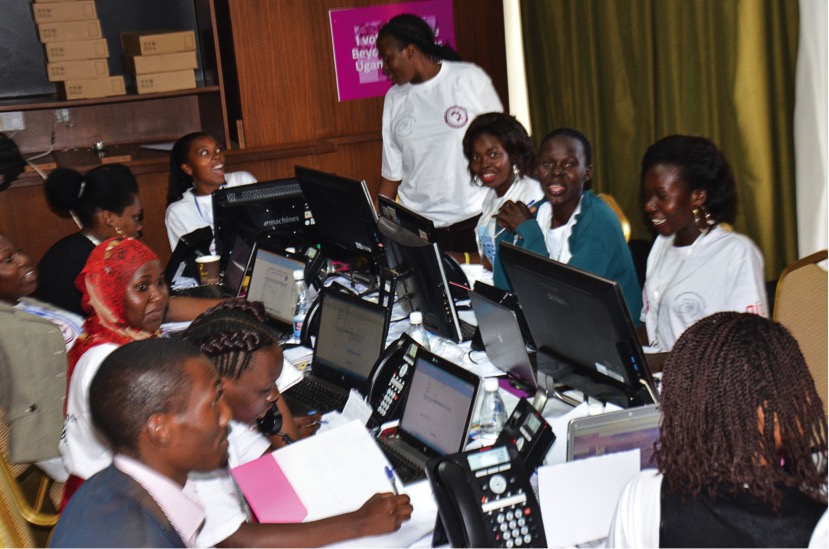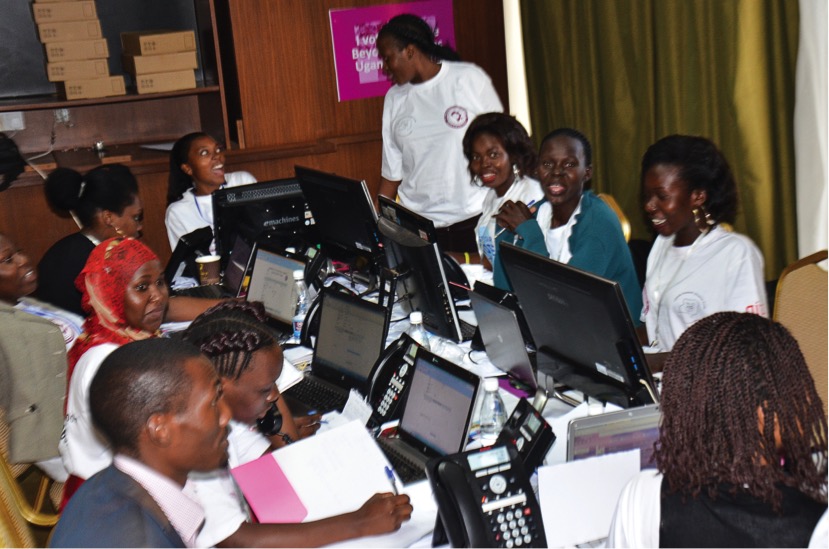 Field Presence
Ghana (2016): Ghana will hold its general elections on 7 December 2016, to elect a president and members of parliament. The WSR has been established with the support of the UNDP and Norway with the aim of mobilising women, in collaboration with the youth, to ensure their active participation in peaceful democratic electoral processes.12
Uganda (2016): The WSR trained 450 election observers, covering 15 districts marked as conflict hotspots.13 The WSR Uganda received and dealt with over 1 415 calls from the 15 districts in which observers were stationed and other parts of the country.14
Nigeria (2015): The operation centre housed 40 youth incident reporters fielding calls in two shifts, day and night. They took 2 748 calls from the public during that period and recorded complaints, observations and queries about violence against women. An additional 300 all-women election monitors – who were deployed in 10 targeted states for two days during the elections – reported nearly 5 000 incidents of election-related cases of violence.15
Mali (2013): Mali took a different approach through the creation of a women's oversight platform for fair and violence-free elections, inspired by similar women's electoral situation rooms. The platform is a space where Malian women voters can exchange views and information. Every day, speakers arrive and debate on a series of crucial issues, such as the importance of the women's vote, the impact of electoral violence on their vote, the role of young people in elections, the role of the media in preserving peace, and so on.16 In July 2013, the platform included 2 500 women and youth visitors.17
Kenya (2013): Kenya recruited, trained and deployed 500 women and youth as special election observers in areas that were identified as potential hotspots for violence,18 including Nairobi, Naivasha and Mombasa. Using a toll-free, well-publicised telephone number, the election observers reported to the Situation Room all incidents of violence or threats to peace that happened across the country.
Senegal (2012): Fifty West African women leaders served as election observers during the country's elections.19 UN Women supported the launching of a Women's Platform for Peaceful Elections to help the voting process take place in a peaceful and transparent manner. Founded by women's organisations as an initiative for conflict prevention and mediation, the platform has enabled female leaders to join and organise observer missions during the electoral process, using a gender-based approach.
Sierra Leone (2012): A total of 300 observers were recruited20 to monitor and observe elections, specifically with regard to security challenges for women during the election period. The initiative aimed at mobilising, harnessing and employing the expertise and experiences of women in taking action to prevent or mitigate potential conflicts and other threats that could emerge before, during and after the local, parliamentary and presidential elections in Sierra Leone. It created a space for consultations with all parties involved in the elections and encouraged women to be involved in peace advocacy, mediation, coordination, political analysis, observation and documentation.
Liberia (2011): The WSR in Liberia used a multipronged approach in its implementation. With support from the UNDP and in collaboration with the ABIC, a coalition of over 30 Liberian women and youth organisations – the Coalition of Women, Youth and Students Against Electoral Violence, under the banner "Peace in our Hands" – established the WSR in Liberia to help galvanise women's participation, and for peaceful elections.21 In collaboration with the Ministry of Gender and with funds from the Elections Basket Fund managed by the UNDP, 419 women representing 17 political parties were trained to participate in the elections. Women of various political parties advocated for support of their activities, following an interparty dialogue held in 2010 that aimed to increase the role of women in political parties and empower women candidates to contest the 2011 elections. The UNDP supported 95 women's organisations to enhance their participation in voter registration. Over 100 women participated in the primaries of their various political parties to gain seats in the presidential and legislative elections.22 The process of inclusion and participation of all women's organisations, youth groups and other civil society actors will be highly important for the success of the WSR during the 2017 elections in Liberia.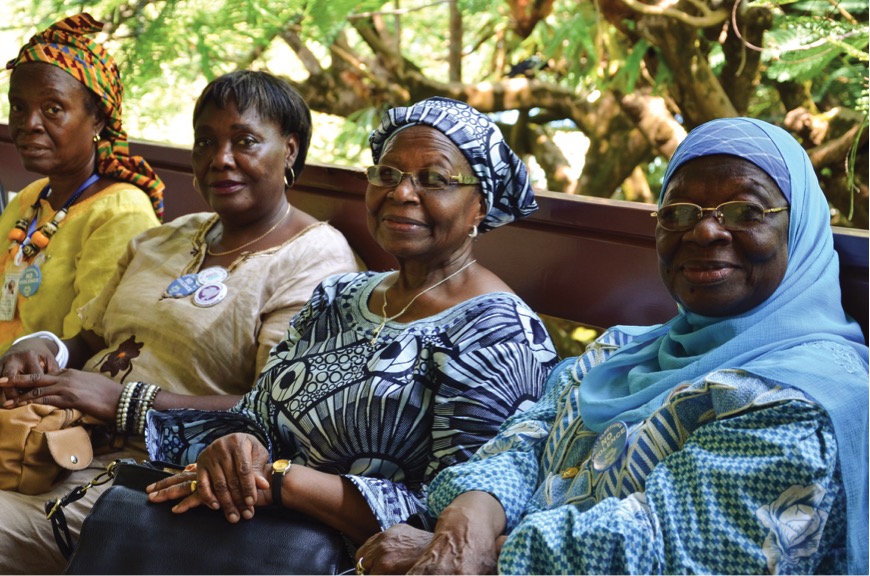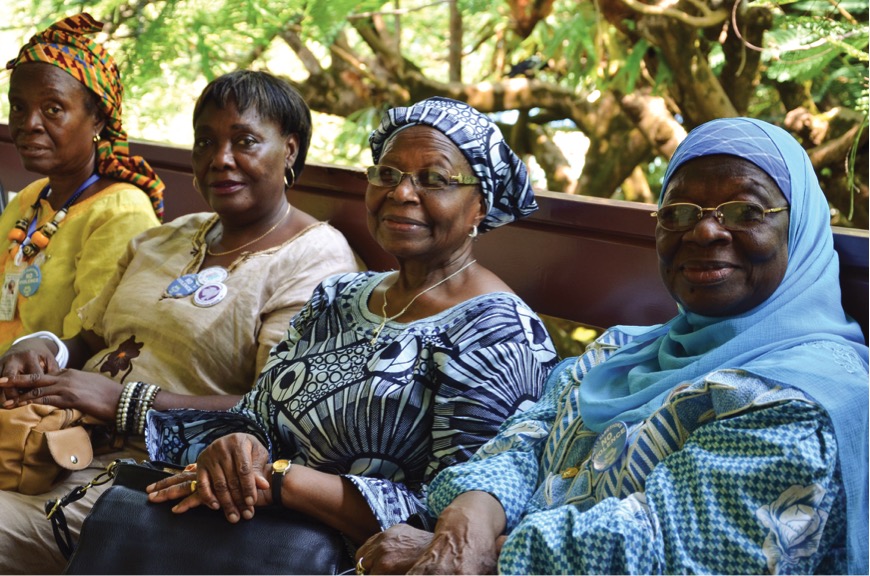 Women's Situation Room Achievements
The WSR is barely a decade old, yet the impact of this initiative has been felt in the countries where it is used:
In Kenya, at the end of the observation process in 2013, the WSR had recorded more than 1 200 reports that were received and resolved in real time.23 The incidence categories included voting complaints, gender-based violence, electoral offences and the obstruction of observers. There were also cases of spontaneous violence following the announcement of the results. At one point, there was tension nationwide when the IEBC delayed announcing the election results. The WSR, through the team of eminent persons, successfully reached out to the electoral commission to fast-track the process. The team also prevailed upon the two leading presidential contenders to appeal to their supporters to refrain from violence. In the end, the importance of WSR's work was acknowledged by various stakeholders in the Kenyan election.
In Liberia, the WSR worked to ensure that women participated in all spheres of the elections, and not just to vote or rally behind politicians. The objective of the WSR was to enhance women's political participation by mobilising women, youth and the media in Liberia to actively participate and to ensure a peaceful and democratic electoral process.24
The WSR has assisted in identifying triggers of electoral violence, and in developing strategies to stem such violence.
Trained and deployed election observers contributed to resolving reported electoral violence incidents or threats in real time, and held fruitful meetings with the major political players and media stakeholders on the need for peaceful elections.
There is improved electoral security with WSR. The presence of WSR observers has given citizens more courage to go out and vote. Security sector agencies are mandated to provide safety to electoral actors, events, materials and information throughout the electoral cycle. The WSR has worked with security forces in realising this mandate in conflict hotspots.
Dialogue among electoral stakeholders has increased, due to ongoing engagement and interaction with them.
Local infrastructures for peace have been enhanced. WSR monitors have to work with other actors on the ground, thus strengthening platforms for peace at the community level and increasing coordination levels among peace actors.
In Nigeria, the performance and usefulness of the intervention desks set up by police in the physical Situation Room25 were key in ensuring prompt and rapid responses to incidences reported to the WSR, thus creating an enhanced preventive approach.
Challenges and Obstacles
With the different achievements highlighted, the WSR is not without challenges:
As a relatively new initiative, there is still limited awareness of the WSR and its functioning, thus limiting the support it gets from the community.
For some WSRs, such as in Kenya and Nigeria, an issue that was raised was the need for more time to train volunteers on the peace process, information and conflict analysis, and gender analysis, to enable them to support the information flow more effectively.
In most cases, the WSR is only established a few days before the elections. However, it should be established much earlier – perhaps even as early as one month or more before the elections. This gives the population some time to understand the operations of the WSR, for the training of people, and for the trainees and eminent women to interact.
The sustainability of the initiative is not guaranteed, since there are no established funding mechanisms yet to support an initiative like this in the long term.
There is a need for greater support of analysts – who, at times, were overwhelmed and forced to go beyond their terms of reference. This is linked to the need for greater clarity of roles and responsibilities of those involved in the WSR.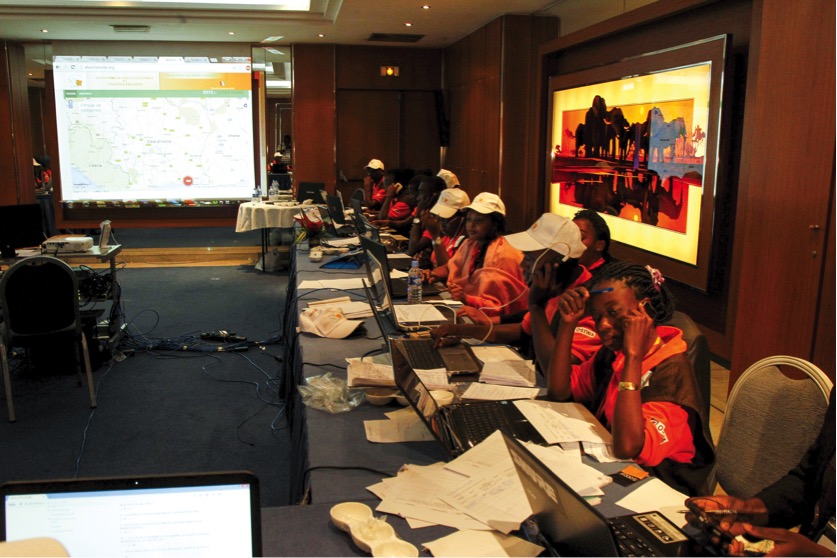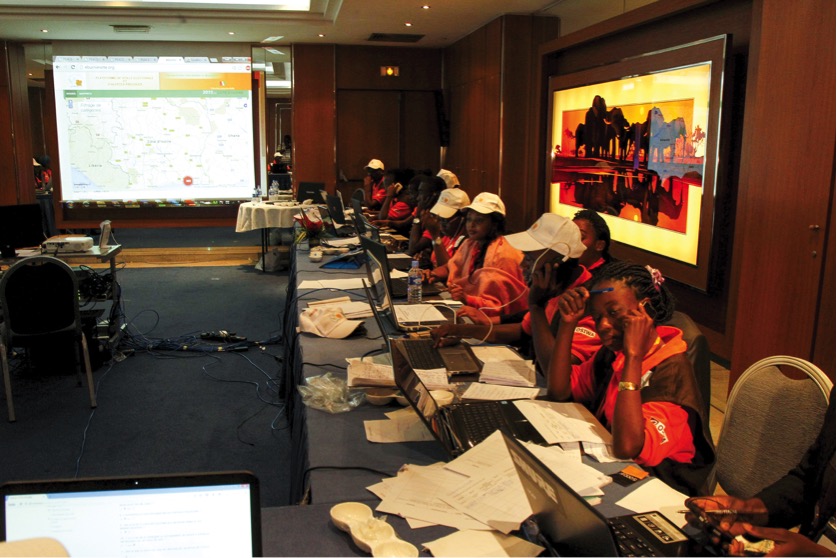 Recommendations and Opportunities for Engagement
The WSR is an emerging trend that, if used with other existing opportunities or new approaches, will strengthen conflict and violence prevention during the electoral process, ensuring the protection needs of women are taken into consideration, and increasing the representation of women in peace processes:
Initiatives such as the deployment of an all-women AU Election Observation Mission (AUEOM) to observe parliamentary elections in the Seychelles in September 2016 provided an opportunity for convergence. The presence of such an observer mission (in this case, the first-ever, historical, women-only AUEOM) in the same space as the WSR will strengthen early warning and early response to conflict. In a similar vein, the WSR should continue to link with other existing platforms, such as the civil society situation room in Nigeria.
Even after elections, Uganda has continued to engage with the eminent women who form a key component of the WSR. This is reflected in their continued strengthened capacities to support conflict and violence prevention, even in the post-election period. For example, the African Centre for the Constructive Resolution of Disputes (ACCORD) has conducted several trainings and related support engagements for the eminent women from Uganda, most recently with trainings on mediation.
There is a need for increased awareness on the WSR and its functioning, highlighting its role as a non-state actor in contributing to early conflict warning and peaceful elections. This will also lead to local ownership by the community.
Information, communication and technology (ICT) has been used directly as a tool of intimidation by threatening or inciting physical violence against women candidates, voters or representatives during elections. The WSR can work with existing technological advancements and initiatives, such as the Ushahidi26 platform, to maximise the impact of the WSR. The operations of the WSR depend significantly on telephone calls for real-time monitoring and response to election-related incidences. Thus, there is a need to explore the utilisation of media and technology in strengthening the role of women in conflict prevention.
Most of the regional economic communities/regional mechanisms (RECs/RMs) in Africa have established or are establishing conflict early warning mechanisms, and the WSR is a possible point of engagement, where the RECs can work with the WSR to strengthen data collection, analysis and response during elections.
In support of the AU's objective of "silencing the guns" by 2020, the pool of eminent women can be engaged to reach out to the youth and other actors carrying arms.
The pool of eminent women who support the WSR in different countries can be linked to the national, regional and continental roster of women mediators who can further support conflict prevention and management efforts in these countries, even during the post-election period.
The WSR is often established only a few days before elections. There is the need for a more structured approach that allows for early recruitment and training of the volunteer observers, to enable them to better support the WSR mandate.
The Pan-African Network of the Wise (PanWise) and the WSR can find areas of convergence, as both initiatives seek to address women's issues in conflict settings.
Situation rooms should include police and election commission intervention desks to help resolve incidents as they emerge. Further, processes within the WSR should be flexible enough to allow other agencies to play a complementary role.
Training on conflict analysis and incident reporting should be conducted in collaboration with the police, to ensure accurate analysis and recording. This will also ensure that all statistics and data are sex-disaggregated.
The establishment and implementation of the WSR is one of the ways in which a country can contribute to the implementation of UNSC Resolution 1325 at a national level, by providing a platform for effective women's participation in conflict prevention.
Conclusion
Strengthening a society's resilience to conflict and violence during elections may require enhanced coordination between, and joint action by, the major state and non-state actors that have a mandate to work for peaceful elections, and an interest in doing so. As countries across the African continent gear up for elections, women are taking an active role in ensuring peaceful voting and meaningful electoral participation, through the WSR. Women and youth are key stakeholders who are too often neglected in the quest for peaceful elections. Further, women play an active role in sustaining peace before, during and after elections, and their agency must be strengthened to enable them to contribute further to sustainable peace in their communities and beyond. The WSR provides a platform to enable this.
Endnotes
Godia, J. (2015) 'Women's Situation Room: Africa's Unique Approach to Reducing Electoral Violence', Africa Renewal, Available at: <http://www.un.org/africarenewal/magazine/april-2015/women%E2%80%99s-situation-room-africa%E2%80%99s-unique-approach-reducing-electoral-violence> [Accessed 5 October 2016].
The World Bank (n.d.) 'Fragile and Conflict Affected Situations (FCS)', Available at: <http://siteresources.worldbank.org/EXTLICUS/Resources/OPCS_FCS_IB_FINAL.pdf>.
National Democratic Institute (n.d.) 'Global Elections Calendar: 2015', Available at: <https://www.ndi.org/electionscalendar?quicktabs_elections_calendar=1#quicktabs-elections_calendar> [Accessed 3 November 2016].
Peloquin, S. (2015) 'Six Critical African Elections to Watch in 2015', Available at:<https://www.demworks.org/six-critical-african-elections-watch-2015> [Accessed 25 October 2016].
National Democratic Institute (n.d.) 'Global Elections Calendar: 2016', Available at:<https://www.ndi.org/electionscalendar?quicktabs_elections_calendar=0#quicktabs-elections_calendar> [Accessed 3 November 2016].
Ibid.
Electoral Institute for Sustainable Democracy in Africa (2016) '2017 African Election Calendar', Available at: <https://www.eisa.org.za/index.php/2017-african-election-calendar/> [Accessed 5 October 2016].
Godia, J. (2015) op. cit.
The Angie Brooks International Centre (ABIC) (2016) 'ABIC Extols UN Women, UNDP, Others for Support to Women's Situation Room (WSR)', Available at: <http://angiebrooksintlcentre.org/index.php/news/23-abic-extols-un-women-undp-others-for-support-to-women-s-situation-room-wsr> [Accessed 5 October 2016].
Godia, J. (2015) op. cit.
Royal Norwegian Embassy in Accra (n.d.) 'Norway Supports Women's Situation Room', Available at: <http://www.ghana.norway.info/News_and_events/News-and-Events/Ghana/Norway-supports-Womens-Situation-Room/#.WDNYpHnNuP8> [Accessed 20 November 2016].
The Women's Situation Room Uganda (2016) 'Preliminary Report by the Women's Situation Room Uganda Regarding the Presidential and Parliamentary Elections Held on 18th February 2016', Available at: <http://wsr-uganda.org/wp-content/uploads/2016/02/PRELIMINARY-WSR-REPORT.pdf> [Accessed 3 October 2016].
Ibid.
UN Women (2015a) 'Women's Situation Rooms Boost Peaceful Voting in Africa', Available at: <http://www.unwomen.org/en/news/stories/2015/10/womens-situation-rooms-boost-peaceful-voting-in-africa> [Accessed 5 October 2016].
UN Women (2015b) 'Malian Women Press for Peaceful, Fair Elections', Available at: <http://www.unwomen.org/en/news/stories/2013/7/malian-women-press-for-peaceful-and-fair-elections> [Accessed 18 November 2016].
Ibid.
Godia, J. (2015) op. cit.
UN Women (2015a) op. cit. [Accessed 3 May 2016].
UN Women (2012) 'Women's Situation Room Aims to Prevent Conflict and Ensure Peaceful Elections in Sierra Leone', Available at: <http://www.unwomen.org/en/news/stories/2012/11/women-s-situation-room-aims-to-prevent-conflict-and-ensure-peaceful-elections-in-sierra-leone> [Accessed 3 May 2016].
UNDP (n.d.) 'Women in Liberia Contribute to Peaceful Elections', Available at: <http://www.lr.undp.org/content/liberia/en/home/ourwork/democraticgovernance/successstories/liberia-women-elections.html> [Accessed 5 November 2016].
Ibid.
Godia, J. (2015) op. cit.
UNDP (n.d.) op. cit.
Onyesoh, J. (2015) 'Report on the Women's Situation Room in Nigeria', Available at: <http://www.genderhub.org/get-in-the-know/resource-library/report-on-the-womens-situation-room-in-nigeria/> [Accessed 18 November 2016].
Ushahidi Inc. is a non-profit software company that develops free and open-source software for information collection, visualisation and interactive mapping. Ushahidi (Swahili for "testimony" and closely related to shahidi, which means "witness") created a website in the aftermath of Kenya's disputed 2007 presidential election that collected eyewitness reports of violence reported by emails and text messages and placed them on Google. For more information, see: <https://www.ushahidi.com/>.