In line with its objective of providing training in the skills of negotiation, conflict prevention, resolution and management, ACCORD – in partnership with the African Union (AU) and the Common Market for Eastern and Southern Africa (COMESA) – has organised a capacity building workshop for senior staff of Electoral Management Bodies (EMBs) from the COMESA region. Participants from the COMESA Secretariat as well as the AU Commission Secretariat also attended.
The training workshop, which took place in Bujumbura (Burundi) from 22-26 September 2014, aimed at enhancing knowledge and imparting mediation skills in order to increase the capacity of COMESA EMBs, COMESA Secretariat and AUC staff to deal with election related conflicts.
Conflicts in Africa have become increasingly intractable with recent country situations escalating back to violence after the reaching of peace agreements. Most of the aforementioned situations have had at their core, issues related to disputes arising from electoral cycles which have four to five year durations; or elections resulting out of recommendations of peace agreements. Electoral disputes have become proximate causes and at times triggers of complex conflicts which have in recent times involved myriad of structural issues in arenas laden with multiple actors with intertwined interests. This kind of context has called on stakeholders to develop multiple approaches in which to tackle the different aspects of conflicts in order to obviate their escalation. One of these approaches is through empowering EMBs to be able to contribute to the prevention of electoral related violence.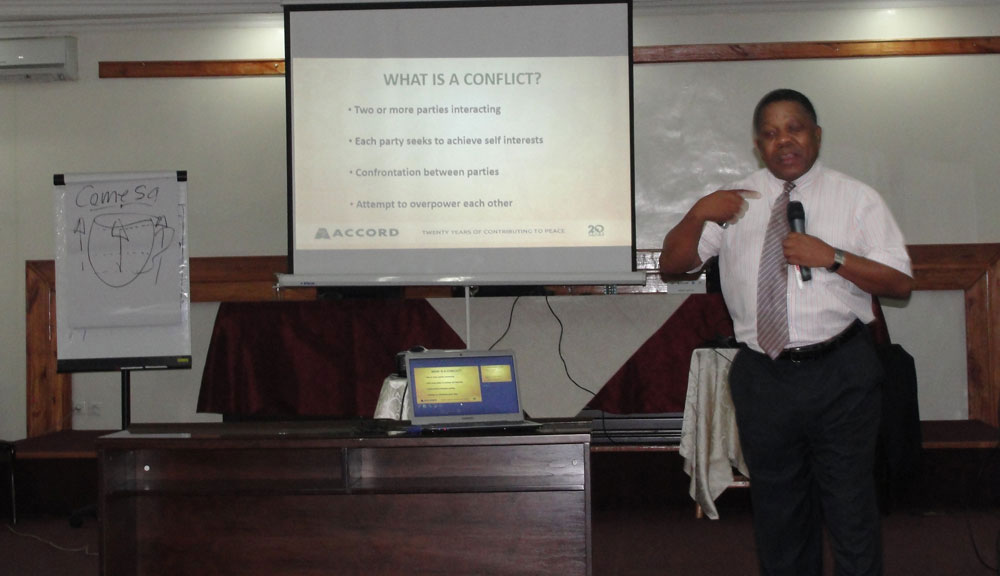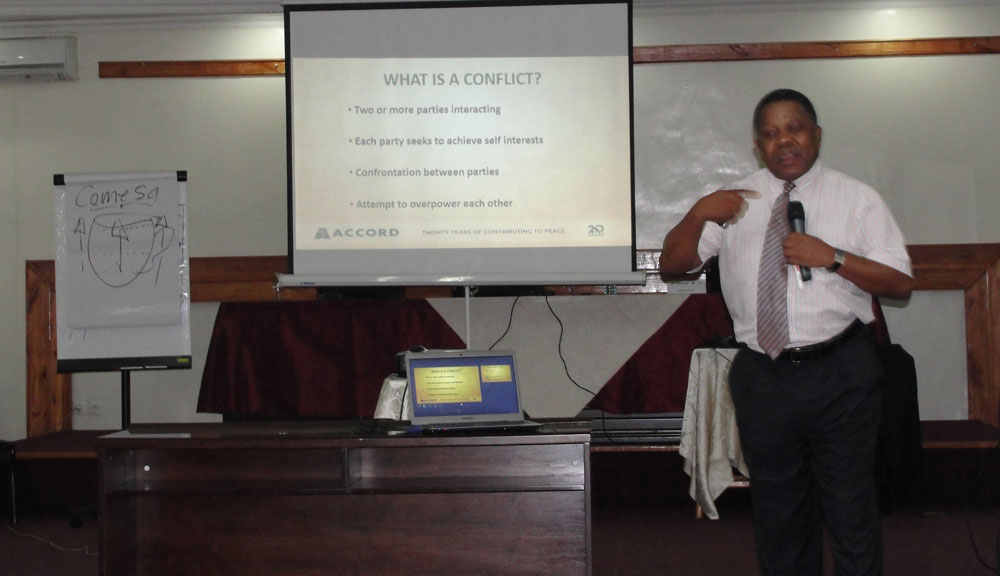 The participants' knowledge in mediation was enhanced so as to become better equipped with skills needed to provide the necessary advice to practice effective mediation in election-related conflicts on the continental and sub-regional level. They were also able to learn lessons from and share experiences with each other. There was also the levelling of perspectives of the COMESA EMBs, COMESA Secretariat and AUC staff on ways of increasing the capacity for election and mediation support at the regional level. The forum also enabled the participants to have comprehensive analysis and understanding of the nature of election related conflicts in the COMESA region. Ultimately, there was enhanced understanding and appreciation of the theory as well as the practice of mediation.
ACCORD foresees the strengthening of collaboration with COMESA as well as other Regional Economic Communities in order to contribute to the strengthening of mediation and preventive diplomacy continentally.