A key role of ACCORD's Knowledge Production Department (KPD) is building the capacity of members of staff in various areas through organising and hosting internal capacity strengthening activities. In line with this mandate, KPD hosted the first Academic Writing Skills Workshop for 2013 at the Kingfisher Lodge in Durban, South Africa on 15 July 2013.
The workshop, which aimed to strengthen the capacity of members of staff working in ACCORD's KPD, Interventions Department and Burundi Country Programme in academic and policy-oriented writing, was attended by eight members of staff.
The highly participatory one-day event was facilitated by Professor John Daniel, retired Professor of Political Science in the University of KwaZulu-Natal's School of Governance. The main aim of the workshop was to support colleagues to become better and more confident writers and, as a consequence, to improve the quality and quantity of ACCORD's publications and research outputs.
The format of the workshop included discussion of the fundamentals of writing for various types of publications, focus on key steps necessary when writing strong research-based papers and group work. Participants were provided with opportunities to practice their writing, present draft papers they had written and receive critiques and feedback on these papers. As well as focusing on strengthening the technical capacity of staff to write on various peace and conflict topics, the workshop included sessions on formatting and general editorial and proofreading tips.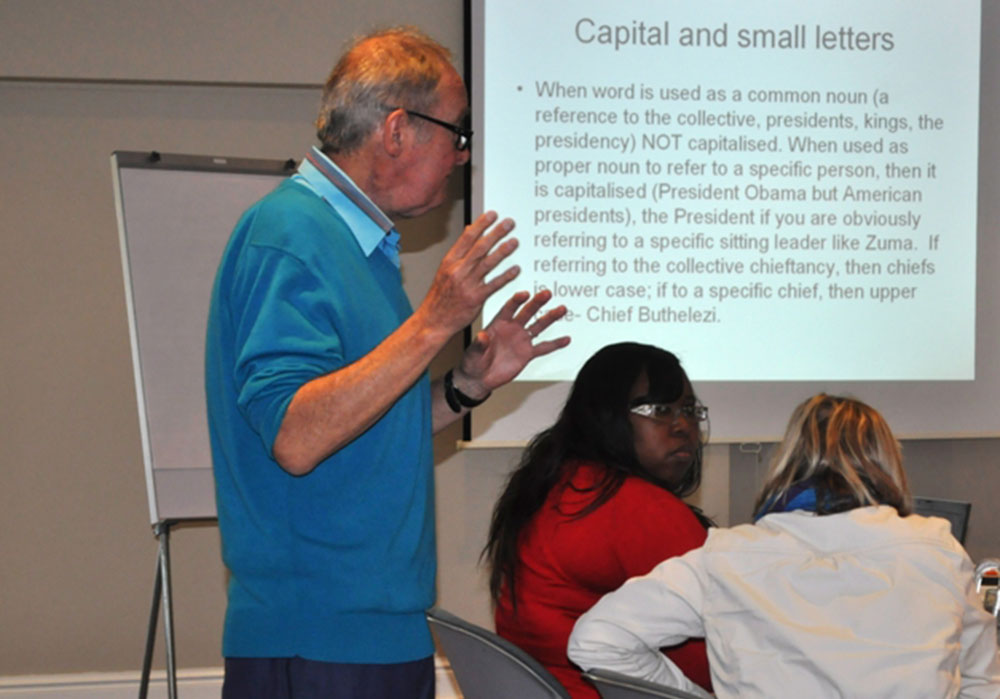 Post-meeting, Professor Daniel continues to mentor participants and to provide support as they revise and finalise their papers for publication in ACCORD and external publications and journals.
Writing skills workshops form part of KPD's regular staff capacity building activities. These initiatives are aimed at strengthening employee's skills and developing their knowledge and capabilities in various self-identified areas in order to enhance individuals' abilities to contribute to the achievement of the institution's goals and objectives. Other capacity strengthening initiatives include internal staff seminars on topical peace and conflict issues, research presentations and discussions, as well as participation in relevant conferences, trainings and meetings.