ACCORD is involved in ongoing efforts to highlight the role gender plays in peace and security. In its three pillars of intervention, namely peacemaking, peacekeeping and peacebuilding, ACCORD is cognisant of the role of gender in peace and conflict such that gender is a cross-cutting theme in the organisation's training manuals and operational documents. Against this backdrop, ACCORD's Knowledge Production Department (KPD) hosted a two-day authors' roundtable on the topic: "Women, Peace and Security: Approaches to Gender Empowerment."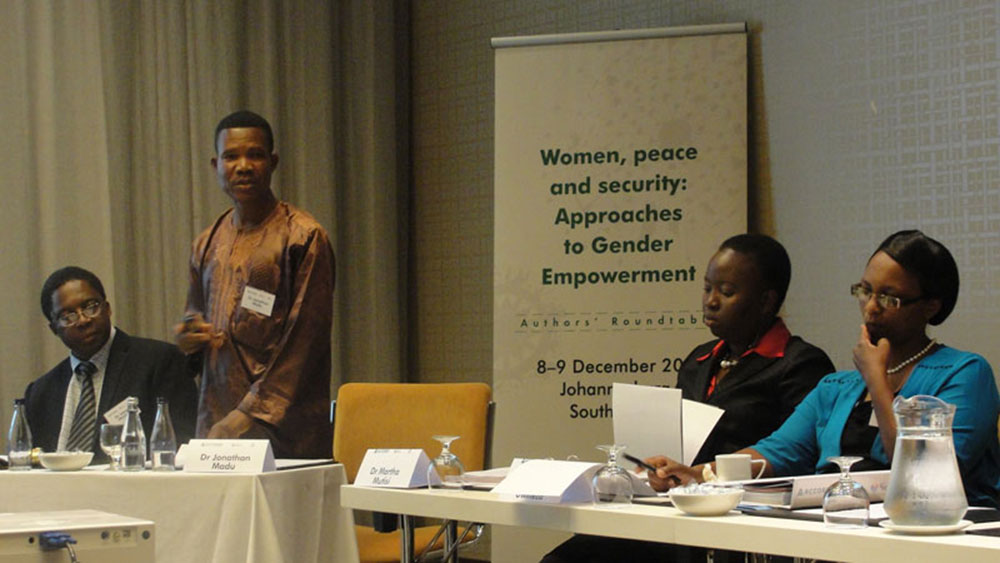 The Authors' Roundtable took place on 8 and 9 December 2011 in Johannesburg, South Africa and brought together chapter contributors and editors for a critical review of the initial draft chapters of an edited volume on the same topic. The roundtable gave authors a forum to present and discuss their first drafts amongst their colleagues, and editors had an opportunity to share feedback on these draft chapters. Insights from many fruitful discussions and the editors' feedback will now be incorporated by the authors for submission of second draft chapters. The edited volume will be published in 2012.
The proposed project seeks to engage in research on women, peace and security by interrogating various programmatic and institutional interventions such as calls by United Nations Security Council Resolution (UNSCR) 1325 to increase the number of females in leadership positions and in negotiations. The scope of the research is to assess the application of gender lenses in different peace and security contexts (i.e. armed conflict, peace processes and post – conflict reconstruction). Further, the project interrogates how the implementation of gendered approaches to peace and security has led or failed to result in improved overall outcomes for women. As such the project examines the operational, institutional and global barriers that prevent effective implementation of peace and security programmes that are gender friendly.
This project is expected to increase ACCORD's role in facilitating the enhancement of scholarly attention towards the discourse on women, peace and security and to critically discuss efforts towards enhancing the situation of women in peace and security realms in Africa among other things.