In collaboration with the Advisory Group of Experts on the Review of the United Nations (UN) Peacebuilding Architecture, the African Centre for the Constructive Resolution of Disputes (ACCORD) organised two-day regional Consultations in Addis Ababa, Ethiopia from 11 – 12 May 2015. The Consultations served as a way to receive inputs from key regional players on what is needed for successful peacebuilding in the Horn & East Africa and beyond in terms of regional dynamics of conflict and current challenges.
The Consultations brought together different key peacebuilding actors in the Horn & East Africa region to analyse the impact of the Peacebuilding Architecture over the past ten years. The participants were drawn from among others, the Advisory Group of Experts on the Review of the UN Peacebuilding Architecture, the Ministry of Foreign Affairs of the Federal Democratic Republic of Ethiopia, the African Union Commission (AUC), regional UN offices, Regional Economic Communities (RECs), International Financial Institutions, Addis Ababa-based embassies as well as civil society organisations. The opening remarks were delivered by Dr Khabele Matlosa, the Director of the Department of Political Affairs at the AUC. Mr El-Ghassim Wane, the Director of the Peace and Security Department provided the closing remarks.
The participants reflected on the UN's contribution to Peacebuilding Architecture in Africa, the role of regional actors and organisations in East Africa, the challenges and progress of peacebuilding in the region. They also discussed the UN and regional organisations engagement in East Africa within existing peacebuilding frameworks, and regional dimensions of peacebuilding on the African continent.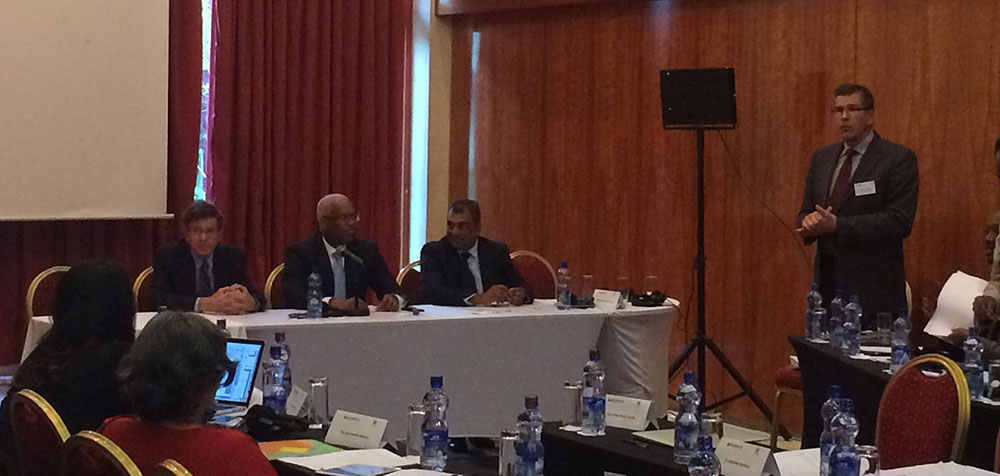 The participants took note of the evolving dynamics of peacebuilding since the 2010 review and delved deep into the future of peacebuilding in the region, while analysing the role of women in peacebuilding initiatives. Noteworthy was the debate on the relationship between the UN and regional organisations in securing peace and stability, as well as examination of different peacebuilding efforts aimed at addressing the root causes of conflicts so as to avoid relapses. The consultations also discussed the role of international financial institutions in supporting peacebuilding, and the efforts of the RECs in support of peace and stability in Africa. At the end of the Consultations, vital recommendations were presented, for consideration by the Advisory Group of Experts as it works towards finalising its report that will be present to the UN General Assembly. Among other things, participants proposed that annual meetings are held between the UN Peacebuilding Commission, the private sector and civil society organisations to develop strategies that will give meaning to the Architecture. They further recommended that the UN should empower the AU in dealing with Peacebuilding challenges, and assist in mobilisation of more donors to finance Peacebuilding programmes.
The UN Peacebuilding Architecture Review process will run until June 2015 and the recommendations presented to the UN General Assembly in September 2015. ACCORD will continue to provide support to this review process in partnership with the Advisory Group of Experts and like-minded entities.