Strong Peace Partnership
ACCORD has a partnership with the Department of Peace and Conflict Research (DPCR) at the University of Uppsala in Sweden. The overall objective of the partnership, which is funded by the Swedish International Development Agency, is to develop the capacity of both partners to contribute to the constructive resolution of conflicts on the African continent. By broadening ACCORD's theoretical basis for conflict management, and by strengthening DPCR's empirical understanding of conflict, the programme aims to level the fields of knowledge production, research and information capacity. A sub-project of partnerships relates to a pre-existing Memorandum of Understanding (MOU) signed between ACCORD, DPCR and Nordic Africa Institute. The aim is to develop ACCORD's capacity for documentation and library services with the professional advice and cooperation from the Nordic Africa Institute (NAI).
Strong Peace Partnership Research
The 'Strong Peace' partnership research covers three broad subject areas:
Peace Agreements
The Objective of this research area, and its sub-projects, is to examine under what conditions peace processes and peace agreements succeed or fail in terms of both the durability and the quality of peace.
Various ACCORD outputs and publications do relate to this research area as Peace Agreement research at ACCORD pre-dates the Strong Peace partnership. However, the study parameters have been amended in the context of the partnership and the focus is now on 'strong peace'.
Theory and Practice of Conflict Resolution
In an African conflict resolution context, the objective of this research area and its sub-projects is to identify the conceptual basis and theoretical underpinnings for the evolving peace and security practice; to link the theory of conflict resolution to political practice.
There are a number of research questions being addressed in this research area. One of the current and ongoing areas of research under this research agenda addresses Natural Resources, the Environment and Conflict.
Two projects in this research area include developing an annotated 'dictionary' of the origin and logic of competing definitions of central concepts in conflict resolution, and studying the evolution of the practice of conflict resolution and its future visions.
Challenges to Post-War Peacebuilding
The objective of this research area and its sub-projects is to address dilemmas that arise with regard to security, democratization, governance and socio-economic development in post-war situations.
One example of a research project that has been undertaken under this research area is the research and development of a report on the causes, effects and management of electoral violence. This report can be downloaded from our publications page.
GPPAC
The Global Partnership for the Prevention of Armed Conflict (GPPAC) is a member-led network of civil society organisations (CSOs) active in the field of conflict prevention and peacebuilding. GPPAC works through 15 regional networks across the world. Members include representatives of local, regional and international civil society organisations and networks involved in the relevant field. Wherever possible, the network engages in active partnerships with governments, intergovernmental and private sector organisations and other relevant stakeholders to pursue conflict prevention and peacebuilding activities.
ACCORD has been a member of GPPAC since 2005, but revitalised its engagement in the initiative in 2011. The institution forms part of the re-constituted eleven-member regional network for Southern Africa, and also hosts and coordinates the regional secretariat.
History and Objectives of GPPAC
The GPPAC initiative emerged in response to a 2001 report by former United Nations Secretary-General Kofi Annan titled Prevention of armed conflict. In this report, Annan advocated for the establishment of partnerships between CSOs, private sector organisations, government institutions and intergovernmental and international organisations as an effective strategy to address the scourges of violent conflict in the world. Responding to Annan's call, in July 2005 civil society organisations around the world – led by the Netherlands-based European Centre for Conflict Prevention, ECCP – organised a global conference held at the United Nations Headquarters in New York that culminated in the official launch of GPPAC. The conference also adopted the GPPAC Global Action Agenda and Global Work Plan and agreed on the establishment of 15 regional networks to form the pillars of the initiative.
GPPAC strives to unite civil society organisations working on issues pertaining to conflict prevention and peacebuilding. The initiative's main objective is to achieve and sustain strong partnerships and collaboration among civil society organisations in their regions and globally in order to coordinate the efforts of various organisations and people working together to reflect on, improve and implement effective civil society strategies for conflict prevention and peacebuilding worldwide. GPPAC works to achieve this through networking and advocacy; knowledge sharing and dissemination; and early warning and early response, as well as awareness raising.
GPPAC Southern Africa
The GPPAC Southern Africa network aims to contribute to the achievement of a paradigm shift from reacting to conflict to conflict prevention in the region. Towards this end, between 2012 and 2015, the Southern Africa network will largely focus on two key priority areas for civil society engagement in conflict prevention in the region:
contributing to programmes and initiatives focusing on improving democratic and electoral processes, tolerance and freedom, and
engaging with, and influencing key stakeholders in strategic policymaking positions to positively address land and ethnic conflicts, election disputes and successful reintegration of ex-combatants following armed conflict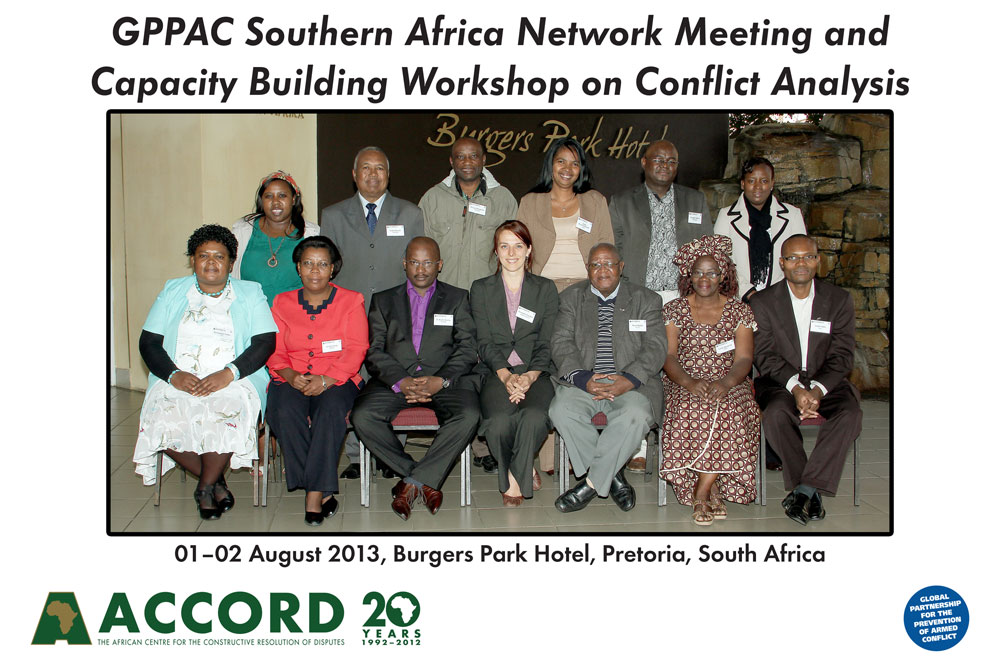 The network also emphasises the importance of supporting civil society to utilise effective strategies, based on what has been shown to work, or not to work, in other countries and regions, in order to achieve the priority areas identified. These strategies include peace education; sensitisation, training and capacity building of civil society actors and media personnel; community dialogues and outreach activities; briefings with parliamentarians and political party representatives; and national symposia aimed at encouraging societal cohesion.
The GPPAC initiative provides important spaces and platforms for civil society organisations working on conflict prevention and peacebuilding to undertake networking and joint advocacy initiatives across countries, regions and globally.