In this week's monitor the focus is on the impact of the measures taken to contain the spread of the coronavirus (COVID-19) pandemic. Most states in Africa are now three or four weeks into the social distancing and lockdown measures that they have adopted to prevent their countries from being overwhelmed by COVID-19. Thus far, these measures seem to have been successful in slowing down the kind of exponential growth in infections seen elsewhere. However, these measures have also had serious socio-economic side effects, including the loss of income, the inability of people to meet the basic needs of their families, high number of arrests, heavy-handed enforcement and social unrest. The COVID-19 containment strategies cannot be sustained at current levels much longer, and most countries in Africa are now starting to ease their lockdown measures.
Ambassador Said Djinnit, Dr. Martha Mutisi and Dr. Mehari Taddele Maru reflect on the lessons emerging from Africa's first lockdown phase. Ms. Marisha Ramdeen shares insights into some of the negative side-effects of the containment measures, including economic hardship, a sharp increase in COVID-19 related arrests and social unrest. Mr. Senzwesihle Ngubane reflects on the different approaches countries have taken when it comes to containment measures and conducting testing for the virus. Mr. James Henry Murray and Ms. Karishma Rajoo write about the decisions taken by the African Union's Peace and Security Council (AU's PSC) during their first meeting on the COVID-19 crisis.
The  aim  of our  Monitor is to track COVID-19 related conflict and resilience indicators and trends, which could  give us early warning of rising tensions, and inform our response strategies.  We hope you find this 2nd edition of the monitor insightful.
Mr. Senzwesihle Ngubane, Manager: COVID-19 Conflict & Resilience Monitor
Dr. Cedric de Coning, Chief Editor: COVID-19 Conflict & Resilience Monitor
Trust between citizens & institutions
The implications of COVID-19 for social cohesion and public order – Said Djinnit
People may have their objections on the way institutions such as Governments are run, but they expect them to deliver. Part of this expected delivery by the institutions is the capacity to anticipate and manage crises. In an uncertain environment like the ongoing global COVID-19 public health crisis, trust in institutions is essential for compliance to measures to prevent the spread and contain the virus and even more critical to maintain peace, security and stability. 
The global outbreak has the potential to trigger social and political tensions particularly in fragile states and is likely to put peace operations as well as humanitarian response mechanisms to a test. A number of violent incidents have been reported during humanitarian distributions, and riots and mutinies in prisons have been witnessed in parts of the world. In Africa, those involved in the informal economic sector and other vulnerable segments of society cannot cope with the current situation. Incidents of domestic violence have also increased. This situation is likely to worsen if the confinement policy is maintained for a long period. 
Photo by Billy Mutai/SOPA Images/LightRocket via Getty Images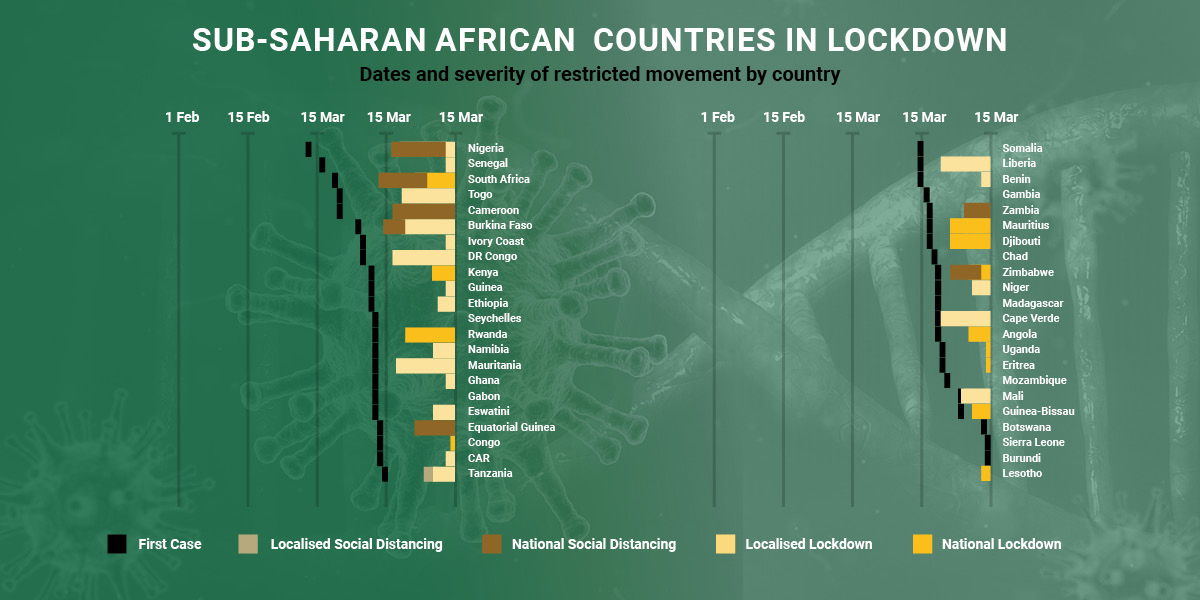 Livelihood insecurity & economic impact
Community engagement and people-centered approaches key to successful containment of COVID-19 – Martha Mutisi
We have learned from the Ebola crisis in West Africa and elsewhere that COVID-19 containment strategies will fail unless they sufficiently involve communities in their design and implementation. The voices, needs and livelihoods of people and communities must remain at the centre of any response strategy.
Images of riots over food shortages during the COVID-19 pandemic in several African countries; security forces being deployed to "restore order;" reports of patients escaping testing centres, and quarantined citizens escaping isolation facilities, all point to the missing link in COVID-19 containment measures, which is the absence of an adequate understanding of "the human factor."
The impact of COVID-19 lockdowns on the everyday lives and needs of Africa's people – Senzwesihle Ngubane
African governments face a challenging dilemma, finding the optimal balance between the need to contain the virus by limiting direct social-contact, protecting the economy and ensuring that people's basic needs are met. It is becoming clear that the lockdowns most African governments have adopted to contain the virus are having a disproportionate impact on the poor and most vulnerable in our societies.
In spite of the varying degrees of measures instituted by different African States, some trends are beginning to emerge about the effect of these lockdowns on the general public, and two deserve mentioning. First, there is strong evidence suggesting that lockdowns have a disproportionate impact on the poor and most vulnerable in our societies. With more than 85% of all workers in Africa earning a living in the informal economy, the likelihood that people can adhere to the lockdown rules beyond a few days is in doubt.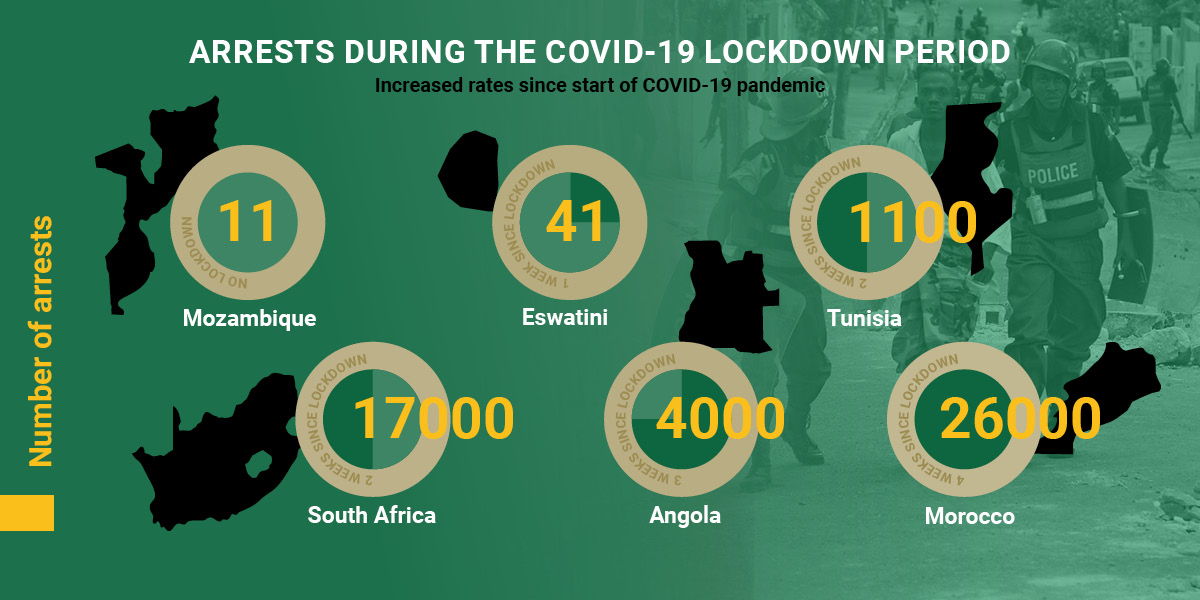 Criminal related incidents
Will COVID-19 related arrests affect public trust in Africa? – Marisha Ramdeen
In  the last few weeks, there have been a significant increase in the number of arrests in some African countries, most for the failure to comply with COVID-19 related rules and regulations. The high number of arrests could further lower levels of public trust and increase the likelihood of social unrest and violence.
Most African countries implemented social distancing measures, including lockdowns, to contain the spread of the coronavirus following the declaration of a pandemic on 11 March by the World Health Organisation (WHO). The regulations that were enacted by governments included restricting the movement of people, the closure of schools and businesses, limiting the operations of transport services, and 'stay at home' policies. In the last few weeks, there has been an increase in the number of incidents of arrests and/or fines issued to people for failure to comply with the rules and regulations.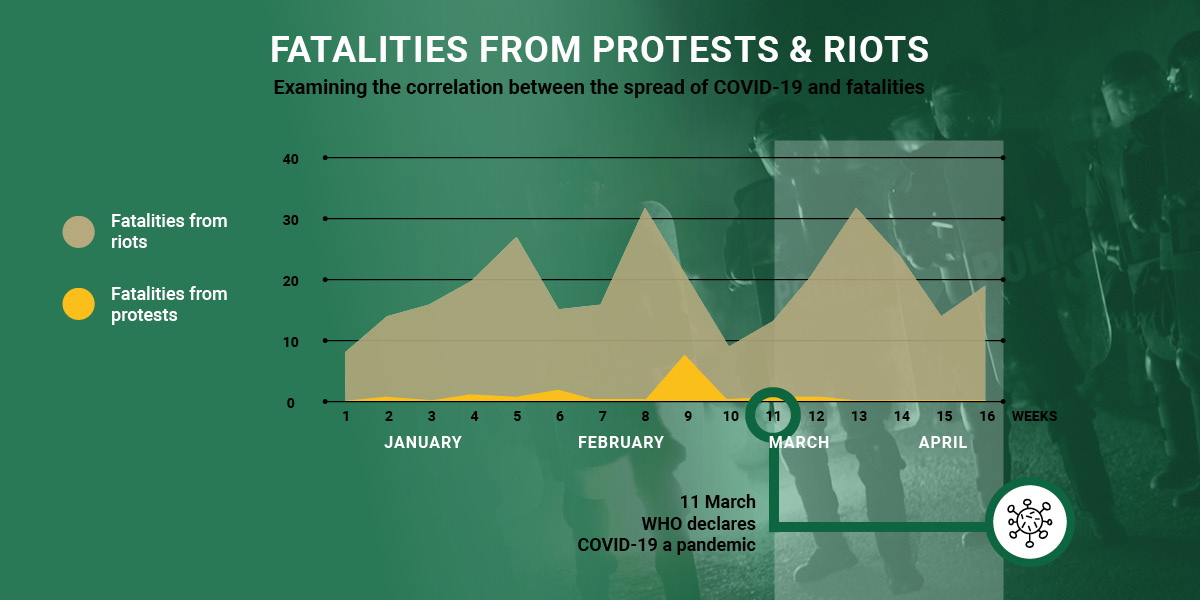 Political unrest or violence
Africa's COVID-19 pandemic: policy dilemmas and containment strategies – Mehari Taddele Maru
Governments need to take a whole-of-society approach in which state and non-state actors, particularly religious leaders, traditional elders, tribal chiefs and the youth, together with the private sector, are all involved in efforts to deal with COVID-19. The pandemic offers an opportunity for political leadership to be exercised with determination. Epidemiological, not ideological solutions, are the key to success. It is science, not politics, that should guide our response to the pandemic. 
The current COVID-19 pandemic poses two closely interlinked challenges which are the demands for urgent action needed to contain the outbreak, and requirements needed for long-term strategic investment directed towards social and economic recovery.  However, these challenges present themselves as policy dilemmas in which policy makers are presented with a variety of unsatisfactory choices. Focusing on prevention implies containment measures including social distancing, lockdowns, travel bans and state of emergencies that will lead to a loss of livelihoods and economic growth. The alternative is equally bleak, where less assertive measures may result in a potential large-scale public health emergency that will also have major socio-political, fiscal, security and economic implications.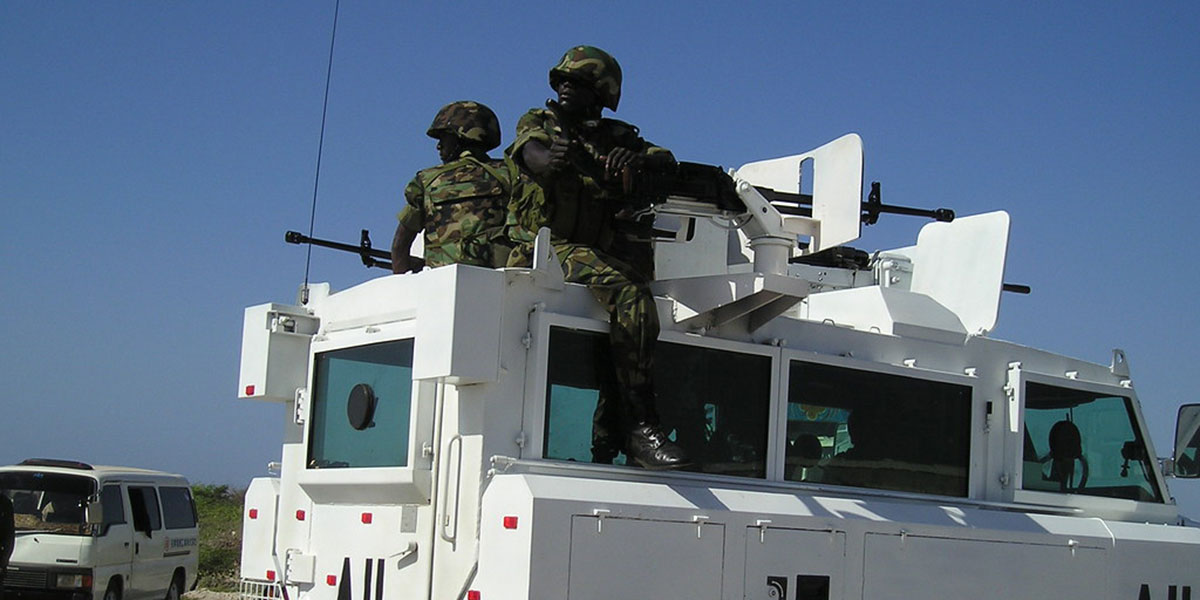 Cross-border / inter-state tensions
AU Peace and Security Council meet to evaluate the impact of COVID-19 on peace and security in Africa – James Henry Murray & Karishma Rajoo
On 14 April 2020 the Peace and Security Council (PSC) met to deliberate on the impact of COVID-19 on peace and security in Africa. It noted that its ongoing work to Silence The Guns will be negatively affected by the pandemic, but emphasised that the PSC's protocol stipulate that it shall take an active role in coordinating and conducting humanitarian action in the event of conflicts or natural disasters, including outbreaks of pandemics.
The PSC indicated recognition and support for the urgent need to mobilize and deploy all necessary efforts to manage the COVID-19 outbreak;but it also noted the challenges that this will present. Among the most immediate and impactful of these challenges relates to funds being diverted away from sustaining peace support operations, post-conflict- reconstruction and peacebuilding programmes – particularly in areas with pre-existing security threats. The PSC also highlighted the risk of terrorist and armed groups, as well as criminal networks and traffickers taking advantage of, and exploiting the current COVID-19 situation to perpetuate their endeavour.
AMISOM Photo / Tobin Jones