The Fourth Schedule of Kenya's 2010 constitution places police services and the courts firmly in the hands of the national government, leaving county governments without any such powers.1 However, subsequent to promulgation of the constitution, Kenya's parliament passed the National Police Service Act 2011 (amended 2014), which in section 41 created county policing authorities to, inter alia, "develop proposals on priorities, objectives and targets for police performance in the county", "monitor trends and patterns of crime in the county" and "promote community policing initiatives" [section 41 (9) (a-c)]. In general, county policing authorities are "a way for the community to get involved in policing at the local level".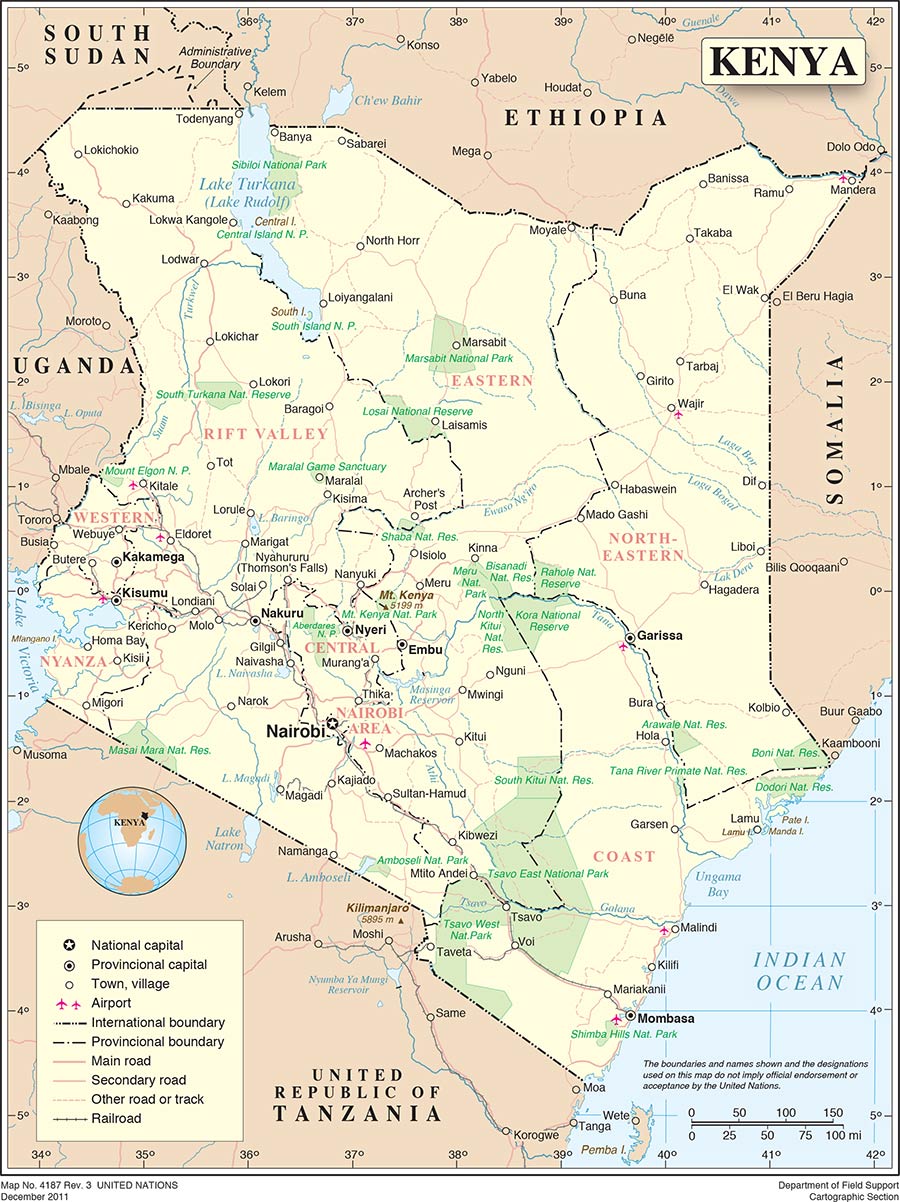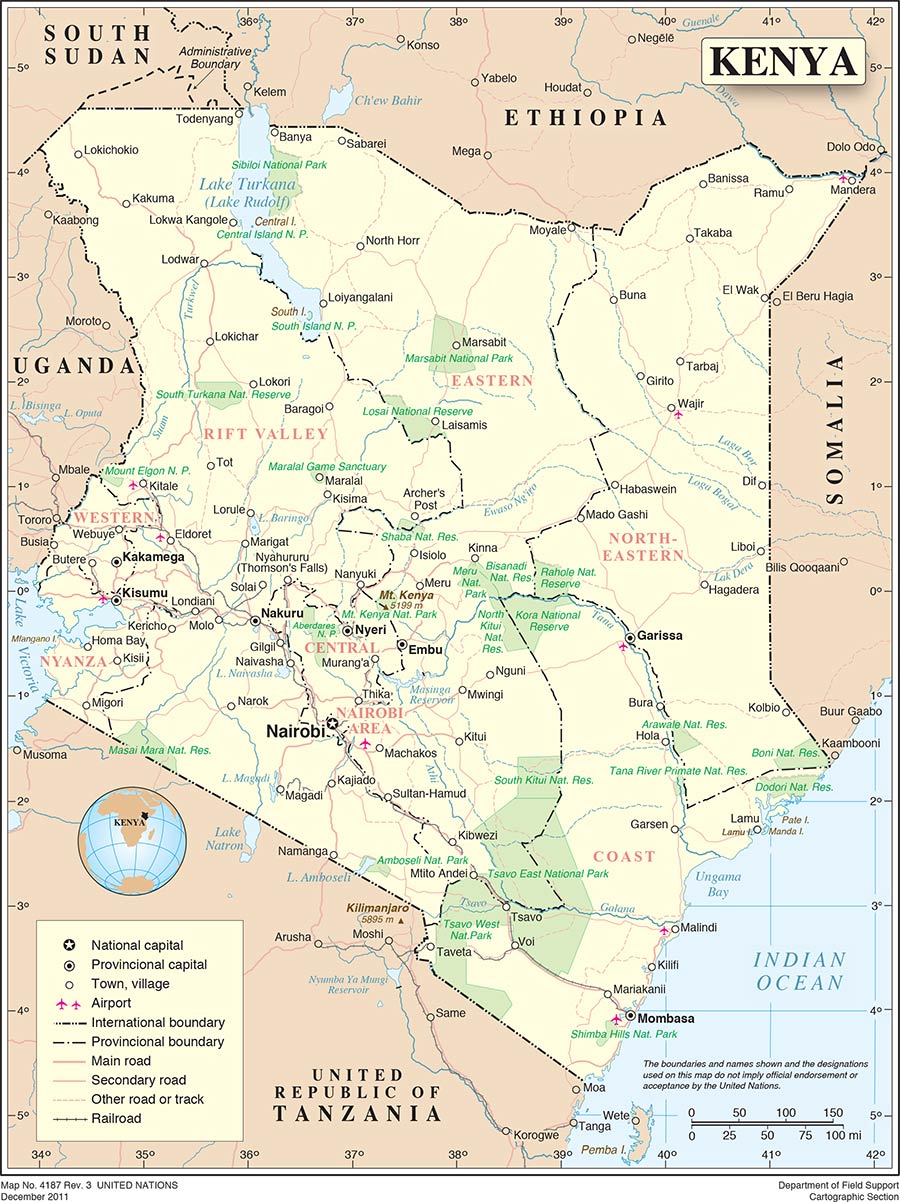 On face value, the provisions of the National Police Service Act provide much less authority than what many governors asked for. Governors have been vocal in demanding that policing become a function of devolved government. Their reasons include:
the role governors play and intend to play in reconciling inter-ethnic differences and conflict;
recognition among governors of the priority security has for voters' perceptions of county government performance; and
resentment at the way policing structures can and may be used by actors within central government to circumvent local development plans, local aspirations for inter-ethnic harmony, or local enforcement of free and fair elections.
It can be speculated that a further, negative reason may exist: local control of security might allow governors to themselves manipulate political events and inter-ethnic relations to their advantage. The history of a centralised state in Kenya manipulating local elections through the arm of security is well established.2 Mai Hassan measured the cross-district effect of Daniel arap Moi's government posting its own security officials in elections between 1992 and 2002, and found that the appointed officials' ethnic similarity or difference to the local area significantly affected that area's vote share in favour of the president.3
Push and pull between security personnel and local political representatives over who is in charge locally has continued even more intensely with the advent of devolution. Neither the constitution nor recent legislation have been able to establish a hierarchy that says which position in cases of overlap or dispute. Hassan explains:
Beginning in 2011, parliament debated legislation related to the PA [Provincial Administration] that seemed to follow the constitution's spirit of weakening executive power. Early in the transition period, the PA was scrapped entirely and replaced with a new national government administrative system, the National Administration (NA). […] While Kenya's new national government structure abolishes the province level (and by definition PCs [Provincial Commissioners]), the NA creates a new administrative post of County Commissioner (CC) at the county level alongside the new elected county governors. […] At first, the 2012 County Governments Bill specified that NA officials should report directly to the county governor and not the president. This was to ensure that the NA would "respect the system of devolved government" that the constitution mandated and would weaken executive power as the population envisioned.4
Contrary to these initial intentions, the finalised County Government Act of 2012 made no such comment on the relationship between county commissioners and governors, meaning that the legal relationship remains the same as stipulated in the 2010 constitution – that each performs duties pertaining to their respective functions, concurrently over the same territory. The ambiguity this causes was anticipated to some extent in section17 of the constitution's Sixth Schedule, which demanded the restructuring of the provincial administration to "accord with and respect the system of devolved government" within five years of the constitution's promulgation. Despite this requirement, central government did not wish to restructure security in a way that would make governors look to be in ultimate control locally. On the other hand, a clear statement of the superiority of county commissioners would run the risk of creating an unwelcome level of opposition across the country towards the Jubilee government. This seemingly irreconcilable tension means the status quo of concurrent activities and legal ambiguity is likely to endure in the medium to long term. In a politically contested environment, apart from contestation over whether to bring security to the local level, strong divisions also exist over how to do this. This article provides an overview of how security reforms are playing out in four county case studies, and argues that a high level of diversity in the state-society relationship is emerging.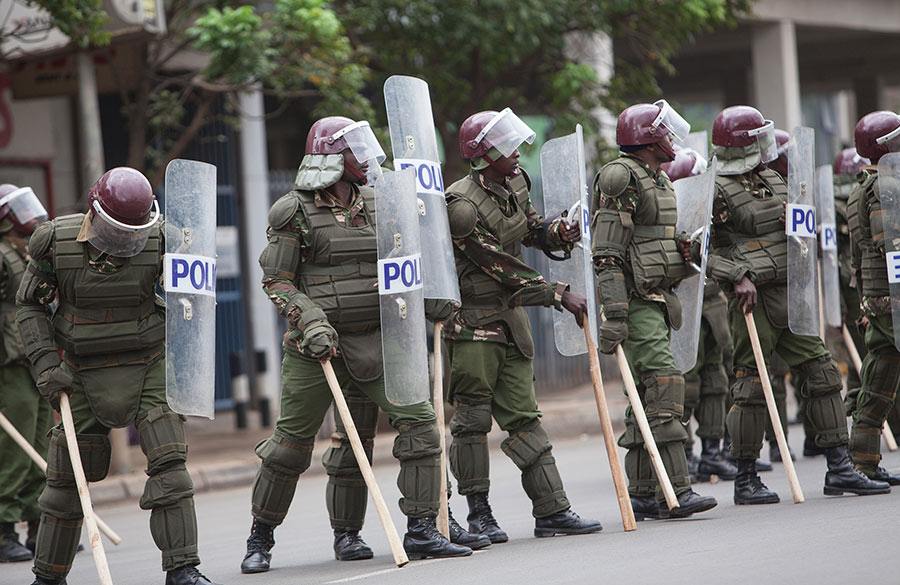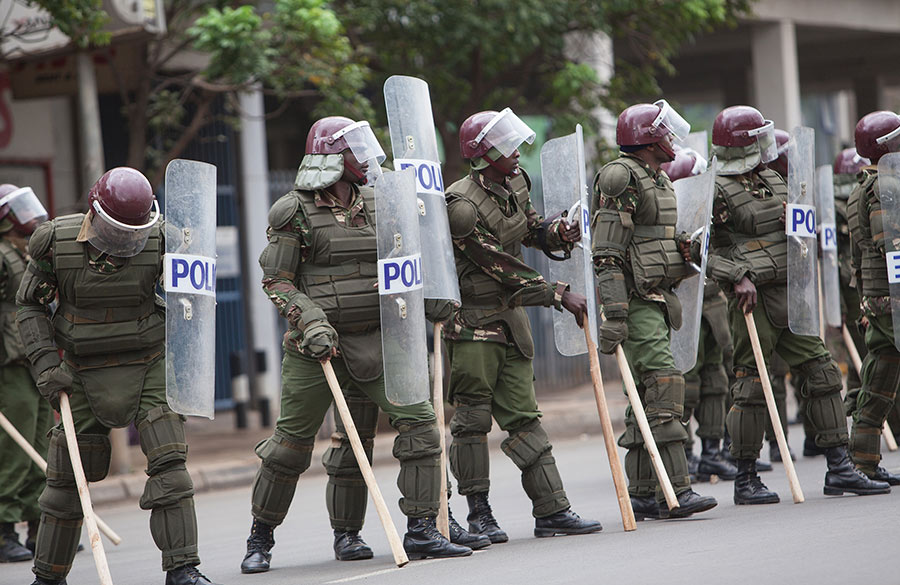 Four Case Studies
While there is nominal clarity over security not being a devolved function of government, historically the Kenyan government has struggled to provide security evenly across the country. The situation creates political tensions where local stakeholders feel the need to advocate for a security apparatus more in line with community self-perceptions. Because the very performance of security services further depends on cooperative and communicative relations with the population, the implementation of constitutional provisions has struggled to adapt to local community diversities. Under these conditions, it is impossible to fully understand the developments at play without direct engagement with county-level case studies reflective of nationwide differences. The four counties of Lamu, Garissa, Machakos and Isiolo are used as examples.
Lamu County
Governor
Issa Timamy
(United Democratic Forum Party; Swahili ethnicity)
Percentage of votes won above second-place gubernatorial candidate
4.5%5
County commissioner
(Deputy) Fredrick Ndambuki
(currently acting county commissioner; Kamba ethnicity)
Majority party in county assembly
Orange Democratic Movement
Between 15 and 17 June 2014, al-Shabaab killed approximately 68 people in the areas of Mpeketoni, Majembeni and Poromoko of Lamu County as part of a general retaliation against Kenya's 2011 intervention into Somalia. During early speculation over the cause of the attack, President Uhuru Kenyatta declared that it was "politically motivated ethnic violence against a Kenyan community [and] not an Al-Shabaab terrorist attack".6 There is ongoing concern over the overlap between inter-ethnic relations and terrorism in Lamu, which means that Kenyatta's statement, although incorrect,7 reflects wider concerns over title deeds and inter-ethnic disagreement surrounding Kikuyu settlements in Lamu.8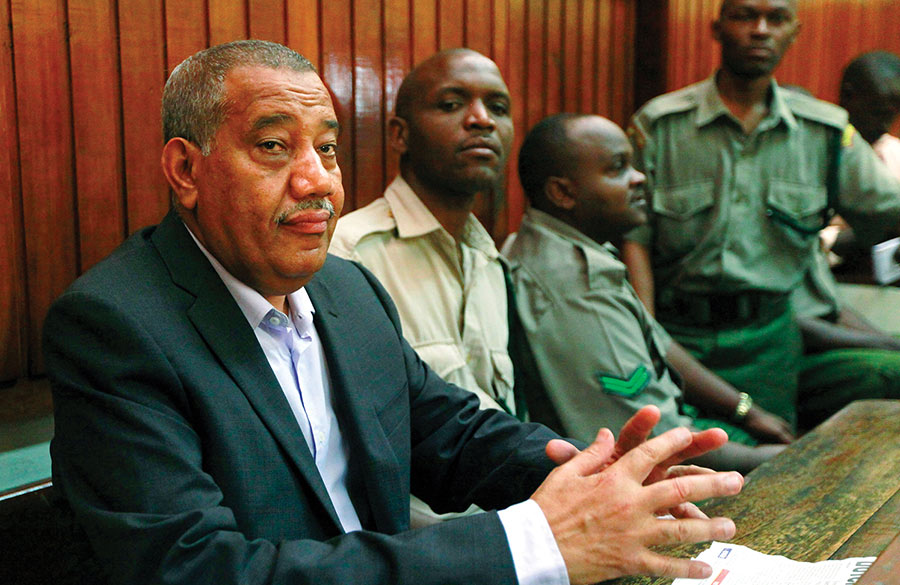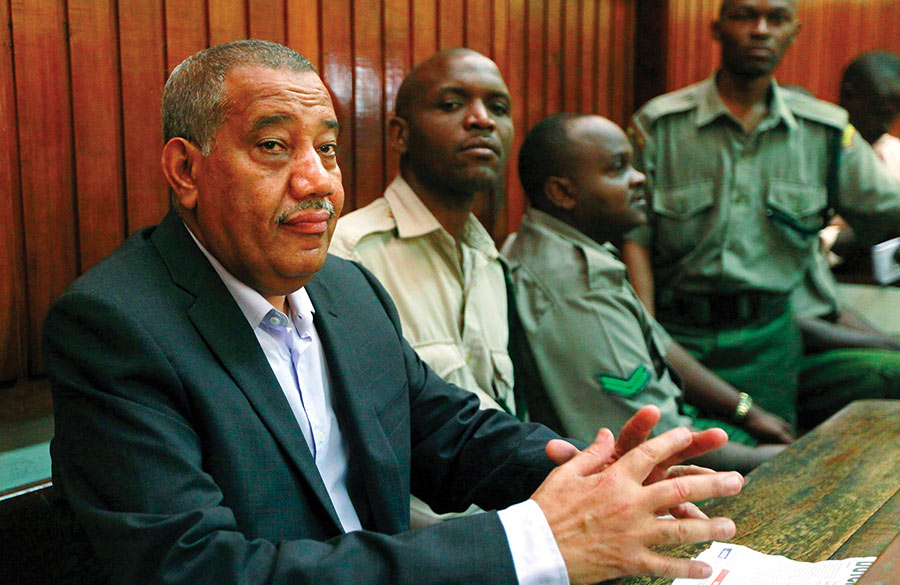 These political divisions, and the president's problematic framing of the situation, led Governor Issa Timamy of Lamu to be placed under trial for involvement in the terrorist activities that targeted Kikuyu around Mpeketoni.9 Although charges were subsequently dropped, the case represents a harrowing example of direct intervention by national government into devolved government on grounds of security. The particular vulnerability of Timamy is, in part, due to the ethnic diversity of his county, which renders his electoral position tenuous and adds controversy over the ethnicity of appointed security officers.10 The single largest ethnic group in Lamu County is the Swahili, who constitute 30% of the local population. Recent analysis estimates that the governor, who is also Swahili, has appointed a county executive committee of 70% Swahili composition. This makes the Lamu county government the single most over-representative of its local ethnic majority among all county governments of Kenya.11 As such, combined justifications of central government intervention on grounds of national security, land distribution and the construction of a port – all three of which are assigned functions of the national government – mean that the county government is increasingly beholden to the will of the political centre and unable to influence security operations so as to be responsive to local youth radicalisation. As such, Lamu is frequently cited by governors as evidence for the need to devolve security functions across the country.12
Garissa County
Governor
Nathif Adan
(Wiper Democratic Movement-Kenya; Somali ethnicity)
Percentage of votes won above second-place gubernatorial candidate
3.1%13
County commissioner
Njenga Miiri
(suspended; Kikuyu ethnicity)
Majority party in county assembly
Orange Democratic Movement
Garissa County stretches on its eastern side across the Kenya–Somali frontier, and to its south borders the county of Lamu. The porous and contested nature of the Kenya–Somali border, combined with growing politicisation of the identity of ethnic Somalis across the country,14 renders Garissa a charged environment for the growth of terrorism and cross-border raids. Despite all this, the county has only one Kenya Police and one Administration Police office.15 The population of the county is 79.6% of Somali ethnicity, which is also the ethnicity of Governor Nathif Adan and, it is estimated, his entire county executive committee.16 The county's proximity to Somalia means the relationship between security and devolved government is tenuous and under heightened scrutiny. In 2014, Deputy President William Ruto stated that the central government could suspend the Marsabit county government – which is in a similar situation to Garissa – over failures to provide security.17 There, rivalry had been brewing between the governor and a local member of parliament, which "followed the lines of long-standing tensions between Gabbra and Boran, leading to an outbreak of violence".18 Central government suspension of a county government can take place under the powers established in section192 of the constitution. The provision leaves governors of harder-to-reach areas of the country somewhat at the mercy of national government sentiment, even though throughout their term in office governors have no constitutional power to directly affect how security is deployed in their area. In September 2014, the Garissa regional passport office was closed by order of Major-General (Rtd) Gordon Kihalangwa, despite local outcry.19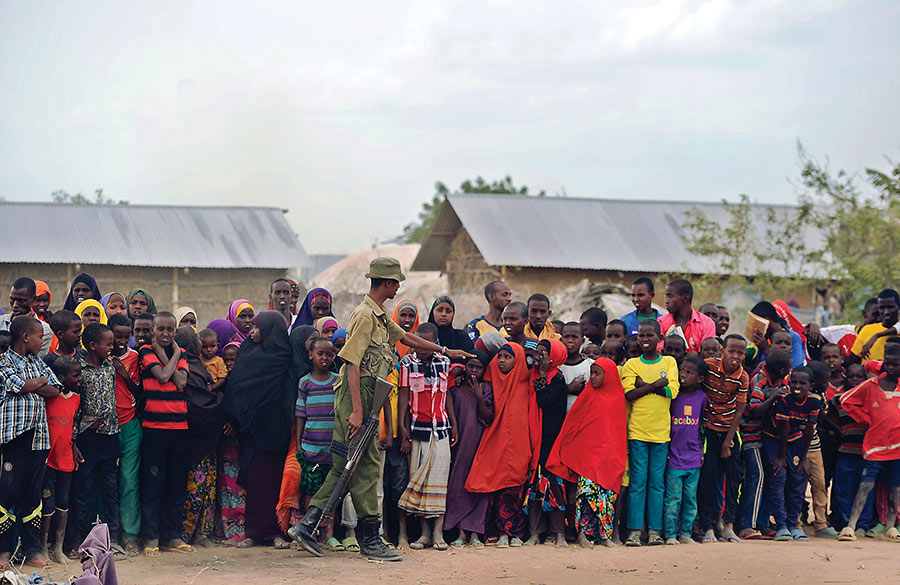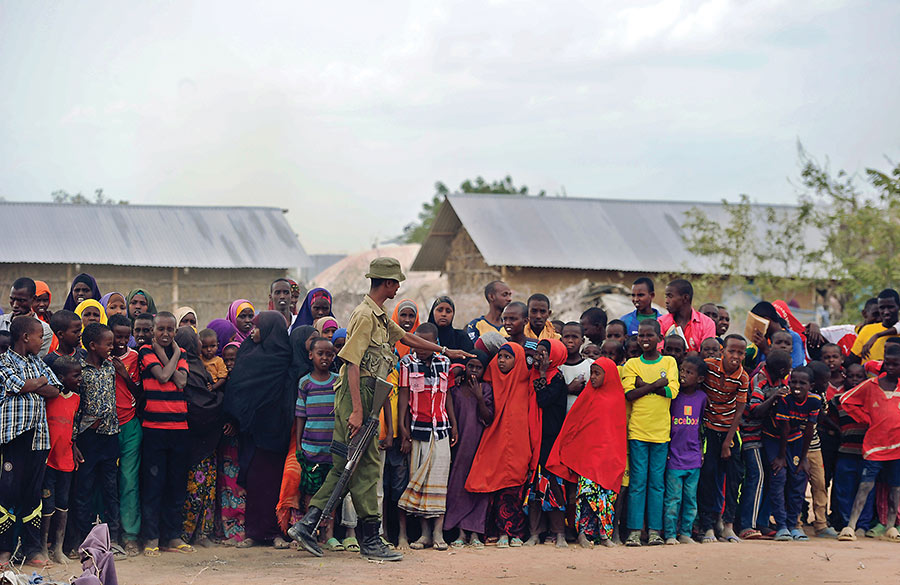 On 2 April 2015, 147 members of Garissa University College were killed in a raid by al-Shabaab, widely reported on by the international media.20 In contrast to the politicisation of the Lamu County government, the central government responded with scrutiny of its security forces operating in the county, in a way that was more appropriately self-critical and reflective. Seven high-ranking police officers were suspended following an inquiry into the failed security response.21 Further, interior secretary Joseph Nkaiserry also suspended Ernest Munyi, the north-eastern regional coordinator, and Njenga Miiri, county commissioner of Garissa.22 Miiri was previously county commissioner of Lamu, although there are conflicting accounts over whether he was in office in Lamu over the course of the Mpeketoni attacks. The British Broadcasting Corporation (BBC) described him as such, although local media sources have it that Miiri was immediately deployed to replace county commissioner Stephen Ikua as the scale of the attacks became known, which is why his appearance at many media events following the Mpeketoni attacks made some outlets describe him as Lamu county commissioner during the events.23 This complication notwithstanding, Miiri's fraught reputation, together with controversy over his comments that the internally displaced persons produced by the Lamu attacks were mostly "imposters",24 helped the central government see a need to reform security provision in Garissa following the university killings. As a report by the International Crisis Group explains, following the attacks "north-eastern leaders proposed many recommendations directly to the president, notably appointing an overarching regional coordinator, replacing the three county commissioners [of Mandera, Wajir and Garissa] and deploying more security forces, mostly drawn from the local population".25 Initial resistance to such proposed changes was made by the central government over fears that it would set a precedent of allowing synergy between devolved structures of governance and national security provision. Instead, Kenya's north-east is preferred to be framed by the central government as exceptionally lawless, in fear of the region's history of secession demands.26 The reality, however, is that by replacing security officials with those more locally attuned, positive in-roads have been made in quelling al-Shabaab.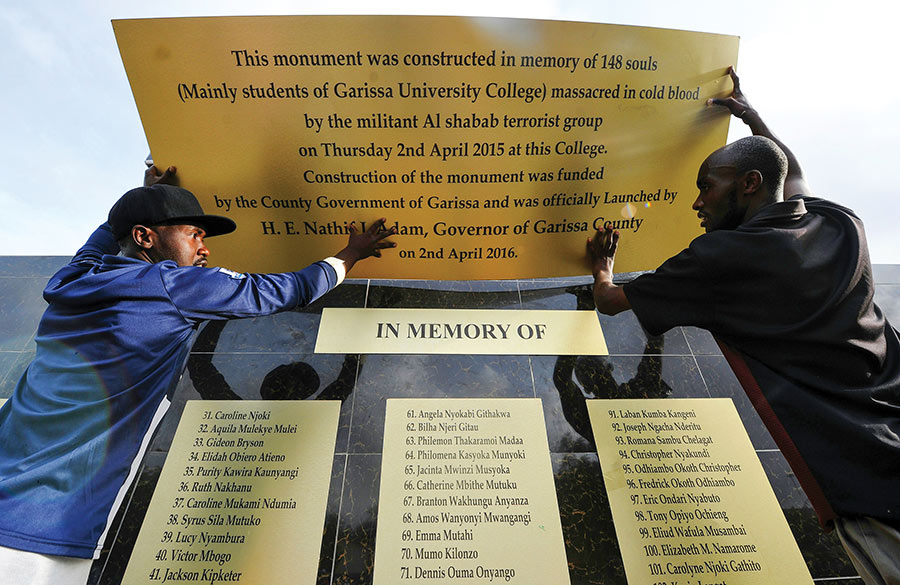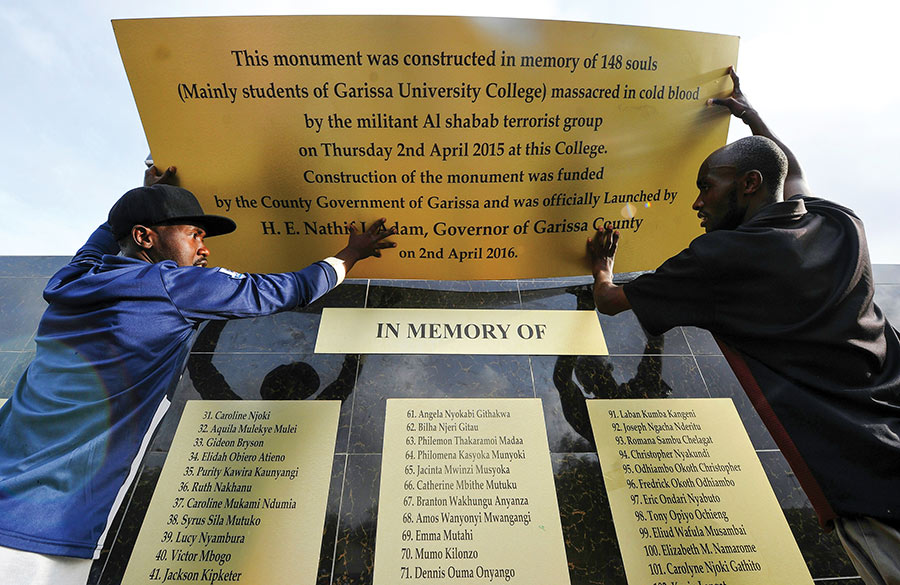 Machakos County
Governor
Alfred Mutua
(Wiper Democratic Movement-Kenya; Kamba ethnicity)
Percentage of votes won above second-place gubernatorial candidate
45.0%27
County commissioner
Ann Gakuria
(Kikuyu ethnicity)
Majority party in county assembly
Wiper Democratic Movement-Kenya
Touted as one of the most entrepreneurial and successful cases of devolution, Machakos County has focused on numerous highly visible public service expansions since the 2013 election. Under Governor Alfred Mutua, the county government has treated security in a way almost equivalent to any other area of county-level public service provision. This has meant organising procurements tailored to suit the needs of security and police services that operate in the county, and maximising the visibility of these procurements as brought about by the county government. Apart from purchases of 500 closed-circuit television (CCTV) cameras and 40 police dogs, in a highly publicised event Mutua unveiled 120 police cars for use within the county.28 Subsequently, Mutua financed the construction of houses for security officers.29
This direct involvement in security provision is in flagrant disregard of the constitution's demarcation of security as a function of national government. However, the slickness of Mutua's media campaign has meant almost no coverage or debate over its unconstitutionality.30 Indeed, KTN, one of the most respected news channels in Kenya, avoided any admonishment and instead described the purchases as meaning "Machakos County could have a big head start in security compared to the other 46 counties".31 Mutua justified the purchases by framing security provision as a duty in which all Kenyans should be involved, emphasising that "security is not a national government or county government issue only. I am asking all of us to discourage crime by not buying goods they know or suspect are stolen and also to identify and report criminals in their neighbourhood to the authorities."32 In this way, he tactfully employed reference to the neighbourhood watch scheme (known as nyumba kumi), organised by national government, to give the impression of promoting the national government agenda. Some queries were raised by the auditor-general over the procurement processes of vehicles by the county government.33 However, giving the specific recommendation that "[s]ince the duty of security provision is primarily the National Government, the purpose for which the ninety one (91) vehicles were provided to the police should be clearly stated".34 However, the concerns only led to further requests for documentation,35 not any fundamental questioning of the constitutionality of a county government operating through a memorandum of understanding with the police force.
In terms of county government budgeting, the purchases were made as part of a labelled "Machakos Comprehensive Security and Emergency Program".36 As such, vehicles came already painted; their branding of "Police/Machakos County" giving Mutua credit in the eyes of voters whenever the cars are on patrol. Machakos senator Johnstone Muthama has been a frequent critic of Mutua on this and many other areas. However, Mutua has thus far remained immunised from such criticism, due to his positive media profile and fruitful relations with county commissioner Ann Gakuria, who stands to benefit in terms of greater resources put at her disposal for the work of policing. Gakuria's firm relationship with Mutua was publicly heralded by Johnstone Kavuludi, chairman of the National Police Service. The good relations Mutua enjoys are completed by his strong links with the incumbent Jubilee Coalition national government. From 2004 to 2012, Mutua was the government spokesperson and public communications secretary, and retains a highly visible presence in national media.
Isiolo County
Governor
Godana Doyo Adhi
(United Republican Party; Borana ethnicity)
Percentage of votes won above second-place gubernatorial candidate
6.6%37
County commissioner
Wanyama Musiambo (Luhya ethnicity);
George Natembeya (Luhya ethnicity)
Majority party in county assembly
United Republican Party
Historically, Isiolo has suffered frequent and sometimes ruinous intercommunal violence. The county hosts the Meru, Samburu, Turkana, Gabra, Somali and Borana ethnic groups – the single largest group being the Borana (at 36.9%), followed by the Somali.38 Violence was particularly intense between 2009 and 2012, with causes including political campaigns oriented towards ethnic voter bases; land disagreements, removals and elite-led purchases; cattle rustling; and security vacuums leading to pre-emptive intercommunal violence through the proliferation of small arms.
Despite these trends, initial interaction between security services and devolved government in Isiolo promoted leadership sensitive to the needs of local communities. The governor of Isiolo, Godana Doyo Adhi, is of Borana ethnicity, and came to office together with running-mate Mohamed Guleid, a Somali, as deputy governor. As representatives of the two largest groups of the county, the alliance promoted inter-ethnic solidarity between the two communities. Further, the county government enjoyed strong and supportive relations with county commissioner Wanyama Musiambo, who as a Luhya is not of any of the ethnic communities dominating politics in the county. Behind the scenes, Doyo and Guleid facilitated ongoing consultations with elders of locally dominant tribes, which helped foster some sense of inclusion and collaboration.39 The county government openly describes security as its number-one priority, which also links with its aspiration to act as a key hub for the transport of oil and goods to the Lamu port, as part of Kenya's Vision 2030.
The attempt to guarantee security for local residents has, however, been severely challenged by a boundary dispute with Meru County to the south. The boundary dispute involves a complicated plethora of competing claims – ranging from land disputes surrounding the town of Isiolo, access to sand extraction for construction and access to grazing land for cattle, to competing demands over the location of a proposed airport. The business and livelihood interests that surround these issues have encouraged a stoking of political rhetoric among Isiolo and Meru politicians, and the mobilisation of residents and youth groups. In October 2015, clashes resulted in six deaths, with violence erupting again only a few days later in protest at the death of a motorbike taxi operator. This mainly involved confrontational exchanges between members of the Borana and Meru ethnic communities.40 The ensuing chaos involved the looting of shops and blocking of the Isiolo–Nanyuki highway, and was only brought to a close with the deployment of the military's 78th Tank Battalion, stationed nearby.41 In response, the member of county assembly for Bula Pesa, Moses Kithinji; chief officer for trade, Hudson Kinyua; and ward administrator for Bula Pesa, Witherford Mwirigi, were arrested under charges of inciting youth to violent protests.42
In the first half of the political term, relations were therefore broadly speaking positive between Isiolo politicians and the county commissioner. However, with a county commissioner change from Wanyama Musiambo to George Natembeya, these relations have run into difficulty. Natembeya has made explicit a shoot-to-kill policy towards those in the county carrying arms illegally,43 which comes across as high-handed, presumptuous and out of touch. The commissioner demonstrated some support for the aims of Isiolo politicians in April 2016, by arresting 40 Meru protestors who were attempting to block contractors from completing a water supply project for Isiolo town.44 However, relations deteriorated again when a widely reported complaint about the standards of healthcare provision in Isiolo's referral hospital prompted Natembeya to carry out an inspection of the facility, which Doyo interpreted as something of an encroachment on county government duties and a shaming of county government performance. Doyo confronted Natembeya in the hospital and ejected him, even though visiting and inspecting government-owned buildings are among commissioners' legitimate duties.45 When elders of Isiolo reacted to the confrontation, they stressed a need for "clear separation of powers between the county government officials and representatives of the national government".46
Conclusion
There is a clear separation of powers between security services and local politics, according to the constitution: governors are not to manage law and order. The problem comes with the history of an uneven security presence across Kenya – meaning that, in fact, it is next to impossible for governors to ignore the security concerns of their local residents. Alongside advocacy for constitutional reform that would give them greater say over security provision, therefore, governors are active in the politics surrounding local security provision. On the one hand, this tends to bruise relations with county commissioners and the central government, because governors easily politicise matters and can often be in support of particular ethnic communities at the expense of others. On the other hand, however, the new situation is forcing security services at least to acknowledge local diversities and the value of more community-inclusive law and order strategies.
Endnotes
Mutakha Kangu, John. (2015) Constitutional Law of Kenya on Devolution. Nairobi: Strathmore University Press, p. 187.
Branch, Daniel and Cheeseman, Nicholas. (2006) The Politics of Control in Kenya: Understanding the Bureaucratic-executive State, 1952-78. Review of African Political Economy, 33 (107), pp. 11–31.
Hassan, Mai. (2014) The Strategic Shuffle: Ethnic Geography, the Internal Security Apparatus, and Elections in Kenya. University of Michigan, working paper.
Hassan, Mai. (2013) Continuity Despite Change: Kenya's New Constitution and Executive Power. Democratization, pp. 1–23.
Independent Electoral and Boundaries Commission (2013) 'Summary of Results for Governor, 2013', Available at: <http://www.iebc.or.ke>
Author unknown (2014) Lamu Attacks Political, not Terrorism – Uhuru. Capital News, 17 June.
Ochami, David. (2015) Al-Shabaab Releases Chilling Video about Mpeketoni Attack. Standard, 9 March.
Butime, Herman. (2014) Unpacking the Anatomy of the Mpeketoni Attacks in Kenya. Small Wars Journal, 23 September.
Al-Jazeera (2014) 'Kenya Governor Tried over Lamu Massacres', 16 July, Available at: <http://www.aljazeera.com/news/africa/2014/07/kenya-governor-tried-over-lamu-massacres-2014716125722561258.html>; and BBC News (2014) 'Kenya Attack: Charges Dropped against Lamu's Timamy', 10 September, Available at: <http://www.bbc.com/news/world-africa-29149468>
Beja, Patrick. (2014) 'Lamu Police Transfers Spark Ethnic Vibe among Leaders and Activists'. Standard, 24 August, Available at: <http://www.standardmedia.co.ke/thecounties/article/2000132457/lamu-police-transfers-spark-ethnic-vibe-among-leaders-and-activists>
Burbidge, Dominic. (2015a) Democracy versus Diversity: Ethnic Representation in a Devolved Kenya. Working paper, Princeton University, p. 17.
Korir, Wesley. (2014) 'Governors Want Security Devolved to Avoid Lamu Scenario'. News 24 Kenya, 21 July, Available at: <http://m.news24.com/kenya/MyNews24/Governors-want-security-devolved-to-avoid-Lamu-scenario-20140721>
Independent Electoral and Boundaries Commission (2013).op.cit.
Burbidge, Dominic. (2015b) The Kenyan State's Fear of Somali Identity. Conflict Trends, 2 (2015).
International Crisis Group (2015) Kenya's Somali North East: Devolution and Security. Crisis Group Africa Briefing No. 114, p. 12.
Burbidge, Dominic. (2015a) op. cit., p. 16.
Obala, Roselyne. (2014) 'Senator Defends William Ruto over County Remarks'. Standard, 20 January, Available at: <http://www.standardmedia.co.ke/thecounties/article/2000102714/senator-defends-ruto-over-county-remarks>
Cheeseman, Nicholas. Lynch, Gabrielle and Willis, Justin. (2016), 'Decentralisation in Kenya: The Governance of Governors', Journal of Modern African Studies, 54(1), pp. 29–30.
Hajir, Abdimalik. (2014) 'Immigration Halts Services Amid Outcry'. Daily Nation, 14 September, Available at: <http://www.nation.co.ke/counties/Residents-threatened-to-hold-demonstrations/-/1107872/2452628/-/13eq5avz/-/index.html>
BBC News (2015a) 'Kenya Attack: 147 Dead in Garissa University Assault', 3 April, Available at: http://www.bbc.co.uk/news/world-africa-32169080.
[21] BBC News (2015b) 'Kenya Suspends Police over Garissa "Security Failings"', 21 April, Available at: <http://www.bbc.com/news/world-africa-32397009>
Nairobi News (2015) 'Nkaissery Suspends Garissa Security Chiefs', 21 April, Available at: <http://nairobinews.co.ke/top-state-officials-suspended-as-probe-on-garissa-attack-starts/>; and Hassan, S. (2015) 'Garissa Gets New Police Bosses as IG Boinnet Reshuffles County Commanders'. Nep Journal, 23 April, Available at: <http://www.nepjournal.com/garissa-gets-new-police-bosses-as-ig-boinnet-reshuffles-county-commanders/>
See BBC News (2015b); Mayoyo, P. (2014) 'Top Officers Moved in Bid to Bring Calm'. Daily Nation, 17 June, Available at: <http://mobile.nation.co.ke/news/Top-officers-moved-in-bid-to-bring-calm/-/1950946/2352298/-/format/xhtml/-/121a6uuz/-/index.html>; Beja, P. (2014) op. cit.; and Bocha, G. (2014) 'Lamu Leaders Hold Peace Meeting Following Attacks'. Daily Nation, 16 July, Available at: <http://reliefweb.int/report/kenya/lamu-leaders-hold-peace-meeting-following-attacks>
Praxides, Chedi. (2014) 'Lamu IDPs Not Genuine, Says Miiri'. The Star, 26 August, Available at: <http://allafrica.com/stories/201408260429.html>
International Crisis Group (2015) op. cit., p. 13.
Ibid.
Independent Electoral and Boundaries Commission (2013) op. cit.
KTN News (2014) 'Machakos County Governor Dr. Alfred Mutua Unveils 120 Police Cars to Enhance Security', 30 January, Available at: <https://www.youtube.com/watch?v=MIORr43gtQI>
Counties News (2015) 'Machakos: Government Builds Houses for Security Officers and Health Workers', 15 July, Available at: <http://countiesnews.com/2015/07/15/machakos-government-builds-houses-for-security-officers-and-health-workers/>
The Director of Public Prosecutions did, however, investigate a corruption claim on the purchasing of vehicles. Mbuthia, E. (2015) 'Director of Public Prosecutions Clears Kingi, Kavuludi of Graft Claims'. Business Daily, 15 May, Available at: <http://www.businessdailyafrica.com/Tobiko-clears-Kingi–Kavuludi-of-graft-claims/-/539546/2717628/-/o9842gz/-/index.html>
Ibid.
Odalo, Bob. (2014) '120 Security Cars for Machakos County'. Daily Nation, 30 January, Available at: <http://mobile.nation.co.ke/counties/120-security-cars-Machakos-County/-/1950480/2166768/-/format/xhtml/-/ubdk4/-/index.html>
Njagih, Moses. (2014) 'Auditor Paints a Different Picture of Machakos County'. Standard, 18 February, Available at: <http://www.standardmedia.co.ke/article/2000104897/auditor-paints-a-different-picture-of-machakos-county/?pageNo=1>
Republic of Kenya (2014) 'Report of the Auditor-General on the Financial Operations of Machakos County Executive for the Period 1 July 2013 to 30 June 2014', p. 14, Available at: <http://www.kenao.go.ke/index.php/reports/cat_view/2-reports/11-county-governments/79-county-government-reports-2014/115-machakos-county>
Ongiri, Isaac. (2014) 'Machakos County to be Probed for Allegedly Flouting Tender Rules'. Daily Nation, 4 July, Available at: <http://www.nation.co.ke/news/Machakos-County-to-be-probed-for-allegedly-flouting-tender-rules/-/1056/2371780/-/j3frqaz/-/index.html>
Government of Machakos (2015) 'Machakos Comprehensive Security and Emergency Program', Available at: <http://www.machakosgovernment.com/GovernmentPhotosMachakos.aspx?PhotoID=15>
Independent Electoral and Boundaries Commission (2013) op. cit.
Kenya National Bureau of Statistics (2014) Socio-economic Atlas of Kenya: Depicting the National Population Census by County and Sub-Location. Nairobi: Kenya National Bureau of Statistics, pp. 56–57.
Scattered instances of violence nevertheless endured. See The Star (2014) 'Inter-tribal Conflict Kills Eight in Isiolo', 12 November, Available at: <http://allafrica.com/stories/201411121627.html>
News sources conflict in their reports of whether the killed motorbike operator belonged to the Meru or Borana ethnic communities, and which community started the street-level disruptions. See Chebet, Vivian and Kimanthi, Kennedy. (2015) 'Violence Rocks Isiolo as Boda Operators Clash'. Daily Nation, 30 October, Available at: <http://www.nation.co.ke/counties/Violence-rocks-Isiolo-as-boda-boda-operators-clash/-/1107872/2936228/-/jgy1vk/-/index.html>; Muriuki, Benjamin. (2015a) 'Communities Fight Over Boda-Boda Rider'. Kenyans.co.ke, 30 October, Available at: <https://www.kenyans.co.ke/news/communities-fight-over-boda-boda-rider>; and Salesa, Hussein. (2015) 'Communities Clash at Isiolo-Meru Border after Killing of Boda Rider'. The Star, 30 October, Available at: <http://www.the-star.co.ke/news/2015/10/30/communities-clash-at-isiolo-meru-boder-after-killing-of-boda-boda_c1233940>.
Abdille, Abdullahi. (2016) 'Kenya: Development, County Governments and the Risk of 2017 Election Violence'. International Crisis Group, 7 April, Available at: <http://blog.crisisgroup.org/africa/kenya/2016/04/07/kenya-development-county-governments-and-the-risk-of-2017-election-violence/>
Muriuki, Benjamin. (2015b) '3 Senior Officials Arrested over Isiolo Violence'. Kenyans.co.ke, 1 November, Available at: <https://www.kenyans.co.ke/news/3-senior-officials-arrested-over-isiolo-violence>
Daily Nation (2015) 'Isiolo County Commissioner George Natembeya Reaffirms Shoot-to-kill Directive', 18 November, Available at: <http://www.nation.co.ke/video/-/1951480/2961694/-/j2mcf7/-/index.html>
Isiolo Wire (2016) '40 People Arrested After They Blocked Isiolo-Nanyuki Road at Maili Saba to Force Government Abandon Project to Pump Water to Isiolo', 20 April, Available at: <http://isiolowire.medianorth.co.ke/2016/04/20/40-people-arrested-after-they-blocked-isiolo-nanyuki-road-at-maili-saba-to-force-government-abandon-project-to-pump-water-to-isiolo/>
Jebet, Vivian. (2016) 'Isiolo County Boss Storms Referral Hospital to Eject Official'. Daily Nation, 8 July, Available at: <http://www.nation.co.ke/counties/Drama-and-chaos-as-governor-storms-Isiolo-hospital/-/1107872/3286690/-/jv3ub4z/-/index.html>
Wambui, Edna. (2016) 'Isiolo Elders Urge Residents to Shun Violence, Protests'. Citizen, 20 July, Available at: <http://citizentv.co.ke/news/isiolo-elders-urge-residents-to-shun-violence-protests-134106/>