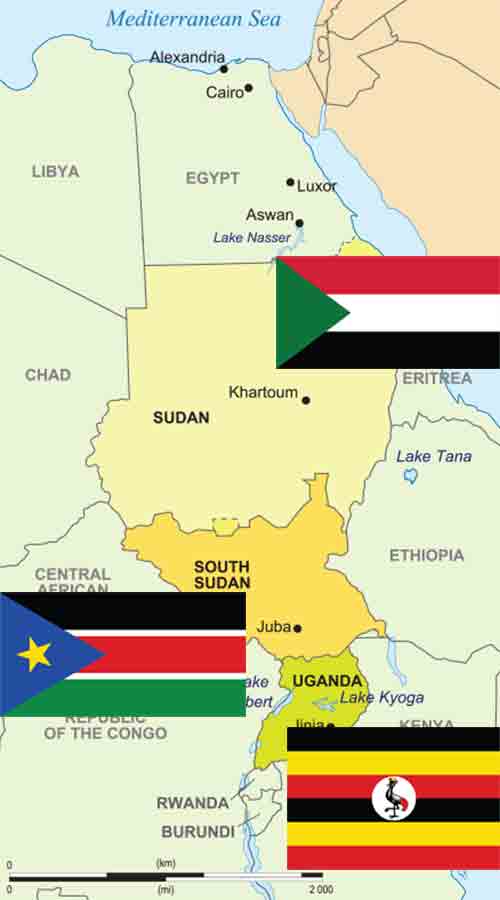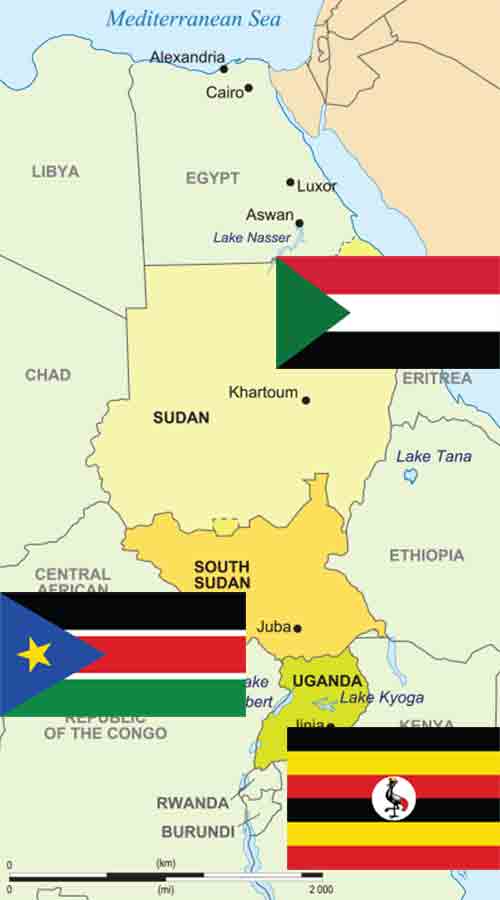 Introduction
There are multiple and longstanding ties between Uganda and South Sudan. The current civil war in South Sudan has impacted Ugandan politics and economy, as well as relations between the two countries. Moreover, Uganda's support is needed for the implementation of the negotiated settlement reached in August 2015 between the parties in the war in South Sudan.
Uganda's recently developed economic ties with South Sudan, and its hope for future market integration, add weight to its political engagement. But it is the long-standing security interests and current military intervention that constitute the Ugandan government's main concern. This involvement is controversial and affects Uganda's status in the region and beyond.1 Conversely, it is necessary to acknowledge the neighbouring countries' vested interest in the peace process, lest they become spoilers.
Uganda's Longstanding Interests in South Sudan
Relations between Uganda and what would become South Sudan were initially transnational. Since colonial times and the establishment of central governments, the two territories have shared a long border, traversing the home areas of several ethnic groups. The management of those people in the borderlands required coordination between the colonial governments. From the 1940s, the South Sudanese people attended schools in Uganda, and many fled across the border and sought sanctuary in 1955 following mutinies – and subsequent government repression – in Equatoria.2 This marked the beginning of two trends still evident today: South Sudanese searching for education in Uganda, and people in each country seeking refuge in the other.
The Sudanese civil wars (1963–1972 and 1983–2005) added proxy war to bilateral relations. South Sudan was still part of Sudan, and during the first war, Sudan was allied with Egypt. After the Six Day War in 1967, Israel armed and trained rebels in South Sudan, using Ethiopia and Uganda as conduits. Since the 1970s, Ugandan refugees had found sanctuary in South Sudan, where elements of the Ugandan army also operated.
Proxy warfare was pursued on a larger scale during the second civil war. Initially (1983–91), Sudan and Ethiopia armed each other's rebels, but animosity between Kampala and Khartoum escalated during the 1990s, and proxy warfare intensified.3 Uganda's President Yoveri Museveni and his National Resistance Movement had close ties with the Sudan People's Liberation Movement/Army (SPLM/A) under John Garang. Khartoum responded by arming and training rebel groups in northern Uganda and the Democratic Republic of the Congo, including the Lord's Resistance Army (LRA). As a consequence of this mutual interference, Sudan–Uganda relations during the 1990s were frosty. The SPLM/A was allowed to operate inside Uganda, where hundreds of thousands of South Sudanese lived in refugee camps.4 With efforts to end the conflict in Sudan, relations between Khartoum and Kampala improved during the early 2000s. Sudan's President Omar Hassan Ahmad al-Bashir allowed the Ugandan army to pursue the LRA inside Sudan, while Museveni contributed to the pressure on Garang to negotiate a solution to the Sudanese civil war.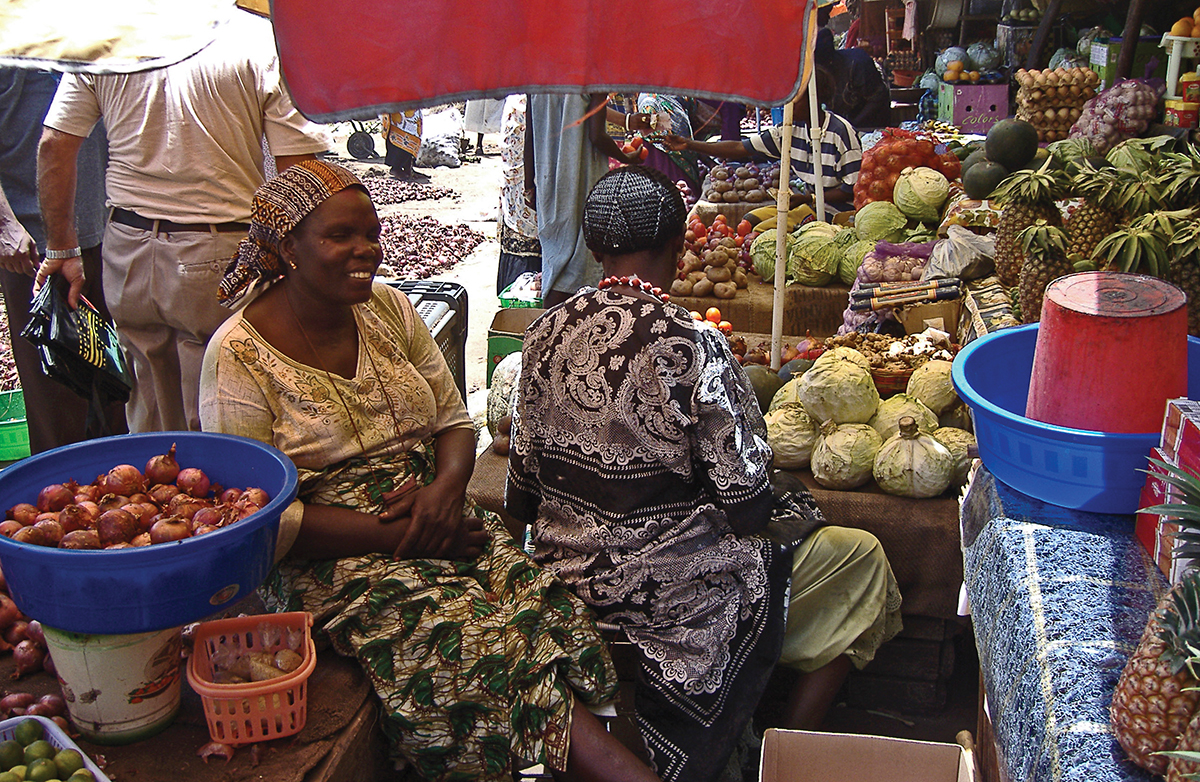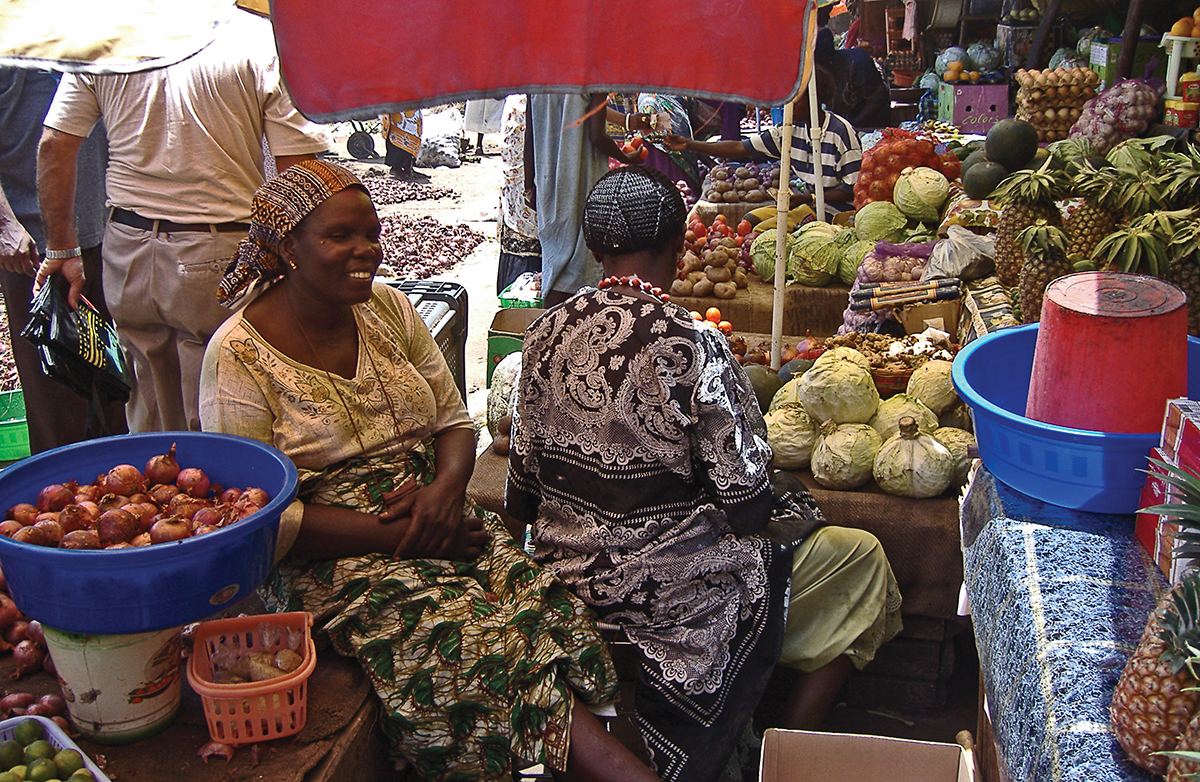 The Comprehensive Peace Agreement in 2005 deepened relations between Uganda and the then-autonomous government of South Sudan. Regarding security, South Sudan was increasingly seen as a buffer against hostile incursions – foremost from Khartoum – and providing strategic depth for protection of Uganda's border. Collaboration with the SPLM/A and opposition forces in northern Sudan also gave Museveni opportunity for proxy warfare in Sudan's peripheries, and for increasing security cooperation and economic integration. Uganda was an ally in the 'global war on terror', and while the United States (US) might not have encouraged Uganda's ambitions in South Sudan, it seemed to do little to oppose them.
After 2005, the vast majority of South Sudanese refugees went home, but they maintained social and economic ties to their former host country. The South Sudanese sent their children to Uganda for education, and the rich bought homes in Kampala and northern Ugandan towns.
Commercial and socio-economic ties strengthened during the period after 2005. South Sudan annually received hundreds of millions of US dollars in oil revenue, while having no formal economy or commercial sector to absorb it.5 Traders and entrepreneurs poured in, mainly to Juba and other towns. From Uganda came petty traders selling foodstuffs and everyday articles, motorcycle-taxi (boda-boda) drivers, carpenters, masons and others seeking employment in construction. Although the value of Ugandan investments are probably surpassed by those of Ethiopians and Kenyans, the number of Ugandans in South Sudan was much greater. Some claim that before the current civil war, Ugandans in South Sudan surpassed one million, or about 5% of Uganda's population.6
Because of large informal sectors and diverse interaction, it is difficult to estimate the total impact of South Sudanese petrodollars on the Ugandan economy. Estimates from International Alert suggest that in 2005–2008, official Ugandan exports to South Sudan increased from US$50.5 million to US$245.9 million, while informal exports jumped from US$9.1 million to US$929.9 million.7 Uganda's nominal gross domestic product is about US$26 billion – so this rapid change had a significant impact on the Ugandan economy. Since much economic activity was related to petty traders and labourers, it was especially important to marginalised people in northern Uganda. Memoranda of understanding and trade agreements between the two countries promoted commerce and increased government revenue. It is, nevertheless, debateable whether economic integration owed more to government policies or to individual Ugandans seizing opportunities.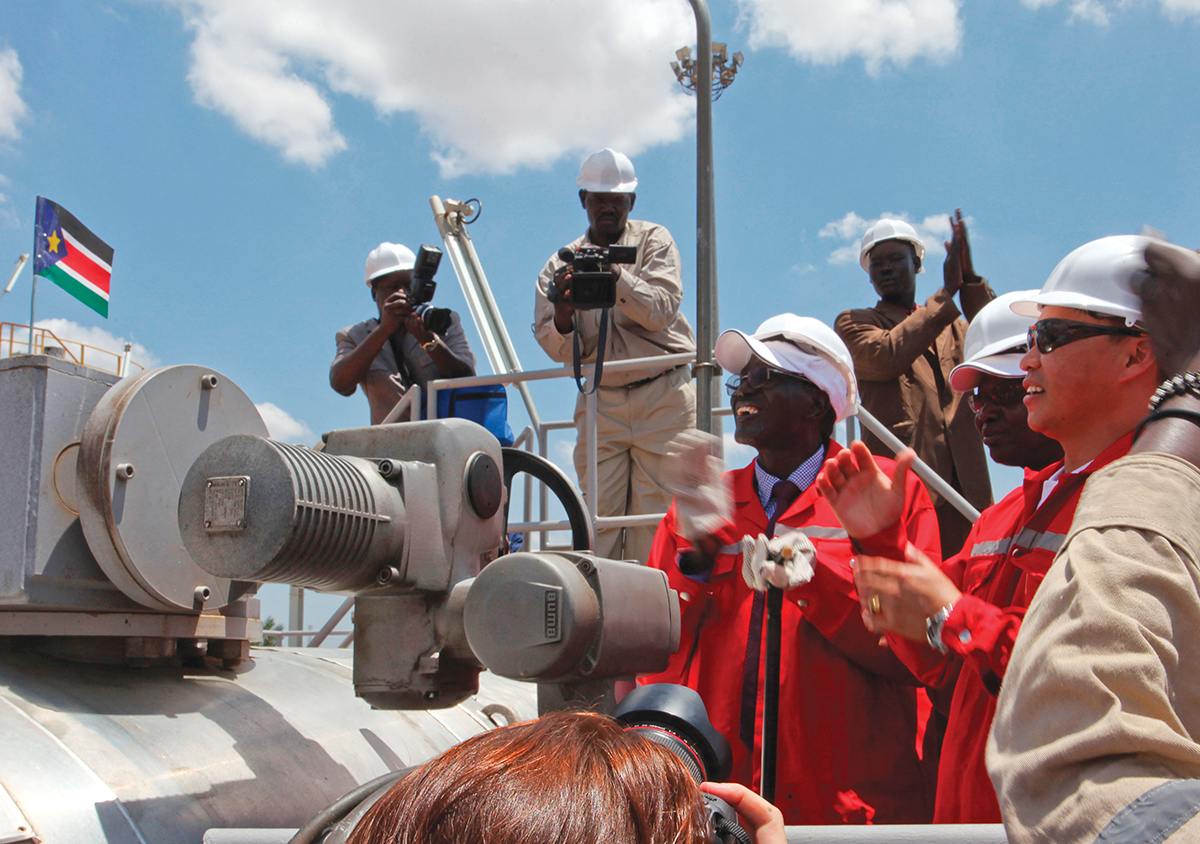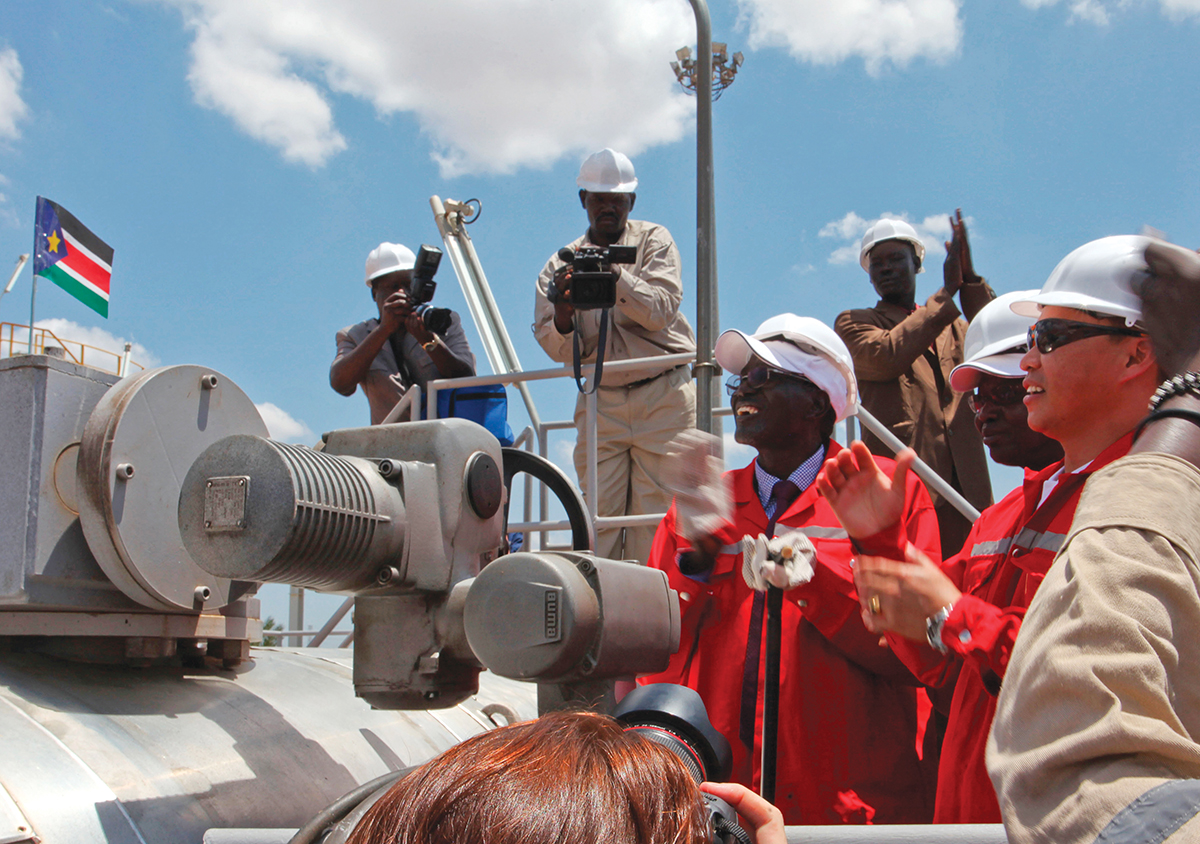 To sum up, Uganda has had long-lasting and diverse interests in South Sudan. Security concerns are arguably more important than economic interests. To avoid proxy warfare or armed elements threatening Uganda's stability in South Sudanese territory, Kampala wants a friendly 'junior partner' in Juba. In 2005–2013, economics dovetailed with security: stability fostered trade and economic development; and expanded infrastructure facilitated commerce and military reach. This situation changed with the outbreak of civil war.
Challenges Posed by the Current Civil War
Political tension rose during 2013, as a longstanding rivalry between South Sudan president Salva Kiir Mayardit and vice president Riek Machar deteriorated into an all-or-nothing power struggle. Violence broke out in Juba in December 2013 and the conflict spread immediately to Jonglei, Unity and Upper Nile states. The civil war compounded the economic crisis in South Sudan and generated a stream of refugees and undocumented migrants, and oil production and revenue declined. Since early 2015, the economy has been in freefall. Inflation is rampant, imports have been severely reduced and traders experience a general shortage of hard currency. Agriculture and agro-processing sectors in Uganda have also suffered. The search for a peace compromise has been painfully slow. During July and August 2015, a focused effort by the so-called Intergovernmental Authority on Development (IGAD+) constellation has resulted in an agreement, reluctantly signed by the two warring parties and another breakaway SPLM faction, the G10. The future of the agreement is uncertain, however – although a ceasefire has been declared by both parties, fighting continues. A recent presidential decree announcing the split of South Sudan's 10 states into 28 is regarded by the opposition as a blatant breach of the agreement.
During the initial days of the conflict, the Government of South Sudan invited Ugandan intervention.8 According to Uganda's foreign ministry, the Uganda People's Defence Force's (UPDF) task was to secure Juba airport and facilitate the evacuation of Ugandan nationals.9 It soon became evident, however, that a broader mandate included engaging rebels in and around Bor, the capital of Jonglei. During late December 2013 and early January 2014, the UPDF engaged in aerial bombardment.10 This intervention is said to have halted rebel advances south towards Juba.
Questions were raised about the legality of the deployment and scope of this mission, but Ugandan intervention was tacitly condoned by neighbouring countries, and by others involved in efforts to end the conflict. In early 2014, the fighting settled into a low-intensity conflict with infrequent local offensives. The UPDF was reportedly redeployed to train South Sudanese forces and guard Juba airport and the road to Bor. This role precluded Uganda's participation as an official mediator in the IGAD peace process.11 Uganda engaged in other diplomatic initiatives, however, instrumentally in the IGAD+ talks resulting in the August framework agreement.
Deteriorating Security
Uganda's military intervention increased Museveni's sway over the government in Juba, and many have questioned the continuation of this presence and what they perceived as an increasing interference in South Sudan's internal affairs. The UPDF deployment has been viewed as propping up the Juba government, and relations with the opposition have been poor. Museveni therefore launched a Peace Initiative in 2014, and maintained contact with both sides. To Kiir's dismay, Uganda allowed the Sudan People's Liberation Movement-in-Opposition (SPLM-IO) to open an office in Kampala, and has hosted several opposition politicians there.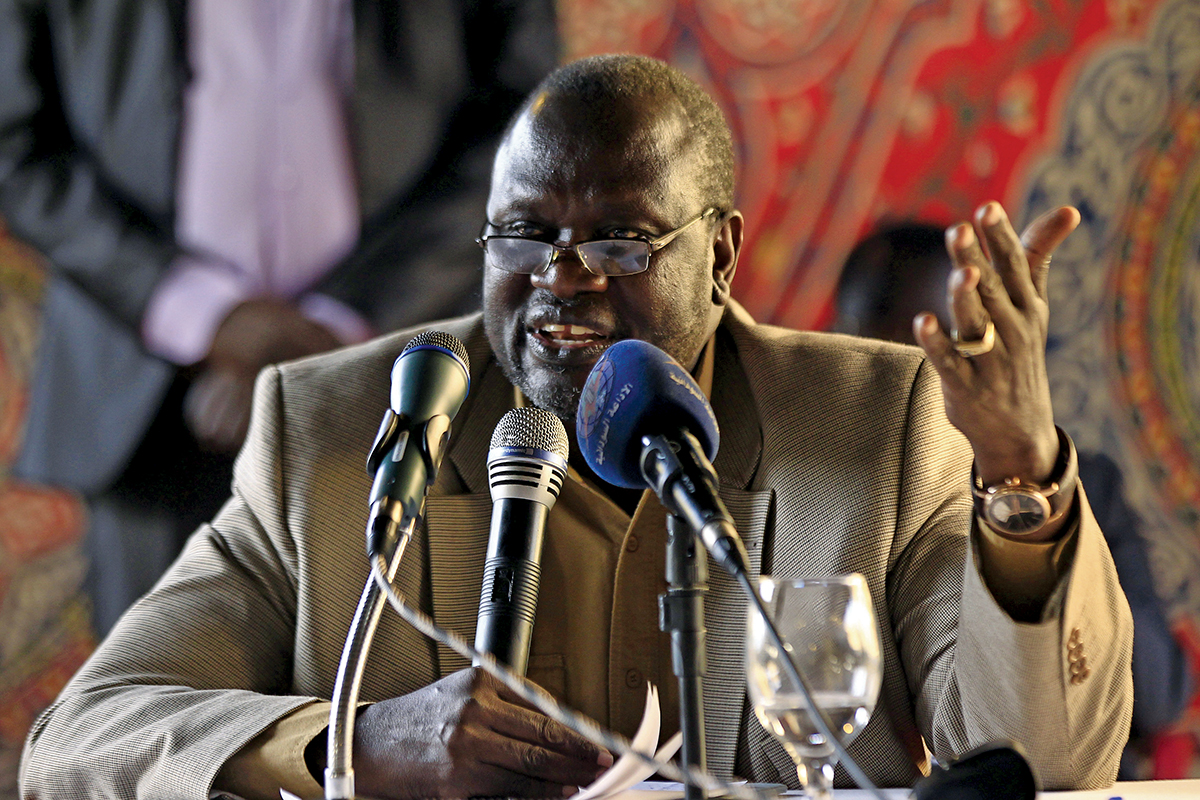 How much influence Uganda now has over Kiir is unclear. Machar's rebellion in South Sudan ousted the anti-Uganda faction from government, but Museveni's closest allies and important channels to influence the president belonged to the SPLM faction of the G10 group, often referred to as the 'former detainees'. However, Juba's increased isolation internationally has given Museveni considerable leverage there. During 2015, there have been signs that relations between Museveni and Kiir are strained by what the former sees as an incompetent and recalcitrant regime.12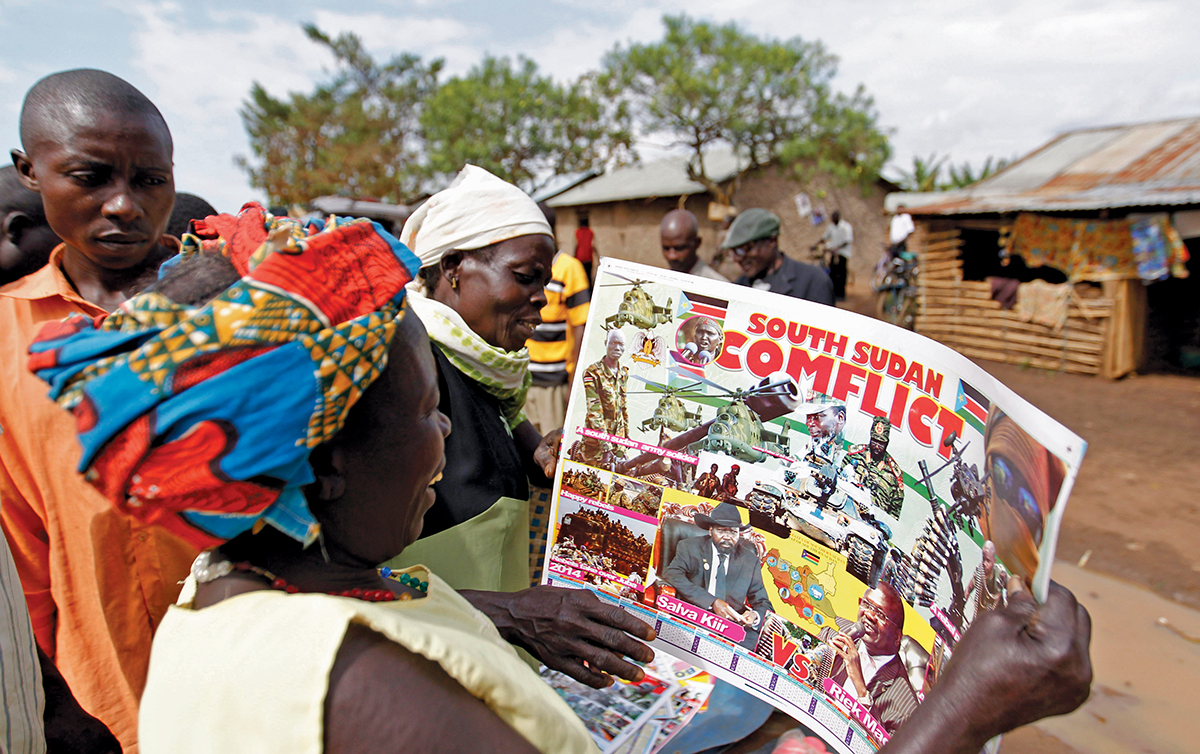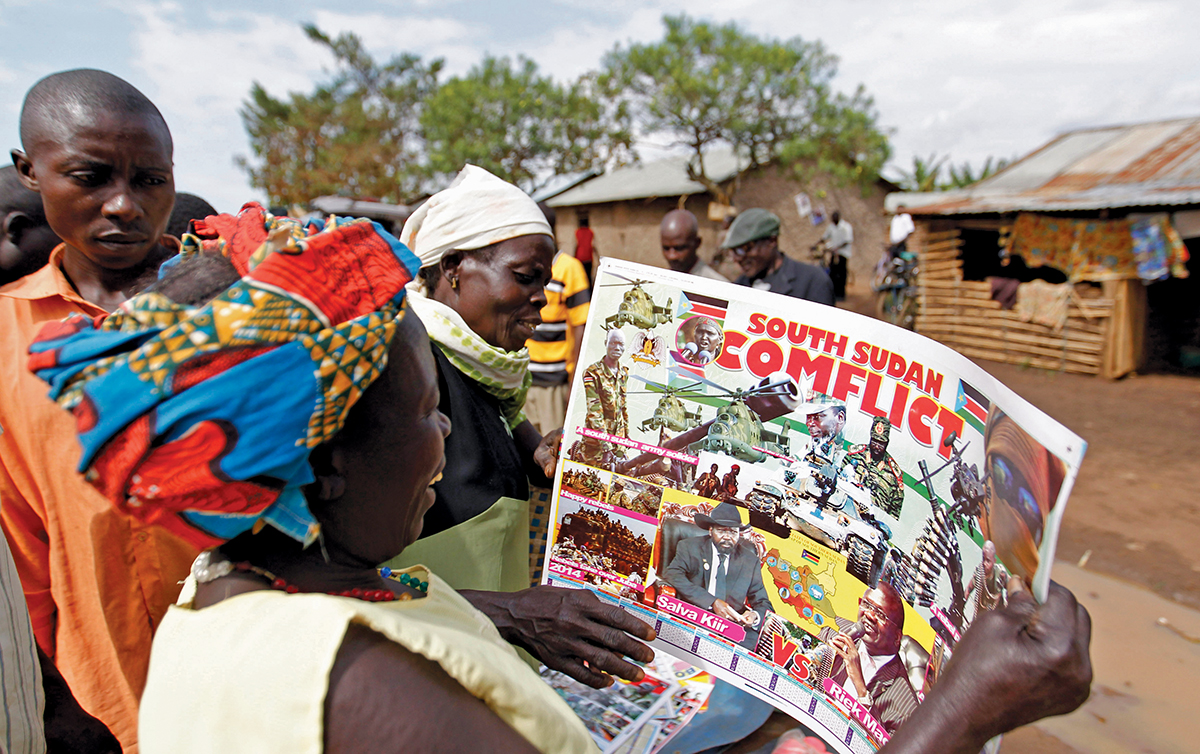 Juba's strongest card against Ugandan domination is competition between Kampala and Khartoum, whose relations remain fraught. It is generally assumed that Uganda actively supports armed rebels in Sudan and seeks to hinder the normalisation of Sudan–South Sudan relations. Such a development might result in South Sudan providing a staging ground for Khartoum to support the Ugandan opposition. Fear persists of Sudan facilitating the return of Joseph Kony13 and the LRA to northern Uganda. Some consider this possibility only a pretext for Uganda's continued engagement in South Sudan.
The peace agreement stipulated withdrawal within 45 days, and in mid-September 2015 Uganda declared that this would be completed by 10 October 2015. The withdrawal of Ugandan forces represents a surprising shift in policy and reduces Museveni's influence. His forces will continue to operate against the LRA in Western Equatoria, while Ethiopian troops will probably constitute the main component of the external force meant to monitor the implementation of the peace agreement.
None of South Sudan's neighbours want it to collapse. An ungoverned territory at the mercy of local warlords threatens them all: a trading partner and investment opportunity would disappear, and border instability creates a haven for neighbours' oppositional forces.
Violence along the Uganda–South Sudan border adds to the friction between Juba and Kampala. Conflict over resources, complicated by an undemarcated boundary, has led to disputes in the borderland areas of Yumbe, Moyo, Adjumani and Lamwo.14 In September 2014, one of the most serious clashes in recent history occurred over the border between Moyo and Kajo Kejji, triggered by the Ugandan national census. Local officials canvassed the disputed territory, and this enraged the South Sudanese. At least 10 people were killed, several thousand were displaced, and property was looted and destroyed. In August 2015, fighting broke out further east, in areas south of Magwi, when UPDF detachments made border incursions, supposedly without sanction from Kampala.
Although these incidents were not directly linked to the civil war, increased lawlessness exacerbates larger border conflicts. Uganda depends on a border that blocks rebels while allowing trade to flow, and border communities benefiting from regional stability and economic development are the best insurance. And while demarcating borders is an essential investment in peaceful interaction, this is not currently a political priority. Further conflict along the border can therefore be expected.
An Imploding Economy
South Sudan's economic crisis has been building for over a decade. When peace was signed in 2005, the region was effectively a subsistence economy. Thereafter, oil production became the sole source of government revenue, resulting in an undiversified consumption economy based on imported goods and labour. The effect of the collapse of oil prices in 2014 was therefore severe, and the government has reportedly exhausted every potential source of borrowing. The war has only deepened the crisis.15 Meanwhile, a lack of foreign currency has made it impossible for Ugandan traders and workers to exchange South Sudanese pounds for Ugandan shillings, and the flow of revenue has almost ceased.
Many Ugandans fled South Sudan in December 2013. Some – mostly small-scale, more mobile traders – have returned. South Sudan's economic crisis will likely continue to impact the Ugandan economy and threaten the livelihood of many Ugandans. The economic crisis also affects the political and social dimensions of its relations with Uganda. Reduced purchasing power has increased competition among foreign traders. Trade is increasingly controlled by political elites, thus reinforcing neo-patrimonial networks, because lucrative contracts and reimbursements depend on connections.
To improve the mounting trade deficit and local employment, the South Sudanese government has forced foreign investors into joint ventures with local partners, and foreign companies are pressured into hiring local suppliers and subcontractors.16 Foreign boda-boda drivers have been banned, other discriminatory rules enforced, and there have been frequent incidents of xenophobia against targeted traders. The expected re-entry into government of the South Sudanese opposition, whose leaders associate the UPDF with atrocities, might further depress Ugandans' business opportunities.
A New Wave of Refugees
The war forced about 160 000 South Sudanese to seek protection in Uganda. They have been given plots to cultivate in refugee settlements, mainly in the north. Thousands of unregistered migrants reside in Kampala, Arua and Gulu, receiving no foreign assistance.
In early 2014, conflict between refugees and locals over resources – mainly water and land – turned violent, at times fuelled by grievances over the UPDF intervention. Fights between the major ethnic groups in the settlements – the Nuer and Dinka – were also reported. The Ugandan government has strengthened law enforcement and introduced programmes facilitating dialogue and conflict resolution, while international agencies have provided new water points and increased the capacity of nearby schools and health centres (the United Nations High Commissioner for Refugees indicates that 30% of its budget is allocated to the needs of host communities).17 Free movement within and outside settlements has reduced tensions by separating ethnic groups.
Although the refugees are a minor burden on the Ugandan state, increasing fatigue among foreign donors has been noted – as has disaffection among Ugandans, particularly in urban areas. In the past, Ugandan cities hosted relatively affluent South Sudanese living on remittances from relatives. Now, with their reduced opportunities and increased harassment in South Sudan, Ugandans are more likely to consider refugees a burden than a resource. Sentiment among refugees is also shifting – from gratitude to frustration. In urban areas, local prejudices keep them unemployed – they want to be treated as equals, but instead are charged more than locals for rent or at shops. Begrudged, they recall opportunities Ugandans have enjoyed in South Sudan.
Influence or Peace?
Since the collapse of South Sudan's oil-dependent economy, security concerns have dominated the agenda of Uganda and other neighbouring countries. Challenges of displacement, migration and violence along the border are, at present, manageable. Uganda's priority is therefore to prevent predominance in Juba by any other country, and the emergence of a haven for opposition forces or staging ground for foreign incursion into the fragile northern parts of Uganda.
South Sudan's importance in Uganda's foreign policy and overall political evolution of the region should, however, not be exaggerated. Developments in the Great Lakes region have demanded considerably more attention from Museveni's government. Currently, radical Islam and the related engagement in Somalia, in addition to Museveni's appointment as mediator in Burundi, are at the top of Uganda's foreign policy agenda. Also, since regional security is, to a large extent, the prerogative of the president and his staff of advisors (rather than the minister of foreign affairs), there is a clear limit on how many issues can be dealt with at the same time. Moreover, the upcoming presidential election in Uganda will further divert Museveni's attention away from South Sudan.
Uganda's contribution and support to the IGAD+ agreement indicates a preference for a negotiated settlement over the disintegration of South Sudan. The agreement is probably the best hope for sustainable peace, but it is likely to diminish Museveni's sway over the government in Juba. Withdrawal of the UPDF takes away Uganda's most powerful tool of influence. Furthermore, the agreement stipulates that SPLM-IO leaders will assume key government positions. Reportedly unfriendly to Uganda, they will look to Sudan and Ethiopia for advice and support. Therefore, a key issue in the months to come is how much control is Uganda willing to sacrifice for peace and stability in South Sudan?
Endnotes
The Peace Research Institute Oslo (PRIO) research team, Østein H. Rolandsen and Tove Sagmo, with assistance from Fanny Nicolaisen, employed a multidisciplinary approach to gather data from a broad range of written sources and from about 60 interviews with key informants, primarily in Uganda and South Sudan. The majority of the field research was conducted in the period of April and August 2015. The team is grateful for financial support from the Norwegian Ministry of Foreign Affairs, section for Peace and Reconciliation.
Rolandsen, Østein H. and Leonardi, Cherry (2014) Discourses of Violence in the Transition from Colonialism to Independence in Southern Sudan, 1955–1960. Journal of Eastern African Studies, 8 (4), pp. 609–625.
Prunier, Gérard (2004) Rebel Movements and Proxy Warfare: Uganda, Sudan and the Congo (1986–99). African Affairs, 103 (412), pp. 359–383.
Høigilt, Jacob, Falch, í…shild and Rolandsen, Østein H. (2010) 'The Sudan Referendum and Neighbouring Countries: Egypt and Uganda', PRIO Paper, Available at: <http://file.prio.no/Publication_files/Prio/Sudan-Referendum-and- Neighbouring-Countries-PRIO-Paper-2010.pdf> [Accessed 1 September 2015].
Shankleman, Jill (2011) 'Oil and State Building in South Sudan: New Country, Old Industry,' Special Report Series (United States Institute of Peace), p. 10, Available at: <http://www-origin.usip.org/sites/default/files/Oil_and_State_Building_South_Sudan.pdf> [Accessed 1 September 2015].
International Alert (2014) 'Trading with Neighbours: Understanding Uganda–South Sudan Business Community Trade Relations', p. 6, Available at: <http://international-alert.org/sites/default/files/Uganda_UgandaSouthSudanTradeRelations_EN_2014.pdf> [Accessed 1 September 2015].
Ibid.
Rolandsen, Østein H., Glomnes, Helene M., Manoeli, Sebabatso and Nicolaisen, Fanny (2015) A Year of South Sudan's Third Civil War. International Area Studies Review, 18 (1).
Clottey, Peter (2014) 'Uganda Denies Troops Supporting South Sudan Leader', Voice of America, 22 December, Available at: <http://www.voanews.com/content/uganda-denies-troops-supporting-south-sudan-leader/1815470.html> [Accessed 1 September 2015].
UNMISS (2014) 'Conflict in South Sudan: A Human Rights Report,' p. 26, Available at: <http://unmiss.unmissions.org/Portals/unmiss/Human%20Rights%20Reports/UNMISS%20Conflict%20in%20South%20Sudan%20-%20A%20Human%20Rights%20Report.pdf> [Accessed 1 September 2015].
IGAD is the regional body that has facilitated the South Sudanese mediation process in Addis Ababa, Ethiopia. The negotiations have been led by Ethiopian diplomat, Seyoum Mesfin, as chairman, and assisted by General Lazarus Sumbeiywo, who mediated the 2005 peace agreement between the Government of Sudan and the SPLM.
International Crisis Group (2015) 'South Sudan: A Civil War by Any Other Name', Africa Report, p. 23, Available at: <http://www.crisisgroup.org/en/regions/africa/horn-of-africa/south-sudan/217-south-sudan-a-civil-war-by-any-other-name.aspx.> [Accessed 1 September 2015].
Joseph Kony is a Ugandan and the leader of the LRA, which has waged regional guerrilla insurgency against the Ugandan government for over 20 years. He is wanted by the International Criminal Court on charges of war crimes and crimes against humanity.
Refugee Law Project (2014) Compendium of Conflicts in Uganda. Findings of the National Reconciliation and Transition Justice Audit. Kampala: Makerere University, p. 100.
Centre for Conflict Resolution (CECORE) (2015) 'South Sudan: The Cost of War. An Estimation of the Economic and Financial Cost of Ongoing Conflict', p. 5, Available at: <http://www.frontier-economics.com/documents/2015/01/south-sudan-cost-war.pdf> [Accessed 1 September 2015].
Government of South Sudan (2012) 'Laws of South Sudan. The Investment Promotion Regulations 2012', Available at: <http://www.southsudanembassydc.org/PDFs/Laws/IPA REGULATIONS_MAY_28 2012docx.pdf> [Accessed 1 September 2015].
Head of the Field Office (2015) Interview with the author in June. Arua, Uganda.