The International Peace Institute (IPI), the Stimson Center, and the Security Council Report (SCR), with support from the Permanent Mission of Germany to the UN, co-organised a virtual workshop to discuss the mandate of the United Nations Integrated Transition Assistance Mission in Sudan (UNITAMS), which is set to be renewed by June 3, 2021. This event was part of a series of workshops which aimed to support the sustained engagement of member states in discussions on how to make UN peace operations' mandates more realistic, effective, and achievable.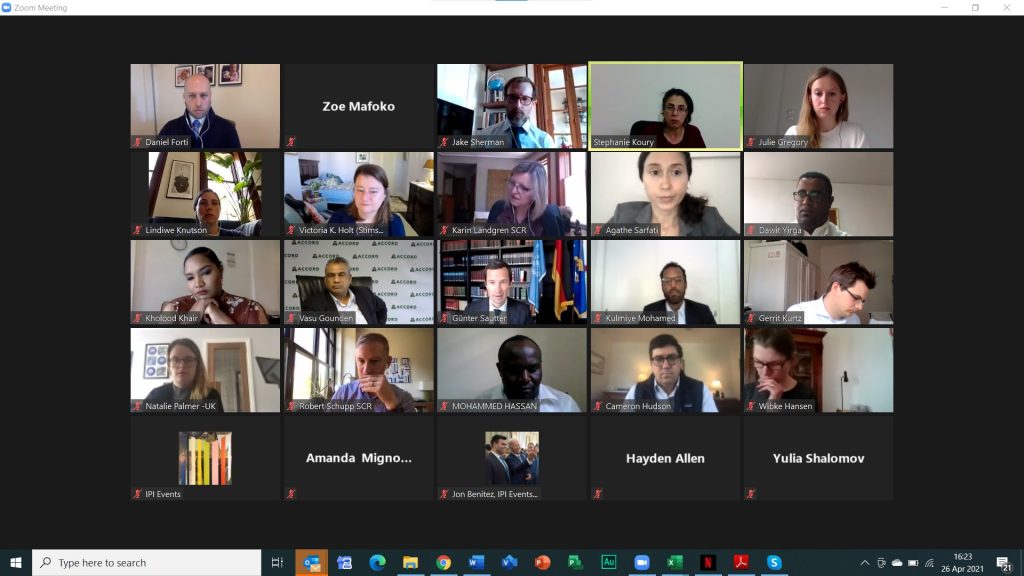 The workshop, which took place on 26 April 2021, was an opportunity for member states and the Secretariat to hear expert assessments of the situation in Sudan ahead of the renewal of UNITAMS' mandate and to discuss how the mandate could be adapted to address evolving dynamics on the ground. External experts, such as Dr Gounden, were given the opportunity to provide their perspectives on the country's political, security, and socioeconomic dynamics so as to facilitate the development of concrete recommendations for how UNITAMS can strengthen its engagement.
Key takeaways from the workshop highlighted the need for stakeholders to focus on both the peace and economic dividends, building an inclusive peace which brings into the fold women and youth, and for UNITAMS to access their role in the region, in light of the many players already contributing to the region's peace process.