Introduction
Kidnapping in Nigeria is not a new phenomenon but has assumed an alarming dimension in recent times. Acts of kidnapping are increasingly perpetrated by different criminal elements, such as militias, gangs, ritualists, and terrorists, among others, for a variety of reasons. However, the increased frequency, geographical spread, and operational sophistication of kidnapping for ransom (K4R) is a major source of concern for individuals, organisations, the diplomatic community, and, indeed, the Nigerian Government. Much of the concern is about the safety of the victims as well as the cost of this expanding criminal enterprise. For instance, Nigeria's main geopolitical intelligence platform, SBM Intelligence, estimated that between 2011 and 2020, Nigerians paid at least US$18.34 million (₦7 billion) in ransoms to kidnappers.[1] In the first half of 2021, 2 371 people were kidnapped and the sum of about US$23.84 million (N10 billion) was demanded in ransoms in Nigeria.[2]
The targets are as diverse as the actors who benefit from and the factors that underpin the upsurge in K4R. Expatriates, businesspeople, schoolchildren, women, politicians, government officials, diplomats, and traditional rulers, among others, are increasingly being targeted by criminal gangs.[3] The wanton predation on schoolchildren through mass abduction by armed groups that are ideologically or economically motivated is the latest worrisome trend in the pattern of criminal victimisation in Nigeria. This article examines the trajectory of the mass abduction of schoolchildren in northern Nigeria, highlighting the drivers of mass abduction and evaluating emerging responses by the government.
The Shifting Security Landscape and Trajectory of the Mass Abduction of Schoolchildren
Insecurity in northern Nigeria is the new normal. This is evidenced by vicious attacks on local communities and rampant kidnapping of people by criminal groups – terrorists and bandits. While the term 'terrorism' entails the premeditated use of violence by an ideologically motivated individual or group to create a general climate of fear in a population with the intention of bringing about a particular political objective, 'banditry' refers to economically motivated armed violence perpetrated by gangs driven primarily by the intention to extort, dispossess or plunder their targets – individuals, groups or communities.
Although terrorism and banditry are different forms of criminality, the distinction is increasingly blurred by a fluid modus operandi. Terrorists are known to have raided communities, looted property (foodstuff and livestock), and abducted civilians, while bandits are equally guilty of these acts, but they do not openly justify their activities on ideological grounds. The use of arms, whether crude or sophisticated, the motive to steal valuable assets, and deliberate abduction of people are common threads that bind these forms of violent criminality in Nigeria. The deployment of arms and kidnapping provide the link between terrorism and banditry, leading some analysts to contend that what is happening in northern Nigeria is terrorism thinly disguised as banditry.[4]
Whether they are referred to as terrorists or bandits, what has become more apparent is that criminal groups that engage in K4R in Nigeria have adopted different types of operational models. These include the routine, invasion, highway, insider, seduction, and feigned model. Figure 1 summarises these models. Terrorists and bandits have outraged the world with mass abductions of schoolchildren, especially in northern Nigeria, using the invasion model of operation.
Figure 1: Models of Kidnapping for Ransom Prevalent in Nigeria[5]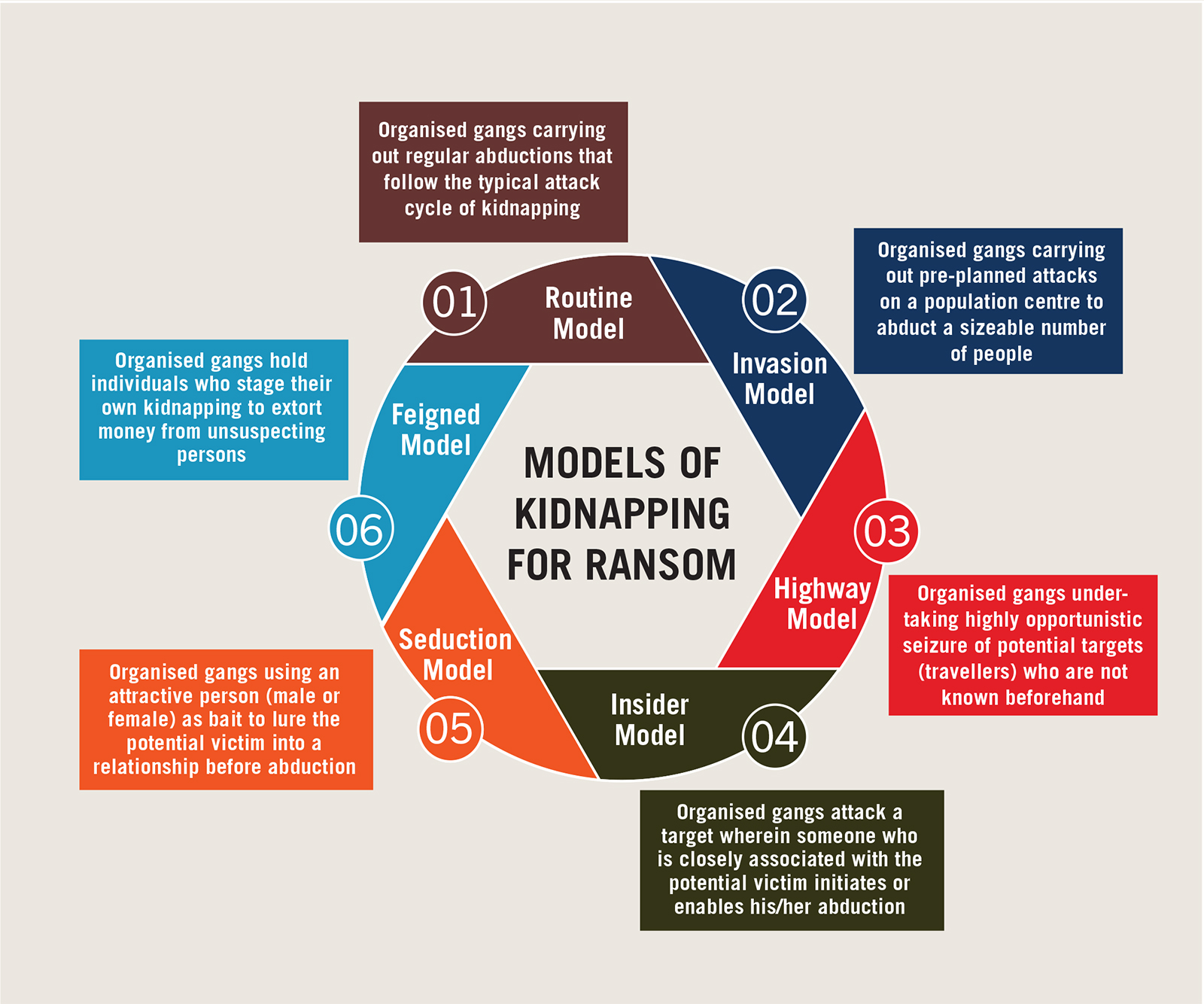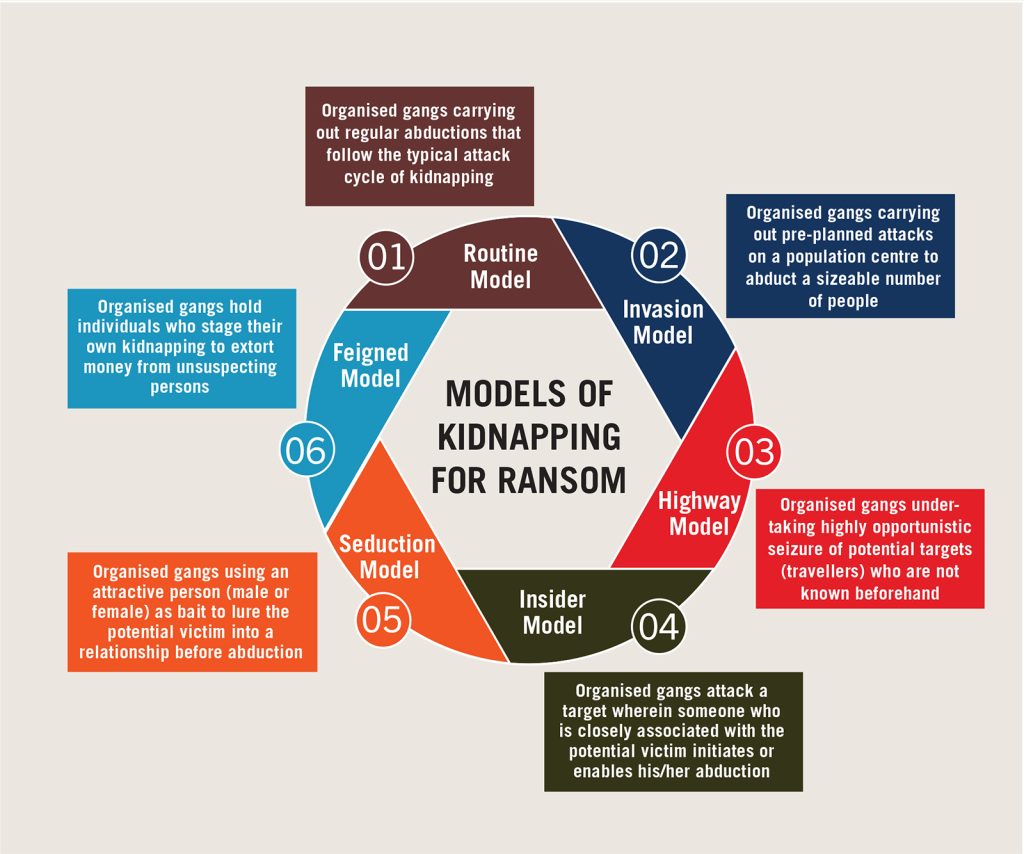 The map in Figure 2 highlights the location of some notable mass abductions in the last few years. The kidnapping of over 270 girls from Chibok Secondary School on 14 April 2014 by Boko Haram insurgents was the curtain-raiser for the deliberate targeting of schoolchildren.[6] Another instance of terrorist mass abduction was the February 2018 raiding of the Government Girls Science and Technical College (GGSTC) in Yobe State by a faction of Boko Haram – the Islamic State of West Africa Province (ISWAP).[7]
Figure 2: Locations of Mass Abduction of Schoolchildren in Northern Nigeria[8]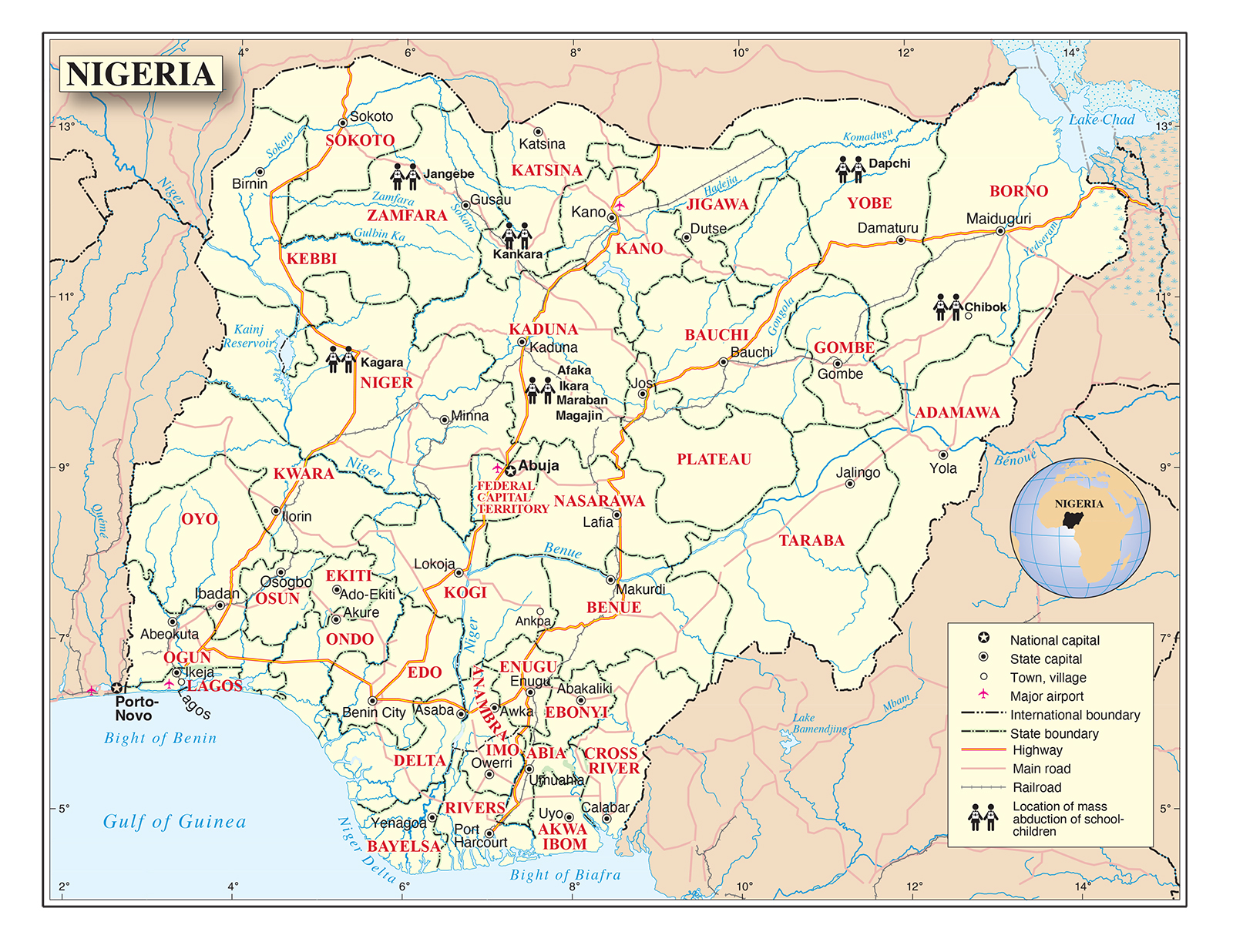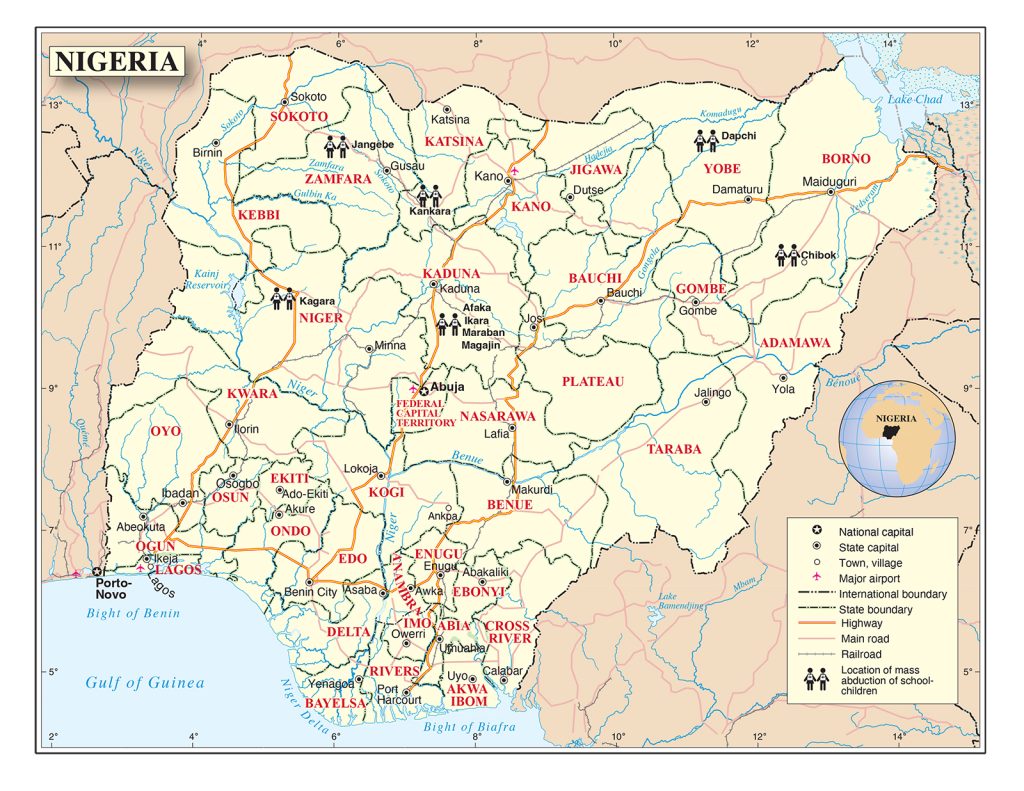 Recently, armed gangs loosely referred to as 'bandits' have increasingly relied on this tactic in imitation of Boko Haram terrorists to demand ransom money or the release of their members detained by security forces. The frequency and ease of operation have raised serious concerns over the vulnerability of schools and the future of education in northern Nigeria. On 17 February 2021, over 42 people were kidnapped by unknown gunmen from Government Science College in Niger State.[9] The attack signalled the spread of mass abduction of schoolchildren in the north central region.
Data collected indicates that about 1 548 schoolchildren have been abducted in 11 separate incidents of mass abduction by terrorists and bandits in northern Nigeria between April 2014 and June 2021.[10] Some of the schools that bandits have targeted in mass abductions include Bethel Baptist Secondary School, UBE Rama Primary School, Government Science Secondary School, and Federal College of Forestry Mechanization in Kaduna state; Government Girls Secondary School in Zamfara state; Government Science College in Niger state; Islamic school, and Government Science Secondary School in Katsina state. Most of the incidents took place during night-time hours and the victims were taken into forests, with the negotiations facilitated by third parties.
The mass abduction of students suggests significant logistical planning by the attackers. While the links between terrorists operating in the northeast and bandits rampaging the northwest remain uncertain, Boko Haram leader, Abubakar Shekau, claimed that his group was behind the abduction of the Kakara students in Katsina state on 11 December 2020.[11] This no doubt has heightened fears of possible ties between the armed groups.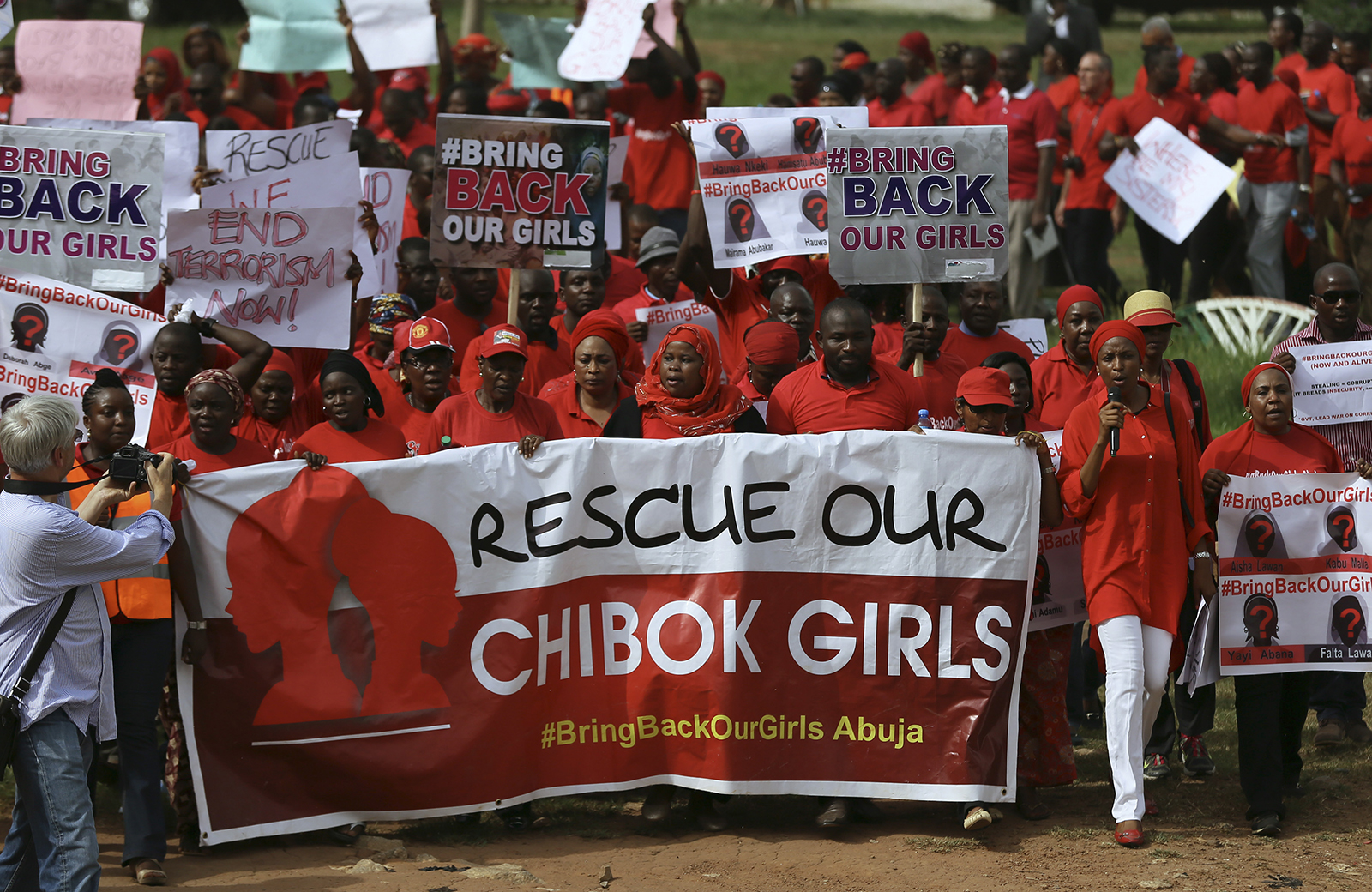 Why the Rise in Mass Abduction of Schoolchildren?
Several interrelated factors account for the outbreak and rise of K4R in Nigeria, especially mass abduction. These factors derive from and reflect the crisis of the Nigerian political economy. Despite Nigeria's enormous oil wealth, corruption and mismanagement of the national economy have resulted in widespread poverty, unemployment, and inequality. The youth, who are disproportionately affected, have resorted to crime.
In addition, the weakness of State institutions to resolve security challenges, such as the herdsmen-farmer clashes or cattle rustling, has led to the loss of livelihoods and assets. As a result, some affected or aggrieved individuals, who have lost assets and even confidence in State institutions, resort to criminality, such as banditry or kidnapping as a means of livelihood.
The continued payment of ransoms makes the criminal enterprise very lucrative, enticing private citizens and even security agents into joining the scheme. Ample evidence points to the connivance and complicity of State actors, such as military personnel, security agents, government officials, and local community leaders, in facilitating kidnapping operations, including supplying logistical support, weapons, and profiting from ransoms paid to terrorists and bandits.[12] This, in turn, has led to distrust between citizens and security forces and the collapse of intelligence-gathering.
Another relevant factor is the porosity of Nigerian borders, which has enabled the cross-border flow of weapons and criminal elements. Given Nigeria's porous international and inter-state borders, arms traffickers can adopt various concealment methods to move arms from one location to another and avoid detection more easily. This has facilitated the infiltration of jihadi elements and their migration from one geo-political zone to another. Access to sophisticated weapons coupled with possible terrorist infiltration into the ranks of bandits has heightened the risk of mass abduction of schoolchildren.
The isolated nature and weak protective structures around schools in local communities add to the vulnerability of schoolchildren to mass abduction. For instance, it was reported that the perimeter fencing and entrance gate of the Government Science College, Kagara, were dilapidated, making it easy for the bandits to gain entrance. Conceivably, mismanagement of public resources is a major factor in the poor state of most schools that are vulnerable to attack in Nigeria.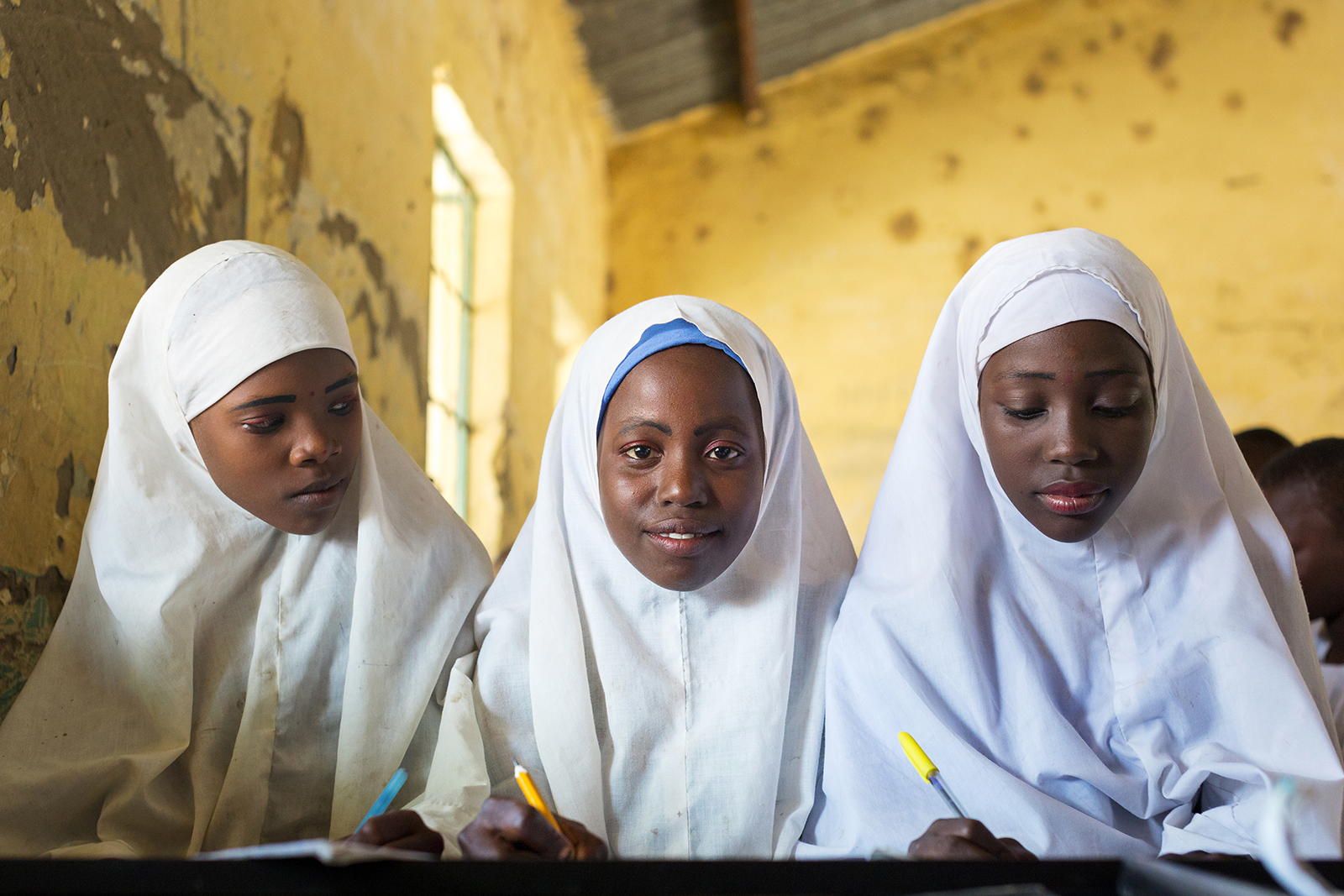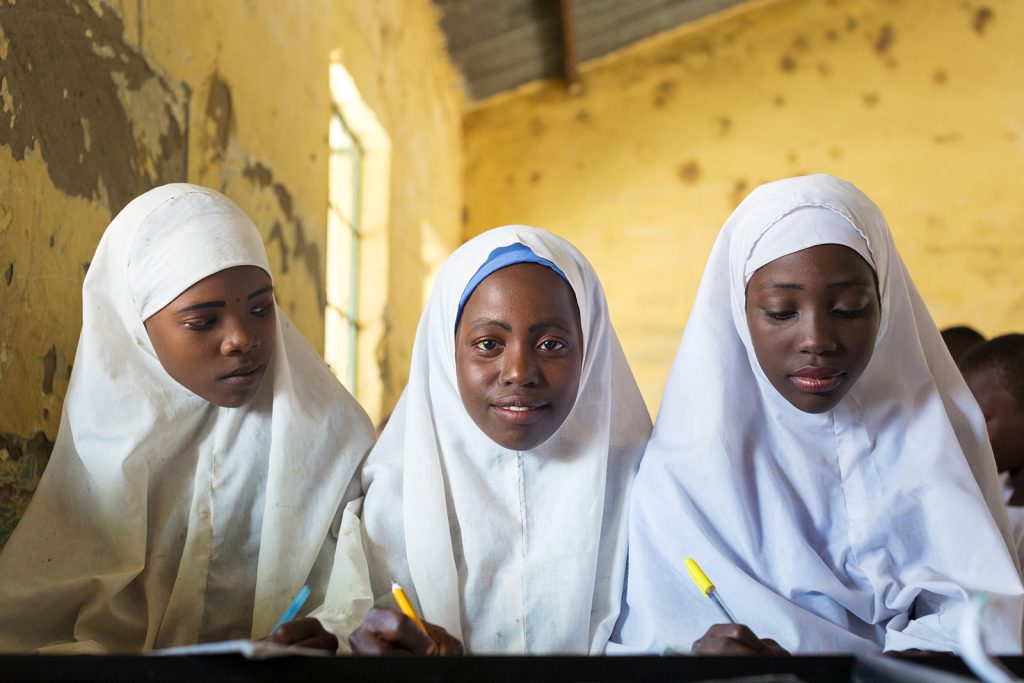 Responses to the Mass Abduction of Schoolchildren
The mass kidnapping of schoolchildren has attracted the attention of several critical stakeholders in security provision, particularly the Nigerian Federal and State Government. Some of the measures in response to mass abductions include the Safe School Initiative, rescue operations, back-door negotiation, peace deals and amnesty, and the closure of schools. These measures have recorded varying levels of success and challenges, as elaborated on in the next sections.
Safe Schools Initiative
In the aftermath of the Chibok abduction, a Safe Schools Initiative was launched in North-eastern Nigeria in May 2014 to bolster security in schools by erecting fences around them. It started with an investment from the Global Business Coalition for Education and was supported by the A World at School movement and funding from business leaders, government, and other donors. At least US$20m was pledged for the three-year project. Though most of the recent kidnappings have happened in the North West, which was not covered by the Safe Schools Initiative, the 2018 abduction of 110 Dapchi schoolgirls in Yobe state raised questions about the success of the initiative.[13] President Buhari's administration has not prioritised this initiative, leading to calls by some stakeholders for it to be reinstituted. Even when prioritised for implementation, however, corruption and weak accountability mechanisms will probably undermine its effectiveness.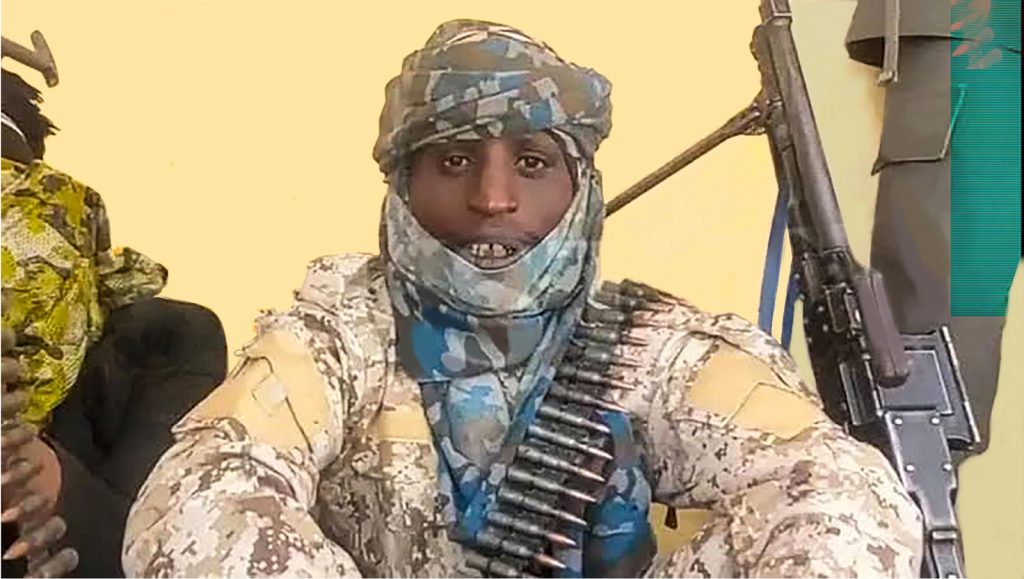 Amnesty and Peace Deals
The adoption of the incentive approach by some governors, which involves negotiated peace deals with bandits, is the most common response by Nigerian states in the North West to stem the wave of criminality. In December 2016, for example, the Government of Zamfara state struck peace deals with two major suspected leaders of bandits, Dogo Gide and Buharin Daji. On 1 August 2019, governors of the North West geopolitical zone, including Kaduna, Kano, Katsina, Kebbi, Jigawa, Sokoto and Zamfara states, proclaimed amnesty for bandits operating in the zone.[14] In January 2021, the Zamfara state government granted amnesty to Auwalun Daudawa, the leader of the bandits that abducted over 300 schoolboys in Kankara.[15]
The peace deal or amnesty approach is, however, fraught with challenges, such as the absence of clear policy and legal frameworks to anchor the initiative, the lack of institutional platforms to facilitate sustainability, and the questions of inclusivity and transparency in the process. How state governments are able to correctly identify who is a bandit and what makes one a "repentant" criminal are equally significant concerns. Thus, sustained attacks and mass kidnapping by bandits have exposed the fragility and futility of this approach, further indicating the inability of the State to deal with organised criminal elements. As noted in the newspaper Punch:
[T]his dangerous policy of appeasement towards common felons emboldens them to continue to hold the society to ransom and encourages others to see criminality as a lucrative venture. Quite easily, most of the pardoned bandits tend to return to their evil ways even before the ink with which the peace deal was penned had dried up.[16]
In the absence of robust accountability mechanisms, the risk of politicisation and incentivisation of criminal violence through amnesty becomes high.
Military Operation
Although the Nigerian Government has designated bandits as terrorists and deployed the military in kinetic operations against these criminal elements, it has used its security forces sparingly to rescue abducted victims. Nigeria operates a national security architecture that is largely outdated and not fit-for-purpose. Therefore, the reliance on small security operations to rescue abducted victims is an unpopular response to the threat of mass abduction. However, in the case of the abduction of 80 Islamic school students in Dandume in December 2020, the students were quickly rescued by security forces after a fierce gun battle with the bandits.[17]
The military has created special operations forces (SOFs) to more effectively operate in enemy safe haven areas like creeks, jungles, forests and mountainous regions.[18] Despite having a team of SOFs and a police Intelligence Response Team (IRT), the Nigerian Government has not successfully deployed these elite forces to rescue victims of mass abduction. The reasons have to do with the complexity of logistics required, limited specialised equipment and skills in the elite units (SOFs and IRT), and the risk to abductees in the event of a failed rescue attempt. This may account for the preference for back-channel negotiations with abductors. This tactic has, however, not been completely effective, as evident in the inability of security operatives to secure the release of some victims after abduction operations. For example, some of the Kaduna Baptist School students abducted in July 2021 spent over 189 days in captivity before being released in batches following payment of ransom by their families. As of January 2022, only one student was still with the bandits.[19]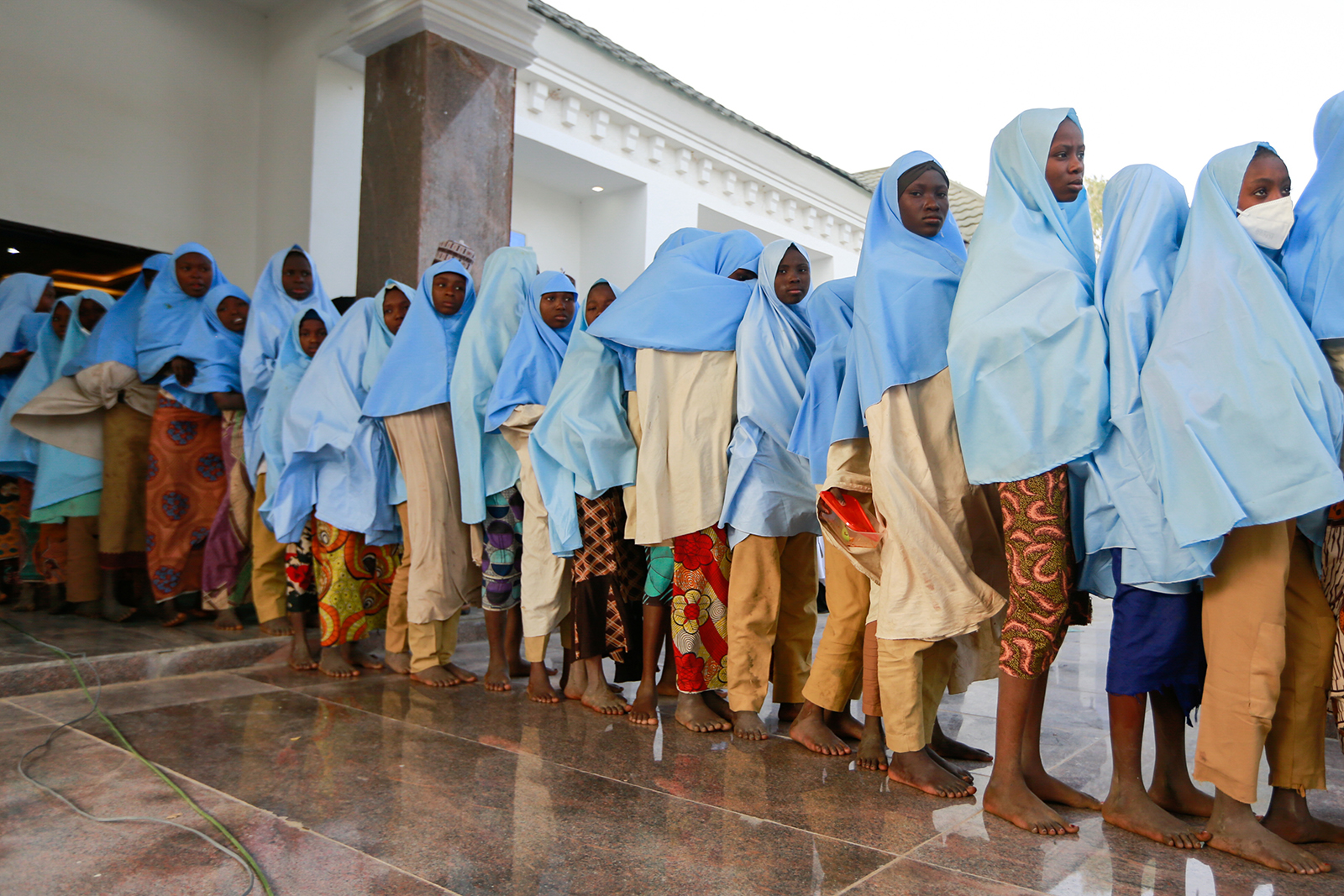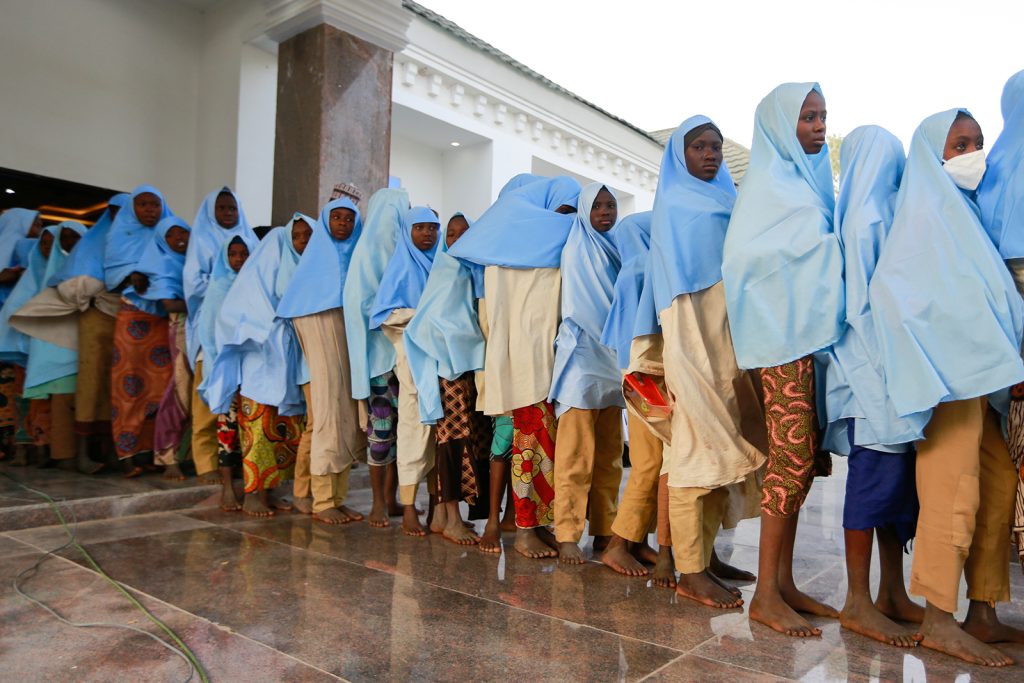 Informal Negotiation
Reliance on back-channel or informal negotiation is the more common response by the Nigerian Government to the abduction saga. For example, the release of some of the Chibok schoolgirls was facilitated by the International Committee of the Red Cross (ICRC).[20] Similarly, the Kankara schoolboys were reportedly rescued with the help of the Miyetti Allah Cattle Breeders Association of Nigeria (MACBAN).[21] A popular Islamic cleric, Ahmad Gumi, initiated a negotiation with bandits after the Kagara school kidnapping, and later pushed for them to be granted amnesty. Although President Buhari recently declared that his "administration will not succumb to blackmail by bandits who target innocent school students in the expectations of huge ransom payments",[22] many believe that ransoms are paid by either the families of victims or the authorities. The opacity of the entire process of negotiation means that several individuals benefit financially, materially, and even politically from the kidnapping enterprise. Yet the payment of ransoms, as rightly noted by Micheal Ross, produces obvious short-term benefits but much larger, hidden, long-term costs.[23] The obvious benefit is the release of the kidnapped victim; the hidden cost is the encouragement it gives to other groups that specialise in K4R. As with other types of crime, if kidnapping is sufficiently profitable, existing kidnapping organisations will expand and new kidnapping organisations will rise.[24]
Closure of Schools
The panicked closure of some schools in response to mass abduction is evident in some states in the region. In December 2020, both Katsina and Zamfara states closed several schools following the abduction of the Kankara schoolchildren. Similarly, in July 2021, Nigerian authorities in northwest Kaduna state closed 13 schools after more than 140 students were kidnapped from Baptist High School.[25] The increase in mass abduction of schoolchildren is crippling education in a region that is already educationally challenged. A 2018 survey by the United Nations Children's Fund (Unicef) indicates that over nine million children were out of school in Nigeria, with over 60% of them in northern Nigeria[26] (see Figure 3). The number of children not in school will increase, given the panicked closure of schools and possible absence by students due to fear of being kidnapped.
Figure 3: Number of Children not in School, by Geopolitical Zone in Nigeria[27]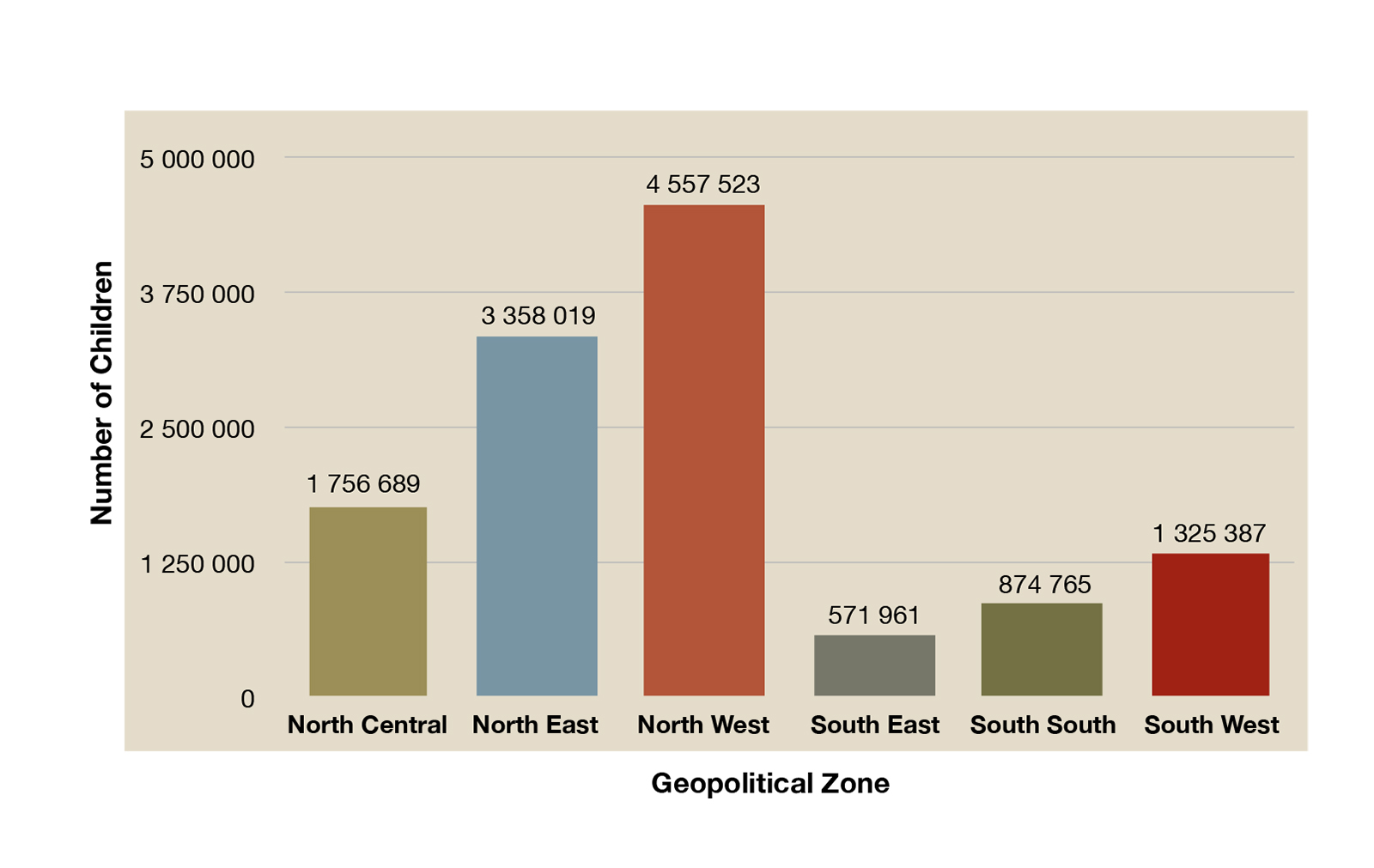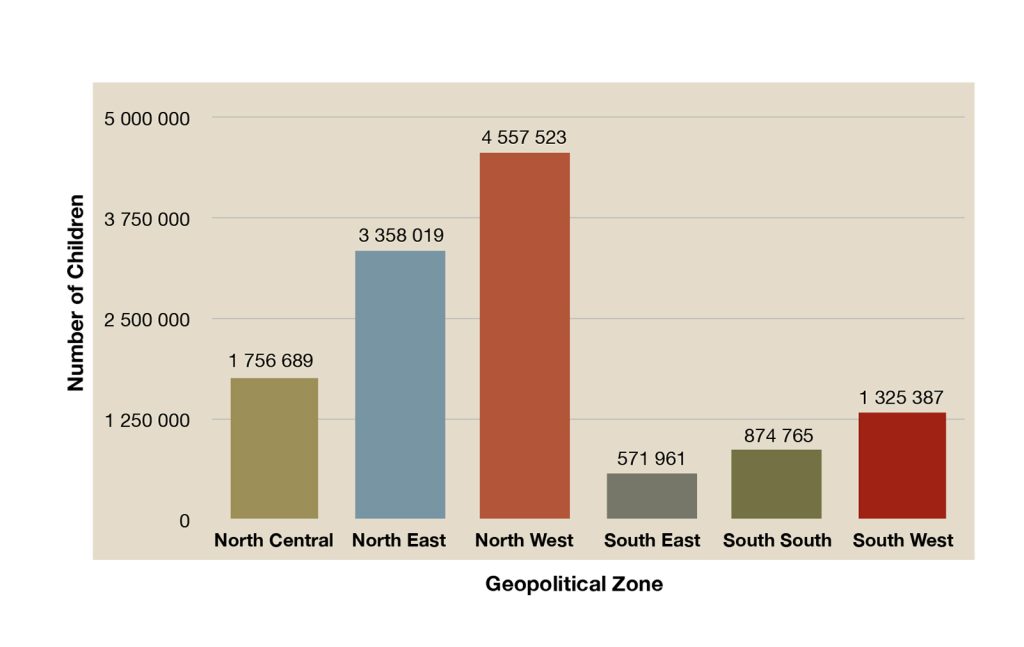 Conclusion
Mass abductions of schoolchildren has spread from the northeast, through the northwest and to the north central zones in Nigeria. While the evolving threat has been globally condemned, there is growing local apprehension over the possible spread of this form of organised crime to other parts of Nigeria, given the notable weakness of the Nigerian State. Reversing the tide of mass abductions requires attention to the nature of the Nigerian political economy that fosters an environment permissive to the emergence and flourishing of criminal gangs. The Nigerian Government should urgently implement measures to drastically reduce poverty, create employment for the youth, curb widespread corruption, and confiscate illegal weapons in circulation. There is equally the need to strengthen protective systems around vulnerable schools, by conducting regular vulnerability threat assessments of schools and other potential targets (staff quarters), as well as adopting security early-warning systems (SEWS) with contingency and response plans. Finally, the government should discontinue payment of ransoms, and instead invest in intelligence gathering, and securing the nation's porous borders.
Dr Freedom Chukwudi Onuoha is a Senior Lecturer in the Department of Political Science at the University of Nigeria, Nsukka. He is also Coordinator for the Security, Violence and Conflict (SVC) Research Group at the University.
Joseph Chukwunonso Akogwu is a Lecturer in the Department of Political Science in Nnamdi Azikiwe University, Awka. He is also a doctoral student specialising in Human Security and Counter-Terrorism at the University of Nigeria.
Endnotes
[1] SBM Intelligence (2020) 'The Economics of the Kidnap Industry in Nigeria, Lagos', Available at: <https://www.sbmintel.com/wp-content/uploads/2020/05/202005_Nigeria-Kidnap.pdf> [Accessed 14 January 2022].
[2] Ukpe, William (2021) 'Insecurity: N10 Billion Demanded in Kidnapping Ransoms in H1 2021- SBM', Naira Metrics, 12 July, Available at: <https://nairametrics.com/2021/07/12/insecurity-n10-billion-demanded-in-kidnapping-ransoms-in-h1-2021-sbm> [Accessed 14 January 2022].
[3] Onuoha, Freedom and Okolie-Osemene, James (2019) 'The Evolving Threat of Kidnapping for Ransom in Nigeria', in Oshita, Alumona and Onuoha, Freedom (eds), Internal Security Management in Nigeria: Perspectives, Challenges and Lessons, Singapore: Palgrave Macmillan, pp. 233–258.
[4] Ojewale, Oluwole (2021) 'Rising Insecurity in Northwest Nigeria: Terrorism Thinly Disguised as Banditry', Brookings, 18 February, Available at: <https://www.brookings.edu/blog/africa-in-focus/2021/02/18/rising-insecurity-in-northwest-nigeria-terrorism-thinly-disguised-as-banditry> [Accessed on 22 February 2022].
[5] Onuoha, Freedom (2021) 'Threat of Kidnapping in Nigeria: Scale Dimensions, Trends and Drivers', Paper presented at a Webinar on 'Effective Response to Kidnapping in Nigeria', Africa Centre for Strategic Studies (ACSS) Nigeria Alumni Chapter, 19 March.
[6] Ijaseun, David (2022) 'From Dorm to Doom: A Timeline of the Chibok Kidnapping', Business Day, 13 April. Available at: <https://businessday.ng/news/article/from-dorm-to-doom-a-timeline-of-the-chibok-kidnapping-till-date> [Accessed 15 June 2022].
[7] Onuoha, Freedom and Oyewole, Samuel (2018) 'Anatomy of Boko Haram: The Rise and Decline of a Violent Group in Nigeria', Al Jazeera Centre for Studies, 28 April, Available at: <https://studies.aljazeera.net/en/reports/2018/04/anatomy-boko-haram-rise-decline-violent-group-nigeria-180422110920231.html> [Accessed 5 January 2022].
[8] Authors' mapping of the incidents of mass abduction in Nigeria reported in the media.
[9] Mosadomi, Wole (2021) '42 Persons Including 27 Students, 3 Staff Kidnapped at Govt College, Kagara.' Vanguard, February 17. Available at: <https://www.vanguardngr.com/2021/02/42-persons-including-27-students-3-staff-kidnapped-at-govt-college-kagara/> [Accessed 1 August 2021].
[10] Yusuf, Kabir (2021) 'Timeline: Seven Years After Chibok, Mass Kidnapping of Students Becoming Norm in Nigeria', Premium Times, 22 June, Available at: <https://www.premiumtimesng.com/news/top-news/469110-timeline-seven-years-after-chibok-mass-kidnapping-of-students-becoming-norm-in-nigeria.html> [Accessed 1 August 2021].
[11] France24 (2020) 'Boko Haram Claims Kidnapping of Hundreds of Nigerian Schoolboys', Available at: <https://www.france24.com/en/africa/20201215-boko-haram-claims-kidnapping-of-hundreds-of-nigerian-schoolboys> [Accessed 13 January 2022].
[12] Odunsi, Wale (2022) 'Nigerian Military Arrests Security Agents Taking Ransom to Bandits in Kaduna', Daily Post, 12 April, Available at: <https://dailypost.ng/2022/04/12/nigerian-military-arrests-security-agents-taking-ransom-to-bandits-in-kaduna; Owolabi, Femi (2021) 'Seven Security Operatives Arrested for "Supplying" Arms, Military Kits to Bandits in Zamfara', The Cable, 15 April, Available at: <https://www.thecable.ng/seven-security-operatives-arrested-for-supplying-arms-military-kits-to-bandits-in-zamfara> [Accessed 4 June 2022].
[13] BBC News (2021) 'Nigeria's Zamfara School Abduction: More than 300 Nigerian Girls Missing', 26 February, Available at: <https://www.bbc.com/news/world-africa-56188727> [Accessed 10 January 2022].
[14] Daily Times (2019) 'North West Govs Grant Amnesty to Cattle Rustlers, Others', 2 August, Available at: <https://dailytimes.ng/2019/08/02/north-west-govs-grant-amnesty-to-cattle-rustlers-others> [Accessed 10 January 2022].
[15] Alagbe, Jesusegun (2021) 'After Amnesty, Zamfara Bandit Leader Returned to Crime, Killed', Punch, 2 May, Available at: <https://punchng.com/after-amnesty-zamfara-bandit-leader-returned-to-crime-killed> [Accessed 4 February 2022].
[16] Punch Editorial Board (2019) 'Zamfara: Government Deal with Bandits, Wrong', 7 August, Available at: <https://punchng.com/zamfara-government-deal-with-bandits-wrong> [Accessed 3 February 2022].
[17] Sabiu, Muhammad (2020) 'Katsina Again: 80 Islamic School Students Abducted, Rescued by Security Forces', Nigerian Tribune, 20 December, Available at: <https://tribuneonlineng.com/katsina-again-80-islamic-school-students-abducted-rescued-by-security-forces> [Accessed 1 December 2021].
[18] Onuoha, Freedom and Ugwueze, Micheal (2020) 'Special Operations Forces, Counter Terrorism and Counter Insurgency Operations in the Lake Chad Area: The Nigerian Experience', in Usman, Tar and Bashir, Bala (eds), New Architecture of Regional Security in Africa: Perspectives on Counterterrorism and Counterinsurgency in the Lake Chad Basin,London: Lexington Books, pp. 267-293.
[19] Isenyo, Godwin (2022) 'Two Kaduna Baptist School Students Released After 189 Days with Bandits', Punch, 3 January, Available at: <https://punchng.com/two-kaduna-baptist-school-students-released-after-189-days-with-bandits> [Accessed 1 March 2022].
[20] Tukur, Sani and Agency Report (2017) 'Red Cross Confirms Role in Chibok Girls Release', Premium Times, 7 May, Available at: <https://www.premiumtimesng.com/news/headlines/230681-red-cross-explains-role-securing-release-82-chibok-girls.html> [Accessed 10 June 2021].
[21] Nwachukwu, John (2020) 'Kankara: Miyetti Allah Negotiated Release of 333 Schoolboys not Boko Haram – Gov Matawalle', Daily Post, 18 December, Available at: <https://dailypost.ng/2020/12/18/kankara-miyetti-allah-negotiated-release-of-333-schoolboys-not-boko-haram-gov-matawalle> [Accessed 1 December 2021].
[22] CGTN Africa (2021) 'Buhari Says He "Will Not Succumb to Blackmail" After Mass Kidnapping', 27 February, Available at: <https://africa.cgtn.com/2021/02/27/buhari-says-he-will-not-succumb-to-blackmail-after-mass-kidnapping> [Accessed 3 February 2022].
[23] Ross, Micheal (2003) 'The Natural Resource Curse: How Wealth Can Make You Poor', in Banon, Ian and Collier, Paul (eds), Natural Resources and Violent Conflict: Options and Actions,Washington DC: The World Bank, pp. 17–42.
[24] Ibid.
[25] Obiezu, Timothy (2021) 'Nigerian State Closes Schools after 140 Students Kidnapped', VOA, 6 July, Available at: <https://www.voanews.com/a/africa_nigerian-state-closes-schools-after-140-students-kidnapped/6207902.html> [Accessed on 23 January 2022].
[26] Obiezu, Timothy (2018) 'UN: In Nigeria More Than 13 Million School-age Children Out of School', VOA, 11 December, Available at: <https://www.voanews.com/a/nigeria-boko-haram/4695489.html> [Accessed 1 December 2021].
[27] Ojetunde, Damilola (2017) 'Estimated Out-of-school Children Population', Available at: <https://datawrapper.dwcdn.net/C7Nj6/1> [Accessed 12 January 2021].