Introduction
The Joint Force of the Group of Five of the Sahel (Force Conjointe du G5 Sahel or FC-G5S) is the latest initiative by African member states to reduce the threat of terrorism in the Sahel, a region that is often framed as an arc of instability. The FC-G5S – which includes Mali, Burkina Faso, Niger, Mauritania and Chad – was authorised by the African Union (AU) Peace and Security Council (PSC) on 13 April 2017 for a 12-month period, and was later – on 20 June 2017 – welcomed by the United Nations Security Council (UNSC).1 It was reauthorised by the AU PSC for a 12-month period on 12 April 2018.2
This article focuses on the security pillar of the G5 Sahel, by examining the FC-G5S mandate to combat terrorism in the Sahel. After a brief background, the article provides an overview of the main jihadist protagonists in the Sahel, demonstrating that some of these groups emerge and thrive, due to distinctly local, societal problems, and should not only be viewed through the prism of terrorism. The article then examines the FC-G5S counterterrorism (CT) strategy and the conceptualisation and configuration of the force itself, and argues that currently there is a danger of advancing a security-first stabilisation strategy through relying on military-led CT operations to contain and deter the threat of terrorist groups. This approach depoliticises these groups, and risks reducing emphasis on the local, sociopolitical and economic factors that have enabled violent extremism to take root in the first place.
Background
The FC-G5S is the military force that falls under the auspices of the Group of Five of the Sahel, a subregional organisation formed in February 2014 to bolster cooperation around development and to unify collective action against common threats such as terrorism and organised crime. It can be categorised as what the AU calls "ad hoc security initiatives"3 – coalitions that are authorised but not mandated by the PSC, and which create security pacts to enable their forces to conduct cross-border operations to target common threats.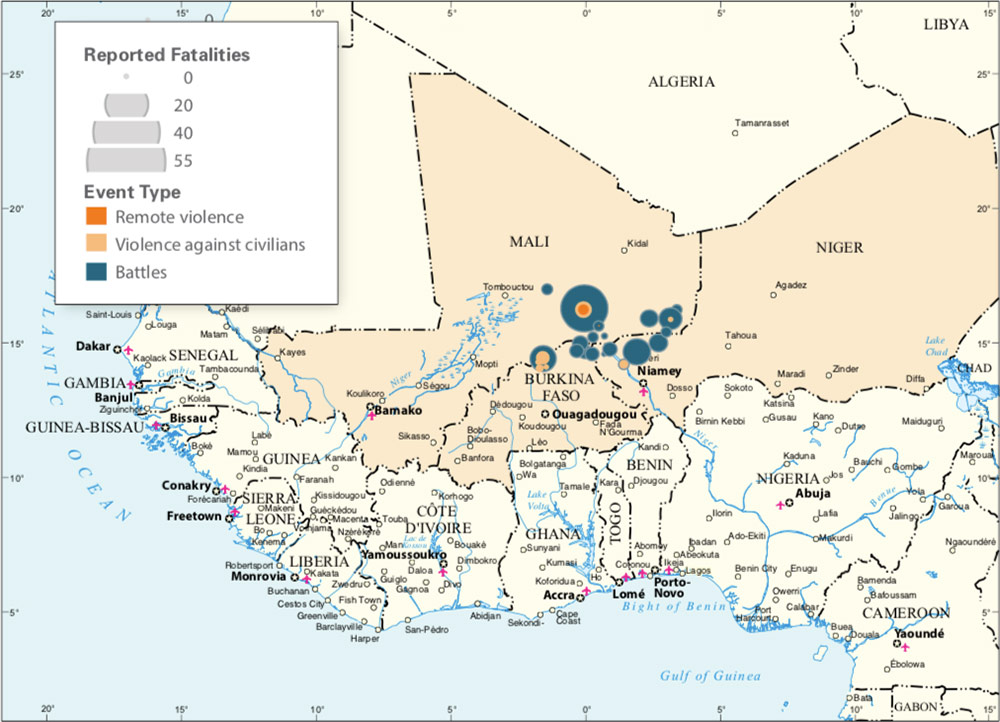 The G5 Sahel heads of state announced the creation of the force during a summit on 6 February 2017. Militants had demonstrated their transnational capacity by launching attacks against Nigerien and Burkinabe security forces, demonstrating the need for a more robust transnational response. With extensive political support from France, the force was subsequently launched in Bamako on 2 July 2017. The force headquarters, which are now operationalised, are located in Sevaré, Mopti, central Mali. At the last donor conference, held in Brussels in December 2017, pledges for the force accrued to a total of €414 million, exceeding the original target by €100 million.4
By consolidating existing cross-border operations (18 were already conducted before its official launch),5 the new arrangement formally enables hot pursuit operations on neighbouring soil, up to 50 km on each side of the border. The joint force will implement a centralised joint command and communication structure,6 with a rotating force commander who is responsible for shaping strategy and operations from Sevaré. Three sector command posts will be set up in the Central Sector (Niamey, Niger), Eastern Sector (Wour, Chad) and Western Sector (N'beiket, Mauritania), with seven cross-sectoral battalion command posts spread over its area of operations.7 These consist of the Central Sector (Mali–Burkina Faso–Niger borders), the Eastern Sector (Niger–Chad border) and the Western Sector (Mali–Mauritania border). The force's initial operations prioritise the Central Sector, also known as the Liptako-Gourma region – a 370 000 km² area straddling Mali, Burkina Faso and Niger, which has seen escalating levels of violence since 2015.8
Jihadist Groups in the Sahel
Jihadist groups in the Sahel have increased both in number and scope in recent years. Mali is often considered to be the epicentre of violence, following the Islamist occupation of three of Mali's northern regions (Timbuktu, Gao and Kidal).10 While the French Operation Serval succeeded in containing the advance of the Islamist coalition, its protagonists retreated and regrouped in the rural hinterlands. The deployment of the United Nations Multidimensional Integrated Stabilization Mission in Mali (MINUSMA) focused on maintaining minimal levels of security in the north while supporting the implementation of the Algiers Peace Agreement, whereas the French counterterror force, Barkhane, shifted focus to fighting Boko Haram.11
Since 2015, insecurity has been escalating in Mali's central regions of Mopti and Ségou. A string of lethal, small-scale attacks was carried out against the Malian state, MINUSMA and Barkhane.12 The main jihadist actor operating in this area is known as the Katibat Macina or Macina Liberation Front,13 led by Fulani preacher, Hamadoun Kouffa. The group is considered to be an offshoot of Ansar Dine and is also a member of the broader umbrella organisation, Group for the Support of Islam and Muslims (known by its Arabic acronym, JNIM). However, it has its own distinct agenda, designed to mobilise Niger Delta communities.
The Katibat Macina has managed to create broad-based appeal, initially among the Fulani nomadic pastoralist community, because of its ability to exploit longstanding grievances against the Malian state and its local agents, its instrumentalisation of existing conflicts over resources between communities, and its promises to remove rigid social hierarchies that are perceived as oppressive by some social groups.14 While the Katibat Macina has led a campaign of intimidation, punishing or killing non-collaborators, it has also tried to introduce minimal governance provisions that respond to community needs, such as the delivery of justice. The group is entrenched in large swathes of Mopti's rural zones, and has introduced Sharia law in many localities.
Violent activities perpetrated by jihadist insurgent groups have also emerged in Burkina Faso's northern provinces of Soum, Loroum and Yatenga, and Niger's south-western regions of Tillaberi and Tahoua. In Burkina Faso, the jihadist insurgency spearheaded by Ansaroul Islam is a product of the broader discontent within the social order of the north, and should therefore not be interpreted as only a spillover from central Mali.15 Ansaroul Islam, led by Malam Dicko (a close friend of Kouffa), has had appeal in Soum province,16 because it channelled the grievances of the lower social classes, who were frustrated about rigid social stratification. It also tapped into the sense of abandonment and lack of confidence in Burkinabe state institutions.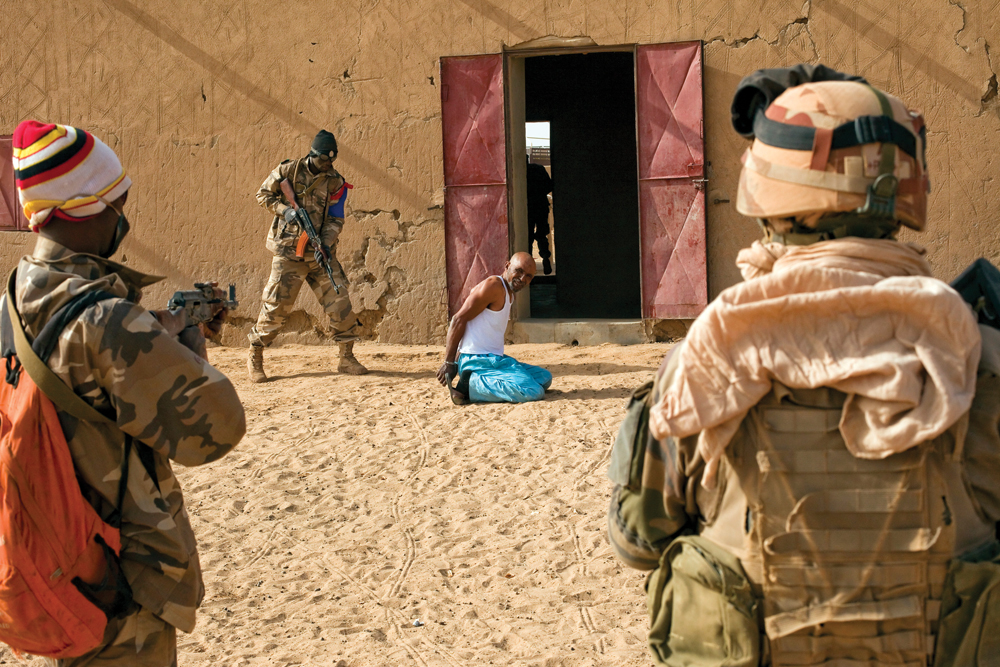 In Niger, several attacks have been perpetrated along its border with Mali since early 2017 by the Islamic State in the Greater Sahara (ISGS) – a Da'esh offshoot led by Abou Walid Al Sahraoui.17 The Institute for Security Studies found that jihadist insurgent groups operating on the Niger–Mali border (such as ISGS and Ansar Dine) have recruited among the Fulani community there, mainly by exploiting longstanding tensions between the Fulani (Tollèbè) of Niger and the Touareg (Daoussahaq) of Mali.18 Analysts argue that the Islamist merger in March 2017 into JNIM – which includes Ansar Dine, Al-Mourabitoun, the Katibat Macina and Al-Qaeda in the Islamic Maghreb (AQIM) – is a strategic move to create a common, united front against the FC-G5S. Since the merger, attacks in the Liptako-Gourma area have become more sophisticated and frequent.19
Yet, these jihadist groups have not emerged in a vacuum – their ability to mobilise local support stems from much deeper, systemic social, political and economic problems. These countries all face considerable development challenges: on the Human Development Index, Niger scores 187/188; Burkina Faso scores 185/188 and Mali scores 175/188.20 Jihadist groups have taken root in largely rural, marginalised areas marked by governance crises, and which to varying degrees suffer from high levels of unemployment, poor public service provision, and low education and literacy levels. Each region has also historically experienced intercommunal and intracommunal conflicts. The fact that the jihadists can present themselves as protectors against the state's indiscriminate practices, as pious saviours against corruption, and emancipatory social liberators in socially stratified societies, renders them appealing to vulnerable and disadvantaged groups.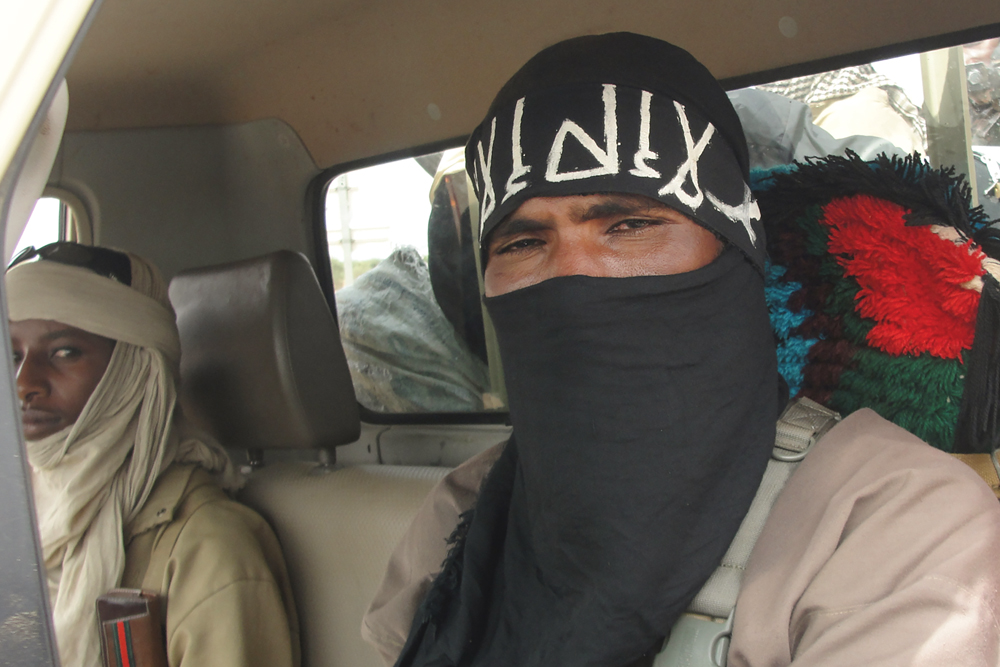 The Counterterror Response
The mandate of the force is to "(1) combat terrorism, drug trafficking and human trafficking in order to create a secure environment by eradicating the actions of terrorist armed groups and other organized criminal groups; (2) contribute to the restoration of state authority and the return of displaced persons and refugees; (3) facilitate humanitarian operations and the delivery of aid to the affected populations and (4) contribute to the implementation of development actions in the space of the G5 Sahel".21
While the joint force does not have a common doctrine that elaborates a theory of change underpinning its operations, it has developed a concept of operations (CONOPs), approved by the PSC on 13 April 2017.22 This mandate contains all the elements of a stabilisation strategy – which combines CT with softer (traditionally civilian-led) tasks, such as facilitating humanitarian assistance and development. Several interlocutors conceded that these will not be the priority, and that the joint force is a purely military tool that will focus on CT. Other aspects of the mandate will be the responsibility of actors like national governments or MINUSMA. The current priority is to "detect and neutralise all terrorist groups of concern",23 as well as to prevent trafficking and disrupt supply chains to cut off the groups from their sources of funding. Specific operations will seek to isolate terrorist and criminal groups to deny them of their support base, neutralise these groups, protect the local population and control the area. The joint force also aims to make the national military presence on the border posts more permanent, by sedentarising existing battalions. 24 Eventually, it is foreseen that a "fully-fledged force" could operate in the Sahel, although details of the scope, scale, command and control, and objectives are still in development.25
The force is largely military heavy: it has been scaled up to 10 000 troops, as well as a 105-strong police force.26 The military focus can, in part, be attributed to France's eventual exit strategy from the region, which aims to transfer the task of fighting terrorism and organised crime from Barkhane to the G5 Sahel states. The force's advocates argue that if it manages to patrol the borders with a more permanent security presence, it is possible that such a projection of force could tilt the balance of power against these groups on the ground, reduce their cross-border movements, and disrupt the illegal organised crime and trafficking networks that fund them. While this strategy may contain these groups geographically and cut off their funding sources, it is unlikely to address the root causes of violent extremist mobilisation. This is not to negate the role of the military, which is, of course, important in providing security guarantees and protection to the local population, who face violence and abuse from some of these jihadist groups. However, the current CT approach does not recognise the multifaceted strategies these groups use to mobilise civilians, and which often involve legitimacy-building tactics such as providing employment, local justice and basic services.
The role of the police can be scaled up, as experience from other situations reveals that they are often more effective in gathering intelligence and engaging in law-enforcement at the community level. It is envisaged that the force will have a modest civilian unit, though it is likely that accruing necessary civilian personnel will take time. Plans are underway to include 19 civilian personnel, of whom 17 will work in logistics. Civilian personnel that could make the CT approach more multidimensional will, however, report directly to the force commander – as opposed to a civilian head of mission – meaning that the CT strategy will be driven by a military lens.27 In Somalia, lessons learnt revealed the importance of complementing CT operations with the reinstallation of civilian administration and the provision of "peace dividends". The failure to do this resulted in short-lived military gains, leading to the reoccupation of recovered areas by Al-Shabaab once forces left.28
The current conceptualisation and configuration of the joint force risks repeating the mistakes of other African CT operations, which have, for a long time, been criticised for their military-centric focus.29 Preventing violent extremist mobilisation will require the joint force to provide a much more attractive offer of security, or public services, to win hearts and minds – something that is currently not evident in its strategy, and which it will not have the capacity to do in its current military-heavy configuration.
A Counterterror Strategy without a Target?
The CT approach is problematic in that there is no clear indication of which terrorist armed groups (TAGs) the force will target or prioritise. Contrary to the multinational joint task force (MNJTF), which fights one, relatively unitary enemy, the FC-G5S confronts a region with dozens of armed groups.30 The CONOPs lists the following groups in the Sahelo-Sahara band: ISGS, Boko Haram, Ansaroul Islam, the Katibat of Gourma, JNIM, AQIM, Ansar Dine and the Katibat Macina. Jihadist insurgents are not easily identifiable and may be confused with bandits, self-defence militias or anyone who fits the profile and carries a gun. The groups vacillate from hiding in the bush or the forest, between training camps and combat operations, to living among communities. They often have several identities, allegiances and alliances, resulting in a highly complex, fluid security environment. It has already been difficult for the Malian army to distinguish between terrorists and civilians, as well as terrorists from compliant groups – which are signatories to the Peace Accord. In the FC-G5S's first operation (Hawbi), members of the Coordination of Azawad Movements (CMA) – a compliant group – were wrongly arrested.31
The categorisation of jihadist groups as TAGs effectively lumps together a range of disparate actors with different agendas and depoliticises their aims – some of which actually respond to local social and political grievances.
Preserving Relations with Communities
Building an effective community engagement strategy should be high on the priority list of the joint force going forward. The national militaries that comprise the joint force have a poor track record in upholding human rights during their military campaigns.32 Given that jihadist insurgents emerge from and live within these communities, it will be extremely challenging to adhere rigorously to the principle of distinction in practice. Civilians living under jihadist control often perform auxiliary functions (usually for economic incentives or coercion) such as being informants, or providing food and shelter to combatants. This blurs the lines between the jihadist insurgents and civilians, and consequently might wrongly penalise civilians living in areas where jihadists are active. There is therefore a likelihood that the mission will incur civilian casualties or damage to property – even if unintentionally – which can quickly turn local people against the mission. For example, it was the brutal crackdown of the Malian Armed Forces (FAMA) on the Peulh pastoralist community since 2015 that swelled the ranks of the Katibat Macina, demonstrating how abusive CT campaigns, which do not respect human rights or due judicial processes, can catalyse radicalisation.
To offset these potential negative consequences, it was agreed that each contributing country will provide police to make up the force privotale intended to monitor troop behaviour by ensuring compliance with international humanitarian law (IHL) and international human rights law (IHRL), as well as through conducting investigations.33 While this is encouraging, given that the police personnel will be drawn from the same country as the military personnel, it is unlikely that this will lead to independent reporting in practice. Recognising the need to build trust and confidence with local populations, the joint force will develop a framework for compliance with IHL and IHRL (under development, at the time of writing).
The potential for a security-first approach to generate more insecurity has already become evident, following Operation Pagnali. It has been reported that approximately 2 000 Burkinabe refugees have arrived in the commune of Gossi in Timbuktu, Mali, fleeing as a result of military activities undertaken by the joint force.34
Security First, but Not Only
Originally, the subregional arrangement of the G5 Sahel was a development instrument to fast-track infrastructure and development in the shared border regions. However, as insecurity in the Liptako-Gourma area grew, development priorities became increasingly sidelined and the need for a security response became more pronounced.35

Nevertheless, the G5 Sahel and its partners have repeatedly underlined the need to complement military initiatives with long-term development efforts to address the roots of insecurity. In addition to the €100 million pledged to the joint force, the European Union (EU) will also provide US$8 billion in development support to the G5 Sahel countries over six years. In February 2018, the founding members of the Alliance for the Sahel announced the implementation of more than 500 projects between 2018 and 2022, for a total amount of €6 billion.36 The focus will be on six areas: youth employment, rural development and food security, energy and climate, governance, decentralisation and access to basic services, and security – which build on nationally defined priorities, including the Priority Investment Programme (PIP) developed by the G5 Sahel. These focus areas address some of the structural causes of insecurity, at least on a macro level.
At the national level, G5 Sahel governments have their own plans that focus on the Liptako-Gourma joint areas. Burkina Faso developed an emergency development programme for the northern Sahel (an administrative region in the country's north) for 2017–2020, which focuses on infrastructure, poverty reduction, livestock breeding, justice provision and fighting corruption.37 There is also the Programme Gestion Intégrée des Espaces Frontaliers au Burkina Faso (ProGEF), which focuses on border management, capacity-building and socio-economic development of communities living in the border areas.38 There do not appear to be any specific plans for Niger's western regions, other than the Appui à la Justice, Sécurité et à la Gestion des Frontières au Niger (AJUSEN), with a budget of €30 million, focusing on security, justice, migration and border management, supported by the EU.39
Finally, in Mali, there are now multiple and overlapping plans for the central regions. There is the government-led Integrated Security Plan for the Central Regions (Plan de Sécurisation Intégrée des Régions du Centre, or PSIRC). Other programmes, such as the EU-funded Programme d'Appui au Renforcement de la Sécurité dans les régions de Mopti et de Gao et à la gestion des zones frontalières (PARSEC), focus on re-establishing adequate security conditions in the centre and along the borders with Niger and Burkina Faso, including strengthening the capacities of its internal security forces.40
With these multiple and potentially overlapping plans, it is essential that efforts are coordinated towards one common, comprehensive stabilisation goal, which systematically takes into the account the perspective of the communities living there.
Conclusion
The FC-G5S risks following the global trend of security-first stabilisation initiatives that have risen to prominence in a context of heightened militarism.41 While establishing firmer border control and enhanced intelligence-sharing between G5 Sahel states are crucial, a narrow conceptualisation of security as the reduction of the threat posed by terrorist groups risks resulting in a reliance on the military as a tool, and CT as a policy response, to problems that are fundamentally related to governance, state-society and tense intra-societal relations. Using violence to counter violence has had mixed results at best, and counterproductive results at worst – partially because it is applied in the context of an "untangible web of human relations" and can consequently give rise to unpredictable responses.42 Removing the categorisation of jihadist insurgents as terrorists only, and understanding their multifaceted identities – some as legitimate social/political actors and local protectors to communities – would open up more policy responses, including dialogue, and traditional, bottom-up conflict resolution. The multiple large-scale efforts to address socio-economic and political needs in the Sahel should also consider how to stream their interventions towards common outcomes in targeted areas, and could benefit from lessons learnt in other contexts. For example, in eastern Democratic Republic of the Congo, donors, the UN peacekeeping mission, the government and local communities devised a new strategy for stabilisation using system-wide community engagement and democratic dialogue to encourage demand-driven programming, which has yielded some positive results. Finally, addressing human rights, compliance and accountability is a challenging issue, with no quick fix. But it is certain that if tactical blunders are made at the cost of the civilian population, this CT force, like others in Africa, will suffer strategic consequences and success will be compromised.
Endnotes
United Nations (2017) S/RES/2359. New York: United Nations.
African Union (2018) Peace and Security Council Communiqué. 759th Meeting. PSC/PR/COMM (DCCLIX). Addis Ababa: African Union.
African Union Commission, Peace and Security Department (2017) Roundtable on Regional Coalitions and Implications for the APSA and the ASF. Addis Ababa, Ethiopia, 10 August.
Lebovich, Andrew (2018) 'G5 Sahel: Much Done, More to Do'. Commentary, 8 March, European Council on Foreign Relations, Available at: <https://www.ecfr.eu/article/commentary_g5_sahel_much_done_more_to_do> [Accessed 26 April 2018]. The European Union doubled its pledged support to €100 million, Saudi Arabia committed €85 million and the United Arab Emirates €25.5 million.
Official (2017) Interview with the author in November. Bamako, Mali.
Official (2018a) Interview with the author in January. Bamako, Mali.
For an elaborate overview of the force structure, see Gasinksa, Karolina and Bohman, Elias (2017) Joint Force of the G5 Sahel: A Review of Multiple Challenges. FOI: Stockholm, pp. 16–17.
The Liptako-Gourma region includes – in whole or in part – 19 provinces of Burkina Faso, four administrative regions of Mali, and two departments and an urban community in Niger. See Armed Conflict Location and Events Dataset (ACLED) (2017) 'Insecurity in the Liptako-Gourma Region', Available at: <https://www.crisis.acleddata.com/insecurity-in-the-liptako-gourma-region/> [Accessed 26 April 2018].
Ibid.
The main actors of this takeover were Al Qaeda in the Islamic Maghreb (AQIM), with roots in Algeria; the Movement for Divine Unity and Jihad in West Africa (MUJAO); and Ansar Dine, a jihadist group with a largely national agenda led by Iyad Ag Ghali.
Senior security source (2018) Interview with the author in January. Bamako, Mali.
The first of these attacks was at the army base in Nampala on 5 January 2015. For a full overview of the attacks, see Thiam, Adam (2017) Centre du Mali: Enjeux et dangers d'une crise négliée. Bamako: Centre for Humanitarian Dialogue.
This is the term that has been given to the group by researchers, consultants, government officials, non-governmental organisations and the media. Individuals who are part of the community in which the group operates refer to them as "Kouffa's men" or "men of the bush".
See Rupesinghe, Natasja and Bøås, Morten (forthcoming 2018) Local Drivers of Violent Extremism in Central Mali. United Nations Development Programme (UNDP) Policy Brief. Addis Ababa: UNDP.
International Crisis Group (ICG) (2018) 'The Sahel: Promoting Political alongside Military Action', Available at: <https://www.crisisgroup.org/africa/west-africa/mali/sahel-promoting-political-alongside-military-action>
There is currently disagreement as to whether he is still alive. It is thought he was killed during military operations in the Spring of 2017. See International Crisis Group (ICG) (2017a) The Social Roots of Burkina Faso's Jihadist Insurgency. Africa Report No. 254. Brussels: ICG.
Ibid.
Institute for Security Studies (2017) 'Liptako-Gourma: Epicentre of the Sahel Crisis?', Available at: <https://reliefweb.int/report/mali/liptako-gourma-epicentre-sahel-crisis> [Accessed 24 April 2018].
ACLED (2017) 'Mali: March 2017 Update', Available at: <https://www.crisis.acleddata.com/mali-march-2017-update/> [Accessed 24 April 2018].
UNDP (2018a) 'Human Development Reports: Burkina Faso', Available at: <http://hdr.undp.org/en/countries/profiles/BFA>; UNDP (2018b) 'Human Development Reports: Mali', Available at: <http://hdr.undp.org/en/countries/profiles/MLI>; and UNDP (2018c) 'Human Development Reports: Niger', Available at: <http://hdr.undp.org/en/countries/profiles/NER>.
European Union (2017) Annex 2 of the Commission Decision of 1.8.2017 amending Commission Decision C(2017) 2579 of 27 April 2017 on the 2017-2018 Action Programme of the African Peace Facility in Favour of the African Union Commission and Allocating Funds of the African Peace Facility from the 11th European Development Fund for the support to the G5 Sahel Joint Force. Brussels: European Union, p. 2.
African Union (2017) Peace and Security Council Communiqué. 679th Meeting. PSC/PR/COMM(DCLXXIX). Addis Ababa: African Union.
Official (2018a) op. cit.
European Union (2017) op. cit.
Gasinksa, Karolina and Bohman, Elias (2017) op. cit., p. 20.
Ibid., p. 19.
Official (2018b) Interview with the author. Addis Ababa, Ethiopia.
African Union (2017) Report on the Ten-year AMISOM Lessons Learned Conference, 9-10 March 2017, Nairobi, Kenya. Addis Ababa: African Union.
Solomon, Hussein (2013) The African State and the Failure of US Counter-terrorism Initiatives in Africa: The Cases of Nigeria and Mali. South African Journal of International Affairs, 20 (3), pp. 427–445.
ICG (2017b) Finding the Right Role for the G5 Sahel Joint Force. Africa Report No. 258. Brussels: ICG.
Ibid.
Human Rights Watch (2018) 'Mali: Unchecked Abuses in Military Operations: Mali, Burkina Faso Troops Commit Killings, "Disappearances", and Torture', Available at: <https://www.hrw.org/news/2017/09/08/mali-unchecked-abuses-military-operations> [Accessed 24 April 2018].
Official (2018a) op. cit.
Anonymous well-informed source (2018) Interview with the author in January. Bamako, Mali. See also Lebovich, Andrew (2018) op. cit.
Official (2018a) op. cit.
European Commission (2018) 'International High-level Conference on the Sahel – Communiqué by the Co-chairs', Available at: <http://europa.eu/rapid/press-release_STATEMENT-18-1166_en.htm>
ICG (2017a) op. cit.
European Union (2017) op. cit., p. 9.
Ibid.
Ibid.
Abrahamsen, Rita (2018) Return of the Generals? Global Militarism in Africa from the Cold War to the Present. Security Dialogue. 49 (1-2), pp. 19–31.
Jackson, Richard (2017) CTS, Counterterrorism and Non-violence. Critical Studies on Terrorism, 10 (2), pp. 357–369.