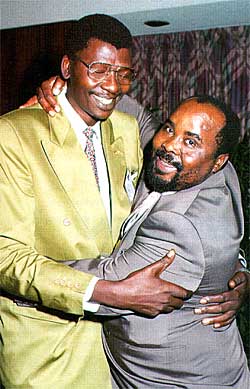 In 1993 the inaugural Africa Peace Award was given to the community of Mpumalanga, KwaZulu-Natal, for the brave and significant contribution they made to peace, in their efforts of turning one of the most violent areas in South Africa into a haven of relative peace.
Partnership
This community is a shining example of partnership for peace between ordinary people determined to place their future hopes on the negotiation table and step out of the battlefield.
The Africa Peace Award was given in recognition of the courage taken to stand against prejudice, poverty and protracted violence – for giving us hope in a new South Africa.
Profile
Situated 60km west of Durban, Mpumalanga is a relatively underdeveloped area serving the industrial complex of Hammarsdale. In 1986 it became embroiled in the violence then fanning across South Africa, gaining the title 'Little Beirut'.
Peace
The violence continued unabated for four years, but in 1990 a fragile peace emerged when leaders of the rival political parties, namely the ANC and the IFP, started working together to stem the tide of killing leading to the birth of a new culture of tolerance and cooperation.