President Ernest Bai Koroma and the people of Sierra Leone were honoured at the 7th Africa Peace Award celebration hosted by the African Centre for the Constructive Resolution of Disputes (ACCORD) in Durban, South Africa, on 30 April.
Presenting the 7th Africa Peace Award to President Koroma, Mrs Graca Machel, Chairperson of the ACCORD Board of Trustees outlined why the nation had been selected for the award and highlighted their achievements in moving from civil war to peace. "We say well done Sierra Leone because you proved it is possible to bring peace in our continent, because you were able to become a shining example which we believe will inspire other countries, so that in Africa peace will come to rest, to stay," said Mrs Machel.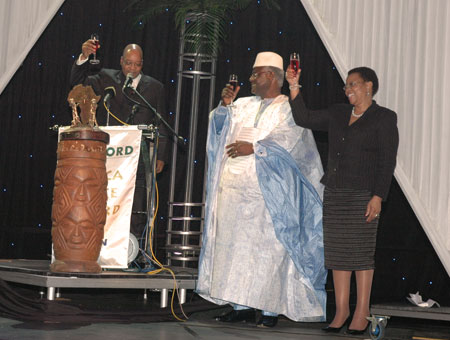 In accepting the esteemed award on behalf of his countrymen, President Koroma congratulated all Sierra Leoneans for "the resilience, candor and dedicated commitment to the attainment of lasting peace and democracy in our country". He also thanked South Africa for the continuous support towards sustaining peace and development. "Our expression of gratitude will not be complete if I fail to pay a special tribute to the African Centre for the Constructive Resolution of Disputes (ACCORD) for its foresight in conceiving and actualising this laudable venture aimed at promoting peace, democracy, respect for human rights and the rule of law in our continent," said President Koroma.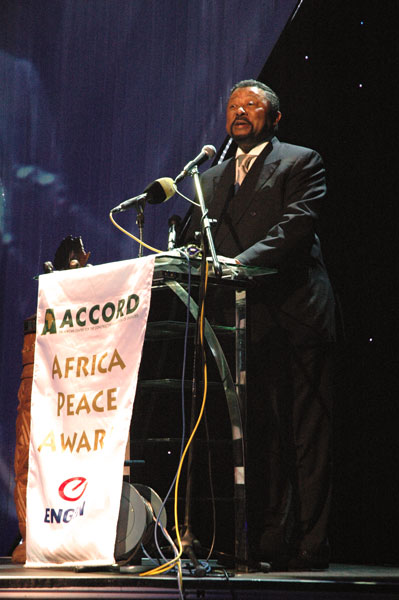 The Chairperson of the African Union Commission, Dr Jean Ping praised the people of Sierra Leone. "We are all aware of the history of Sierra Leone; what it has achieved in conflict resolution, peace-building and development in a short space of time is remarkable, and exemplary. We salute them! Your experience shall remain as an inspiration to all Africans that, no matter what our challenges are; peace is achievable," said Jean Ping.
Closing the ceremony, President Jacob Zuma of South Africa gave a celebratory toast to the West African nation. "Allow me to congratulate the people of Sierra Leone on their solid achievements in putting their country on a trajectory of peace, security and development. Allow me to also recommit the Government and People of South Africa in a partnership with the Government and People of Sierra Leone, to guarantee a better life for all our people."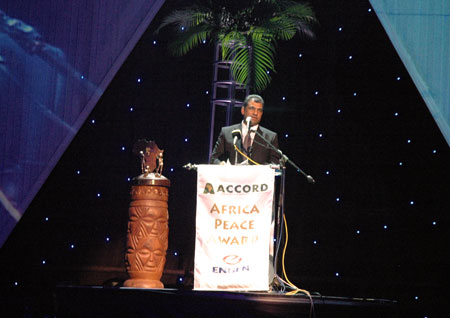 Addressing the more than 800 distinguished guests, Mr Vasu Gounden, founder and Executive Director of ACCORD articulated the institute's global vision and reflected on its 18 years work on the continent. "ACCORD wants to ensure that Africa will not only be remembered for her conflicts but also for having developed knowledge that will assist the rest of the world to resolve its own conflicts. In the face of these challenges ACCORD will continue to work to make peace happen in the belief that one day we will all live in Peace and harmony in Africa and the world," said Gounden.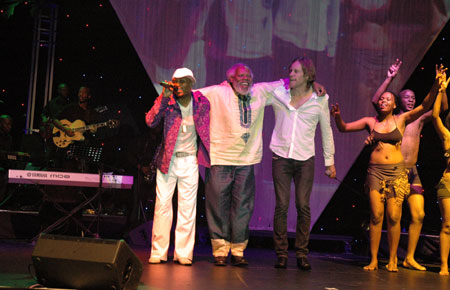 The galaxy of entertainers included internationally acclaimed Jamaican reggae Superstar Ibo Cooper who thrilled the guests with a masterful performance. Ibo composed a song 'Peace, Africa, Peace' for the occasion with local artist Sandy B on vocals. Ian Henderson, an ACCORD associate and South African musician, performed a tribute song he wrote for Sierra Leone.