Introduction
Since International Youth Day was celebrated on 12 August 2020, it is a good time to take stock of the youth and their role in peacebuilding and peace processes in Africa. With the youth, peace and security agenda gaining ground in recent years, this is an opportune time for youth-focused organisations to strengthen their work on youth and peacebuilding, while contributing to the ongoing discourse.
The youth, peace and security agenda is currently backed by three United Nations Security Council (UNSC) resolutions adopted between 2015 and 2020, namely UNSC Resolutions 2250 (2015), 2419 (2018) and 2535 (2020). Among other priorities, the resolutions emphasise the importance of youth as agents of change in the maintenance and promotion of peace and security;[1] reiterate the need for stakeholders to take young people's views into account and facilitate their equal and full participation in peace and decision-making processes at all levels; and recognise the positive role young people can play in negotiating and implementing peace agreements and in preventing and resolving conflict.[2] The third resolution, adopted in July 2020, also establishes a regular biennial reporting requirement on youth, peace and security by the United Nations (UN) Secretary-General, which is a great step forward in mainstreaming the youth, peace and security agenda into the work of the UN – especially since youth engagement in peacebuilding and peace processes is ad hoc and intermittent. The reporting requirement will therefore provide a snapshot of ongoing processes and how engagement can be enhanced and deepened in future processes.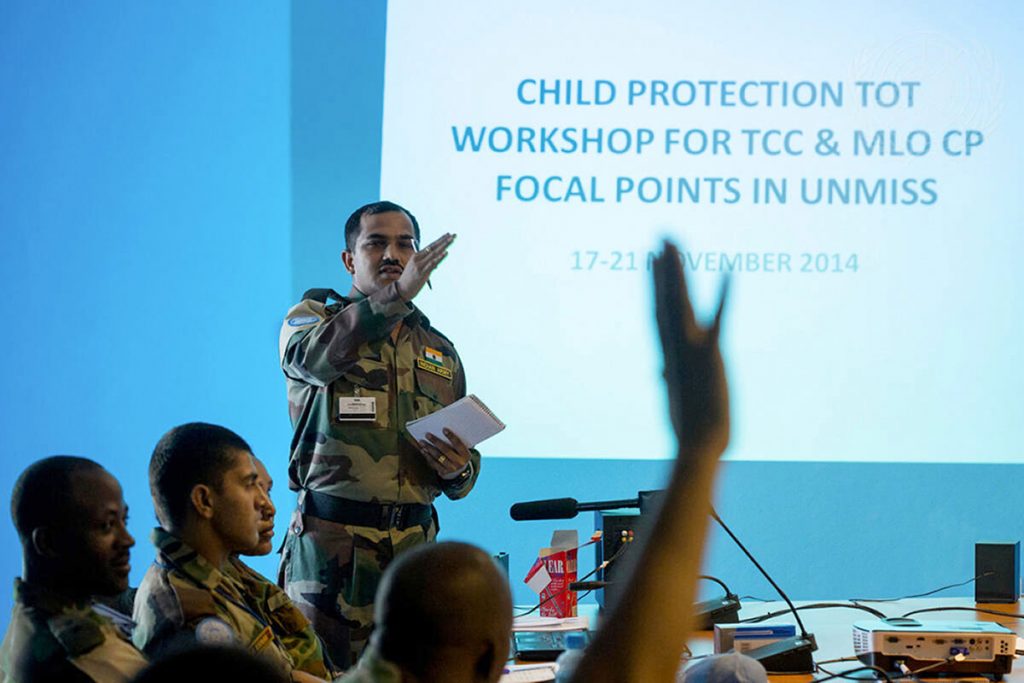 The Protecting Children in Armed Conflict in Sub-Saharan Africa programme, implemented by Save the Children, is now in its third phase and includes a component on youth and peacebuilding. Its main objective is to enhance the meaningful engagement of youth in peacebuilding processes through organised groups, as well as to advocate for well-established platforms where youth can articulate their needs and wishes. The programme has run for two phases: the first phase ran from 2013 to 2016, and the second phase from 2017 to 2019. The first phase of the programme was mainly focused on offering training on child protection to troop-contributing countries that deployed troops to African Union (AU)-mandated peace support operations. Since then, the programme has incorporated other components of child protection for children living in situations of armed conflict, such as accountability for violations committed against children, designing and delivering advocacy strategies to various stakeholders, and child participation. As defined by World Vision International, child participation is one of the core principles of the Convention on the Rights of the Child (CRC), which asserts that children and young people have the right to freely express their views and that there is an obligation to listen to children's views and to facilitate their participation in all matters affecting them within their families, schools, local communities, public services, institutions, government policies and judicial procedures.[3] The right of children to express themselves and participate in matters affecting them is also enshrined in the African Charter on the Rights and Welfare of the Child (ACRWC), specifically Articles 4 and 7.[4] The youth and peacebuilding work was birthed from the child participation work carried out from 2017 to 2019, incorporating research, advocacy and campaign initiatives through engaging with children, where a gap was witnessed in the transition from childhood to adulthood. How do children successfully transition to adulthood while still being empowered to fight for their rights? How do we ensure that the rights of children and youth are advocated for, without leaving one group behind or focusing on one group at the expense of another?
From the consultations and collaborative research of the Protecting Children in Conflict programme conducted with children in Mali, Somalia, South Sudan and Sudan in 2018 and 2019 as part of the child participation work, one thing was clear from the children who shared their experiences: "We want peace, we want it now. And we want to be part of the story, the process, the struggle to achieving peace."[5] But as the children get older and they have to fend for themselves, they are not supported to continue with their work and therefore fall into the risk of recruitment into armed groups and lack of employment opportunities, as evidenced by children and youth who experience lost years of schooling and poor-quality education in conflict-affected areas. This impedes young people's chances of achieving economic independence, as seen in West Africa and Central Africa.[6] This is compounded by the fact that young people's views are frequently left out of the conversations on conflict resolution and peacebuilding. Young persons and children affected by armed conflict struggle to influence the decisions that have impact and influence on their lives. It is encouraging that the impact of armed conflict on youth and children is increasingly considered in the African political agenda, and that various mechanisms are in place to prevent and respond to violence against children affected by armed conflict. However, the reality is that these are rarely informed by the demographic whom they are designed to protect. Decisions, policies and processes that do not involve the youth in their design will naturally not respond as effectively to the needs of young people. An example of this is with the annual open session on children and armed conflict held by the AU, where there has been no meaningful participation of children, either directly or indirectly, to date.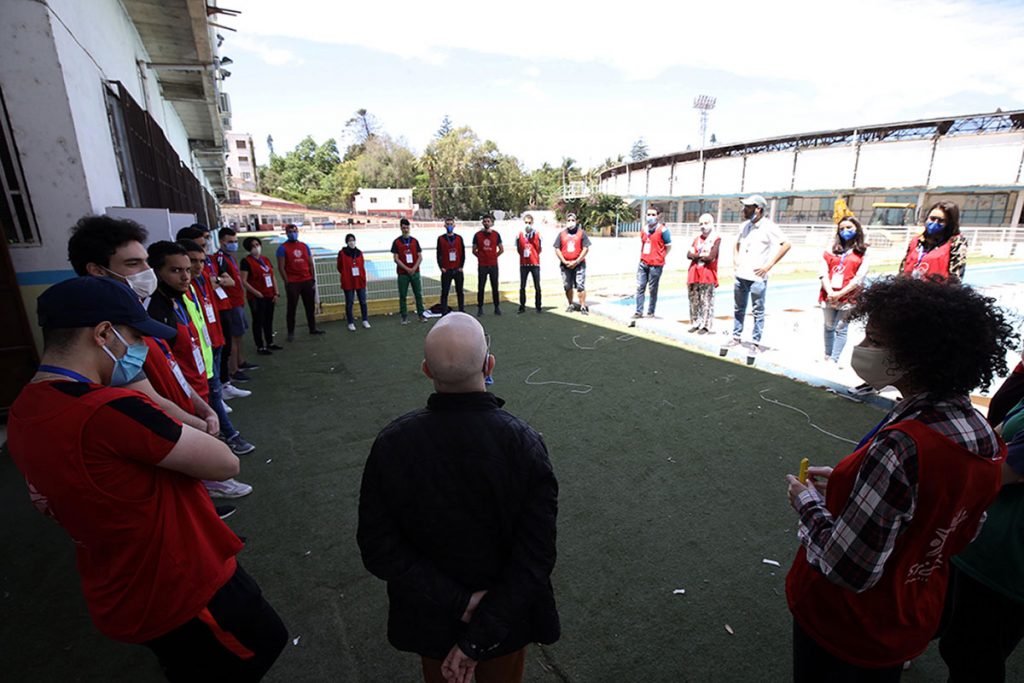 The Role of Children and Youth in Building and Fostering Peace in Africa
Save the Children, in collaboration with other child- and youth-focused organisations, is well positioned to deepen its work on youth and peacebuilding, and in supporting child human rights defenders to continue with their work into adulthood and even mentor younger activists and defenders who are fighting for the rights of their peers living in conflict. This can be achieved through hosting capacity-building sessions for child human rights defenders, and devising and implementing advocacy and campaign initiatives with children and youth taking the lead and adults acting as facilitators and support mentors. Research has shown that grassroots youth organisations are well placed to contribute to high-quality analysis and experience-based responses to conflict, as they have extensive networks within their communities and an in-depth understanding of local dynamics.[7] Their role in peace processes should be recognised and harnessed for their peace and mediation capabilities, even though no practical frameworks target the specific and meaningful inclusion of youth in peace processes and political dialogue in Africa. While UN Security Council Resolution 2250 on Youth, Peace and Security calls for the representation of youth at all levels of political decision-making, much remains to be done to enable and ensure young people's participation is equivalent to others at decision‑making levels.[8] The youth, peace and security agenda will gain new ground with meaningful and impactful support of youth peacebuilders, especially in Africa, where various peace processes and peacebuilding initiatives are underway – for example, in Mali, South Sudan and Sudan, where there are active peace agreements – yet the voices of youth are not considered in their implementation.
Related to peacebuilding is the involvement of children and youth in human rights and transitional justice processes. An example can be found in Rwanda, where a children's summit was held in June 2004 and the children stated that gacaca (the traditional judicial system) did not include the participation of children. Children mentioned that they saw what happened during the genocide of 1994 and knew that some of the adults were not telling the truth. The children wanted to be involved as protected witnesses. As a result, the United Nations Children's Fund (UNICEF) has been discussing child participation, through creating various spaces and structures where children can be engaged, with the Ministry of Justice.[9] The National Children's Summit began in 2004, when children requested that the president of Rwanda, Paul Kagame, provide them a platform for child participation and dialogue with decision-makers and development partners.[10]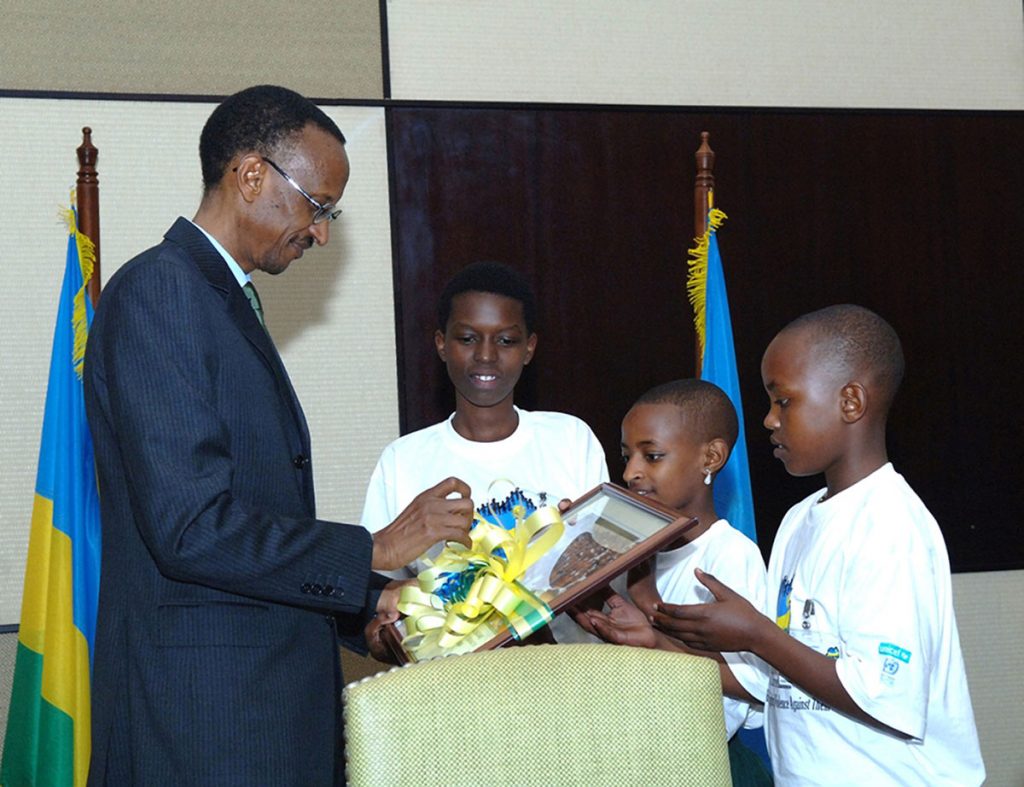 There are various challenges related to the lack of meaningful and sustained engagement of children and youth in peacebuilding and peace processes: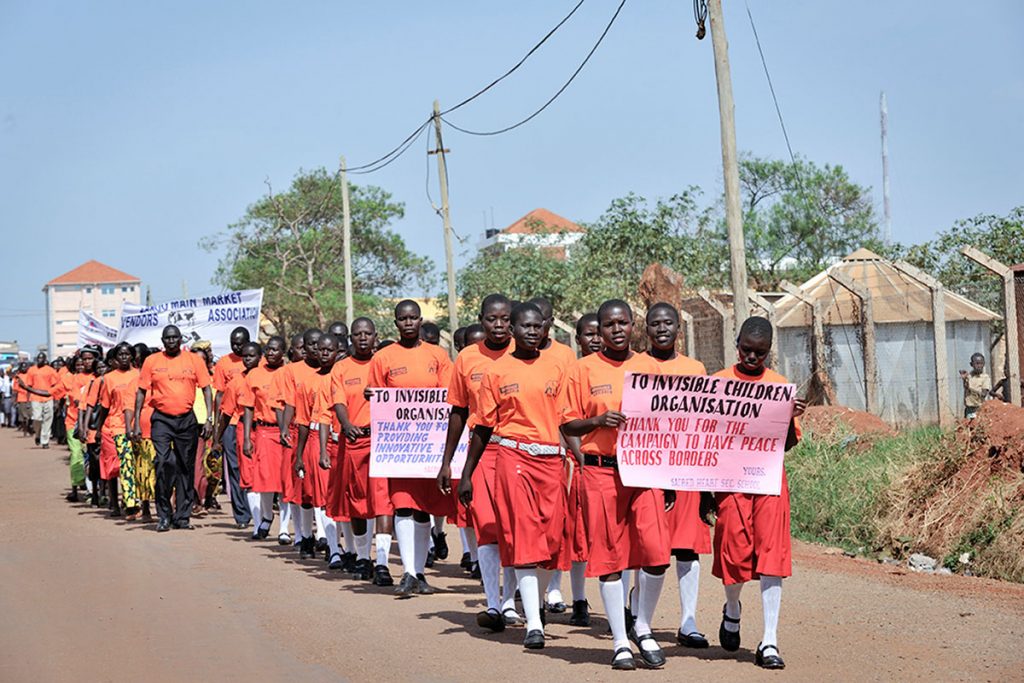 According to the progress report by the United Nations Population Fund (UNFPA) on Resolution 2250, titled The Missing Peace: Independent Progress Study on Youth, Peace and Security,[15] five findings and recommendations were made on how young people can play a greater role in peacebuilding:
Support youth visions of peace: Even when they have not known life without conflict, young people have clear visions of what peace should be, and have a strong desire for a future without violence. Peace processes must ensure meaningful inclusion of these views in their design and implementation. A young person in Azad Jammu and Kashmir said that he considers peace as children playing in the common fields or grounds.
Create space for youth to engage in political processes: Many youth feel excluded from political processes, and from making meaningful contributions. It is crucial that governments make sustained commitments to rebuild young people's trust and confidence in governments – for example, through appointing a focal point at the national level on youth, peace and security to implement commitments made by the government. There are also additional challenges facing women and girls in gaining access to public spaces that need to be addressed, due to traditional gender norms which undermine the role of women and girls in public participation. Young people interviewed in Afghanistan stated that they had few opportunities to participate politically outside their homes, let alone participate in the peace process at a local or national level.
Facilitate and support dignified livelihoods: Greater economic opportunities for youth are necessary to motivate young people to pursue peaceful and productive paths in their lives. Youth are keen to increase their opportunities to learn skills and develop entrepreneurial capacities, but these need to be made available to them.
Support education and capacity-building for peace: Access to education is fundamental to facilitating young people's positive engagement in peace. The youth who were interviewed for the UNFPA study suggested specific and practical ways this could be realised, including reforms to civic education, and the introduction of peace education.
Facilitate intercommunity dialogue and exchanges: Distrust, stereotypes and prejudices of youth as a unique and homogenous group of society, resulting in exclusion from meaningful civic and political participation, can be tackled by initiatives such as exchanges, which encourage continuous dialogue and engagement between youth from different communities. It is particularly important that young people who have been directly victimised by conflict are involved, such that further distrust and exclusion is not exacerbated.[16]
Africa is characterised by, among other things, a large youth population, especially in countries with ongoing conflict and violence such as in Mali, the Central African Republic and Somalia. Currently, African youth account for 226 million (19%) of the global population, and by 2030 the number of youth in Africa will have increased by 42%.[17] On the continent, the AU, through its Agenda 2063, seeks to remove all forms of systemic inequalities, exploitation, marginalisation and discrimination of young people to ensure that youth issues are mainstreamed in all development agendas. Various initiatives of youth participating in peacebuilding can be found in Sierra Leone, where the Africa Youth for Peace and Development organisation works with national governments to obtain input from youth on how to be the drivers of peace; Burundi, where UNICEF is developing the leadership and peacebuilding skills of youth and adolescents to strengthen their resilience against violence through livelihood programmes; and South Sudan, where theatre has become a tool to activate the role of young people in enhancing the pace of reconciliation.
On the AU front, various initiatives have taken root, which will continue to advance progress of the youth in engaging with peace processes and peacebuilding. The Peace and Security Council has dedicated an annual open session on youth, peace and security during its sessions, for youth peacebuilders to brief the Council on their work in peacebuilding, the challenges they may be facing, and their recommendations to the Council on achieving and maintaining peace. In 2019, a Continental Framework on Youth, Peace and Security was also adopted. The overall objective is "to facilitate the meaningful engagement and participation of African youth in all spectrums of peace and security at national, regional and continental levels".[18] A Youth for Peace (Y4P) Africa programme of the Peace and Security Department also exists. This programme seeks to promote the meaningful participation of youth in all spectrums of peace and security by engaging them as leaders, partners and implementers of peace initiatives. In addition, African Youth Ambassadors for Peace for the five regions of Africa have been selected. These ambassadors will engage their peers in their respective regions on dialogues for peace, and how they can contribute to the discourse.
In as much as these initiatives are promising, the results of the initiatives should flow from the continental level all the way to the national level. Youth, especially those from marginalised and vulnerable populations, should be part of and participate in the initiatives emanating from the continental level and own the processes and results, especially being involved in the initiatives that have been devised by the Office of the AU Special Envoy on Youth. Without buy-in from various groups of youth, such initiatives will not work and will not produce the desired results expected. Youth should also be part of the monitoring, evaluation and learning of the initiatives, and how they can be improved for future phases.
Continental, regional and national institutions should play a vital role in supporting African youth to become effective and impactful peacebuilders, as this cannot be the responsibility of just one organisation or institution.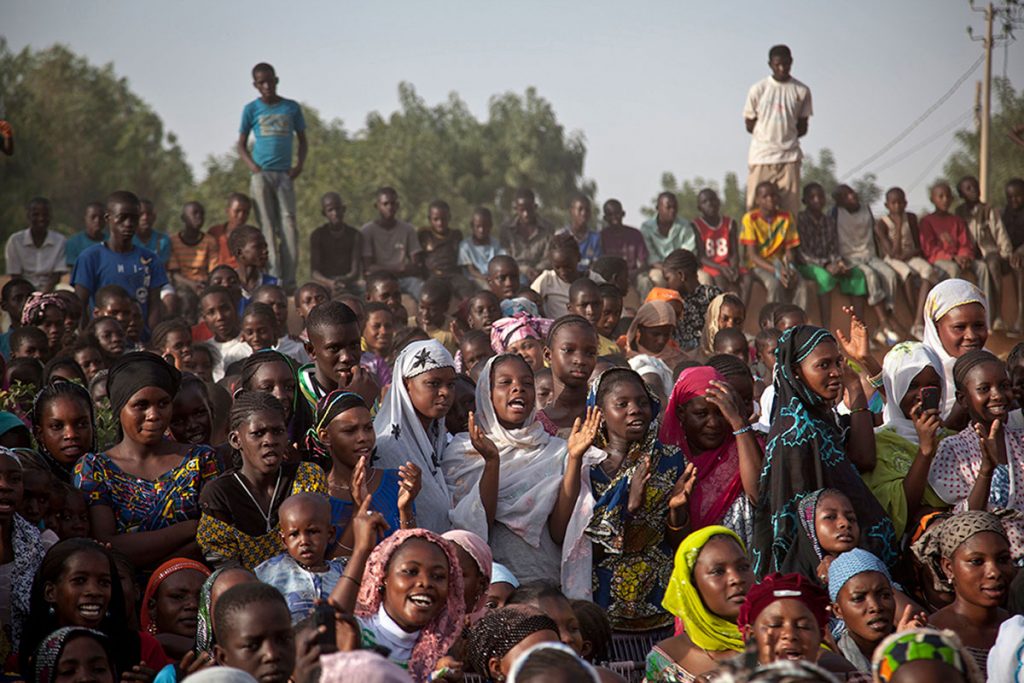 Conclusion
As the theme of 2020's International Youth Day stated, "Youth Engagement for Global Action", the time is now to ensure meaningful and sustainable engagement of youth in peacebuilding and for it to be mainstreamed in broader peacebuilding programmes at various levels, by involving the youth in key decision-making processes. Activities and programmes led by youth activists and youth-focused organisations need to be linked for maximum impact, from the grassroots level all the way to the continental level. The participation of youth in peacebuilding and peace processes should be mainstreamed, with youth having a regular platform where they can voice their concerns and express their recommendations on fostering peace. The biennial reporting requirement to be established by the UN will provide a comprehensive overview of how youth participation in peacebuilding is being conducted, and what challenges and opportunities exist for youth.
Maryline Njoroge is the Child Participation Coordinator for Children Affected by Armed Conflict at Save the Children, and is responsible for the engagement and empowerment of influence decisions and processes on conflict resolution and peacemaking.
---
Endnotes
[1] UN Department of Economic and Social Affairs (n.d.) 'Resources on Youth, Peace and Security', Available at: <https://www.un.org/development/desa/youth/international-youth-day-2017/resources-on-youth-peace-and-> [Accessed 30 October 2020].
[2] United Nations (2020) 'Security Council Underlines Vital Role of Youth in Building Peace, Unanimously Adopting Resolution 2535', Available at: <https://www.un.org/press/en/2020/sc14251.doc.htm> [Accessed 30 October 2020].
[3] World Vision (n.d.) 'Defining Child Participation', Available at: <https://www.wvi.org/child-participation> [Accessed 16 December 2020].
[4] African Committee of Experts on the Rights and Welfare of the Child (ACERWC) (n.d.) 'African Charter on the Rights and Welfare of the Child', Available at: <https://www.acerwc.africa/wp-content/uploads/2018/06/African_Children_Charter_Website_Version_English_2015.pdf> [Accessed 16 December 2020].
[5] Save the Children (2018) 'Peace for My Homeland Mali: Voice and Visibility for Children Affected by Armed Conflict', Available at: <https://resourcecentre.savethechildren.net/node/14299/pdf/peace_for_my_homeland_mali_final.pdf> [Accessed 16 December 2020].
[6] Strachan, Anna Louise (2015) 'Youth Transitions into Adulthood in Protracted Crises', Available at: <https://gsdrc.org/wp-content/uploads/2015/10/1293-Youth-transitions-into-adulthood-in-protracted-crises.pdf> [Accessed 16 December 2020].
[7] Conciliation Resources (n.d.) 'Alternatives to Violence: Youth-led Peacebuilding in Central African Republic', Available at: <https://www.c-r.org/our-work-in-action/alternatives-violence-youth-led-peacebuilding-central-> [Accessed 30 October 2020].
[8] United Nations Security Council (2015) 'Resolution 2250 (2015)', Available at: <https://www.un.org/en/ga/search/view_doc.asp?symbol=S/RES/2250(2015)&referer=/english/&Lang=E> [Accessed 30 October 2020].
[9] Peacebuilding Initiative (2007–2008a) 'Empowerment: Children & Youth: Children, Youth & Peacebuilding Processes', Available at: <http://www.peacebuildinginitiative.org/indexa9e2.html?pageId=2026#_ftn80 > [Accessed 30 October 2020].
[10] UNICEF (2019) 'Government of Rwanda and UNICEF Hold 13th National Children's Summit to Celebrate 30 Years of Child Rights', Available at: <https://www.unicef.org/rwanda/press-releases/government-rwanda-and-unicef-hold-13th-national-childrens-summit-celebrate-30-years> [Accessed 16 December 2020].
[11] Peacebuilding Initiative (2007–2008b) 'Empowerment: Children and Youth: Key Debates and Implementation Challenges', Available at: <http://www.peacebuildinginitiative.org/index8b64.html?pageId=2029#_ftn127> [Accessed 30 October 2020].
[12] Ibid.
[13] Ibid.
[14] Ibid.
[15] UNFPA and PBSO (2018) 'The Missing Peace: Independent Progress Study on Youth, Peace and Security', Available at: <https://www.youth4peace.info/system/files/2018-10/youth-web-english.pdf > [Accessed 30 October 2020].
[16] Conciliation Resources (2018) 'Five Ways to Support Youth Inclusion in Peacebuilding', Available at: <https://www.c-r.org/news-and-insight/five-ways-support-youth-inclusion-peacebuilding> [Accessed 30 October 2020].
[17] ISS Africa (2017) 'Turning Africa's Youth into Peacebuilders', Available at: <https://issafrica.org/iss-> [Accessed 30 October 2020].
[18] African Union (2020) 'Continental Framework for Youth, Peace and Security', Available at: <https://au.int/sites/default/files/documents/39150-doc- > [Accessed 30 October 2020].